Cold Creek Winnie
1 32. Oz crowler, $?, 6.8% ABV
Purchased at the brewery, Ellington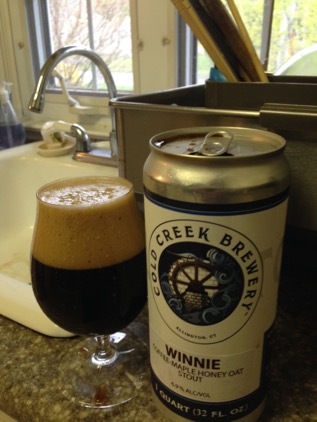 This picture here was meant to be "the joke." You see, Winnie is a "coffee maple honey oat stout" and that sounded to me like Cold Creek threw everything in the beer but the kitchen sink.
So there's my kitchen sink.
I took the picture based solely on the beer being a "coffee maple honey oat stout" and not on its taste. I took the photo before I even sipped the brew. And while a "coffee maple honey oat stout," by its very definition, must be a bit of a mess, somehow, someway, Cold Creek has produced a fantastically complex and balanced stout.
When I finally put down my little camera and drank the beer, I immediately took to twitter and told the world that if they like "dessert stouts," then they can't go wrong with Winnie. I even went so far as to compare it favorably with Steady Habit's transporting Big Bad Bunny Stout (CTMQ review here). And I stand by that comparison – if that means anything to you.
I try to approach every beer I review without preconceived notions or biases and … you know what? Winnie Cooper sucked. Why in the world Kevin pined and chased and caved and forgave her over and over and over again is beyond me.
Even Buzzfeed gets it:
Winnie Cooper is the WORST. Yes, that kiss on the pilot episode was sweet, and their rekindling moment set to The Stylistics' "You Are Everything" is legendary. But goddamn it, SHE'S THE WORST GIRLFRIEND EVER. She cheats on Kevin TWICE, has a hissy-fit over a piece of jewelry, and gets extremely jealous because a waitress put some extra relish on the side for Kevin. Oh, and she's also the queen of mixed signals. Sorry, Winnie. You're not that great. Why Kevin had a thing for you as long as he did is one of the great mysteries of the 20th century.
I've never quoted dopey Buzzfeed before, but the above paragraph is perfect. I thought that at the time I was watching the show and it has stuck with me ever since. Kevin had a bunch of other opportunities with young women who actually liked him as a person and not as a tool to drag around.
If you need another reason to hate Winnie, Jimmy Fallon said that she was "the coolest girl in any TV show ever." Go pet Donald Trump again, Jimmy.
But Danica McKellar, who played Winnie, is pretty rad. As you probably know, she famously studied at UCLA and earned a Bachelor of Science in Mathematics with highest honors (summa cum laude) in 1998.
Okay. That's super attractive.
As an undergraduate, she coauthored a scientific paper with Professor Lincoln Chayes and fellow student Brandy Winn entitled "Percolation and Gibbs states multiplicity for ferromagnetic Ashkin–Teller models on Z2." Their results are termed the 'Chayes–McKellar–Winn theorem'.
Okay. That's super sexy.
McKellar's Erdos number is four and her Erdos–Bacon number is six.
Okay. I'm swooning.
She writes bestselling books about math for girls with names like "Kiss My Math" and "Girls Get Curves" (about geometry) and "Hot X" (algebra)…
Damnit Winnie Cooper! You've got me! I get it now. Kevin, bro, I'm sorry. Even though Linda Sloane was super cool and Madeline Adams was super hot and Cara was super sexy… it had to be Winnie all along.
And Kev… sorry about your pops.
As for Winnie the beer, yeah, it's just like Winnie the TV character. Complex and you don't know what you're going to get from one moment to the next, yet, despite the fact you KNOW it's not going to work for you, it does. It almost perfectly works – but I still do think there is a bit much going on. Like, I'm not sure we need maple AND honey, y'know? The oats really softened everything out nicely though, so good move there. By the way, I'm nitpicking a nearly perfect beer here.
Total Winnie move.
Cold Creek has come out of the gates in their first year storming. I expect to see them soon on tap at some of your better beer bars. If I owned a bar, I'd have them on all the time. I'm not saying this lightly either, as every Cold Creek beer I've had has shown deftness, creativity, and consistency.
Can't say that about too many breweries across the board.
I see that Danica/Winnie got divorced recently – yay!
Then got immediate married again – Damn you Winniiiiiiiiiiie!
(By the way, image searching "Winnie Cooper" yields a slightly disturbing mix of young Winnie and sexy Danica Mckellar. It will mess with your brain.)
Overall Rating: A
Rating vs. Similar style: A+
Cold Creek Brewery
CTMQ's Cold Creek Reviews
Back to CTMQ's Connecticut Beer Page
Back to CT Breweries page