Half Full Winter White Ale
12 oz can, $1.89, 5.5% ABV
Purchased at Harvest in West Hartford
"You clearly don't know who you're talking to, so let me clue you in. I am not in danger, Skyler. I am the danger. A guy opens his door and gets shot, and you think that of me? No! I am the one who knocks!"
This was not the baddest-assed Walter White quote, but it's the one everyone knows and cites. So there it is again.
Breaking Bad was so good. I've only watched two entire television series through in my life. Twin Peaks and The Wire. I'm positive that I'll be adding Breaking Bad to that list at some point, maybe a decade from now.
So, when I see a beer named "Winter White," I immediately think of Walter White. And how would Walter White make beer?
Well, with turquoise rubber gloves, drain cleaner, batteries, and cough medicine. Duh.
(I don't usually like to so plainly explain my dumb pictures, but with this one, I couldn't figure out a clever story to work it in nicely. Sorry.)
Half Full says:
During winter, people tend to turn in. We like to venture out. Adventure inspires our optimism! Temporary getaways that winter embraces, extended vacations to far off places, there's so much to do, why turn in? Half Full Winter White, the perfect adventure pairing to keep your glass half full this winter.
Wow.
Whoever comes up with these Bob Ross-like quotes is amazing. Or they smoke some of that blue Heisenberg crystal. They even worked in a rhyming scheme and some iambic pentameter here. I must admit, I've always sort of had a tiny issue with that last line, which appears often in Half Full literature.
If I was a brewery, knowing that your glass is always "half full" of my beer would bum me out. I'd want your glasses to be empty. Y'know? It's just a matter of perspective, sure, but since I'm a grumpy old man, I just want you to drink my beer and not sit around "adventuring" with your molly-fueled super happy optimistic friends while letting my beer get too warm and flat.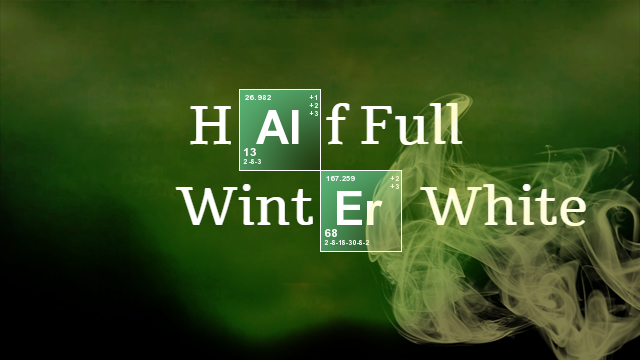 The Walter White is a decent enough hef. It strives to hit all the right notes: yeasty, sort of clovey, some banana esters in there as well. But, like many things Half Full, this beer just misses the mark. And, like many Half Full beers, I can't even tell you why, exactly.
It may be that Two Roads makes a superior Hef in its No Limits. Or that Overshores has hit the mark a bit better with their Belgian White (though, from what I hear, not consistently). Or it may be that the ratio of yeast to fruit esters to spice is just a bit off.
Yeah, I think that's it. Too much yeast, too much banana, too little clove/spice? Something like that. I'm happy that another Connecticut brewery is doing a white ale, as it's a very under-represented style. And again, this one isn't (Breaking) "Bad," it's just not… I don't know.
It's like you could have the Heisenberg blue ice, so why settle for the low-level Mexican street gang stuff?
Overall Rating: B-
Rating vs. Similar style: C
Half Full Brewery
Back to CTMQ's Reviews of Half Full's beers
Back to CTMQ's Connecticut Beer Page
Back to CT Breweries page