Witching Hour Dunkelweizen
1 22 oz bottle, $?, 5.4% ABV
Purchased at I totally forget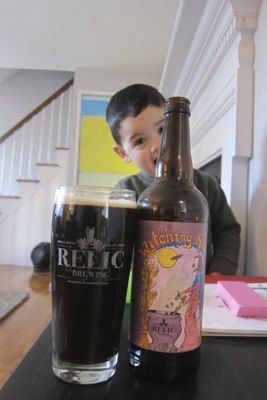 You know what's funny? There's a nuskool of thought that Black IPA's are bastardizations and don't make sense and are therefore no good. Personally, I've written on this very website that a recent Two Roads "blonde barleywine" was a bastardization and didn't make sense. (The fact that it was incredibly sweet, and therefore no good, is neither here nor there.)
No one says these things about dunkelwiezens though. And they shouldn't, of course, because this style has been around forever and is even accepted by the German purity law book.
But think about it: it's a dark wheat beer, darkened by roasted malts. So it's a malt-forward beer that retains the hefeweizen elements of clove, banana, bubblegum, etc. So… yeah. It's a confusing style.
It's also a style I don't very much enjoy.
For all of the same reasons the black IPA haters say – the malt mixed with the saison-type elements confuse me. (Of course, this leads into a whole discussion of "black saisons," which Relic has done, but we'll avoid that for now.)
Relic says:
The dark wheat German ale contains wheat, Munich, carafe II, blackprinz and pale ale malts to create a dark roasty beer with the classic yeast flavors of a German hefeweizen. These can include banana, bubble gum and clove.
Truth.
And the Witching Hour pretty much nailed the style! So that's a GOOD thing! But that doesn't mean I have to like the good thing.
Anyway, it's mildly humorous that my son Calvin is hamming it up in the picture above. As any parent knows, there is a period of a young child's life we all refer to as "The witching hour." With infants, it's all the time so they don't count. But when a kid hits 2.5 or so, and tries to stay awake all day without enough naptime because life is so exciting, the "witching hour" is around 6 or 7 PM.
And it's awful. My younger son used to drive me bananas (and cloves and bubblegum) with this nonsense. As irrational as little kids can be, the witching hour insanity is just the worst.
Pure nonsense. Dude, just go to bed. Sleep.
Of course, that doesn't mean my son is "bad." Just as The Witching Hour Dunkelweizen isn't bad.
But I still don't like it.
Overall Rating: C for me, perhaps an A for you?
Rating vs. Similar style: n/a
Relic Brewing
Back to CTMQ's Reviews of Relic Beers
Back to CTMQ's Connecticut Beer Page
Back to CT Breweries page