Outer LighT Woods Devil India Brown Ale
1 Sampler, 6.2% ABV
Purchased at Brewery, Groton
Quick story: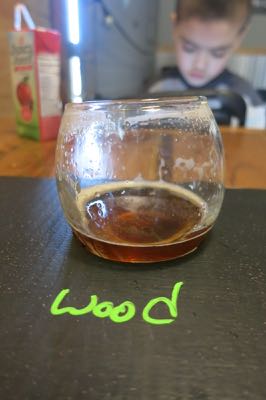 I bumped into one of the most attractive couples in CT brewing the other night – Erin and Tom Drejer from Outer LighT Brewing. Hey, did you know that Tom has a degree in Meteorology and two Masters degrees on top of that? Cool, huh?
Anyway, the hot-button issue of people slightly mispronouncing their brewery's name came up. It almost seems like more people say "Outer LightS" than the correct "Outer LighT."
Erin said that it's so bad, that she often finds herself at bars around the state wiping the 's' off of chalkboard beer lists. She's lost count how many times she's done that.
And it's not just bar beer list writers… CT beer aficionados are guilty of it as well. I've heard it with my own ears. On the radio even.
It's not really a big deal, but as your favorite pedant on the CT beer scene, I felt it necessary to draw your attention to the problem. So stop doing it. Repeat after me:
Outer LighT.
Outer LighT.
Outer LighT.
Perhaps I'm more bothered by this than most because as Steve WooD, I've suffered decades of people referring to me as Steve WoodS. Repeat after me:
Steve WooD.
Steve WooD.
Steve WooD.
Thank you.
I don't even know if Outer LighT's Woods Devil India Brown Ale will be put into their rotation again, but I really hope it is. I found it to be delicious and in a 2017-ironic way, unique.
By that I mean that no one is really looking for an "India Brown Ale" anymore. Dogfish Head has their India Brown and if you think back, some of the very first popular IPA's would certainly be considered "too malty" and "too dark" today. In other words, IBA's.
Outer LighT says:
Woods Devil is an India brown ale, or a hop-forward brown ale. We mostly stuck with traditional American hops, utilizing the three most widely grown US hops: Cascade, Centennial, and Columbus (CTZ). Then we tossed in some Falconer's Flight 7Cs, a blend of seven popular American hops, including the aforementioned three.
This random blurb from craftbeer.com notes that it is similar, perhaps, to Pete's Wicked Ale from the 90's. Man, Pete's Wicked was certainly one of my "gateway beers" to the world of good beer and I remember it fondly. Perhaps that's why I enjoyed Woods Devil so much.
Perhaps you're wondering what the hell a Woods Devil is. From that same article – which, by the way, I can only assume was written by Outer LighT themselves because that's how these things work:
Connecticut has played its part in Sasquatch lore, with the first sighting occurring in Winsted, Conn back in August of 1895. According to the Winsted Evening Citizen, "a large man, stark naked and covered with hair all over his body, ran out of a clump of bushes and, with fearful yells and cries, made for the woods at lightening [sic] speed where he soon disappeared."
Hold on. Why was this even news? We're talking Winsted here, people. I can only assume this is a daily occurrence out there for the last 122 years.
At the least. Anyway…
Residents in the northeastern US, especially in the New Hampshire area, refer to Bigfoot as the Woods Devil, or Wood Devil. So we decided to brew a classic beer based on this classic monster.
I'll ignore the pronoun "we" and continue to pretend this is a real article written by someone other than Tyler at Outer LighT.
But that's not what's important – the Woods Devil is sometimes referred to as the Wood Devil!? And in the first picture on this page my sample was labeled "Wood?" I, Steve WooD cannot believe that Outer LighT named a beer after a mythical beast with a similar name that is mispronounced the same exact way all the time and, in fact, were guilty themselves of screwing it up – maybe – on the sampler!
My brain has melted.
Again, the beer… is very good. Classic IPA flavors and aromas are present; piney and floral – but with a brown ale-ish base. Perfectly balanced, nuanced, and flavorful. Well done. Make it again.
PS. It's GANDHI and PALATE.
Overall Rating: A
Rating vs. Similar style: A+
Outer Light Brewing
Back to CTMQ's Reviews of Outer Light Brewing beers
Back to CTMQ's Connecticut Beer Page
Back to CT Breweries page