Worker's Stomp Saison
1 22 oz bottle, $12.99++, 7.5% ABV
Purchased at Harvest Country Store, West Hartford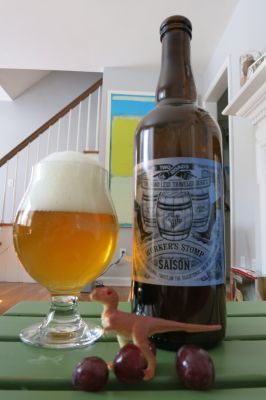 I want you to do something. Go and read my page on Worker's Comp Saison. And not just because it's fairly entertaining either.
On that page, I write about how the master brewer at the massive Two Roads, Phil Markowski, "literally" wrote the book on saisons. Like, literally.
And I really liked the Worker's Comp Saison, bestowing the little 4.8% classic brew a rare CTMQ "A" grade. So it should come as no surprise that I was somewhat excited for this white wine barrel aged variant of that very same beer.
With Markowski's saison bona fides and some aging, this beer had to be great, right? And even if it wasn't, the name… the name is fantastic. I've written over and over again that the creative minds down in Stratford rival anyone in any industry. From the beer names to the labels, Two Roads is one of the best.
Two Roads Says:
We have taken our Workers Comp saison and "stomped" all over it. Using a variant of our classic saison recipe and aging it in white wine barrels, this beer is the newest in our "Road Less Traveled" series. Majorly fruity and spicy with a hint of dry white wine notes.
And that all sounds great. Really, it does. Hell, I may write about all these beers, but I love a good white wine. And I particularly love citrusy sauv blancs with huge grapefruit notes. I wish I knew which "white wine" barrels were used for this… and that's where I swerve this review and bring up one of my quibbles with Two Roads…
They are MASSIVE. They have spent more money on their brewery than every other Connecticut brewery combined.*
*I totally just made that up, but I'm confident that it's close to the truth.
But they have been "caught" before with some very suspect definitions of what "barrel aging" means. I won't get into (Roadsmary's) that (Baby) here, because the brewery sort of owned up to that nonsense and we've moved on.

Shout out to the Grape Lady
This beer clocks in at 2.3% higher ABV than the straight up saison. So something happened. And the Worker's Stomp is delicious. But… how different is it from the Worker's Comp? I'm really not sure, but I'm not about to spend another $20 to taste test them side by side. My memory and palate tells me there isn't much difference.
I didn't get any barrel notes. I don't think I got any white wine notes. I got the spice and fruity esters that I got in the original just fine. But again, I'm unclear on the point or necessity of the barrel aging process – other than the additional ABV I guess.
So this is the rare beer that will still get an "A" grade, simply because the base beer was an "A." But you'd think the barrel aging would nudge it to the rarified "A+" category… alas, it does not.
But it's still a grape beer.
OMG, how DO I do it?
Overall Rating: A
Rating vs. Similar style: A
Two Roads Brewing Company
Back to CTMQ's Reviews of Two Roads beers
Back to CTMQ's Connecticut Beer Page
Back to CT Breweries page