Beer'd Brewing World at Large APA
Growler, $?, 6% ABV
Purchased at the brewery, Stonington (late 2015)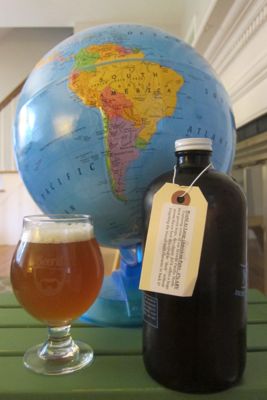 With a billion CT beers now in 2015, it's rare that anyone actually requests that I do a review of any particular one. Beer'd's World at Large received that distinction not once, but twice in the last few months.
As you can see, I got right on it.
It turns out, and I know this will sound as absurd to you as it does to me, certain fine eating and drinking establishments actually read these reviews and if they contain any sort of interesting background information, they share it with their staffs.
Note to those establishments: I tend to make stuff up sometimes, y'know.
Anyway, I make no bones about being friends with the folks at Beer'd. It helps that some of the best beer around comes out of the Stonington brewery, but owner Aaren knows that if he suffers a misstep, I'll be there to point it out. Respect.
So check this out: Since I'm mildly tight with the Beer'd owners, I got some inside info about their upcoming wedding. They tried to keep this part secret, but I think I've read it on some beer review sites so I figure it's okay to write it publicly here…
The name of this beer, World at Large, came about because of a recent trip they took out to the Pacific Northwest. While in Vancouver, where the drug laws are very lax, Aaren and Precious were smoking pot for, like, let's say 2 days and ended up getting married there by a judge.
Seriously.
So the joke is that when they filled out the paperwork, they were so high that when it asked them to fill in their addresses, Aaren wrote, "The World at Large." And the judge or whoever never even noticed it. And since this beer features – here, I'll let Beer'd tell you:
Beer'd says:
Featuring some of our favorite Pacific Northwest-grown hops, this classic APA offers a large aroma/flavor best described as "dank" without forgetting the biscuit malt character to back it!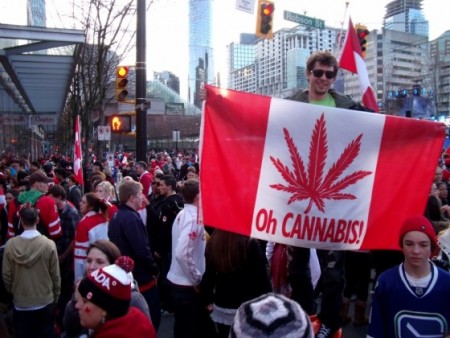 … all PacNW hops, this beer is a tribute to their crazy week in Seattle, Portland, and Vancouver – and the little known fact that they are not only already (sort of, Canadian) married, but officially from "The World at Large" on some (sort of, Canadian) marriage certificate paperwork.
I love that story and I love this beer. Perfectly balanced, delicious, and for an APA, just enough maltiness to not get carried away into the hop bomb world of Beer'd's IPA's and DIPA's.
At this point, telling you that a Beer'd ale is great is getting redundant, but it still deserves to be said each time. So… World at Large APA is great. Now go find some.
But first, go back and read the 4th paragraph of this page. Cheers!
Overall Rating: A
Rating vs. Similar style: A
Beer'd Brewing Company
Back to CTMQ's Reviews of Beer'd beers
Back to CTMQ's Connecticut Beer Page
Back to CT Breweries page