This is a tough category to nail down, as some of these are actual houses that people live in today, some are houses famous people lived in, and some are never were actual houses. But somehow they all fit as far as I'm concerned.
You can find all sorts of posts about other houses around the blog… Museums, Oldests, Monuments, National Historic Landmarks… Just to name a few. These are the houses that fall outside those more logical categories.
Many places here are sometimes creepy remnants of communities or buildings of yore – WITH a viable, not supernatural, history. Those that ARE fantastical will be explored and debunked.
Houses
Chase Mansion, West Hartford
Caddilac Joe's Stone House – Woodbury
Aborn Castle, Ellington
Old Litchfield Jailhouse, Litchfield
Helen Keller's house, Easton
Gaylordsville Spite House, New Milford
"White Cloud" (aka Star Wars House), Salisbury
Beatrice Auerbach Fox House, Hartford
Pest House, East Lyme
Pest House, Durham near Mica Ledges
Powder House, Fairfield
House with private stonehenge, Guilford
Spaceship Condos, Guilford
Halfway House, Meriden (Info)
Hobbit/Foam House, Jones Mountain in New Hartford
Hilltop Barn, Suffield
Christmas House, Torrington
Passivhaus, Westport (info)
Rotating House, Wilton
Granny Austin Tavern ruins, Mooween State Park, Lebanon
Communities
(Abandoned and Otherwise)
The Former Pitkin Glassworks, Manchester
The Enfield Shaker Community, Enfield
The Last/Only Dry Town: Bridgewater
A visit to Christmas Town, Bethlehem
Pygmy Village, New Britain/Plainville
Chuaevka (Russian Village), Southbury
1/4 Acre Golden Hill Paugussett Tribal Nation, Trumbull
The Frog People, Bethel
Plainville Campground, Plainville
Heritage Village, Southbury
The "Melonheads", Trumbull
Willimantic Camp Meeting Association, Willimantic
Little People's Kingdom, Watertown
Dudleytown, Cornwall
Bara Hack, Pomfret
Gungywamp, Groton/Uncasville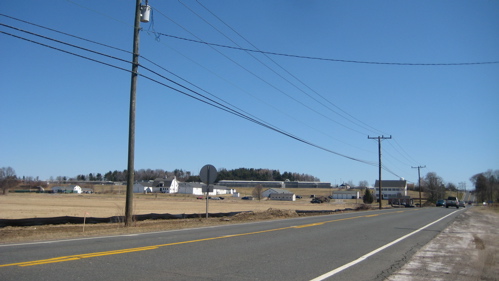 Shaker Houses, Enfield
…………………………………………………….
Libraries of Note
…………………………………………………….
Unique Retail Stores
Here, you'll find interesting stores around the state (according to my odd sense of "interesting," anyway. It also includes "businesses" because there are a bunch of interesting private firms with near-museum quality collections and others that just do really unique stuff.
The retail stores the singular, unique, totally worth the visit and/or historic stores in the state.
(Restaurants can be found here.)
Howland-Hughes Building, Waterbury
Wild Bill's Nostalgia Center, Middletown
The Connecticut Store, Waterbury
Oldest Seed Company in US, Wethersfield
Patrick Baker and Sons, Fairfield
A Taste of Holland, South Norwalk
James Gallery & Soda Fountain, Old Saybrook, 7/25/2009
Time Machine Toy and Hobby, Manchester
Winvian, Morris
Stew Leonard's, Newington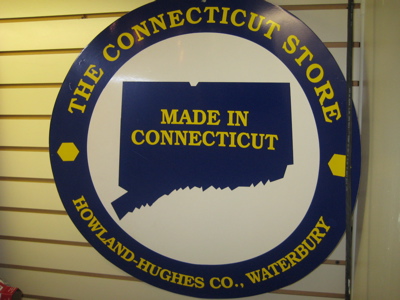 …………………………………………………….
The Book Barn (and all it's annexes), Niantic
Meekers Hardware, Danbury
New England Jukebox & Amusement Company, Vernon
Space Shuttle McDonalds, Windsor Locks
United House Wrecking, Stamford
Perfection Screw, Wolcott
Hilltop Marine, Colchester
Horse Ridge Cellars, Somers
MGC's Custom Made Wooden Jigsaw Puzzles, East Haddam
Zok's Homebrewing, Willimantic
O'Reilly's, Farmington
Cadillac Ranch, Southington
Austin Organs, Hartford
Smith-Worthington Saddlery Company, Hartford
…………………………………………………….
Olde Timey and Drive-In Movie Theaters
Avon Theater, Stamford
Bijou Theater, Bridgeport
Bantam Theater, Bantam
Mansfield Drive-In, Mansfield
Pleasant Valley Drive-In, Barkhamsted
The Strand Theater, Seymour
…………………………………………………….
Outdoor Art
UConn Public Art Collection, Statewide
Carl André's 36 Stones, Hartford
Remi Lleshi's The Earth Stone Cairn, Woodbury (not permanent)
Random graffiti, Whitney Ave, New Haven (not permanent)
New London Whale Tail, New London
The Stamford Cone, Stamford
Sculpture Mile, Middletown
Sculpture Mile, Madison
WPA Murals, Norwalk
Lincoln Financial Sculpture Walk, Hartford
…………………………………………………….
Hauntings, Ghosts, Oogity-Boogities
All carefully curated on this page, here.