Firefly Hollow Ye Olde Twinkler Barleywine
Two different bombers, $?, 9% ABV
Gifted, then Purchased at the brewery, Bristol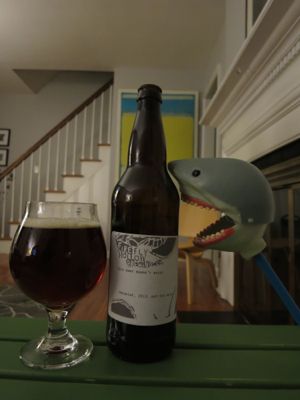 This review is a rare thing. As you'll see, I have two different pictures of two different labels of what was, ostensibly, the same barleywine.
Sure, I've had different iterations of the same beers plenty of times, but here's why this page is a little different: I'm only including this first picture of the black and white labeled bottle to boost my cred. That's right, this bottle here was a rare whalez, bro, only given to a tiny subset of pre-opening Firefly friends.
Or something like that, I totally forget. It was given to me by a friend. That friend told me a whole story about this special rarez whalez bro bottle; and while it was a good story, it didn't paint his friends at Firefly in the kindest light. Though that's a bit harsh maybe… but this bottle here "officially did not exist."
Or something like that, I totally forget that as well. Something about how Dana at Firefly didn't mean for this beer to actually wind up as a barleywine or barleywine-like beer. But it happened somehow and it wasn't bad, so here – early friends of Firefly, have a free bottle of it.
Or something like that. I'm sure that gift came with the caveat, "Don't give it to any jackass beer reviewers who gain cred points by reviewing rarezy whalezy beerz, bro." For this reason, I am not outing my Firefly insider.
In truth, this was an admitted "mistake" beer and it wasn't an official release, so to "review" it, even in my typical dopey fashion, wouldn't be cool. So I won't… but yeah, this was a "BARELYwine," and not a BARLEYwine. But it wasn't bad by any means.
And now you know why I even bothered with this first half of this page. I just had to get that joke out there.
Moving on to the real release, Fifefly says:
This English inspired barleywine boasts big malt flavors of biscuits, toffee, and toast. A semi-sweet finish with hints of red apple and pear from our English yeast make this big sipper the perfect brew for the holiday season.

As the last of the leaves have left the trees and the first frost has covered the ground here in Connecticut, we will gather around a warm fire and settle in for a long New England winter. On a clear and crisp night as you step outside to gather logs for the evening, look up. You will see the brightest stars you have ever seen.

Here at Firefly Hollow, we are honored to help keep winter warm and bright. Cheers!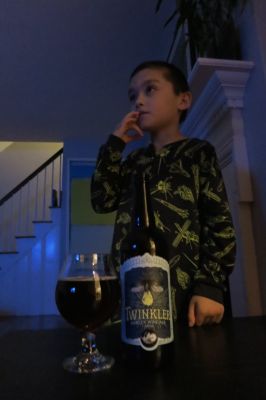 Lovely sentiment! I really like how they effortlessly made the smooth transition from summer's "firefly twinkling" to winter's "starlight twinklers." Well done.
Okay, yeah, this "real" bottle was definitely better than that random other one.
Barleywines are funny beasts; usually so high in ABV that any initial distaste melts away in a boozy haze. Don't act like this hasn't happened to you. It has.
But the Firefly Twinkler is "only" 9%, so that doesn't really happen here. The beer stands on its own merits.
I rather enjoyed the unexpected effervescence here, as the Twinkler is a bit lighter and less muddled as many barleywines tend to be. It was a bit sweeter than I prefer, but I think that's the "English" influence. The malty flavors and fruitiness and breadiness were on point.
I have yet to sort out Firefly's random bomber release non-schedule, but I'm sure they'll do this one again. And who knows, maybe it will be more dialed in next time. I love the label and the "story" behind the name and would just look for a bit more body and "deepness" (as if that makes sense) to balance out the sweetness.
Overall Rating: B
Rating vs. Similar style: B
Firefly Hollow Brewing Company
Back to CTMQ's Reviews of Firefly beers
Back to CTMQ¹s Connecticut Beer Page
Back to CT Breweries page