Kent Falls Some Zep on the Jukebox IPA
12 oz, $8.50, ?% ABV
Purchased at McLadden's, West Hartford
May 2015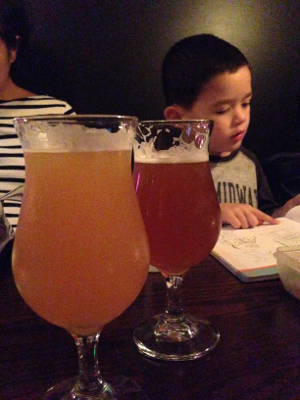 Hey Hey What Can I Do? I wanted more than a tired old Hot Dog for dinner, but How Many More Times can I take the family out to West Hartford Center? We're not destitute, but $100 meals out are Wearing and Tearing at our household budget. Sometimes I feel like we don't have Four Sticks to rub together, y'know?
But, whatever. The boys were hungry and I didn't feel like driving Over the Hills and Far Away or cripes, all the way down to The Ocean to be Down By The Seaside (or more accurately the Sound). With the traffic, sometimes it feels like we're Going to California when we're only driving 20 miles. That's the Way it is around here.
"When are we going to dinner?"
"In the Evening."
"Jackass. What time, at 6?"
"No! Quarter til!"
"Is that what you said? You mumble too much."
"It's just a Communication Breakdown. It's always the same."
"It is! Ever Since I've Been Loving You! "
"The Song Remains the Same."
"Babe, I'm Gonna Leave You, then."
"I'm sorry! It's Nobody's Fault But Mine. You know I have nothing but a Whole Lotta Love" for you! Through the Good Times, Bad Times – all the way until I'm In My Time of Dying. Geeze, I'm Gonna Crawl over there and beg for forgiveness."
"La La la la la…"
"Seriously? Ten plus years of marriage and it's come to this? Ten Years Gone just like that?"
"No. I'm just kidding you doof. You have All My Love. You know I Can't Quit You Baby."
"Man, you can be such a Heartbreaker. Or more accurately, a ball buster. Your Time is Gonna Come with you messing around so much y'know."
"Oh don't act so Trampled Under Foot. Jesus.
"Okay. But You Shook Me. I forgive you."
True story, bro.
I thought about going to the Shish Kabob House of Afghanistan, because they have a sublime drink called The Kashmir, but pretty sure the boys wouldn't dig it there, and besides, the Afghan culture is pretty misogynistic… One time I saw them mistreating a woman and was told, "Eh, don't worry, she's theLiving Loving Maid. (She's Just a Woman") – Whatever the hell that meant. I try to respect whatever Immigrant Song and dance they give me, but … yeah, I decided to go to the place across the street.
We gathered the boys up and went to McLadden's. I had checked and they had a two Kent Falls beers on tap that I'd never had, so that settled it for me. I called some Friends, but they couldn't make it. Even Tom, who LOVES Kent Falls' stuff. Poor Tom.
(Side note: West Hartford has a large Jewish population and on rainy important Jewish Celebration Days, they all still walk to their Houses of the Holy which dot the town. I guess that's how they gain their Stairway to Heaven, but at the risk of sounding crass, they all just look like a Fool in the Rain, to me. Though it looks like the kids seem to have a Rain Song to keep them occupied during the walks.
Sorry to Ramble On.)
Once at McLadden's, we sat in the back booth away from the crowd. I ordered the Kent Falls beer. Ugh, too dark for a picture. Wish I'd picked a booth In The Light, so I asked our waitress Darlene if we could move, but it was too crowded. As I sipped the super bright and clean IPA, I reflected for a moment on how we're in a sweet spot with Kent Falls. They aren't yet whalez, bro. I don't ever want to feel like Ahab searching for Moby Dick to find them, y'know? But When the Levee Breaks, and they really blow up, I'll be selfishly bummed – but very happy for the brewery.
Back to the beer. Damn, this is a delicious IPA. Lightly kissed with citrus… some Tangerine perhaps? Hoang tasted it and noted some Lemon. Song came on the jukebox and it was some boring old Rock And Roll, but I didn't care, as my Dancing Days are over anyway.
After all, with this beer in front of me, I thought, "We're Gonna Groove no matter what's playing."
McLadden's has a massive tap list, so I was happy to see they had some special beer deal called the Night Flight. I didn't get it, but it's a "nice to know" For Your Life.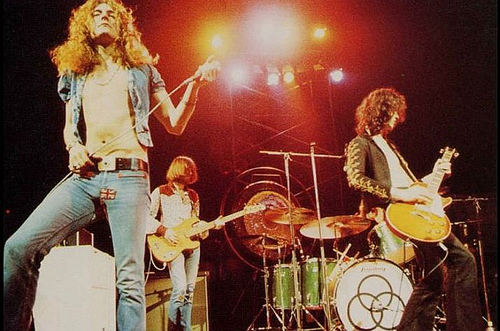 We finished dinner – or at least Hoang and I did. The boys had leftovers so we got a to-go box to Bring It On Home. Calvin wanted to scrape all the burnt cheese on his plate into the box – something we call The Crunge.
He asked what it was made of to which I replied, son, What Is and What Should Never Be known in the restaurant world is a delicate thing. Just don't worry about it. We were asked if we wanted the dessert special – Custard Pie.
Ugh. No. I hate custard and Calvin is allergic to eggs anyway… I didn't want him to be Sick Again so I said no thank you and stared at the last few ounces of the beer.
"Baby, Come on Home," I whispered to the glass.
Dazed and Confused, the waitress politely informed me that I cannot take the beer to go.
Sigh. I wish I could. Short of that, I hope Kent Falls bottles one or more of their incredible IPA's this winter.
So to Barry and Derrick and everyone out there in Kent, who work tirelessly to make some of the best beer in the state – AND self-distribute far and wide, I say a sincere Thank You.
Overall Rating: A
Rating vs. Similar style: A
Kent Falls Brewing
Back to CTMQ's Reviews of Kent Falls beers
Back to CTMQ's Connecticut Beer Page
Back to CT Breweries page