OEC Zymatore Isaac (Gin/Pinot Noir Barrel Aged)
750 ml bottle, ?$ (but a lot, I'm sure) 5.5% ABV
Purchased at Brewery, Oxford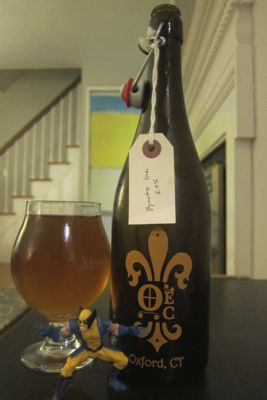 Buckle up! We're about to enter the kooky, scary, and often mind-bendingly delicious world of the Zymatore Project!
I'll start off by saying that the Zymatore Project, clearly, is not for everyone. The point of it is exactly this: these unique, off-beat, challenging beers (as well as the "beers" that are part of it too) are not intended to be "for everyone." OEC would never pretend that they are.
Of course, nascent hipsters like to pretend that they are, and like to haunt beer forums dropping science on how "killer" that random pour of the Birrificio del Ducato Verdi Zymatore – Chili Mead Barrel they had back at the 2014 Zwanze Day was and being sure to tell us all that we're fools for perhaps not enjoying some beer we've never heard of aged in some mead barrel with chilis in it, but whatever. Screw them. We're here to talk about a more "mainstream" Zymatore blend.
You know, just your run-of-the-mill Italian white ale aged in gin barrels for a few months, then aged in pinor noir barrels for several more months. Whatevs. The blonde ale of Zymatore beers.
I'm kidding of course. Every single Zymatore beer (and "beer") is crazy. In fact, if you think about it – and I can only assume you have – the particular one we'll be talking about today, "Zymatore Isaac" anagrams perfectly to "I am so crazy tea." This is no accident. Have you ever listened to the stuff Assistant Brewer Tony Pellino listens to/creates? If you have, you know this is some high-level Illuminati isht right here.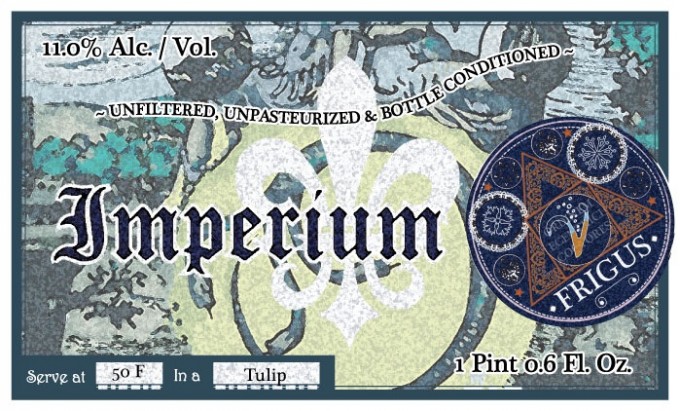 Oh, you laugh. Tell me if you're laughing after you learn this… OEC isn't the most active Tweeter. OEC doesn't care about the beer bros or the beer scene or really all that much about Connecticut and what happens here. (Why would they though? After all, we've established they are aliens in previous OEC reviews.) Anyway. People tag them in tweets all day long, trying to crack the code.
Well, check this out. I tweeted to the world that we now had a clear OEC-Illuminati connection via that new beer label: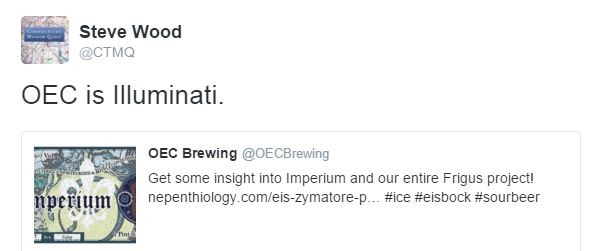 Fine. No big deal. Didn't even tag OEC. Then this happened:
Do you see that?! They favorited my tweet! Or hearted it or whatever stupid thing Twitter calls that stupid heart now. This clearly is the proof we knew was there all along. Then, to confirm the secret Illuminati winky-wink, OEC followed me.
It's all so clear. And so is the Zymatore Project.
The Zymatore Project is our endeavor to create liquids of unheard flavors and aromas that destroy the boundaries of beer, wine, mead, cider & spirits. Using barrels of the highest quality and pedigree from acknowledged leaders in the wine & distillation crafts we take beers, meads & ciders to new and unexplored levels. What may seem like unlikely combinations of liquids & barrels are designed to create new flavors & aromas that transcend conventional definitions.
Cool. Here's a little LA Weekly piece that explains it in a bit more detail.
So now you're asking, "Wait. What? OEC is on tap in Los Angeles?" Oh you. So cute.
The answer is… Sort of. OEC is part of B. United (Clever Alien name of the distributor… sort of a "we come in peace" reference. Again, totally obvious.) who distributes and deals all sorts of high-end smaller international breweries. They've been doing so for many years. OEC is their little lab/kitchen, so to speak.
(Yes, of course this symbolic as the earth and the entire human race is being experimented on, under the quant "B. United" moniker by the OEC aliens, but I digress.)
OEC is the brewery (pretty much) arm of B. United who takes beers from these other international (usually) breweries and performs experiments on them. At the same time, those other international (mostly) breweries do the same thing with their fellow B. United brewery beers. All of this, all of these Salvador Dali beers, from all over the world, are released under the pyramid-shaped Zymatore Project umbrella.
Zymatore beers are actually brewed all over the world, and B. United can therefore distribute them to places like Los Angeles.
Get it now? (If not, or if you're merely curious – and you really should be a tad curious about your future alien overlords in Oxford, CT – here's a nice list of various Zymatore beers. What's funny is that they only have one OEC beer listed.
And it's not the Zymatore Isaac. (Though I don't exactly expect the Rate Beer listing to be totally accurate.)
So let's dig deeper. The Illuminati/Aliens aren't going to make this too easy, guys. C'mon. Let's go to Piozzo, Italy and the Le Baladin brewery. Since 1997, they've been brewing Isaac, a blanche inspired by Belgian beers and dedicated to the brewer's son.
Now, this all sounds fine. But HELLOOOO! Do I have to spell everything out for you? Sigh… "Le Baladin" anagrams to "Bald Alien." DO YOU GET IT NOW? Tony at OEC is bald. As if that weren't enough, watch this advertisement (?) for Isaac. It's full of symbols: Chopping mozzarella with a hatchet, a chicken in a bag… grade school symbolism stuff. Anyway, note that the guy in the hat is bald:
Now, I realize that what you just watched may have been a little over your head, but what it clearly boils down to is simply, Le Baladin brewery in Italy, a B. United Group brewery, is also run by aliens like our own OEC.
Duh.
And so, what I believe this delicious Zymatore Isaac beer was, was… I'm not sure. THE ALIENS HAVE CONFOUNDED ME ONCE AGAIN. The base beer, Isaac, clearly is an Italian white ale brewed by Le Baladin. Fine. But who put it in gin barrels and then pinot noir barrels? I've always believed that OEC did the barreling of the base beers, but now I don't think that is the case. But OEC can sell them as OEC beers because OEC is owned and operated by B. United and B. United can do what they damn well please because:
A) no one understands anyway
B) no one really cares
C) they are aliens
D) Illuminati
Sigh.
I loved this beer. It was impossible to describe beyond it being so light and playful and full of esters sour and juniper and wood and acid and tannins and booze and yeast and…
The Aliens have won again. I don't care about the provenance of this beer. I only care that I was fortunate enough to enjoy it.
Overall Rating: A
Rating vs. Similar style: n/a
OEC Brewing
CTMQ's Reviews of OEC Brewing beers
CTMQ's Connecticut Beer Page
CTMQ's CT Breweries page