Talking Forth
Walking North
By Mic Lowther
This is a weird book. I really enjoyed it, but most people probably wouldn't. (And I'm already excluding anyone reading this who doesn't read hiking narratives.) This is the blow by blow account of a family thru-hiking the Appalachian Trail.
When? No one really knows. Most people say they did it in 1973. All of the books cited in the bibliography predate 1973 and while reading it, it is abundantly clear that their hike took place a long time ago.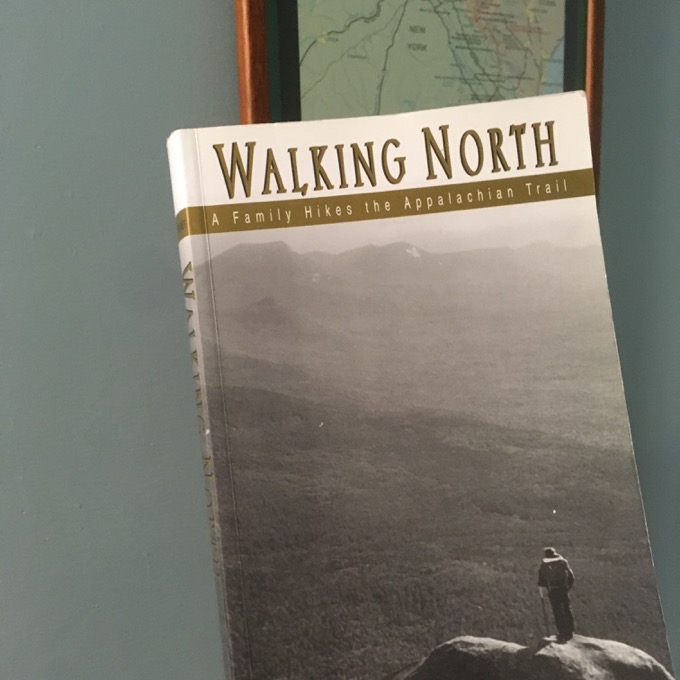 Mic, his wife Jerri, and their 10-year-old daughter Kyra began the hike in Georgia in mid-March. There was no mention of Amicalola Falls or Park; I suspect the southern terminus was quite different in the 1970's.
But beyond that, they wear JEANS every day. Through downpours and snow, they wear JEANS. Do not wear jeans on your hike please. They drink unfiltered water from streams, springs, rivers, and ponds. Do not drink unfiltered water from anywhere in the eastern US.
They spend an inordinate amount of time road-walking. Fortunately, the AT has done well to move off of the roads of the 70's. They hitchhike all over (still doable), take buses to far-flung locales (nope), and get cabins and rooms for less than 10 bucks (LOL). They make fun of a guy who hikes with "two sticks like ski poles" and another hiker wearing gaiters.
Everyone hikes with two hiking poles now and many wear gaiters. Shout out to those two guys way ahead of their time.
But that stuff doesn't distract from Lowther's prose. I enjoy his writing style. I'm still not sure if I think it's cool or not that the fact he and Jerri's child is virtually ignored throughout the book. Okay, not ignored, as there are many stories involving Kyra, but… not enough for me. She was 10! The AT in the early 70's was a much more rugged and remote trail than it is today! Their equipment was awful as compared with today!
And she did it! The author focuses way too much on his wife's obsession with common plants of eastern hardwood forests. Jerri spent six months taking pictures of every single blooming plant seemingly thousands of times. Pre-digital!
That was the "conflict," such as it was: Jerri's dawdling vs. Mic's pushing. He wanted to get to the end in Maine, she couldn't have cared less. The book became a battle of "Hike Your Own Hikers" who couldn't because they brought their little kid along. I found myself siding with Mic mostly here, and felt his pain when they had to flip-flop-flip to complete the trail.
That is, Georgia to random cabin in Vermont, skip up to the White Mountains in New Hampshire through the Mahoosucs, skip up to Katahdin, hike south to the Mahoosucs, skip back down to the skipped miles in Vermont.
Flip-flopping is fairly common now, especially for slower hikers who may not get to Maine before snow. Even though Lowther wrote beautifully about how he "found his reason" on a random mountain in Vermont towards the end, it was clear to me how was bummed about finishing at Bromley Cabin in western Vermont.
The family began in snow and cold in Georgia, hiked through spring, summer, and fall, only to end with some snow in Vermont in October, 200 days later. Their average mileage was very low, but Jerri and Kyra meant for that to be the case.
And Mic dealt with it over 2,000 miles, 200 days, and 360 pages of his book. A book which anyone who likes hiking books will like. A book which he wrote for friends in the 70's. He did nothing with it for two decades and it was published "for real" in 1990, and repubished in 2001. That's a cool story.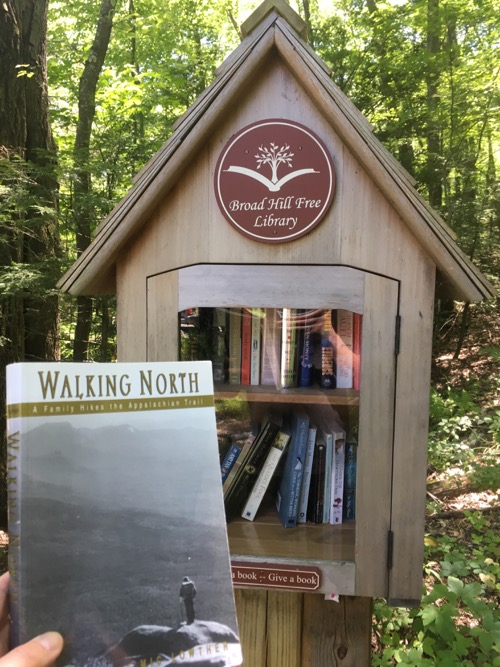 Also cool? You can have this book! I happened to pick it up for free at Simsbury's Storyteller's Cottage in Simsbury while checking that place out for CTMQ. In the spirit of giving, and because I "completed" Granby the day after I finished the book, and because in doing so I walked past perhaps one of the most remote "Little Free Libraries" in the state.
And I encourage you to do so as well. At the dead-end of the eastern section of Broad Hill Road, off of Simsbury Road up near route 20 in Granby, just past the horse farm… there's a lovely Little Free Library in the woods. I placed this book there on Saturday, July 21st. I can't imagine many people hit up this free library. Go for it and let me know.
And what the heck, you can walk the undriveable Broad Hill Road to Carpenter's Falls! And through Holcomb Farm! Over to McLean Game Refuge! Or up to the Granby Land Trust's Diamond Ledges!
Have fun!