For Peakbaggers Only
Chasing Summits
By Garry Harrington
I read books for different reasons. I read some not for pure enjoyment, but for inspiration to write my own. As in, "hey, if this dude could get this book published by the AMC, I certainly can do something similar."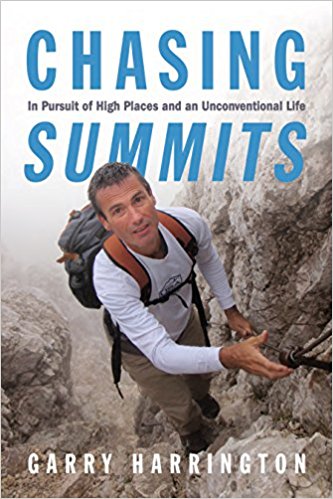 Chasing Summits is one of those books. Although a professional sports journalist and editor in a former life, no one is going to say that Garry Harrington is a top tier writer. (Much like they'd say about me.)
But his travels and achievements more than warrant a book. Though as my title on this page states, this is a book for peakbaggers and peakbaggers only. In my opinion.
Harrington was always fit, but never much of a hiker or climber when he began hoofing it up and down Mt. Monadnock over and over from his home in Keene, NH. (In fact, he's summited it over 300 times!) From there, he began poking around New Hampshire's other mountains, found out about the various peakbagging lists, and caught the bug.
The book covers a decade or so of peakbagging exploits. From New Hampshire's peaks to state highpoints to the Colorado 14ers to the California 14ers to all sorts of crazy volcanoes and highpoints in Central America and Europe.
I happen to love this stuff and dream of doing much the same. However, I live a much different life than Mr. Harrington. While I can't pretend to know his specific circumstances, he has married and divorced multiple times and seems to have a somewhat distant relationship with his children, who barely figure into his stories. His employment history is nomadic, sporadic, and tenuous.
I remain married to my one and only wife and she and my sons are everything to me. I plan on keeping my full time job as well. So, no, I won't be flitting off to Guatemala for two months of volcano climbing anytime soon or taking a three-week US state highpointing road trip either.
Harrington's tale is one of a hiking novice who, through determination (and lots and lots of free time and travel), become a rather accomplished rock climber. The 14,000 foot peaks in California (among others) require climbing skills I'll never attain.
But really, considering what Harrington gave up to reach the point in his life where he could pursue these things, makes me feel okay about my lack of class 5 skills.
Regardless, I very much enjoyed the book for what it is.
Easter Egg: The first person who reads this sentence who would like this book, send me an email (click on the envelope on this page) saying so and it's yours.
The book has been claimed, thanks!