Paul Bunyan, Groot, a Gorilla, and a Swan Walk Into a Bar…
Cheshire
I bet you didn't know that giant roadside (usually) men have a cult following. They are called "Muffler Men" in this world because, apparently, the first giant roadside men all held mufflers.
And because this community of weirdos exists, Cheshire's Paul Bunyan Muffler Man at The House of Doors has a whole story. In fact, there's a second Connecticut House of Doors Paul Bunyan Muffler Man…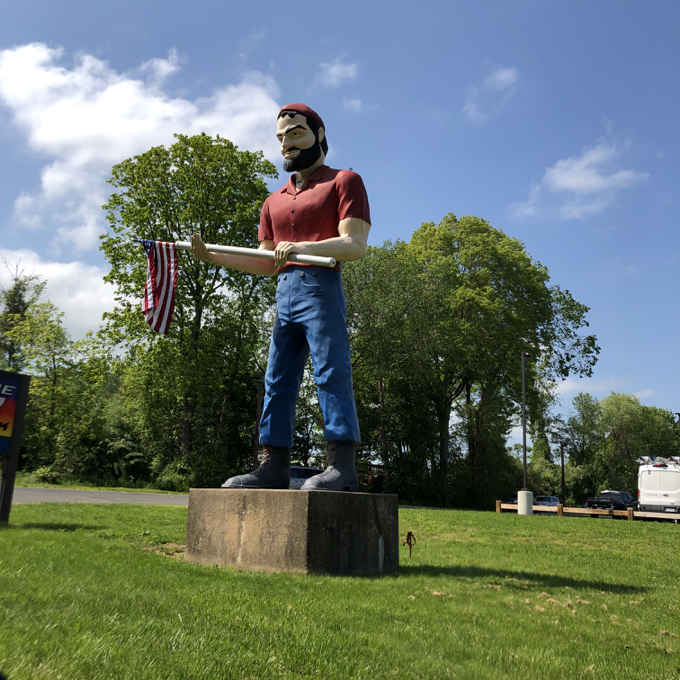 Okay, the story itself isn't exciting, but the fact that people keep track of this stuff is fascinating to me – says the guy writing about the guys who keep track of such things. I'm fully self-aware, don't worry.
From Roadside America, the premier source for all things Muffler Men.
The town of Cheshire enforces a law that no sign can be more than seven feet high, and most signs in town seem cut from an identical mold with knob-topped bedposts on either side and a Georgian sunburst "window" on top.

When the lumber business that is now the House of Doors put a 26-foot-tall Paul Bunyan muffler man on their front lawn in the early 1980s the town was up in arms, so the Sirois brothers, who own the business, replaced the axe with an American flag. "You can build a flagpole as high as you want and the town can't do anything about it," they told us.

The muffler man, they proudly claim, is now "an official landmark."

Since those early conflicts, and in the wake of the Muffler Man's very important role in a post-9/11 world, the flagpole gambit seems to have been dropped, with no ill effect on the big guy.
He was holding a flag during my 2019 drive-by visit, and seemed to be in great shape. The House of Doors in Cheshire is at 540 W. Johnson Avenue and Roadside America deems it, "worth a detour."
Now, many of you are saying, "Hey, I pass a House of Doors" at the end of route 11 in Salem!" and you'd be correct. Same owner, same passion for Muffler Men. I really hope this URL never changes, as the fact that Muffler Man Fans have chronicled the life and times and travels of both House of Doors Muffler Men is just… awesome.
2016
I stopped to see the Bunyan at the House of Doors yesterday and, just on a lark, I went in to ask about the "other" Muffler Man reportedly purchased by the owner for his other store. A sales rep took me outside to see the Muffler Man awaiting repairs, and a zoning variance, to be installed at the other House of Doors location in Salem, CT.

This guy needs some TLC ASAP. It was a rare find, a Muffler Man flat on his back, waiting for his moment in the sun. I felt like I got a backstage pass!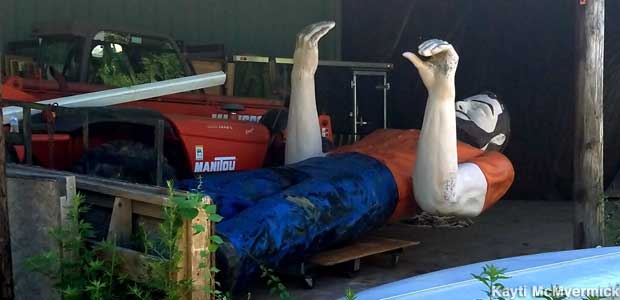 2017
I initially found Muffler Man No. 2 in 2017, still lying in the grass behind the building, but this year he was missing! Turns out they've taken him from the grass and put him on a trailer on the far side of the House of Doors. Is he gonna be restored?
I didn't see sleeping Paul Bunyan House of Doors Muffler Man # 2 during my 2019 drive-by. There was a massive kid birthday party crowd at the trampoline park in the same complex. But if he ever appears down in Salem, I'll be the first to let y'all know.

Groot
Someone on Cheshire Street made a Groot out of a tree stump. It's very well done.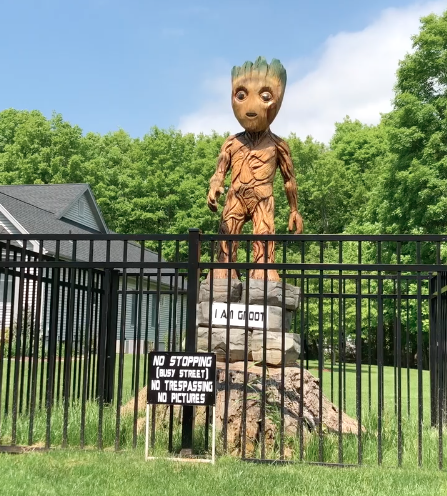 Then they put a fence around it and made a sign that says not to stop or trespass or take a picture. Sorry, I can't wrap my head around the idea of creating a piece of art, putting it 10 feet from the road, titling it, and then telling people not to take pictures of it.
One of my long-time friends is a Cheshire cop, so if I'm to be busted for this offense, take it up with him.

Gorilla
And thanks to my Cheshire cop friend, I became aware of a giant gorilla, sitting in a yard on Rt.70 near the intersection of Moss Farm Rd. He doesn't know why. I don't know why. Cheshire people simply love large things in their yards I suppose.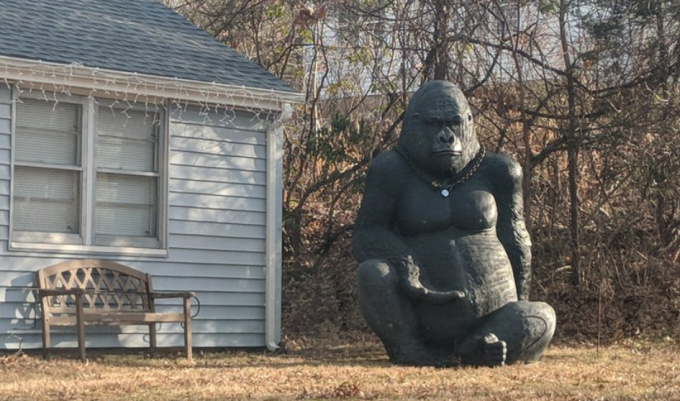 Goose Lady
Excited with his moment in the CTMQ-sun, my friend also told me this:
There is also a goose on West Main St near Jocelyn Lane that this lady dressed up in different clothes every week. It became locally famous and then, of course, some stupid kids smashed it. Arrests were made, she replaced the goose, and then she unfortunately died of cancer.
My friend – okay, his name is Kevin and I'm not sure why I've protected his identity thus far – anyway, Kevin sent me this with the note, "Take a… gander. Heyoooo!" And now you know why we're friends.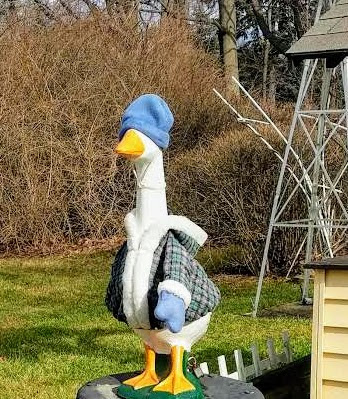 Cheshire, everybody. Just another Connecticut town.