Christ!(mark Castle)
Chrismark Castle, Woodstock
All pictures from Zillow.com
You've clicked on a very, very rare page here on CTMQ. For it is currently the only one of nearly 2,500 pages with no pictures of my own about a place I haven't actually visited – nor likely ever will. Also, the vast bulk of what's below won't be my words either.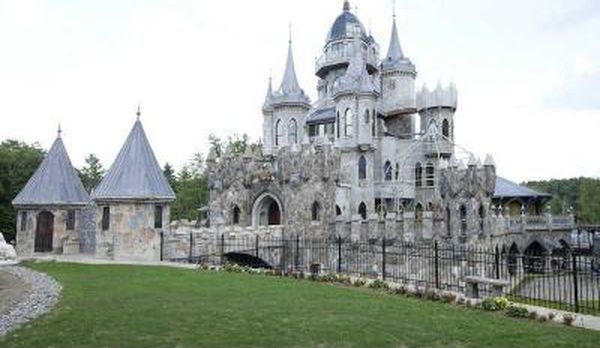 And I don't really have any desire to ever visit unless it leaves private ownership someday. Welcome to Woodstock's ridiculous Chrismark Castle. The ugly, overpriced, out-of-the-way vainglorious nonsensical structure. (For the record, I have driven by and have taken bad pictures from outside of the gate, but they're not worth posting here.)
Let's turn first to curbed.com for the story:
A 22,377-square-foot castle that could be described as Disneyesque if not for its overall creepiness, the fact that it sits on a gravel-covered artificial island, and a skeezy and dark history that includes the death of a rescue camel, has been listed for sale in Woodstock, Connecticut, for a ludicrous king's ransom of $45M. Built by Christopher W. Mark, the great-grandson of Chicago industrialist Clayton Mark Sr., the castle started off as merely an oddity in what a 2013 article in Connecticut Magazine calls "an otherwise normal neighborhood of moderate-sized homes," with primary construction completed in 2009 at a reported cost of $4.1M. Not too much is known about Mark, although the fact that he would build such a fortress places him squarely among the impulsive, eccentric, and somewhat aimless businessmen behind most of American's sad suburban castles. He describes himself as an importer-exporter who deals in antiques, while one of his employees once characterized him as "colorful."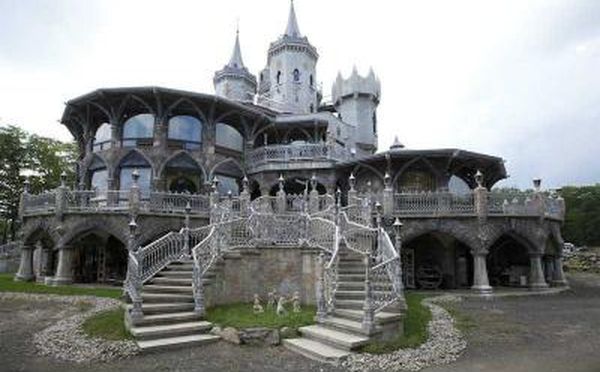 This 51-year-old jack of all trades had tried to make a few career changes centered around the home that he and his now ex-wife, Mary Galt, had built. According to a 2008 article in the Worcester Telegram & Gazette, a long-since taken down website called www.castle-models.com once advertised the home as an international modeling agency, with pictures of young women, listing their "ethnic look," with measurements including tattoo and piercing counts, along with truly horrifying copy which read, "Just one look at the shapely form of beautiful women brings about physiological changes that our senses will not allow our minds to deceive, nor pretend does not exist. And with the laws of attraction in hand, comes desire, intrigue, and lust, which man has learned to exploit and sell as if it were a commodity." The site listed a rate of $125 per hour to have one of these models do a photo shoot, with a minimum requirement of two hours.
Yeah. There goes any Disneyfied visions of this creepy castle. Eesh.
Doing their due diligence to keep that kind of thing out of Woodstock, townspeople notified planning officials, who told Mark he didn't have a permit to conduct business in the castle, and later denied his request to be exempted from the town's height maximum of 35 feet for businesses. After touring the residence, former First Selectman Margaret A. Wholean described the place as "just weird," noting that there were massage rooms and a large shower room built to accommodate multiple people.
Great. Art Vandelay meets Jeffrey Epstein. In bucolic Woodstock. What in the world is this place? Here's a drone video of it. Note the limo and the… checks video… antique plane with no wings in the parking lot. (It's actually a The seat-less, wing-less, engine-less Grumman Cougar F9 that he was trying to sell.)
The next time Mark and his castle made headlines was when his and Galt's nasty divorce proceedings came to light. In a sworn affidavit in 2010, Galt said she was "greatly concerned for the emotional health and safety" of the children, and Mark countered with child abuse allegations, after which he was granted temporary full custody. Where things get truly surreal is when both alleged that the other's neglect led to the death-by-starvation of a camel, in 2010, part of an exotic animal refuge that Mark ran on the property called Wilderness Kingdom, Inc, which once also included an emu and a zebra. After Galt left, Mark's girlfriend Marina Isakova lived with him in the castle for a time, until he put Isakova and the child they had together out on the street and refused to pay more than the "basic" monthly minimum of $1,000 in child support, for which he was excoriated in a 2011 New York Post article.
Here's that New York Post article. Here are the choice cuts from it:
A multimillionaire who lives a fairy-tale life in a Connecticut castle refuses to pay more than the bare minimum in child support for his daughter, leaving the girl and her mother on the brink of eviction from their Brooklyn apartment, the mother's lawyer charged.

Christopher Mark, the scion of a Chicago industrial family, turned away his little girl, Maria, and her mom from his 35,000-square-foot castle — replete with turret, moat and a petting zoo — in Woodstock, Conn., shortly after the child was born last year, the mother said.

Maria and her mother, Marina Isakova, now face eviction from their Brighton Beach walk-up because Mark — claiming hardship — refuses to pony up anything more than the "basic" monthly minimum of $1,000 in child support, said Susan Friedland, the lawyer for Isakova.

"When I got pregnant, he was so happy that we would have a child together," said Isakova, who also has a 9-year-old daughter.

But he didn't show up for Maria's birth or visit them in the hospital, instead sending a text message saying, "[I] didn't want to add to your stress," while complaining of a "very bad financial situation," Isakova said.

She tried to return to the castle but was rebuffed.

Now she's on food stamps.
Let's go back to the curbed.com article for a final bit of zingaliciousness.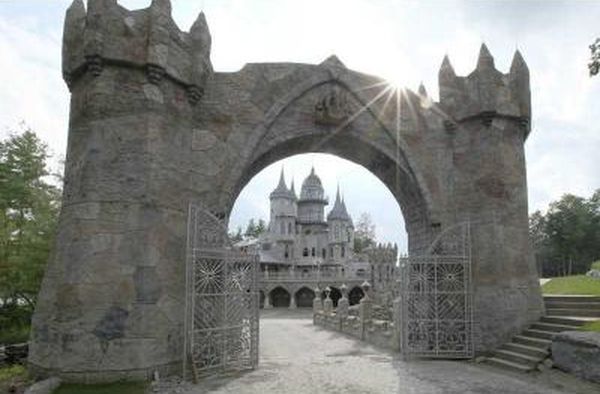 Given that his turreted castle is associated with all of this, it's no surprise that the listing text is mum on the details, describing it simply as a "single family home with 8 bedrooms and 8.5 bathrooms." What it fails to mention is the 126 acre lot that accompanies the castle—part of a larger 354-acre gated parcel that Mark owned at one time—or the fact that it is accessed by bridge, and surrounded, like the stateliest castles of Old Europe, by an unmanicured expanse of gravel. Inside, there are medallioned floors, ceilings painted with cotton-candy tufts of cloud, and a coat of arms set in the wood floors. Again, the asking price for this stigmatized, egregious blend of McMansion styling and yearningly castle-like features is $45M.
Phew. Okay. I know nothing more about any of this stuff than what you've just read. Christopher Mark does a cabinet-making business in Putnam which is… a real business at least. (He also owns some business property in that town, but as an absentee landlord, the building went to rot.)
If you've made it down this far on the page, you should be rewarded. So here you are. How about a weird video tour of the pre-finished castle, which is more or less a bad commercial for the cabinetry business.
I love how the host refers to the "genius" behind this craptacular place.
I won't pretend I have much interior design taste, but this place looks like garbage to me. Nothing looks high-end to me. Rich people are just really, really weird. Want more? There's a second video there to see the turret if you're into that.
That's all I've got. This is just one of those unique and weird Connecticut places that y'all expect me to write about, but that I won't get in to see. So this is the best I can do.

CTMQ's Houses, Ruins, Communities & Urban Legends