I Like
I Hike
By Lawton Grinter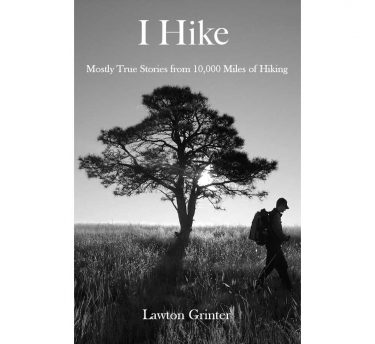 Despite the paucity of hiking books currently discussed on this little website of mine, I've read a LOT of hiking books. I daresay I've read almost every thru-hiking book in existence. When you're in your 40's and have little kids and the thru-hiking dream is deferred for at least 20 more years, these types of books are all we have.
But they are never what I want them to be.
They are often overly absurd (Bryson's A Walk in the Woods) or dry narratives focusing on the day-to-day drudgery of a months-long hike instead of the reasons why people like me find ultimate joy in months-long hikes.
So Grinter's I Hike is a breath of fresh mountain air. No, he's not the world's greatest writer or pontificator, but when you've hiked every long distance trail a few times like he has, the stories write themselves. And the way he presents them is, perhaps, the best way to do so: Randomly.
I Hike is a collection of essays about certain events that Grinter experience along the Appalachian, Pacific Crest, and Continental Divide Trails. I've only done the AT, but have of course daydreamed of the other two over the years. I find the prospect of desert hiking terrifyingly exciting. (Which, I realize, sounds odd to most people. I've only done short day hikes in the desert and there's just something about it that I like.)
Grinter writes about the traditional half-gallon ice cream challenge at the halfway point of the AT in Pennsylvania. In my experience, it wasn't as big of a deal as it was for the author, but it was still fun reading about it. Some stories are touching (a good friend's untimely passing along the AT in New Hampshire stands out) and some are riveting.
A lost hiker in northern Washington's Cascades is probably my favorite, along with the one about fording raging rivers of snowmelt in northern California. Both stories take place along the PCT. I really would love to hike the PCT.
Sigh.
If I had a nitpick, it's probably with myself. The "funniest" anecdotes seemed a bit "off" to me. The scatological stuff (vomiting up the AT's ice cream, the explosive battle with giardia – which really isn't funny at all, but it can be, I suppose, in retrospect) and the weird Maine hitchhiking story were a bit overdone. But I like my humor a little less "in-your-face."
I read this book in very short order, not because it's so short, but because it was damn fun to read. It probably will mostly appeal to long distance hikers, but I'd guess anyone who has ever dreamt of such things would enjoy it nearly as much.
Easter Egg: The first person who reads this sentence who would like this book, send me an email (click on the envelope on this page) saying so and it's yours.
This has been claimed. Keep a look out for more stuff like this!