Oh Well(s)
Montville, (Google Maps location)
March 30, 2018
This little place is super cool and the artist that created it is super cool. My kids thought it was super cool. I want to be sure you understand this before you continue…
For the Wells Dinosaur Haven has clearly seen better days. Heck, it was created in 1981! There are many, many places around Connecticut that have not survived since 1981 – and they haven't been exposed to the elements through decades of blizzards, heatwaves, and rainstorms.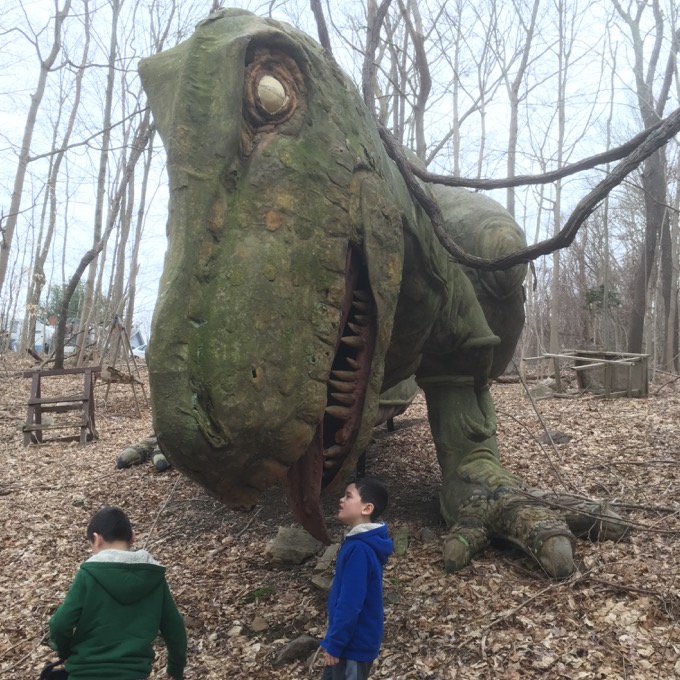 Beyond all that, the much-loved dinosaurs here in Montville have survived Mohegan Sun. I think, perhaps, the incongruity of this DIY backyard weatherbeaten dinosaur art exhibit literally across the street from the casino's edifice to artifice, is one of the odder juxtapositions in all of Connecticut.
One could easily draw a parallel between the timelines of real dinosaurs and the fiberglass beasts in the Montville woods. These dinosaurs were here first; tucked into a rural, woodsy part of town called Uncasville. Nothing but farms and woods for miles around in 1981. And 1991.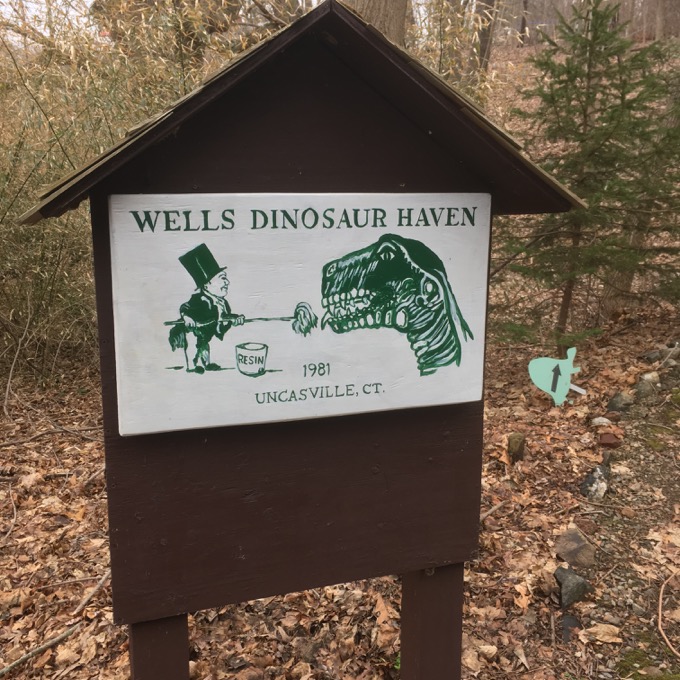 Then the casino came in 1996 and nearly wiped them out. The expansion of the road in front of them lessened their habitat and the once empty boulevards were now choked with congestion and exhaust. And the dinosaurs suffered.
And someday, surely, they'll go extinct.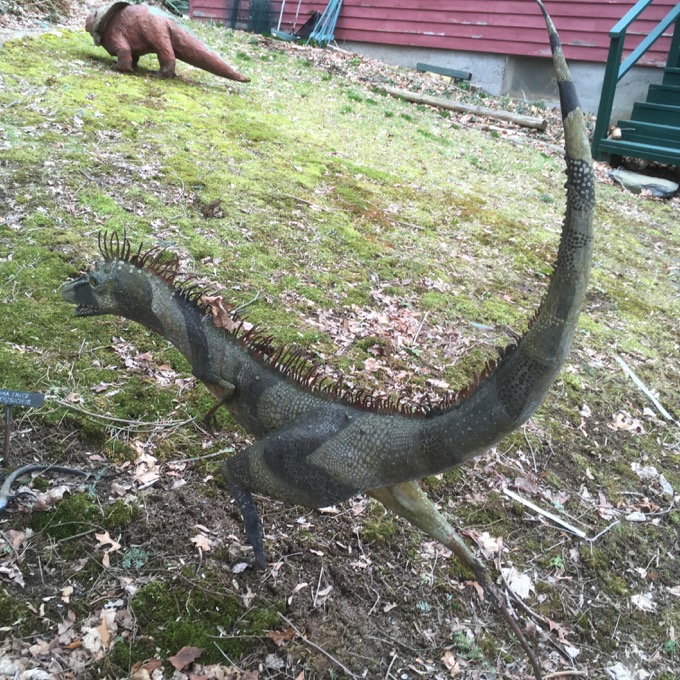 But for now, Calvin, Damian, and I were able to walk the little path behind Jeff Wells' house and enjoy his creations.
I had contacted Jeff alerting him to our wish to visit (Please be sure to do this yourself and don't just "show up" like a jerk) and we were given permission to tour his free exhibit. He wasn't there during our visit, but fortunately The Day can provide some background information. Like what particular skill set one would need to create this place.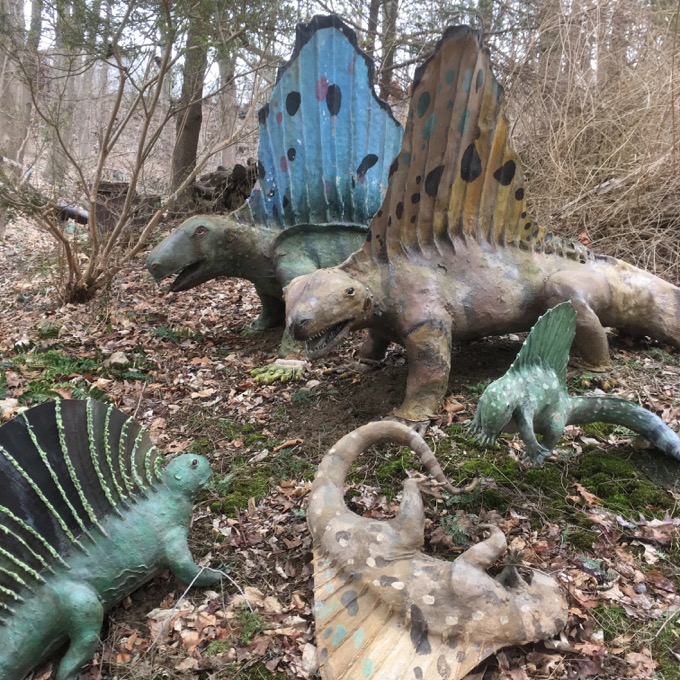 Wells, an artist and recently retired designer at Electric Boat, pointed last week to a 5-foot-long figure painted with red and yellow stripes lying in the mud, where water sometimes runs down through his yard from a reservoir just west of the property.

It looks like a dinosaur, but years of exposure to water, mud and snow have left it pretty rough around the edges.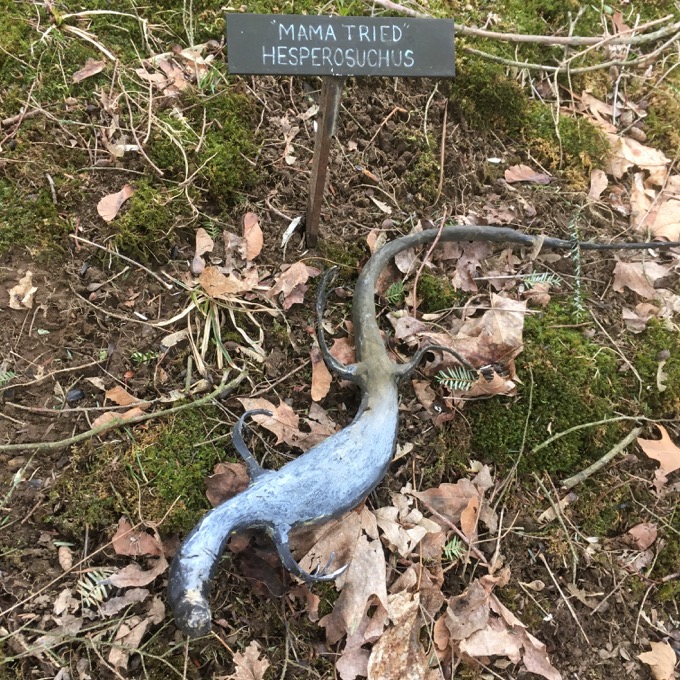 Wells said he can do better.

"I keep it here only as a benchmark to illustrate how bad I was," he said.

The dino was one of the first ones Wells built, when he first decided to fill his yard with prehistoric creatures in 1981.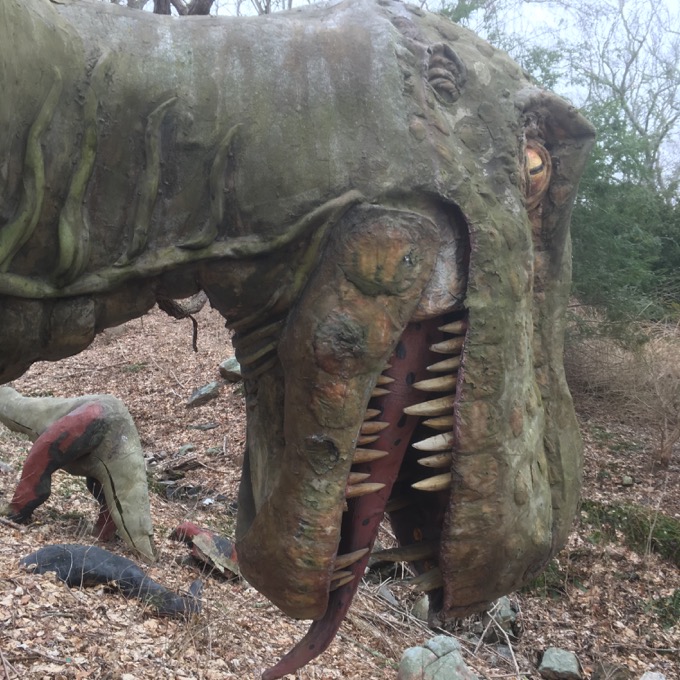 Awesome. You know I love my humble artists. Here's the dino he's referencing, I think: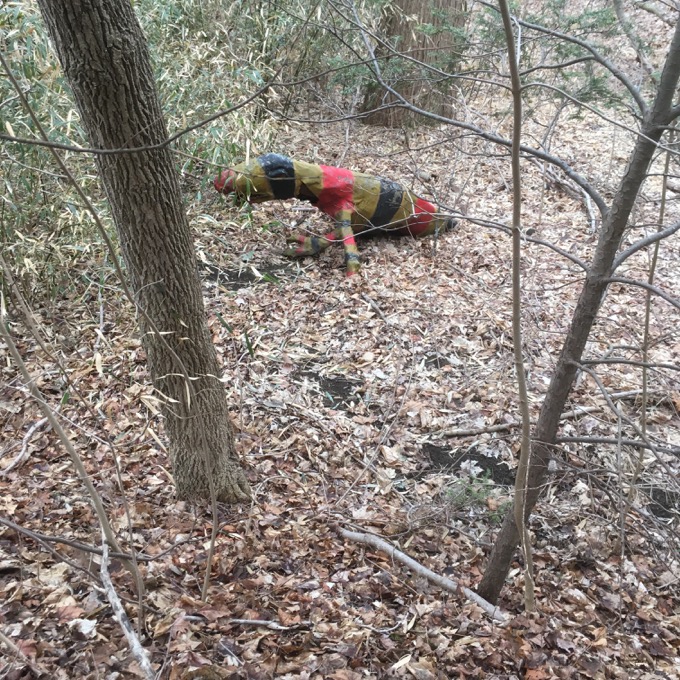 The star of the show is, of course, the giant T-Rex that looms over visitors just after crossing a little bridge. Wells has been adding to his collection over the years and this guy is clearly a stand-out.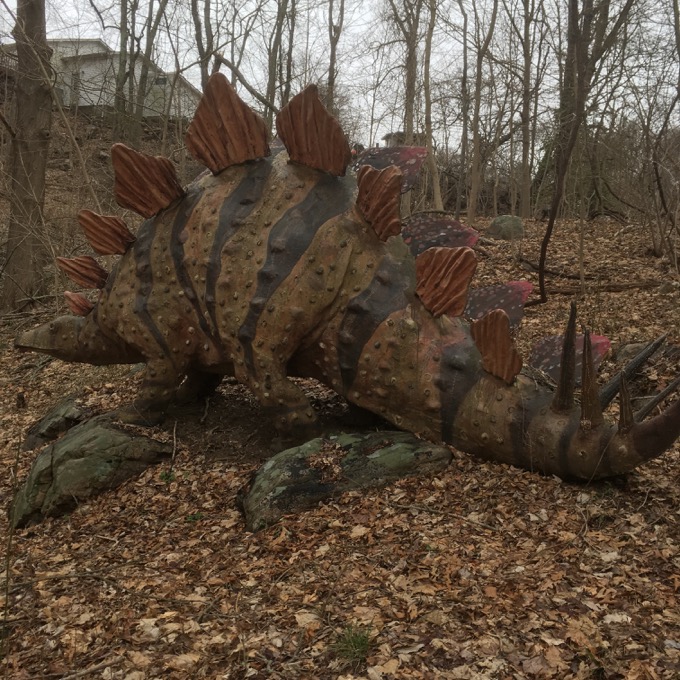 Before he was built, Wells' wooden dinosaurs still attracted locals school children and drew praise. (Ah, pre-casino, pre-smart phone days…) As The Day put it:
Wells wanted to get better, so he got a job at Electric Boat hoping he would learn to weld and craft big things out of metal.

He ended up spending 33 years with the company, the last 15 as a submarine designer.

"I learned my craft there," he said.

In Groton, Wells learned how to weld and bend fiberglass over his dinosaurs' frames to make pieces that could stay intact in his yard for years.

The T. Rex is enormous, narrow on both ends and wide in the middle.

"Kind of like a submarine," Wells said.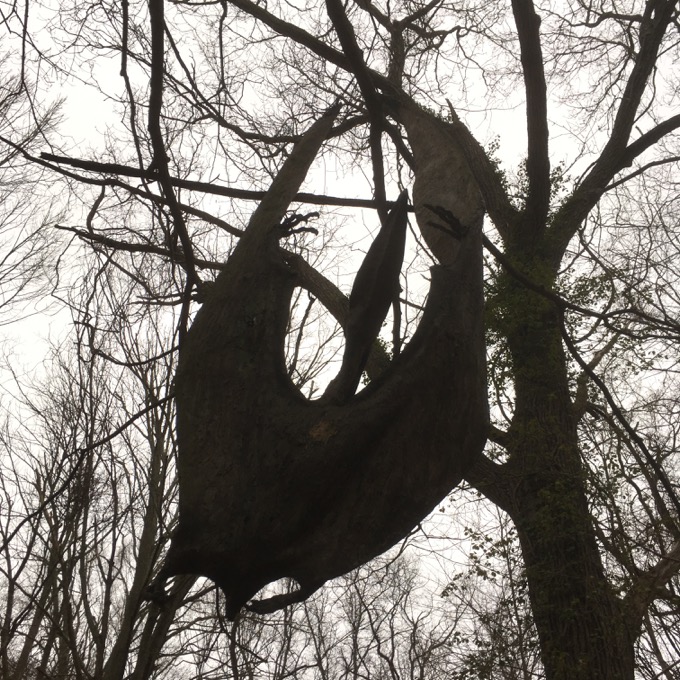 Ah, the good old days of, "I want to learn how to make better dinosaurs in my backyard, so I'll go sign up to get a job designing submarines at Electric Boat." You have no idea how hard it was, Millennials!
My GenZ's really enjoyed the "haven." I enjoyed the subtle humor of the signs here and there, as well as Jeff's dedication to his craft. (In our correspondence, he did say that he hasn't had a chance to perform his annual "spring clean-up" yet, but I'm certain this bit of natural progression won't be removed: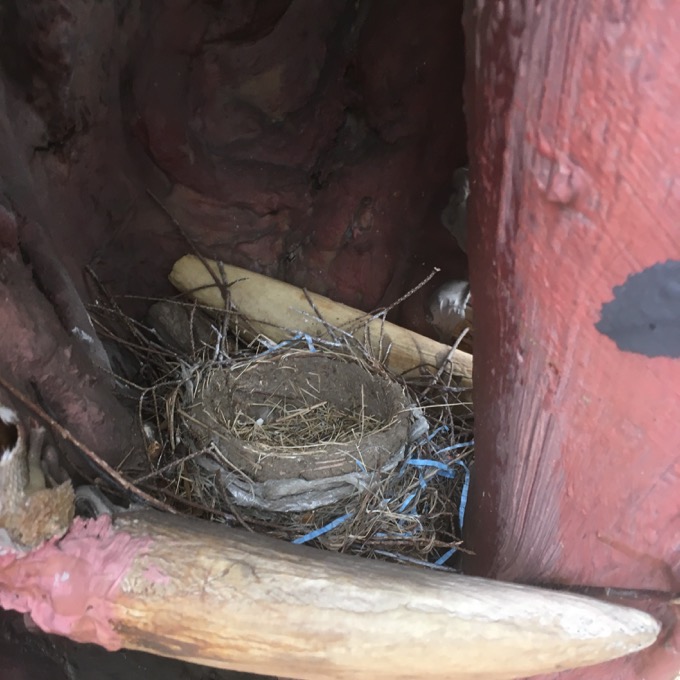 Love that. It's a bird's nest inside the T-Rex's mouth. Another cool thing about this beast is that you can take a peek inside of him. Perhaps this view is removed for the warmer months, but for Calvin, it was certainly a feather and not a bug.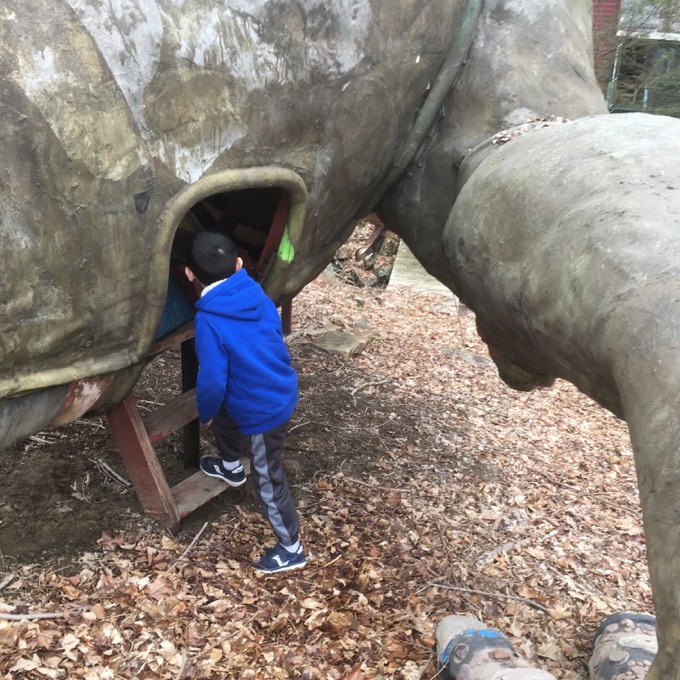 So why does he do it? Spend (literally) years building these pieces of ephemeral art and let kids run willy-nilly among them?
The dinosaurs have always been free to look at, Wells said. It's worth it to see parents bring their kids to run around among the prehistoric creatures and watch their excitement, he said.

"I want it to be free and accessible and fun," he said. "That's what it's always been about."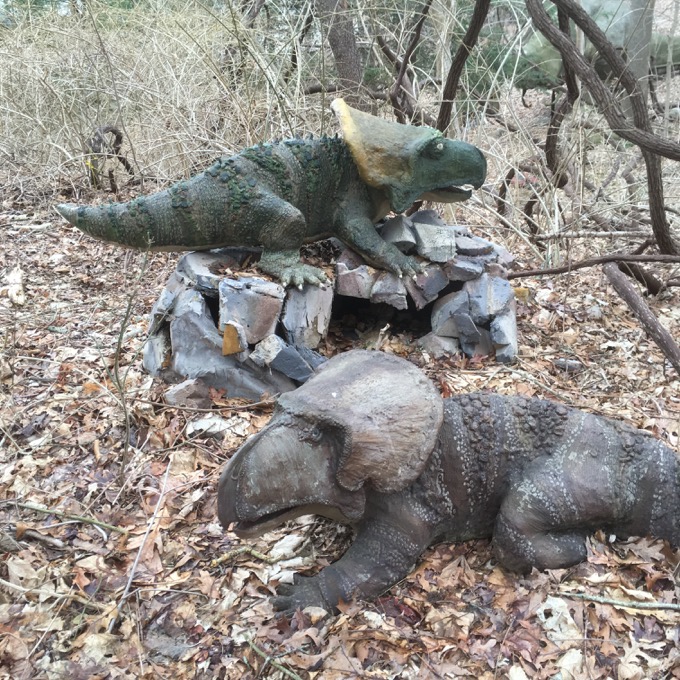 Love this guy. Wells' creations have been shown in at least one art gallery which is pretty cool for a guy who learned how to make these things at Electric Boat shortly before retirement. If you visit, please bring a few bucks to put in the donation box behind the house. And sign the guestbook!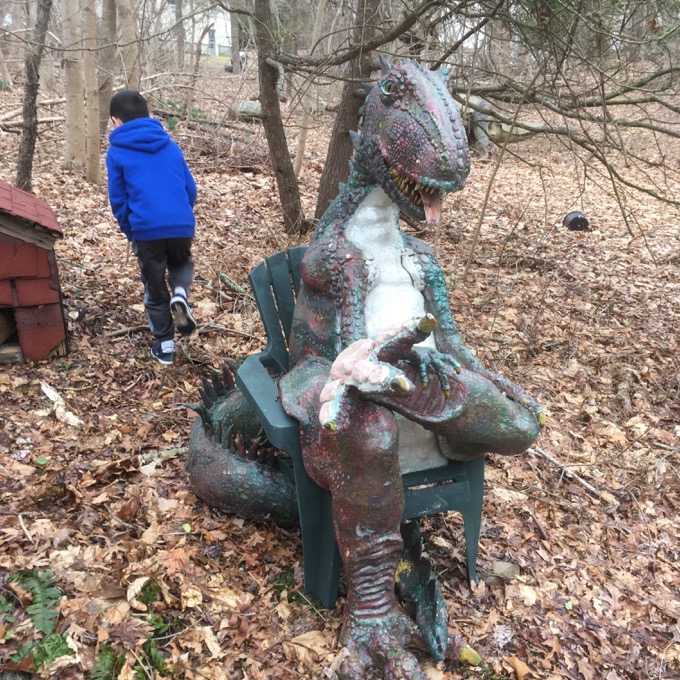 And so, as time marches on and Jeff Wells' creations crack and crumble, don't shed a tear. This is the natural order of things – and Jeff is fully on board with the process.
He knows that the dinosaurs won't last forever, even the ones made of steel and fiberglass.

They stay outdoors all year, and some show signs of damage from weather and overeager visitors. But Wells said that's what he likes about his dinosaurs.

"I like the naturalness of things," he said. "How they just weather away."
I've always liked impermanent art. I think it sort of gives me a jolt to have the feeling that I'm seeing something that won't last forever; that won't be seen by anyone who ever wants to see it.
Just like real dinosaurs.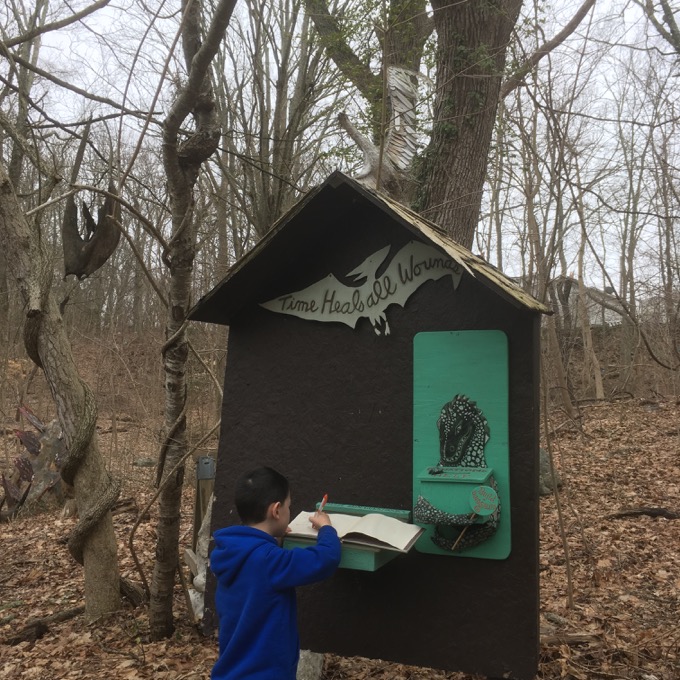 Wells Dinosaur Haven (facebook)