Our Boys
April 2011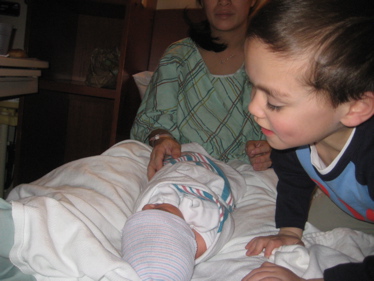 Our lives just got 50% more complicated. And wonderful. With baby Calvin entering the world in April 2011, we have entered the world of multiple children. Actually, our journey with Calvin began years ago – in a way.
In an odd twist of irony, Damian was an easy baby. Quiet and compliant; we thought this was how it was supposed to be. We had no benchmark or prior experience. As he began missing milestones, though, we knew something wasn't quite right. After a year, we put the baby books away and sought answers. They came in the form of his Smith-Magenis Syndrome diagnosis around his second birthday – and they changed our lives forever.
Life wouldn't be all fun and games. It was going to be hard – though we still didn't know how hard with Damian being so young. (Please read more about Damian's SMS here.)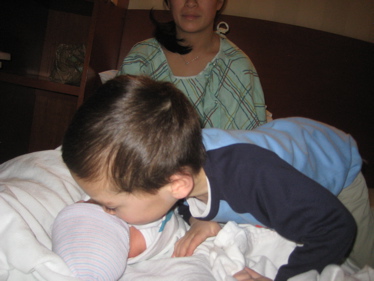 Our plan to have a second child was put on hold indefinitely as we focused on Damian and doing everything we could to help him. With so much invested in him emotionally and financially, we weren't sure we could handle another kid. And let's face it, even though SMS is not inherited, the risk of having another special needs child weighed heavily. (It still does, actually, with Calvin only two weeks old right now… That's hard to admit, but I just did. We DO know he doesn't have SMS!)
We waffled and wavered. For two years. We read books on special needs parenting and corresponded with other families and siblings of SMS kids. Damian commands so much of our attention, how would he deal with a 100% dependent sibling? He has absolutely no patience and the worst temper you could imagine a little kid having – with a penchant for violence thrown in. Sure, most of his violent acts are on himself, but still…
I went to a talk given by siblings of SMS kids at a conference in Virginia. It was the best hour of that three day event. They were open and honest: Parts of their childhoods were not fun. Other kids mocked them and their special needs sibling. They felt neglected at times despite their parents' best efforts. When they were little, it was hard for them to understand why their SMS sister could do things they never could – and not be punished for it.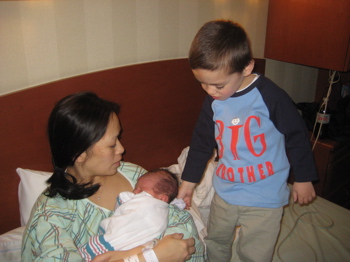 Moreover, how in the world was their SMS sibling "everyone's favorite" when she was quite obviously a very poorly behaved child? Why did she get praised for stuff the typical kids did a billion times over – and many years younger?
These questions sat in the pit of my stomach for those two years. Could we raise a child in this unique and difficult environment and keep him safe, respectful and ultimately loving of us and his older brother? I don't care who you are – these are hard questions. When we started financially planning for Damian, with all emotion removed, it became readily obvious that any sibling will most likely bear the onus of making sure Damian is well-cared for after Hoang and I no longer can.
That's pretty heavy for a hypothetical fetus to handle. (Now, I'm sure many families in very similar situations just forged ahead and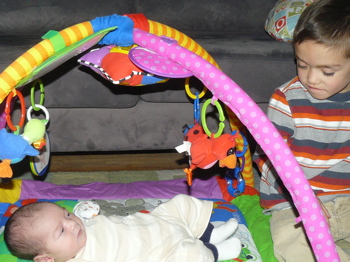 went for more kids. That's just not how we roll. And by the way, I know of other SMS families that quit after their one SMS'er. I respect their decision just as much as anyone's.)
But we did it. We know that one of the platitudes bestowed upon kids in Calvin's situation is that they will mature to be "better human beings." They will be more caring and open to other's ideas and more respectful of those with differences. I really do believe that to be true. My best friend during my formative years has a Downs sister whom he dotes on to this day. I dated a woman for a few years before Hoang with an autistic brother. (I actually reached out to both before Hoang and I moved forward to try to conceive. If you read this website you know I'm thorough if nothing else.)
Hoang and I have alternately joked and choked up over looking at our perfect little baby and asking him, "what craziness have we brought you into?" It's a good question when Damian is yelling his monotone yell while hitting himself in the head because, oh I don't know, because I crossed my legs while sitting on the couch (this is a true issue with him, by the way). A question that has no answer; but certainly involves a journey that I'll try to capture a bit as we all grow together.
Hoang and I have promised each other we will never regret having Calvin. We also promise not to burden him unfairly, nor ignore him as he grows. For all the attention and care Damian will require, we hope to give Calvin just as much – perhaps in different ways, but just as much.
Somehow, we'll do it.