Can We Kick It? Yes We Can!
World Soccer Stadium Tour
2020 –
I told my soccer-mad son Calvin I'd put this page together for him because he apparently has designs of visiting many MLS, USL, English Premier League, Bundesliga, La Liga, Ligue 1, and who knows what other leagues' soccer stadiums around the world in his lifetime. He will hypothetically use what's here as a sort of start to his quest. And since he needs me for the next seven or eight years to get him to wherever he goes, I'll be involved.
USA & Canada
USMNT Caps
Major League Soccer (MLS)
United Soccer League (USL)
D1 College Soccer
Major League Soccer
MLS began league play in 1996 and seems to be doing okay. I won't get into the MLS Academies and lower leagues because it's impossibly complex – and will change every few months anyway. It's the top division of soccer in the US and Canada, and is therefore the best and most easily accessible live soccer for us. Let's roll.
1. Pratt and Whitney Stadium at Rentschler Field, East Hartford, CT
2. Gillette Stadium, Foxborough, MA
3. Red Bull Arena, Harrison, NJ
4. Stade Saputo, Montreal, Quebec
5. Subaru Park, Philadelphia
6. Audi Field, Washington, DC
7. BMO Field, Toronto, Ontario
8. Allianz Field, St. Paul, MN
2020
Toronto FC vs. Inter Miami CF (PAWSaRF, East Hartford, CT)
November 2020
A late season game at a host stadium during a pandemic in a freezing monsoon? Sign us up. Since this took place in Connecticut, our experience has its own separate page on CTMQ here. This obviously wasn't a true MLS experience, but it was our first, so it holds a special place in our collective heart.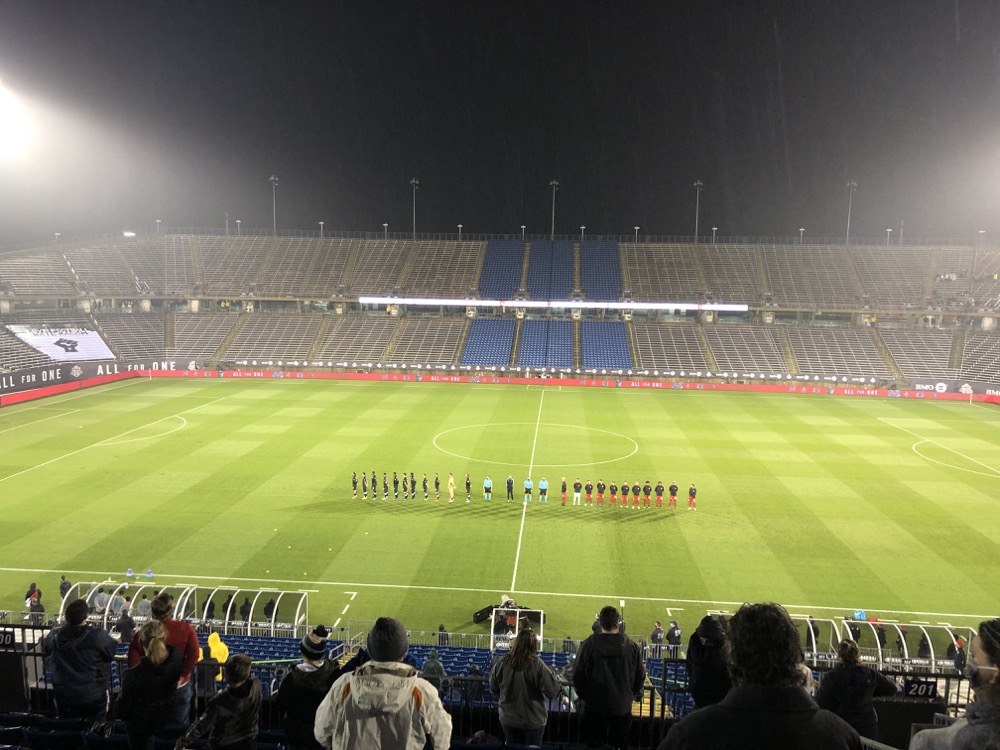 Perennial punching bag Michael Bradley played at center back for Toronto FC and made his usual terrible outlet passes all night long. (Toronto was playing its season to an empty stadium in East Hartford because of COVID travel restrictions to and from Canada. This was the one game they allowed spectators – all 300 of us.) Toronto won 2-1, no one got hypothermia, and we outlasted almost every other fan that bothered to show up on an absolutely miserable night for a game not a single person there cared a whit about.
Pre-Game Activities: N/A
Tailgating: N/A
Intro & Hype Music: Same dated crap they play for UConn football
Food & Drinks: Awful
Playing Surface: Natural Grass
Parking: Great because no one was there
Overall Experience: 2/10
2021
New England Revolution vs. Philadelphia Union (Gillette Stadium, Foxborough, MA)
August 2021
My favorite part of this game was hearing my wife tell her family we went to a "Revolutions vs. Unions" game. She's the best.
Experiencing a soccer game in a 66,000 seat NFL stadium is not awesome. It's just way too big and the resulting atmosphere is quiet hollow. I've never been to a Patriots game here, but I simply can't imagine what a nightmare the traffic, parking, and tight concourses are like with 10 times the people than we experienced. No thank you.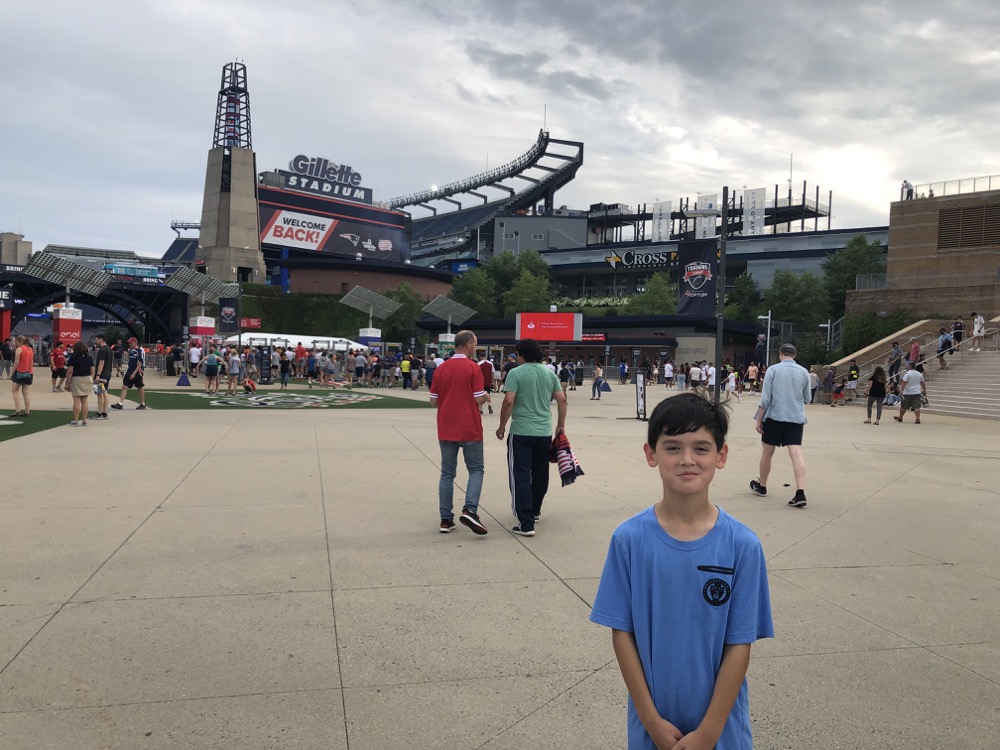 After Calvin spent the entire pre-game playing pick-up soccer with some random kids in the parking lot, we made our way to our seats which were protected from rain, but not from the hot summer late afternoon sun. This was the biggest stadium Calvin had ever been in and it just felt empty.
The Revs pregame/intro/hype music is horrid. I'm really hoping it's the worst we ever experience because I'm not sure I could handle anything worse. A screeching nu-metal track on repeat for what seemed like an eternity kicked off the action. Calvin wore his Union shirt (his father's family is all from the Philadelphia area, so he was keeping it real) and we cheered for the underdog visitors the entire game.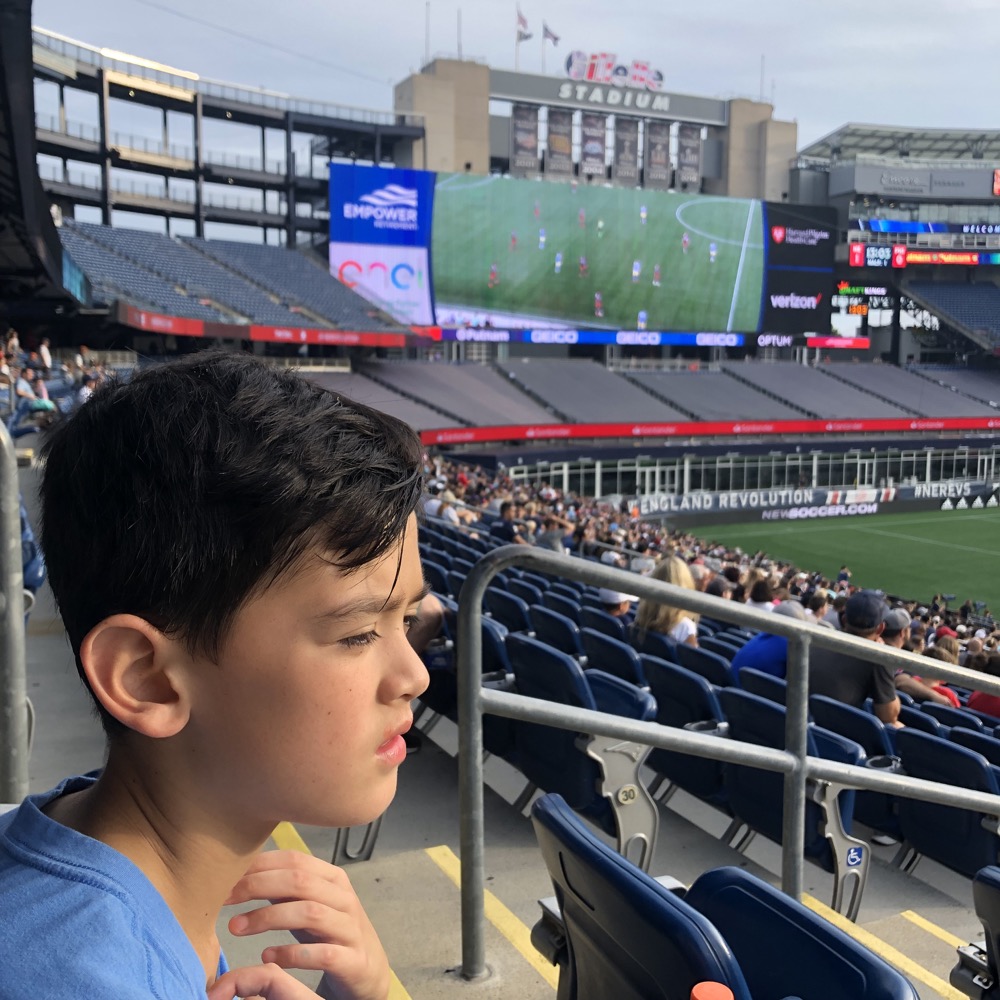 It didn't work, but USMNT's Brenden Aaronson's little brother Paxton scored a nice goal for the Union against USMNT goalkeeper hero Matt Turner. The other star player was Union keeper Andre Blake. Blake is a Jamaican national and played at UConn where he set the NCAA record for shutout minutes.
As this was Calvin's first "big" soccer match, he was frightened by – and fascinated with – the supporter's clubs in the north endzone. The Revs have two clubs: the Midnight Riders and The Rebellion and they call their section The Fort. They played their drums and sang their songs and chants valiantly, but the sheer size of Gillette rendered their efforts fairly limp. At the other end, old dudes dressed in colonial militia garb shot cannons after goals which was pretty cool.
In the end, the first place Revs beat the Union 2-1 and we beat the traffic out due to my brilliantly strategic parking.
Pre-Game Activities: Calvin kicked a ball around with some random kids, but there are the usual kid-friendly soccer skill activities
Tailgating: Very active, very impressive
Intro & Hype Music: Horrible, screeching nu-metal garbage
Food & Drinks: Pretty good and impossibly expensive
Playing Surface: FieldTurf "Revolution"
Parking: One of the worst situations in America, but they do offer free lots
Overall Experience: 5/10, NFL stadiums don't really work for soccer
New York Red Bulls vs. Columbus Crew (Red Bull Arena, Harrison, NJ)
August 2021
About equidistant to us from Foxborough, traffic notwithstanding, is Red Bull Arena near Newark. This place is very different from Gillette Stadium though, as it is a soccer specific stadium… in America. Calvin and I spent a couple days in and around New York City doing a few things he had been promised during the pandemic summer of 2020. One of those things was an MLS game.
I should give a shout out to Element Hotel of Harrison, as it is perfectly located for a game, not too expensive, and just a comfortable place all around. The walk to the game was all of five minutes.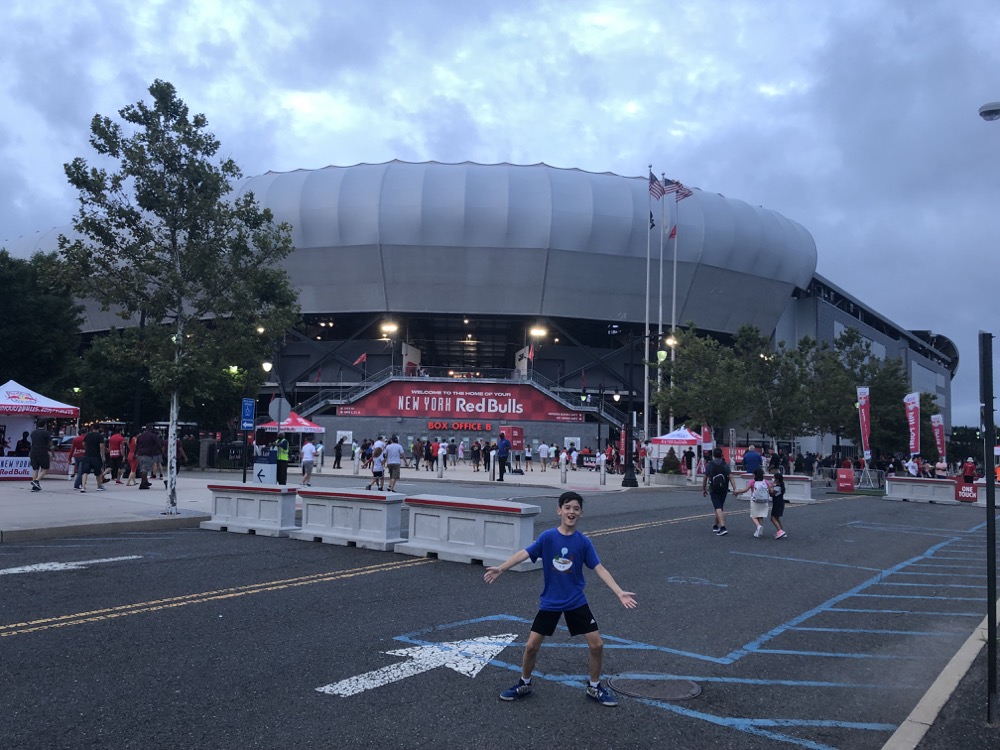 Owing to its location and the fact that so many get here via public transportation, there really wasn't any sort of tailgating culture that I saw. Calvin just missed out on the soccer skills set-ups outside of the game before kick-off, but he wasn't too upset.
The stadium is beautiful. Just perfect for soccer, as the seats are right on top of the players and it's not too big like NFL stadiums are. It features a transparent roof which they say provides "superior acoustics by holding, amplifying and reflecting crowd noise back onto the field." You know what else it holds? Heat and humidity. I imagine the upper bowl is nearly unbearable during hot, humid, and sunny afternoon games.
But you know what's super cool here? I haven't heard of this at other stadiums – but I've not researched it.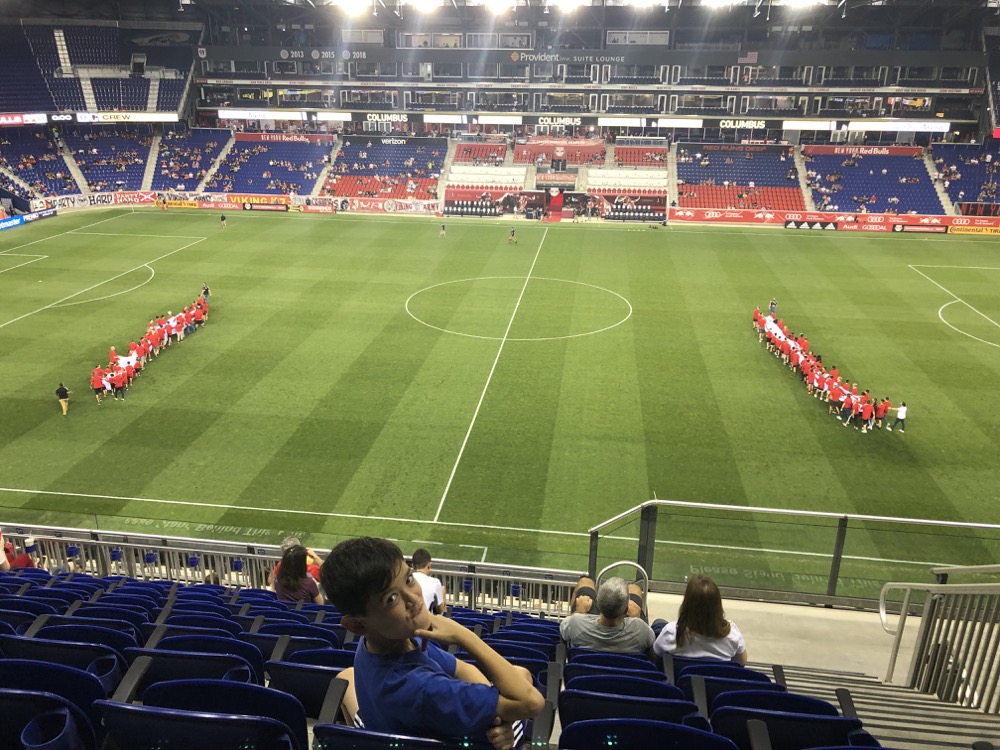 In 2017, the Red Bulls opened MLS's first permanent sensory room for individuals and families affected by autism. The space was formerly used as executive offices by the club's general manager Marc de Grandpre, whose daughter is on the autism spectrum. The sensory room overlooks mid-field and features dimmed lighting and lightly-colored walls to offer a soothing environment, along with visual aids, fidget toys and other activities. There is no special ticket or any charge required for use of the room
The hype music here is very good. A mix of bass heavy club and hip-hop, it got me psyched up. Neither Calvin nor I had any rooting interest in the game, so we chose to root for the home side because… why not? The Crew was having a very down year and featured beleaguered striker Gyasi "Heavy Touch" Zardes who we both like to goof on. For you USMNT Soccer Superfans, this was the game where Zardes had a 1v1 break, took a weak "shot," and crumpled to the ground with a pulled hamstring.
One less MLS'er for Gregg Berhalter to start in the World Cup Qualifiers a couple weeks after this game. Sorry to be so cynical, but… I'm okay with that.
"Our" Red Bulls won the match 1-0 in front of a rather empty stadium. Weeknight, threat of rain, pandemic, poor opponent… all these factors surely factored into the low attendance, but I'm thinking that's the norm here, and almost every MLS stadium that's not in Atlanta, Seattle, or Portland.
But man, if/when this place ever fills up, it will be LOUD and fun. And the supporter's sections were a blast. A variety of supporters clubs and groups have grown around the team since its inaugural year. The main crews are the Garden State Ultras and the Viking Army Supporters Club – formed after a bunch of Scandinavians were brought to the team at some point in the past.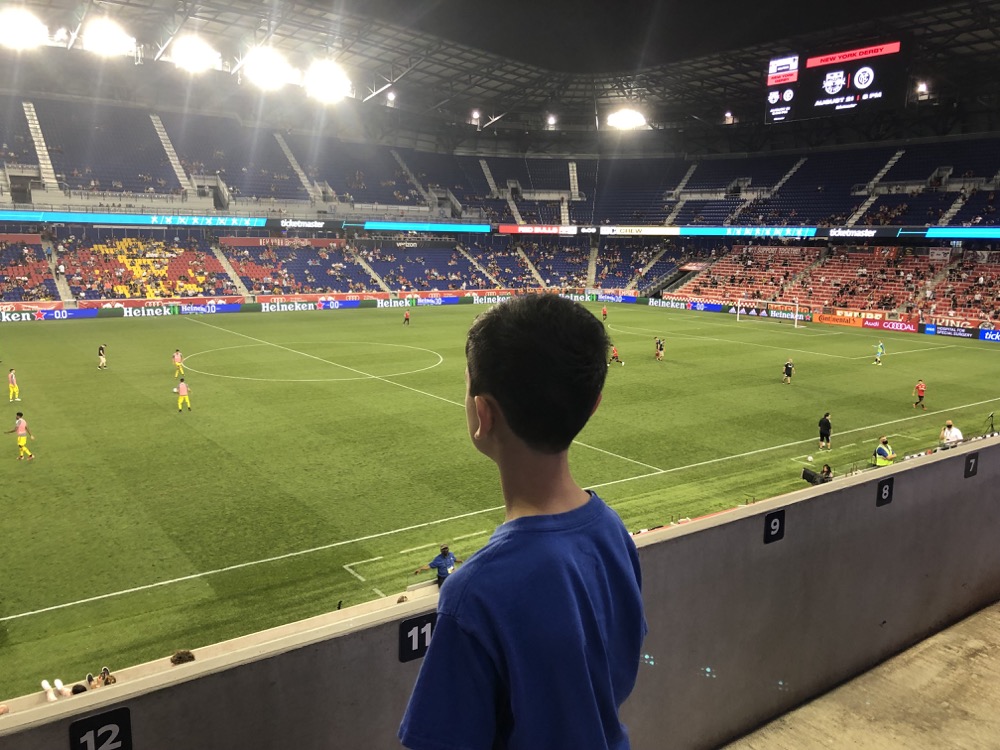 The all sit (and stand in a special standing section for Supporters) in one end known as the "South Ward." Their drumming, singing, and chanting was literally non-stop for the entire match and I was impressed. When Calvin and I walked around the entire stadium and peeked on on the South Ward, they all looked so normal too. Button-down office drones gone wild for MLS games. Fun stuff.
My only complaint here was the food vending system. Select your options in a kiosk over there, pay there, bring your receipt to some counter person who then procures your insanely overpriced stadium food and drink. The kiosk defaulted to a tip – before you even truly placed your order. And for fountain drinks, you have to do that yourself too! I'd be tipping myself for the $8 lemonade I got Calvin! What a world!
Red Bull Arena is certainly one of the best soccer stadiums in America, and I dream of the day weeknight MLS games get actual crowds.
Pre-Game Activities: Usual MLS-sanction kid soccer skill set-up
Tailgating: Almost nil, but active bar and restaurant scene near stadium
Intro & Hype Music: Very good; hip-hop/club heavy mix
Food & Drinks: Stupid self-order kiosk set-up, stupidly expensive
Playing Surface: Real grass
Parking: Small, but not really necessary (We walked from our hotel)
Overall Experience: 8/10
2022
CF Montreal vs. Charlotte FC (Stade Saputo, Montreal, Quebec)
June 2022
There are only a handful of MLS franchises within a reasonable drive. Montreal, surprisingly to some people here in southern New England, is only about five hours north – traffic depending. But there's never traffic in Vermont. So when I was looking at quickie trips to take with Calvin, Montreal was at the top of my list.
Turns out it was on the top of his too, but only because he wanted to go to a(nother) foreign country. (He's been to the Bahamas). So off we went.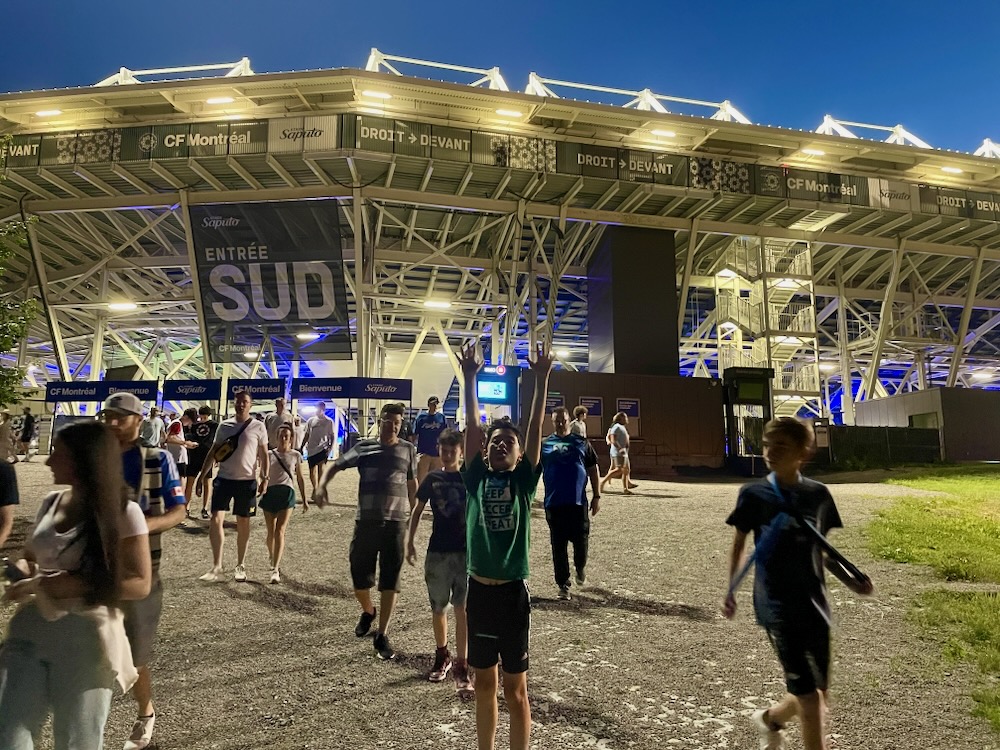 CF Montreal plays in Stade Saputo (Saputo Stadium) which is located north of downtown Montreal, but in the thick of a slew of cool touristy sites. This is the old Olympic Stadium area from when the French-Canadian city hosted in 1976. It fell into disuse in the 1990's and early 2000's, but is now an attractive part of a vibrant and beautiful city. The Biodome, a cool planetarium, the Olympic pool complex, and the soccer stadium. There's a massive public park and gardens here too, with a world-class insectarium. It's a fun place.
Out in one of the parking lots, Calvin and I found a group of supporters drinking, eating, and hanging out before the game. We watched them playing what I thought was some French-Canadian game but upon looking it up, it's called Mölkky and is Finnish – but is taking the world's backyard gamers by storm. The European cornhole if you will, but it involves much more math.
We didn't play Mölkky, but Calvin did play some soccer with some boys and I wound up chatting not only with some locals, but some Charlotte fans as well. That was a fun 45 minutes, but we had a game to get to. Montreal was near the top of the table, even if neither Calvin nor I knew a single player on the roster. (Same goes for Charlotte.)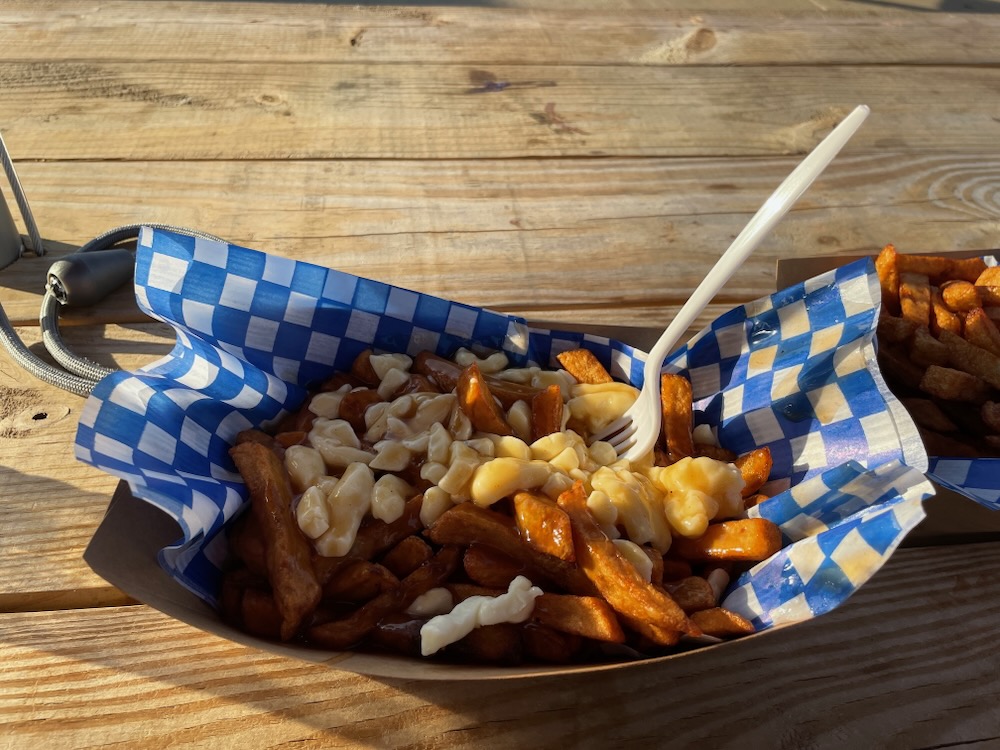 If you're wondering who or what Saputo is, it's a Canadian dairy company based in Montreal that produces, markets, and distributes a wide array of dairy products, including cheese, fluid milk, extended shelf-life milk and cream products, cultured products and dairy ingredients and is one of the top ten dairy processors in the world. Now we know.
Stade Saputo is a soccer specific stadium, but it's not a "bowl" like most. You can't walk around the whole thing through the concourse, as the western stands are separated from the rest. The eastern stands face blinding sunlight an hour or so before sunset – so Calvin and I moved into shadow near the end line. The WiFi here, and in all of Olympic Park, is strong.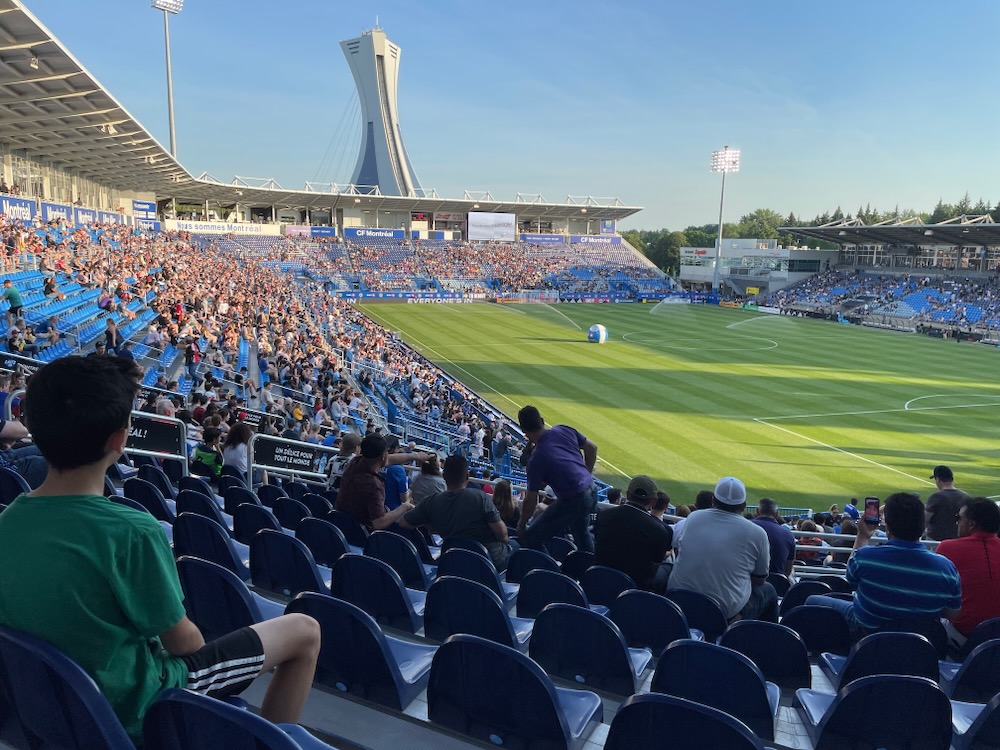 The stadium has two levels, the upper being for des gens chics et les riches – not us. Calvin and I walked up to the upper concourse -unimpeded and innocently – just to walk it, but were immediately banished to the lower bowl by an extremely overzealous stadium employee. Dude needs to chill.
I noticed that French-Canadians purchase far, far less stadium food and drink than Americans. There were about 15,000 people at the game and no lines for anything. The stadium fare was pretty much the same as anywhere else, save for poutine, so if you're looking for some sort of "foreign" experience, you have the rest of the city for that.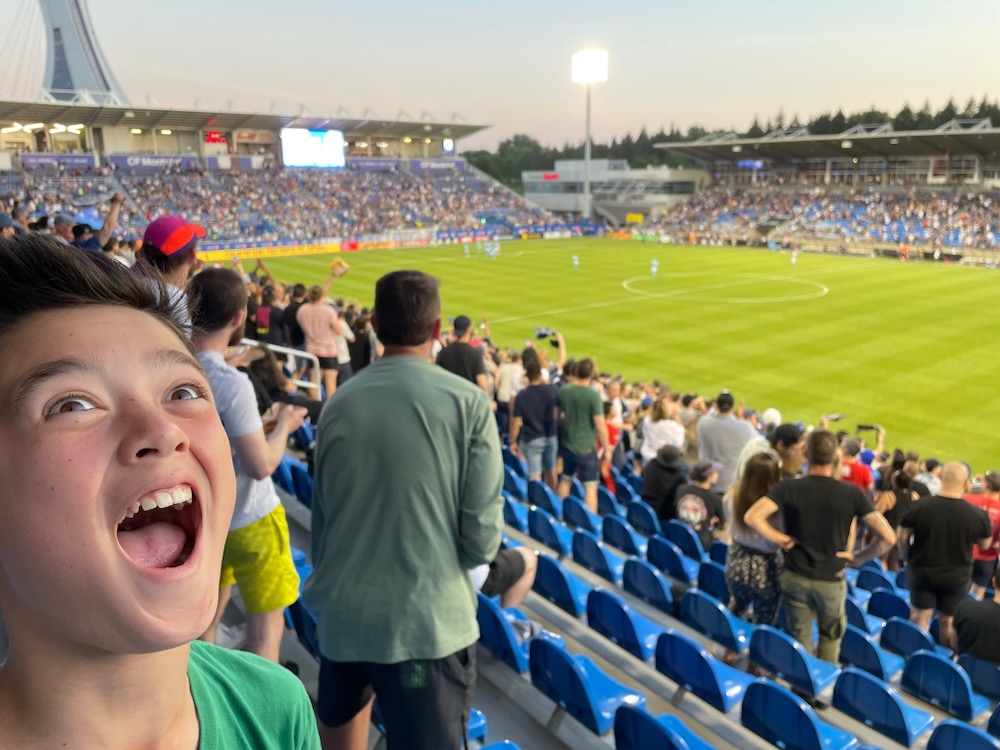 Montreal scored in the 6th minute. Charlotte countered in the 9th. Crazy start to a soccer game! There were supporters sections at both ends, and both came with smoke bombs. These are disallowed in US stadiums and while the Canadian efforts were fairly small, it was still neat to see in person. (Note: even these relatively small displays stunk up the joint and I can't imagine what it's like in Croatia and other places where these are so prevalent.)
This was the best MLS atmosphere we'd experienced so far. Foxboro is just way too big and we went to the Red Bulls on a weeknight. They play less music in Montreal, but the fans are into it and they're loud.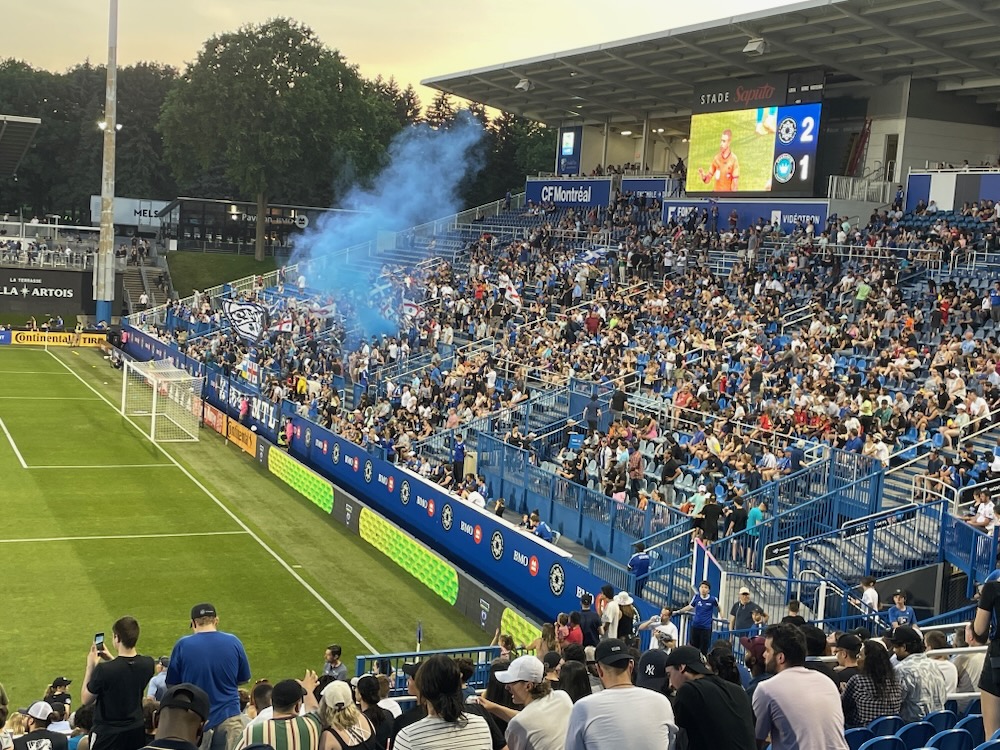 It was an interesting game; Montreal plays a possession game and also very, very wide and switched the field a lot, whereas Charlotte plays much tighter and tried to play much more directly. Montreal won 2-1 and wasn't really threatened in the second half. The stadium is easy to get to (there's a metro station here as well) and nothing is too expensive. The fans were friendly and fun and the pitch is beautiful.
Merveilleux, Montréal, merveilleux.
Pre-Game Activities: The usual kid-friendly set-up, food trucks, happy hour!
Tailgating: About 100 supporters set up a tailgate in the lot in which we parked
Intro & Hype Music: Pretty good; hip-hop/club heavy mix
Food & Drinks: Not too expensive! Friendly humans serving!
Playing Surface: Real grass
Parking: Easy enough, but we were there all day
Overall Experience: 9/10
Philadelphia Union vs. Houston Dynamo (Subaru Park, Chester, PA)
July 2022
My "hometown" team! The first-place (at the time of the game) Philadelphia Union! With UConn grad attendee Andre Blake playing keeper! Being a Philly boy, I expected a great atmosphere – because Philly fans are the best fans. (Spoiler alert: it was a great atmosphere.)
Calvin and I dragged along my dad, brother-in-law, and 2 cousins. None of those four knew much about soccer, let alone MLS, but whatever. Family bonding and all that.
Interestingly, my dad grew up in Chester, PA in the 1940's and 50's. His family "white-flighted" out of there when everyone else did although, "We were one of the very last white families still here." I guess I believe him. We drove past his childhood home on Jeffrey Street – in the shadow of the gleaming new grounds of the Philadelphia Union – and it was neat for me to show my spoiled 11-year-old where his granddad grew up.
Chester can be a rough town. There are a string of refineries along the Delaware River from Philly to Chester to Marcus Hook and down to Delaware City, Delaware. It's ugly. But a necessary part of 20th century America too.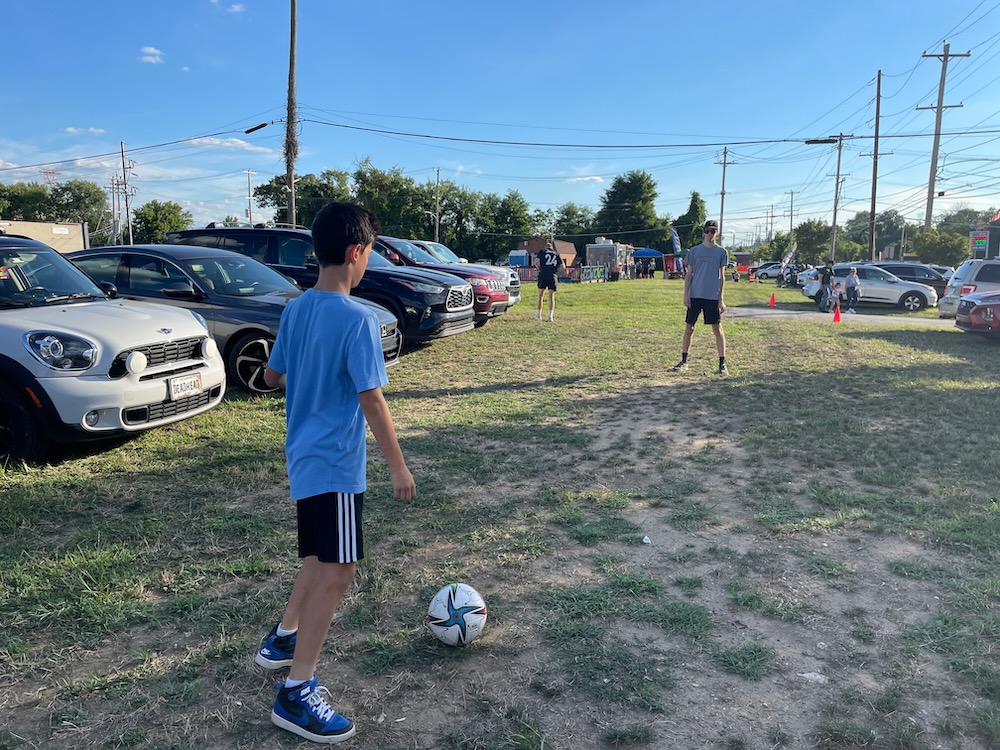 We parked and Calvin kicked the ball around with his cousin Joseph, who did play high school soccer. Tailgating was a no-go with my old man with us, and we didn't get a chance to walk around and crash random pre-game gatherings. Which, of course, was fine. Family bonding and all that.
Making our way towards Subaru Park was a bit of free-for-all. You just… walk towards it. Through holes in fences, behind abandoned junkyards, under highway overpasses. As we approached the entrance, my father saw his first #DOOP. "Whah? Whah_dis DOOP thing?" (Philly accent.) I explained that it was for the first time.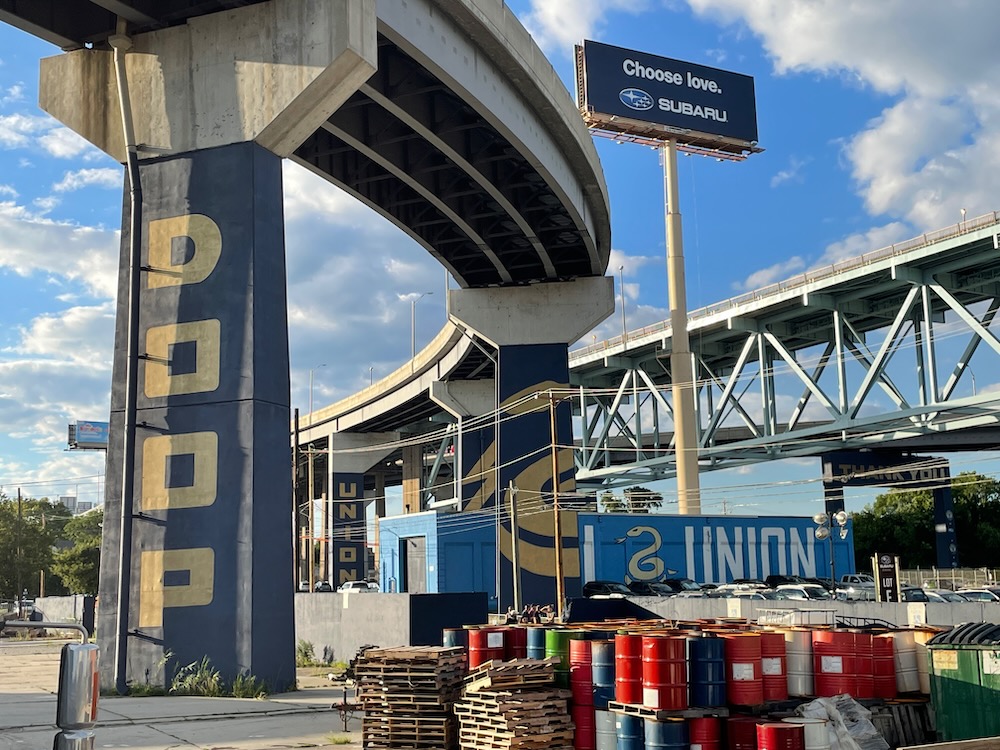 Wow. Union games (in 2022 anyway) are packed. Sold out. It was a gorgeous Saturday evening and the team was in first place, so the stars were aligned for a proper soccer experience. We found our seats, staring into the setting sun, and watched warmups for a bit. Man, the pitch here is incredible; like carpet. Calvin drooled at the prospect of ever playing on such a field.
The Union's Doop song was played during intros and my father asked what "Doop" was for a second time. I explained it again, and settled in for a long night of explaining the fact that the Philadelphia Union MLS team has adopted a random German club song and gave it the nickname Doop. The song is "Maria (I Like It Loud)" by Scooter. It's a terribly dumb song, but it's fun.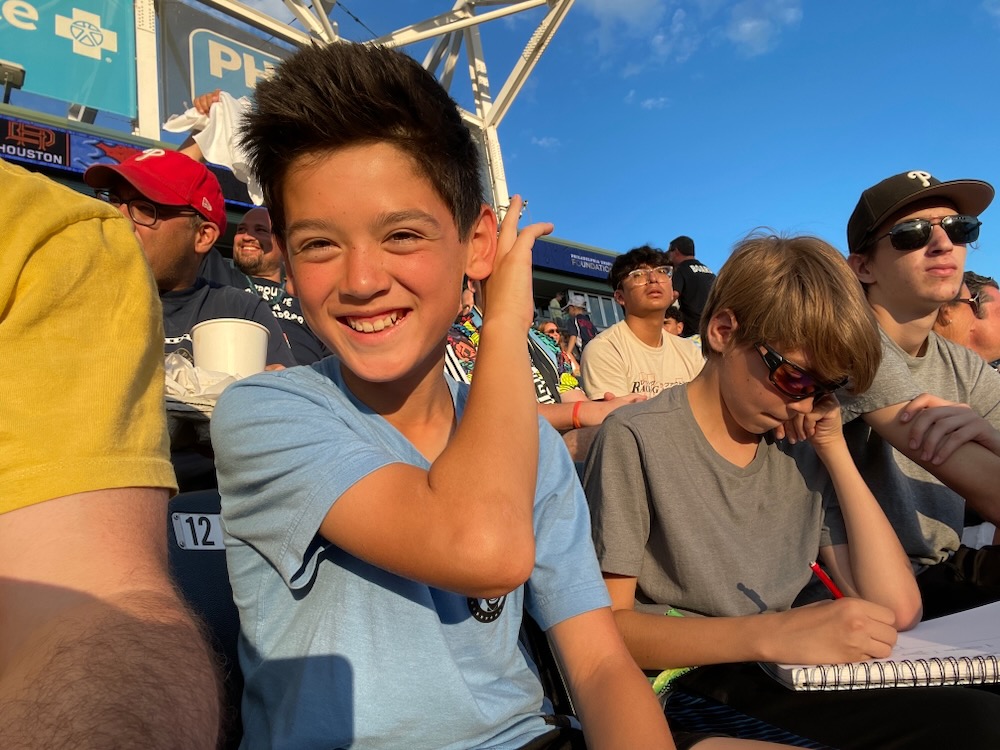 Like here. We got to hear Doop six times on this night, as the Union won 6-0 over the non-dynamic Houston Dynamo. It was played briefly for the Flyers, but it's become the Union's thing, and it's quite a thing.
A thing my father is still questioning, surely.
I didn't check out the concessions or even walk around the concourse. But since it's only 20 minutes from my parent's current house, I'll be returning many times down the road. Everything at Subaru Park along the Delaware River next to the Commodore Barry Bridge looked very cool and very nice.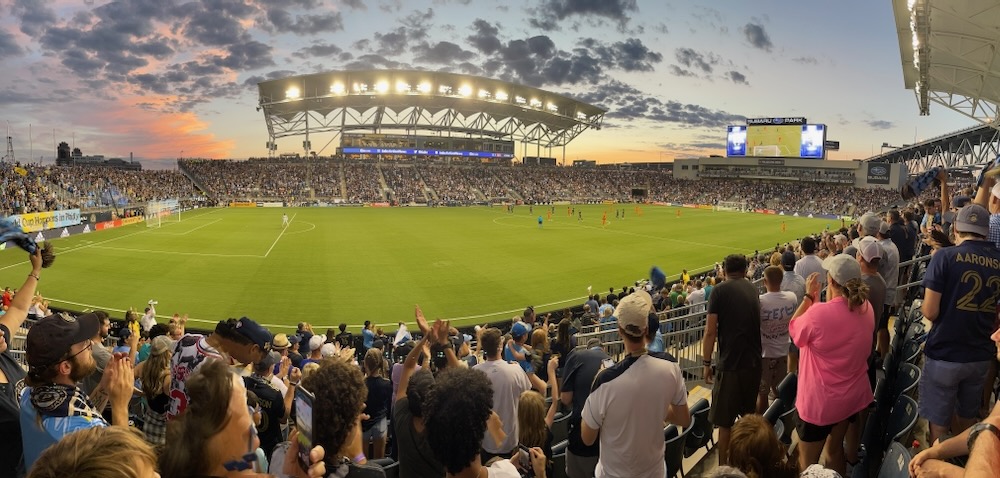 The fans were into it and it was a super fun experience. The weak attempts at smoke bombs were probably the best we can do in the States with smoke bomb regulations and all, so that's not a fair complaint. It was nice to bring my father and extended family to a pro soccer game – they were rather amazed at the size of the crowd, the pace of the game, and the general fun atmosphere. (A bit different from the anger and venom at Phillies and Eagles games, that's for sure.)
If you go to one east coast MLS game, Subaru Park would be a great first choice.
Pre-Game Activities: Did not notice
Tailgating: I'm sure it's good, but we missed it
Intro & Hype Music: Excellent Philly Hip-Hop, #DOOP
Food & Drinks: Looked good, as these things go
Playing Surface: Beautiful, real grass
Parking: Lots of random lots around the stadium; decent public transportation
Overall Experience: 9/10
DC United vs. Orlando City SC (Audi Field, Washington DC)
July 2022
After the Union game above and a night at my parent's house, Calvin and I hit the road south to Washington DC for a few days of sightseeing and another MLS game. 24 hours after taking in the scenes at the first place Union game, we'd be experiencing the other end of the spectrum at a cellar-dwelling United game.
At least Audi Field is brand new (2018) and located in a gentrified and burgeoning Navy Yards/Buzzard Point section of Washington DC. It's right next to the Nationals' MLB field and surrounded by bars and restaurants and the like. It's a cool area, although it feels… I don't know… unnatural. Like someone has tried to make a "cool" part of a large city overnight or something.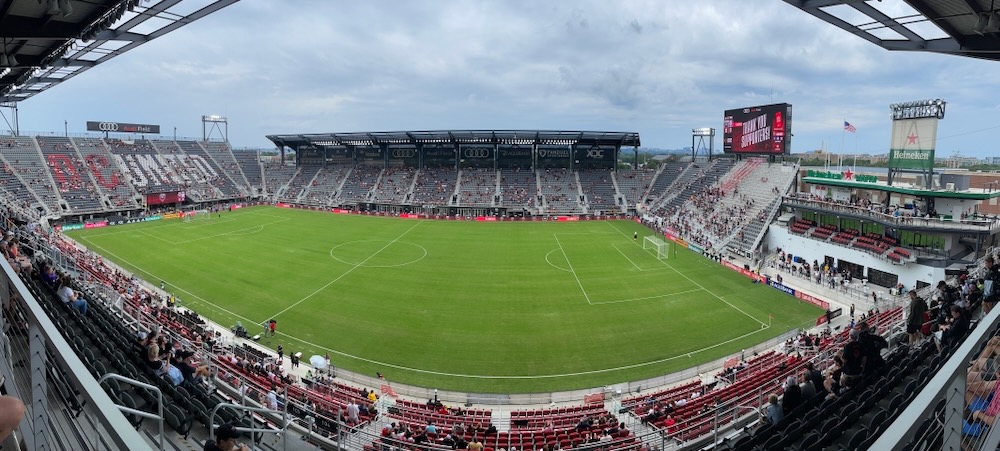 Our walk from the hotel was about a mile and we made it under threatening skies. We felt like salmon swimming upstream as the baseball game had just ended before the soccer game was to kick-off. We didn't notice too many people walking our way, which was to be expected for a last-place soccer team on a Sunday afternoon with heavy rain forecast.
But the United had just brought in Wayne Rooney to right the ship! Rooney, a former England and English Premier League superstar – who played out his days in DC – had generated a buzz in the MLS, and this would be his first game managing.
A game against a pretty decent Orlando squad.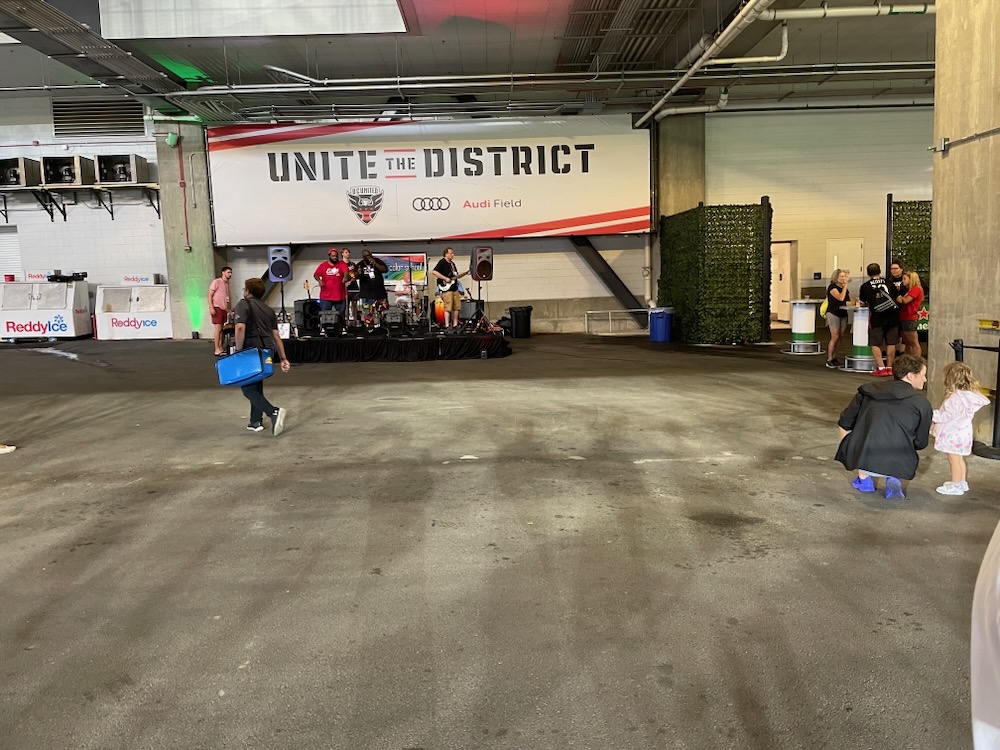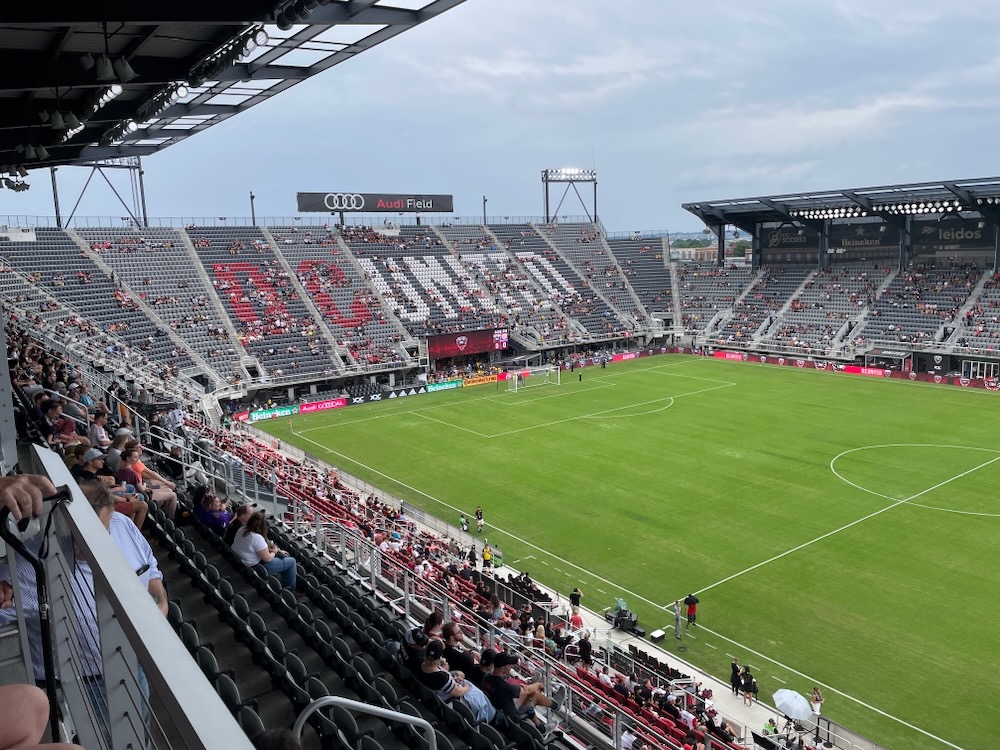 Once inside the concourse, the difference between DC and Philly was stark. There? it was packed. Here? it was empty. A sad band played to no one. But the upside to this, of course, is that there would be no lines for food or drink. I'd purchased "cheap" seats because at MLS games, you can almost always move at your whim to better seats.
At Audi Field, the cheap seats were up on the second level which made them the desirable seats during rain, as they were protected by the roof. I have no idea how the elderly or infirm get up here though, as these steps are really, really steep. As steep as any stadium I've ever been to in my life. Wow.
Hey! There's Wayne Rooney! Cool.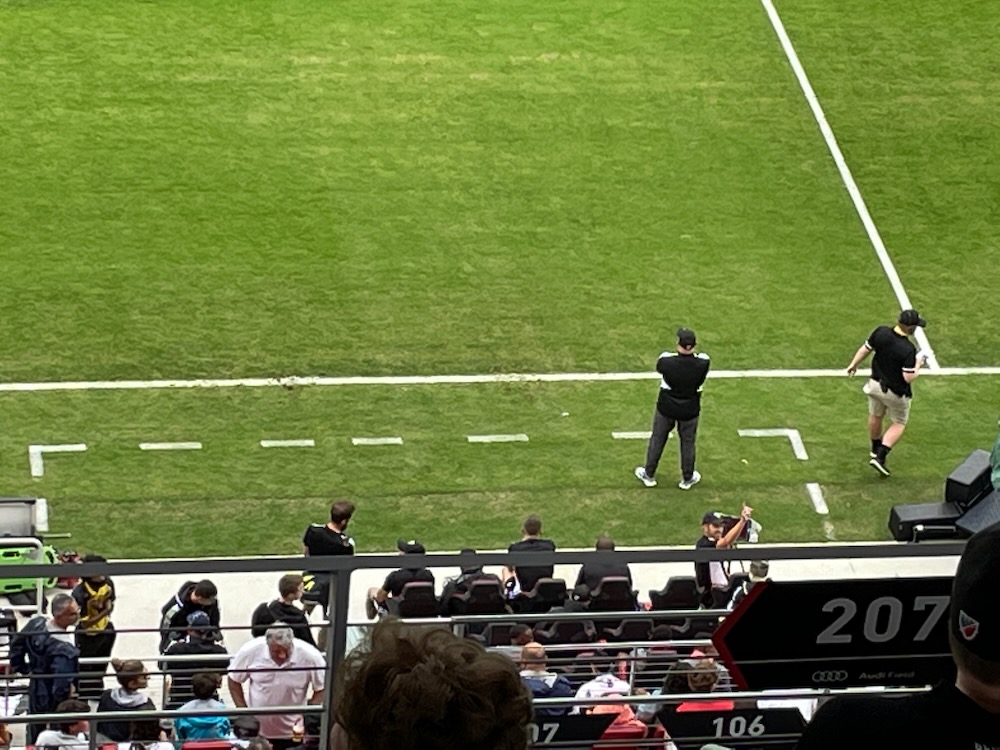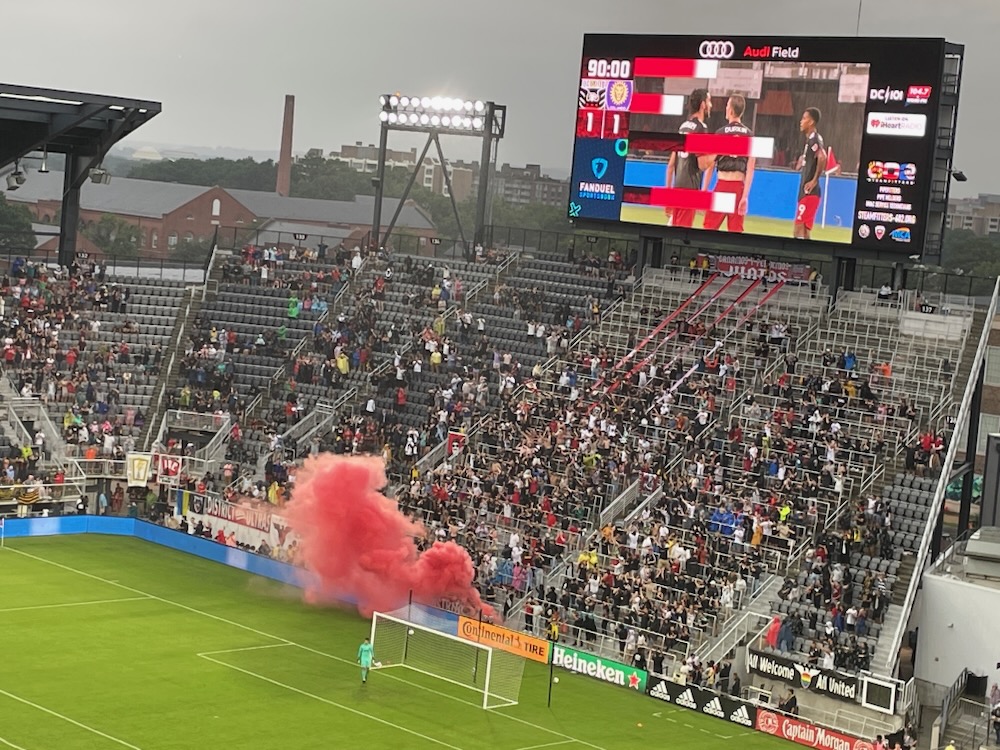 As you can see in the pictures, this was a lightly attended match. The supporters/ultras section was weak and generally listless. Nothing much changed by kickoff and certainly nothing improved when Orlando went up 1-0 in very short order. Orlando dominated possession and it looked to be a long night for the home side.
The rain began to fall around the 30th minute and more and more people began joining us under the roof. This made things slightly more exciting and loud, but Calvin was mostly interested in getting food and soda. So we went and got both.
Then something strange happened. Rooney must be good at halftime speeches, because the tide began to turn in the second half. DC possessed the ball a bit more and started making some creative runs. The stadium was still pretty quiet, and I don't really have much to say about it… until the 90th minute.
DC scored! The sparse crowd went wild! Calvin was very exciting and totally into it – the boy loves an underdog I guess. And then it happened… through the pouring rain, bing, bang, boom, DC went up 2-1 in the 94th minute or so! The remaining fans went berserk. The ultras finally banged on their drums with intent. Songs were sung. Rooney was a hero for a day!
It was the most exciting MLS game we've been to so far; so exciting that neither of us were too bummed about the 15 minute slog through a monsoon to get back to the hotel. It was then I remembered that we'd packed very lightly and would be wearing sodden shoes to walk many miles around DC the next day. Oh well, thems the breaks.
Pre-Game Activities: Did not notice
Tailgating: I'm not sure it exists here
Intro & Hype Music: Pablum
Food & Drinks: Same ol' same ol', but not terrible
Playing Surface: Grass
Parking: Don't. Walk or take the Metro.
Overall Experience: 7/10
Toronto FC vs. Saint Louis SC (BMO Field, Toronto, ON)
July 2023
Since the MLS (wisely) changed their league schedule to play almost exclusively on weekends in 2023, getting to two games in one trip became difficult. Especially since our windows for such vanity travel are so short now due to the busy life of 12-year-old Calvin.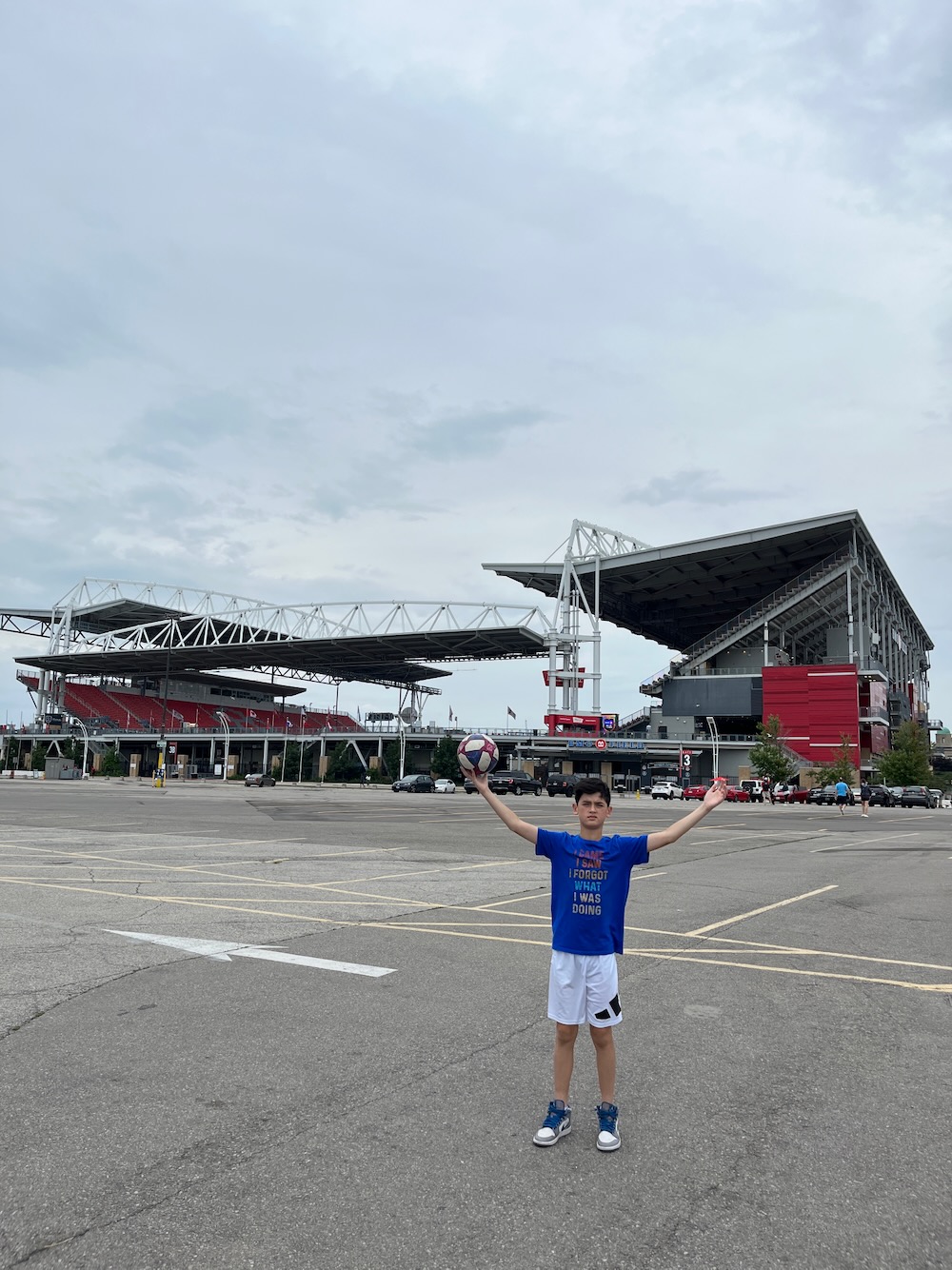 So I chose a sort of geographical stand-alone franchise: Toronto FC. I'd never been to Toronto and Calvin always wants to explore new cities, so this was an easy choice. We stayed a night in Niagara, ON after a stop in Rochester to see Hoang's old stomping grounds (University of Rochester) and of course Niagara Falls and the entertainment district on the Canadian side.
I highly recommend this trip if you are going with people between, say, 8 and 13.

Some trivia: Did you know Toronto is the fourth largest city by population in North America? Now you do. It's huge and new construction seems to be everywhere. (And the traffic congestion is no joke.) It's also beautiful and relatively clean. Calvin and I enjoyed a couple days exploring the sites with an MLS game sandwiched in.
BMO field is not memorable in any way. It is located in a massive district of entertainment venues just outside the city's bustling center. It's certainly one of the ugliest MLS grounds – even though it was just built in 2007. Weirdly, it was built to be soccer-specific but it hosts the CFL's Toronto Argonauts and rugby matches.
The match-up was rough on paper: First place St. Louis City SC versus last place Toronto, who had just sacked their manager – none other than Bob Bradley. (Bradley's son, former USMNT Michael "Terrible Touch" Bradley is still rostered for Toronto, but wasn't dressed this night.)
Toronto was kitted out in some crazy purple and pink Caribbean-themed uni, but didn't think to change their usual purple pinnies for the subs. (This is a big no-no in soccer. Ding-dongs.)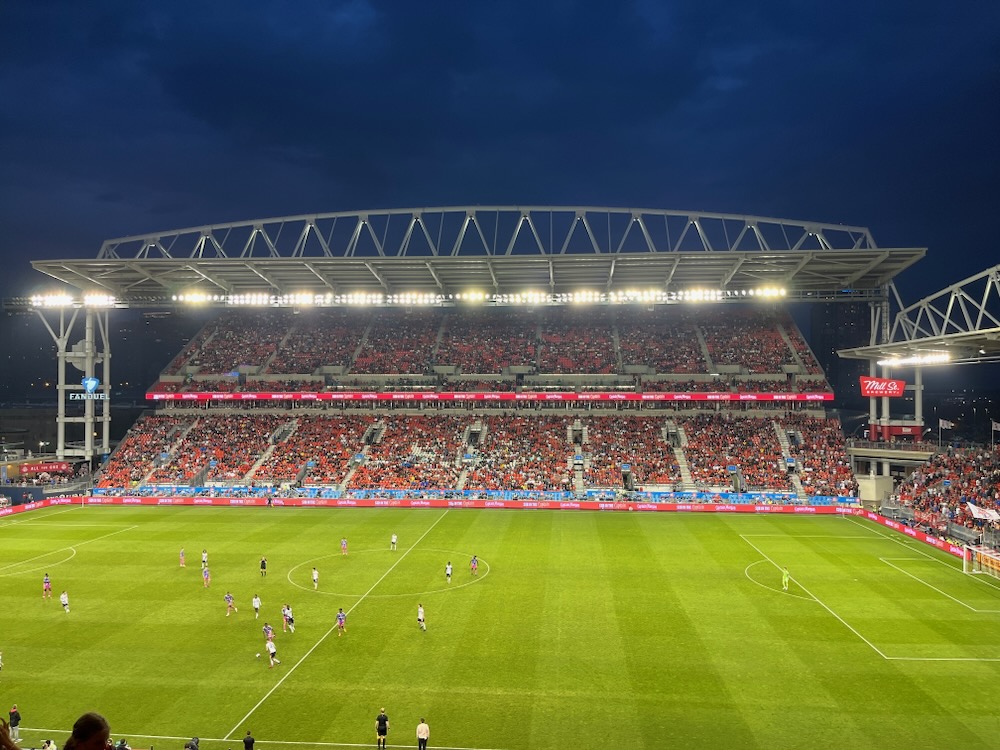 The game featured a whole lotta nothing, really, and St. Louis won 1-0. Oh, and BMO's WiFi is awful.
That's not to say we didn't have fun – we did. Just not a super memorable game – other than my teaching Calvin that parking in the last spot in an empty lot right next to the exit is a big brain dad move. (We'd arrived hours early to go to Medieval Times dinner show a half mile walk away.)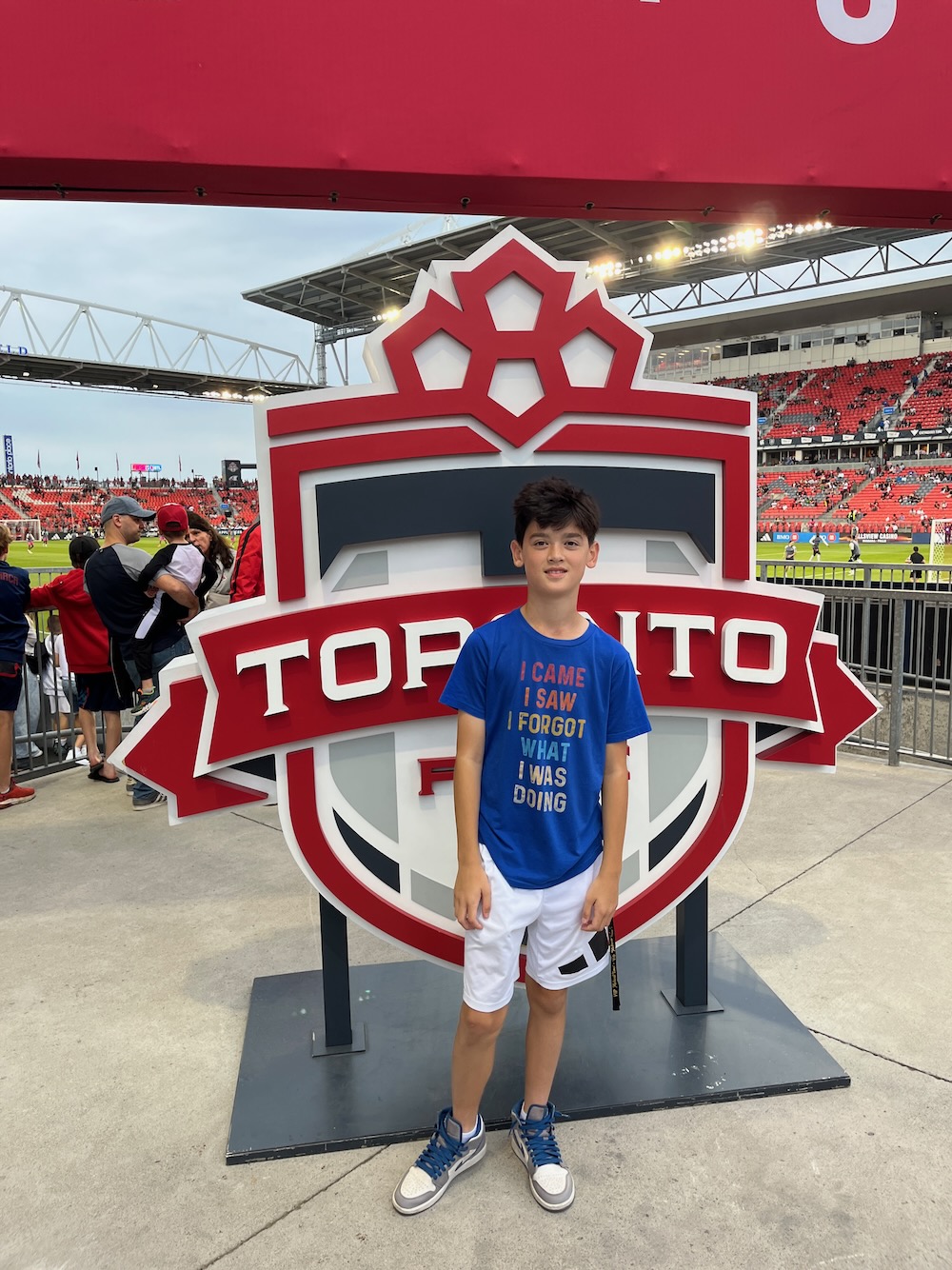 Pre-Game Activities: That Medieval Times dinner show was bonkers
Tailgating: Really didn't seem to be much
Intro & Hype Music: Not memorable
Food & Drinks: The usual, except much cheaper than in the US
Playing Surface: Grass
Parking: Tons of spaces all around the place
Overall Experience: 5/10
Minnesota United FC vs. Seattle Sounders (Allianz Field, St. Paul, MN)
August 2023
Why did we go to Minnesota for three days in late August?
I am really not sure. MLS changed the scheduling in 2023 to only have weekend games, so it's tougher to do two games in one trip – not to mention the need to avoid any games with Miami and Messi and the cost and hassle that comes with that. So I looked for franchises that were located in "single trip" places. Toronto. Minnesota.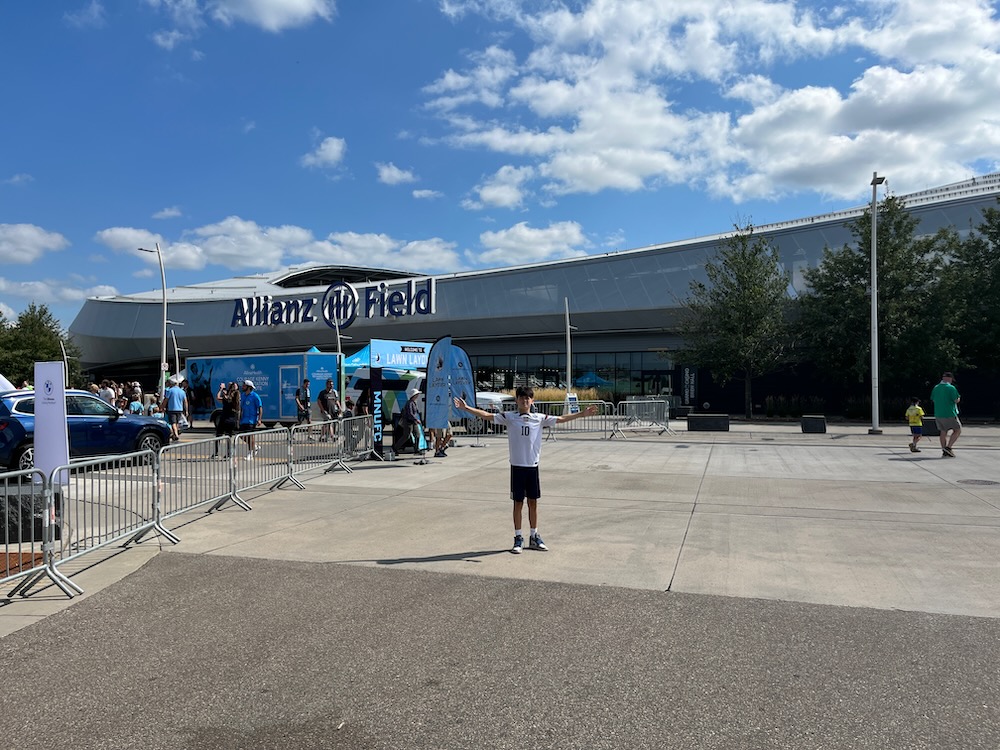 I'll figure out 2024 when 2024 gets here.
I just had to sort out what to do with a 12-year-old in the Twin Cities for a couple days. Got a hotel next to the Mall of America: Day 1, sorted. The Minnesota State Fair was happening and was a straight-shot bus ride to the soccer game: Day 2, sorted.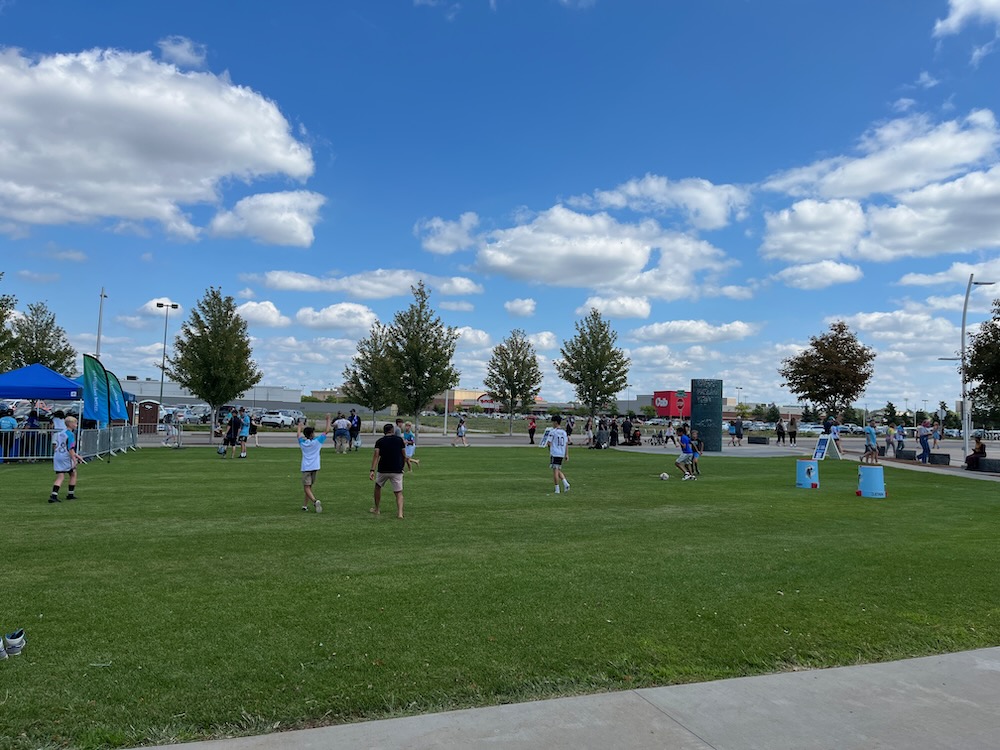 Thankfully, the weather was perfect. We spent four or five hours at the state fair which is far, far less than most Minnesotans I assume. It was as fun as such a thing could be. The fair behind us, it was a short walk to the bus, a couple miles down Snelling Avenue, and onto the soccer game!
Allianz Field is new and modern and shiny and… in the middle of a somewhat beat-down section of town. However, I'm willing to bet that in 20 years, this area will be much nicer. (It wasn't bad at all, but you can tell the MLS team got the land relatively cheap here.)
Most importantly, it's right on the light rail line. In fact, that was all by design: the venue has fewer than 1,000 spaces of on-site parking, instead relying on public transit and off-site lots with shuttle buses. Minnesota United has also organized several designated areas for vehicle for hire pickups and drop-offs, as well as 400 parking spaces for bicycles.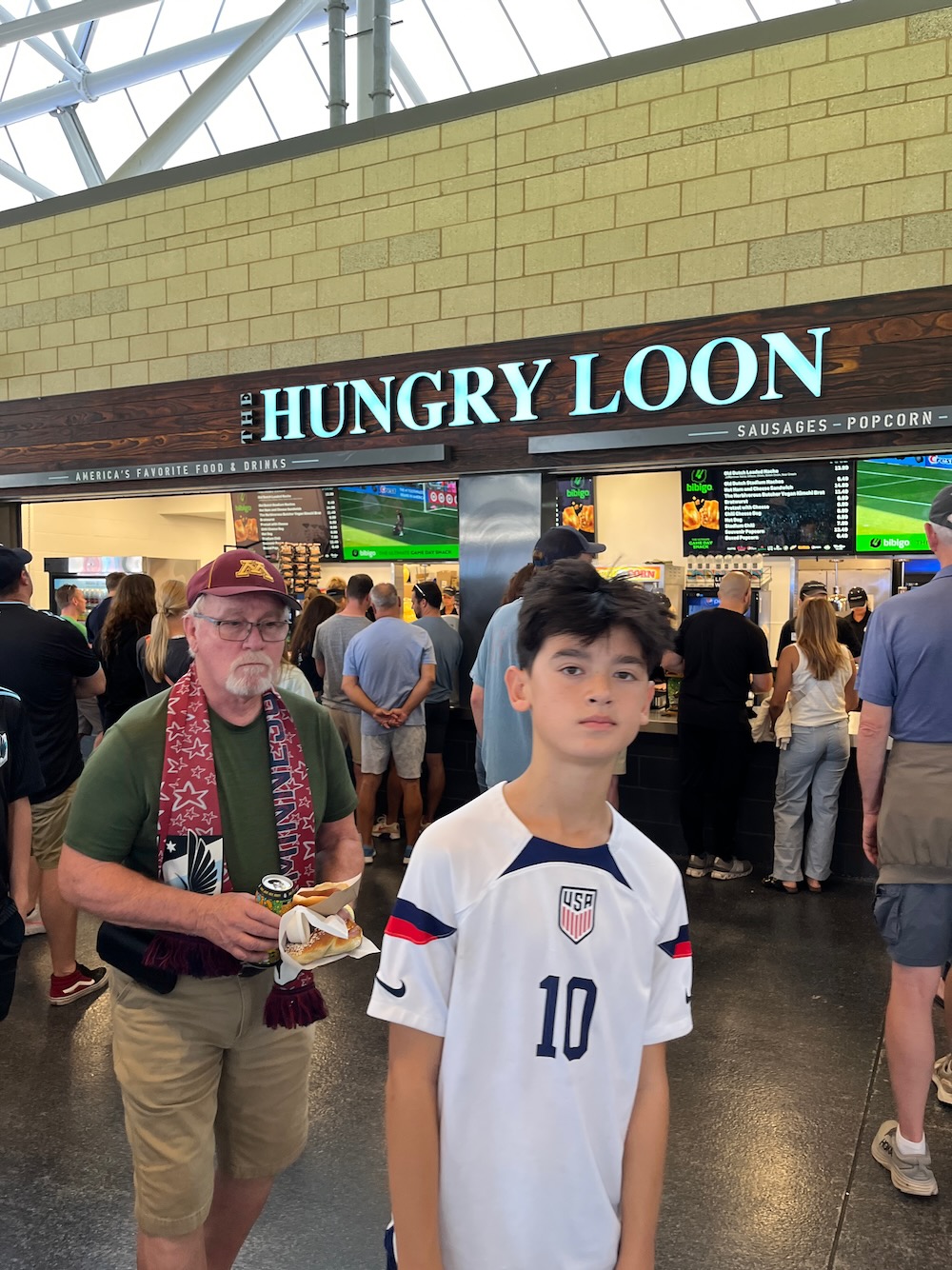 That progressive transportation stance carries over to the marketing and crowd itself. MNUFC has an aggressively progressive fanbase. Thier so-called "ultras" fight in the name of LGBQT+ pride and anti-fascism. It's a whole thing.
Before entering the stadium, Calvin joined a pick-up game with a bunch of similarly aged kids and a couple dads. This is why we come to these things to be honest; for the love of the game. Neither of us could get a hoot about either team playing and didn't know a thing about either. But playing pick-up with random midwestern boys for half an hour? Fantastic.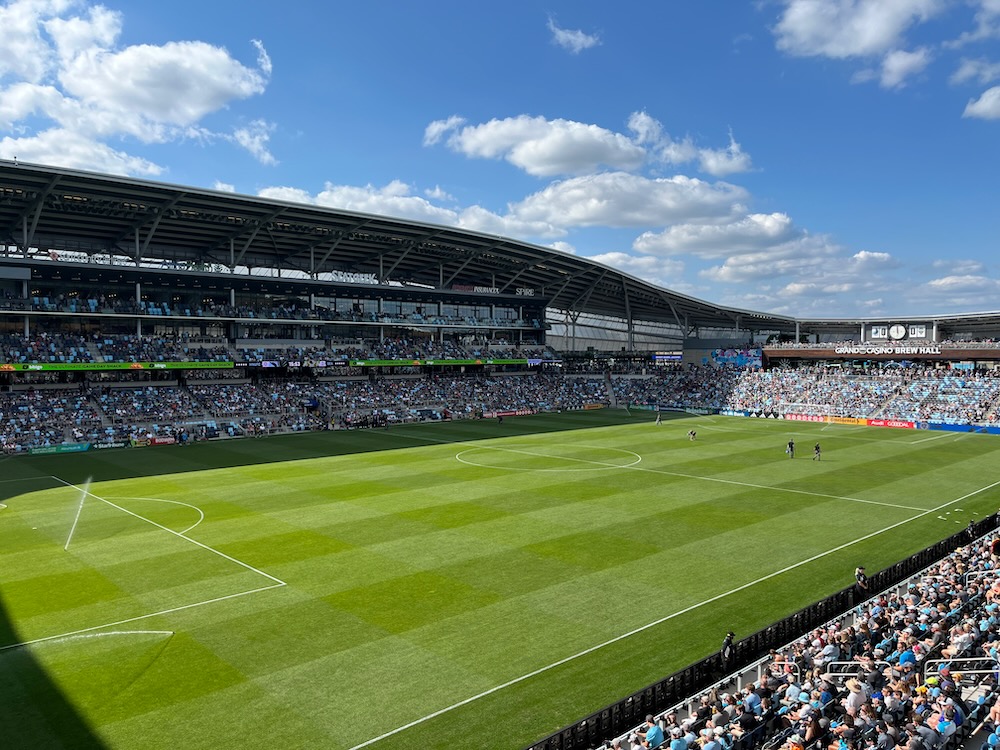 I stood by and drank an overpriced beer in the "Fan Zone" and chatted with some locals. Calvin entered a shooting contest from Sun Country Airlines and came very close to winning a free flight to "the east coast" which… wouldn't be very exciting for us. (I just looked. They have one flight out of Hartford a month. How does that even work?)
Calvin said Allianz Stadium looks like a slipper. They say that the stadium is a ring-shaped stadium, with seating for approximately 19,400 in the first phase and 24,474 in a future expansion that would fill the four corners. Due to the stadium's resemblance to the floating city on Bespin in the fictional Star Wars universe, Allianz Field has gained the nickname "Cloud City."
We never heard anyone reference Bespin.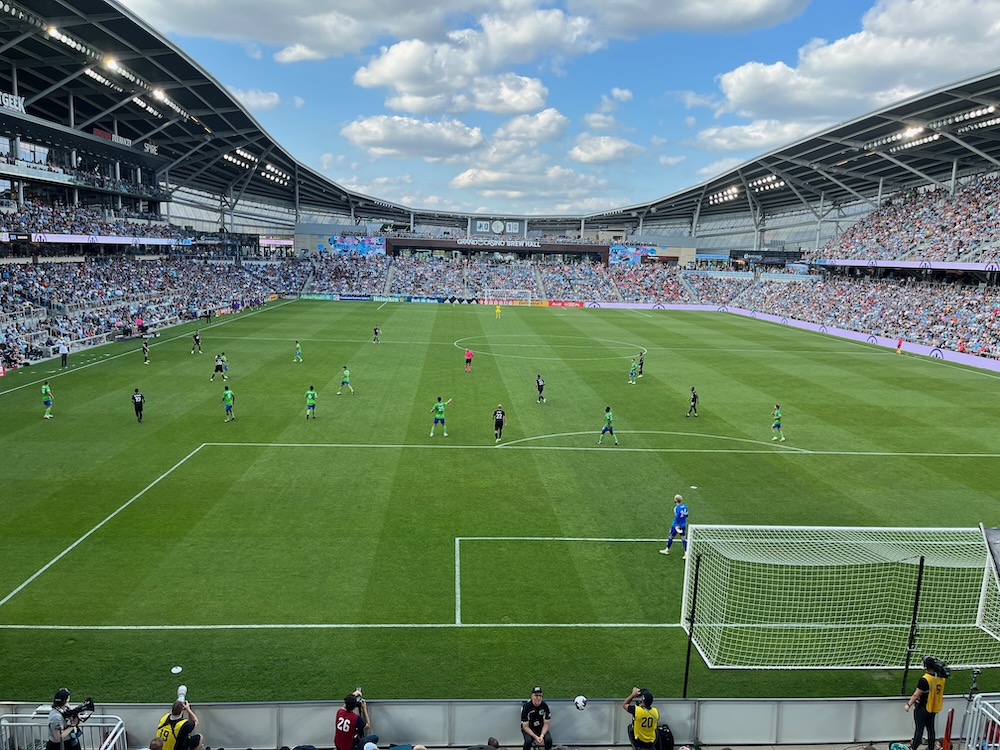 I'd gotten us tickets behind a goal with the superfans… the so-called Ultras. Calvin actually has an authentic Seattle jersey and mulled over wearing it amongst the rowdy "Loons," but decided not to. Ultras in Minnesota aren't exactly like ultras in Belgrade or Napoli, but why rock the boat.
After all, everyone in the Midwest is so gosh-darned nice.
So we sat – stood, actually – among the Wonderwall. It has a 35% incline and no seats so after walking all day at the state fair, we'd have to stand for the game. Oh well. Atmosphere!
(I stood for two hours staring across at the other end of the pitch at the brewpub over there thinking about that particular atmosphere every time some Minnesotan chud waved some dumb giant flag in front of my face for five minutes.)
Both teams were sitting mid-table and both played pretty mid. Seattle scored first but MNUFC tied it up and we ended in a 1-1 draw. Mid game all around. It took until the 74th minute for Calvin to recognize former EPL (Norwich) star Pukki is on MNUFC now.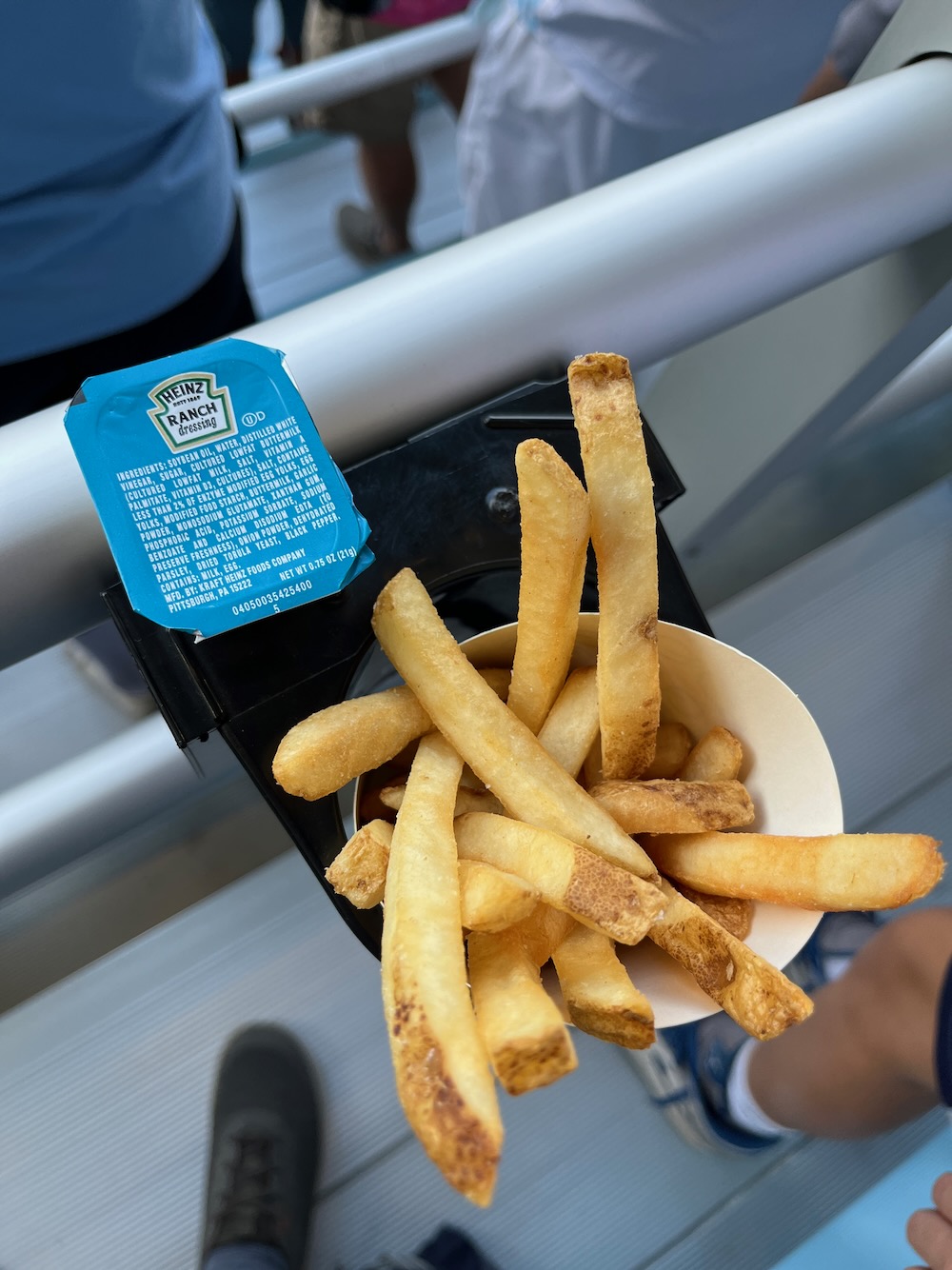 The stadium is beautiful. The grass is beautiful. The food and beer options were plentiful and much better than the standard. The fries were the best stadium fries we've ever had, though what's up with the ranch dressing for them, Minnesota? Ew.
It was a cool experience sitting amongst the drums and chants and bullhorns and stuff and seeing a game from behind the goal isn't that bad. This appeared to be a near sell-out which is amazing for two uninspired teams.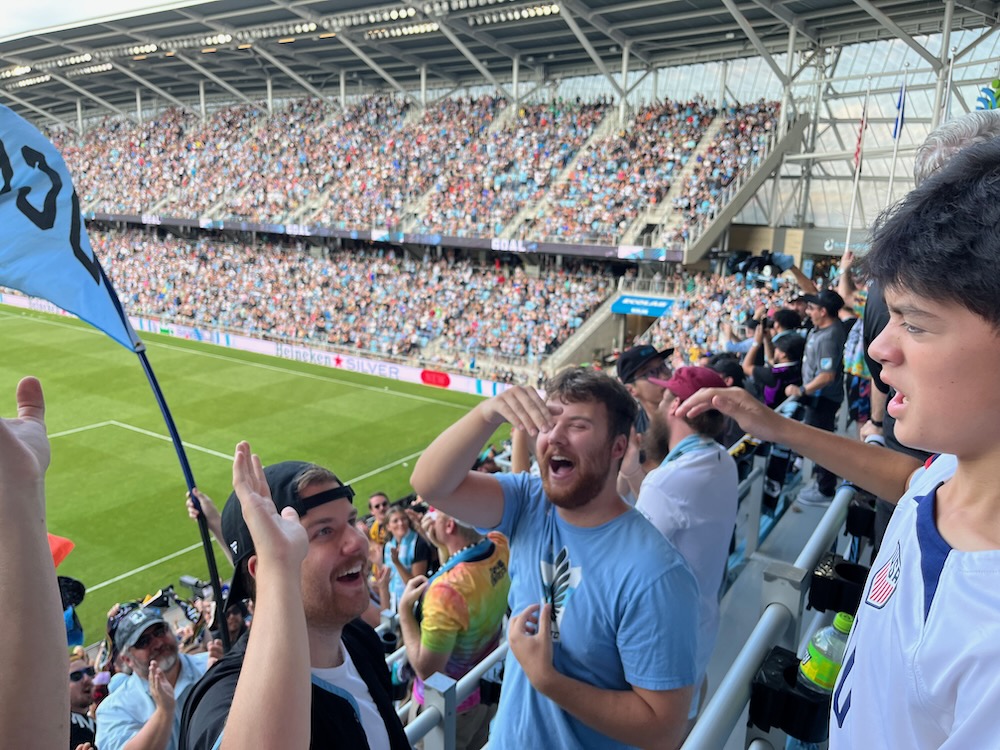 Highly recommend seeing a game here if you get the chance. Afterwards, we made our way to the Green Line light rail, watched cops scream at jaywalkers like they were mass-murderers, and enjoyed the trip back to our hotel down in Bloomington.
Fun stuff.
Pre-Game Activities: Calvin pick-up soccer, games, tailgating, fun
Tailgating: Yes, though no one drives here
Intro & Hype Music: The best
Food & Drinks: Not too expensive, great fries
Playing Surface: Grass
Parking: Public transit is the way to go
Overall Experience: 9/10
United Soccer League
In August 2021, there are 31 USL Championship teams, but that number will be different every time I visit this page in the future. Such is life in the lower tiers of US professional soccer. (And I'm not sure I dare tread into USL League 1 or USL League 2.) But our very own Hartford has a team, and the games are affordable and fun for us to attend. Calvin and I have been to a few, and will surely go to more as long as the team sticks around. Will we get to others? Who knows. 
1. Dillon Stadium, Hartford, CT
Hartford Athletic vs. multiple opponents (Dillon Stadium, Hartford, CT)
Multiple dates
I wrote up our first experience at Dillon Stadium here, when the Athletic played the Pittsburgh Riverhounds. I came away from that game rather unimpressed with the level of play in the USL.
But that didn't really matter, as Hartford got a professional soccer team just around the time my son started wanting to watch and play soccer every day. So that worked out well. Dillon stadium has been around forever in Coltsville, but some wealthy businessmen got the city to pay for improvements and now we have USL soccer.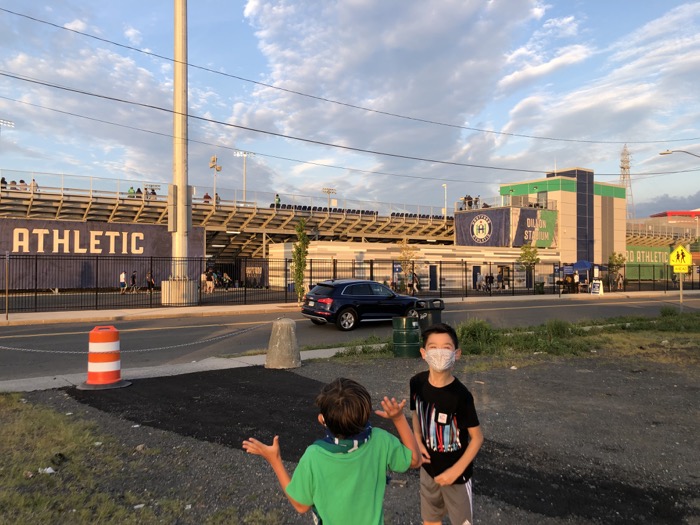 It could work as a centerpiece to an improving part of the capital city, especially as it attracts many non-white locals. The fan experience is pretty good too, with some fun promos and a decent concession stand.
And yes, there actually are supporters! There are several groups but they all gather together with their drums and such and they have little ditties and chants. It's pretty cool for a dinky little team in the USL and I would love to see "Fortress Hartford" grow. I know season ticket holders!
And the games I've seen in 2021 have been much better. They brought in a new coach with some serious English credentials and it seems to be paying off. If only in shape and effort… just not results as they are fighting for a playoff spot this year.
It's a cool thing in Hartford, and a much cheaper – though skinnied down – option than the AA baseball Yard Goats.
Pre-Game Activities: Hooker has a brewery outpost nearby
Tailgating: N/A
Intro & Hype Music: Not memorable, but don't sit in front of the speakers
Food & Drinks: My 10 year old and his boys love the junk food here
Playing Surface: FieldTurf
Parking: Way too much money to park across the street. Free street parking all over.
Relative Overall Experience: 6/10