Can We Kick It? Yes We Can!
World Soccer Stadium Tour
2020 –
I told my soccer-mad son Calvin I'd put this page together for him because he apparently has designs of visiting many MLS, USL, English Premier League, Bundesliga, La Liga, Ligue 1, and who knows what other leagues' soccer stadiums around the world in his lifetime. He will hypothetically use what's here as a sort of start to his quest. And since he needs me for the next seven or eight years to get him to wherever he goes, I'll be involved.
Jump to:
Major League Soccer (MLS)
United Soccer League (USL)
D1 College Soccer
Major League Soccer
There are 27 MLS teams in 2021, but the goal is to hit 30 by 2023. There have been persistent rumors of a merger with Mexico's Liga MX. Who knows. MLS began league play in 1996 and seems to be doing okay. I won't get into the MLS Academies and lower leagues because it's impossibly complex – and will change every few months anyway. It's the top division of soccer in the US and Canada, and is therefore the best and most easily accessible live soccer for us. Let's roll.
1. Pratt and Whitney Stadium at Rentschler Field, East Hartford, CT
2. Gillette Stadium, Foxborough, MA
3. Red Bull Arena, Harrison, NJ
Toronto FC vs. Inter Miami CF (PAWSaRF, East Hartford, CT)
November 2020
A late season game at a host stadium during a pandemic in a freezing monsoon? Sign us up. Since this took place in Connecticut, our experience has its own separate page on CTMQ here. This obviously wasn't a true MLS experience, but it was our first, so it holds a special place in our collective heart.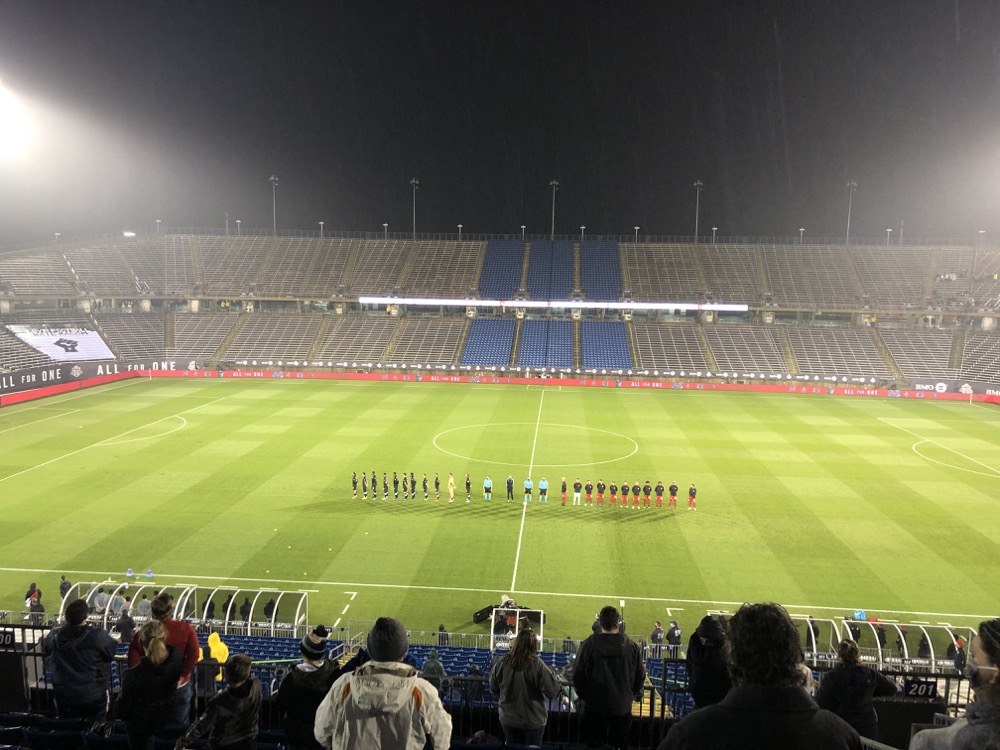 Perennial punching bag Michael Bradley played at center back for Toronto FC and made his usual terrible outlet passes all night long. (Toronto was playing its season to an empty stadium in East Hartford because of COVID travel restrictions to and from Canada. This was the one game they allowed spectators – all 300 of us.) Toronto won 2-1, no one got hypothermia, and we outlasted almost every other fan that bothered to show up on an absolutely miserable night for a game not a single person there cared a whit about.
Pre-Game Activities: N/A
Tailgating: N/A
Intro & Hype Music: Same dated crap they play for UConn football
Food & Drinks: Awful
Playing Surface: Natural Grass
Parking: Great because no one was there
Overall Experience: 2/10
New England Revolution vs. Philadelphia Union (Gillette Stadium, Foxborough, MA)
August 2021
My favorite part of this game was hearing my wife tell her family we went to a "Revolutions vs. Unions" game. She's the best.
Experiencing a soccer game in a 66,000 seat NFL stadium is not awesome. It's just way too big and the resulting atmosphere is quiet hollow. I've never been to a Patriots game here, but I simply can't imagine what a nightmare the traffic, parking, and tight concourses are like with 10 times the people than we experienced. No thank you.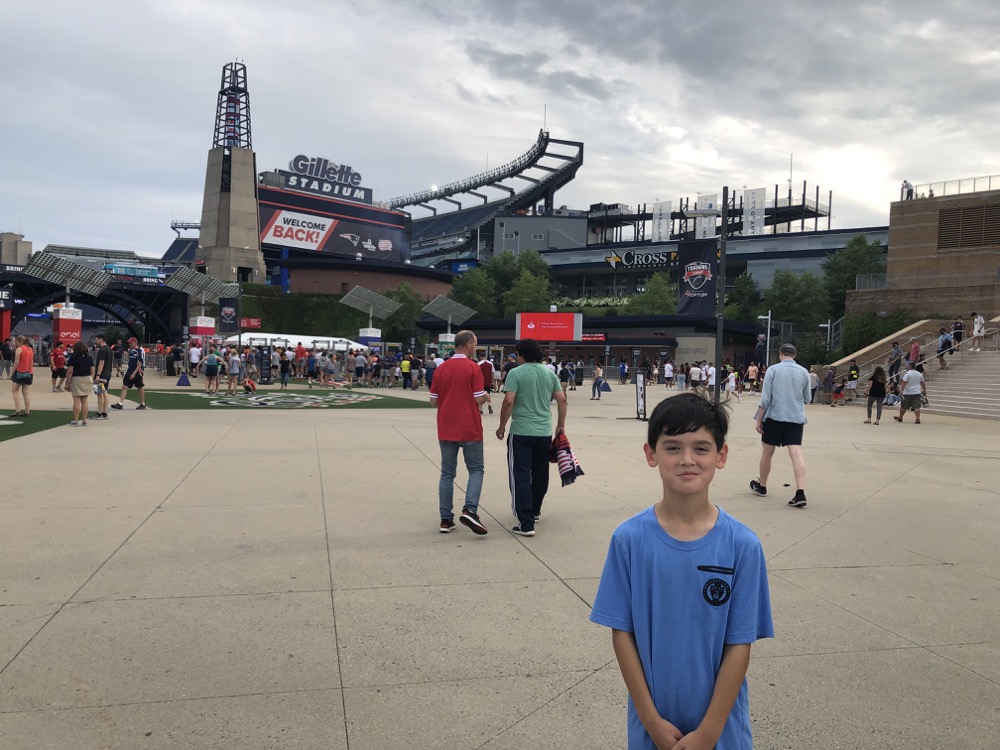 After Calvin spent the entire pre-game playing pick-up soccer with some random kids in the parking lot, we made our way to our seats which were protected from rain, but not from the hot summer late afternoon sun. This was the biggest stadium Calvin had ever been in and it just felt empty.
The Revs pregame/intro/hype music is horrid. I'm really hoping it's the worst we ever experience because I'm not sure I could handle anything worse. A screeching nu-metal track on repeat for what seemed like an eternity kicked off the action. Calvin wore his Union shirt (his father's family is all from the Philadelphia area, so he was keeping it real) and we cheered for the underdog visitors the entire game.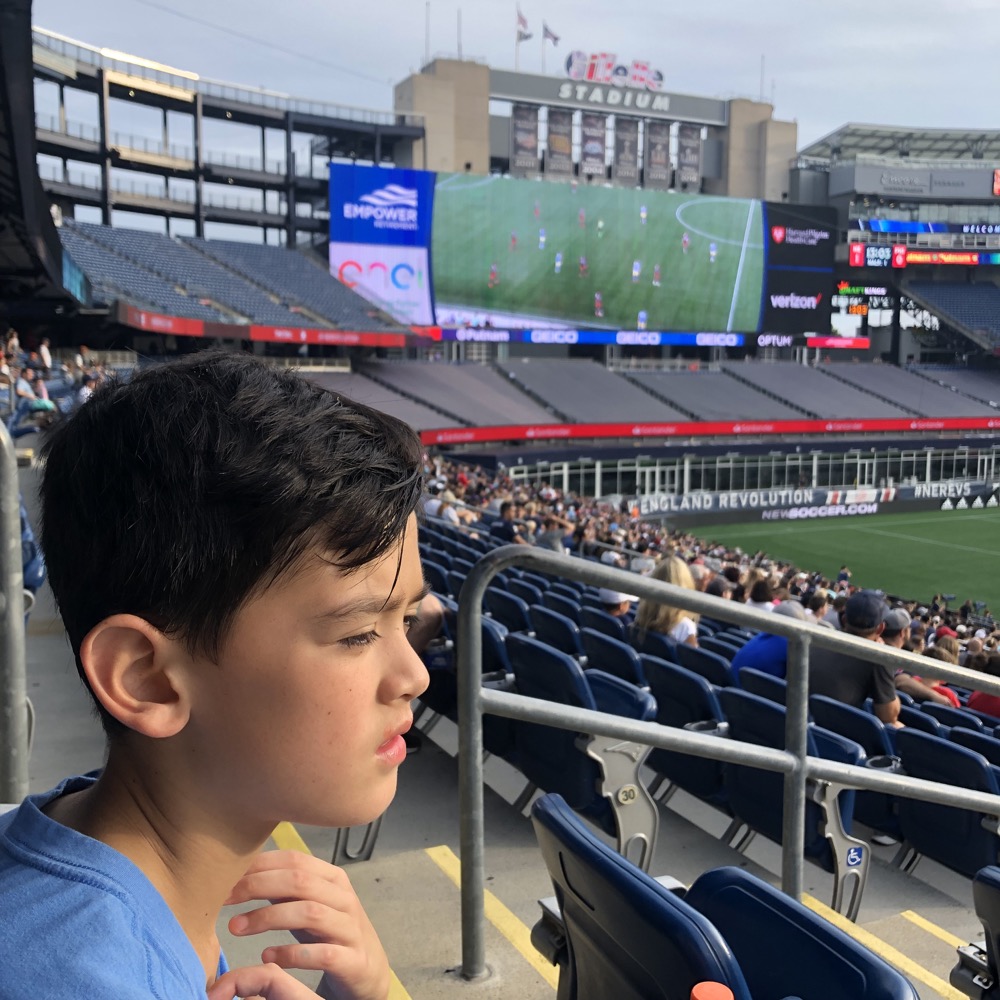 It didn't work, but USMNT's Brenden Aaronson's little brother Paxton scored a nice goal for the Union against USMNT goalkeeper hero Matt Turner. The other star player was Union keeper Andre Blake. Blake is a Jamaican national and played at UConn where he set the NCAA record for shutout minutes.
As this was Calvin's first "big" soccer match, he was frightened by – and fascinated with – the supporter's clubs in the north endzone. The Revs have two clubs: the Midnight Riders and The Rebellion and they call their section The Fort. They played their drums and sang their songs and chants valiantly, but the sheer size of Gillette rendered their efforts fairly limp. At the other end, old dudes dressed in colonial militia garb shot cannons after goals which was pretty cool.
In the end, the first place Revs beat the Union 2-1 and we beat the traffic out due to my brilliantly strategic parking.
Pre-Game Activities: Calvin kicked a ball around with some random kids, but there are the usual kid-friendly soccer skill activities
Tailgating: Very active, very impressive
Intro & Hype Music: Horrible, screeching nu-metal garbage
Food & Drinks: Pretty good and impossibly expensive
Playing Surface: FieldTurf "Revolution"
Parking: One of the worst situations in America, but they do offer free lots
Overall Experience: 5/10, NFL stadiums don't really work for soccer
New York Red Bulls vs. Columbus Crew (Red Bull Arena, Harrison, NJ)
August 2021
About equidistant to us from Foxborough, traffic notwithstanding, is Red Bull Arena near Newark. This place is very different from Gillette Stadium though, as it is one of the rare professional soccer specific stadiums in America. Calvin and I spent a couple days in and around New York City doing a few things he had been promised during the pandemic summer of 2020. One of those things was an MLS game.
I should give a shout out to Element Hotel of Harrison, as it is perfectly located for a game, not too expensive, and just a comfortable place all around. The walk to the game was all of five minutes.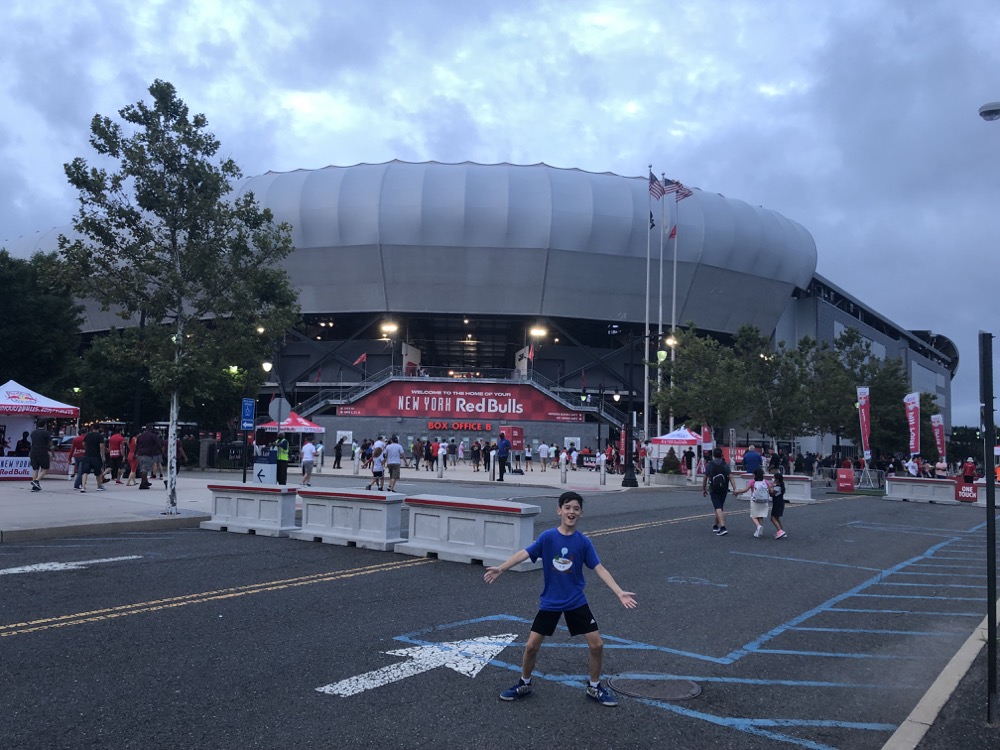 Owing to its location and the fact that so many get here via public transportation, there really wasn't any sort of tailgating culture that I saw. Calvin just missed out on the soccer skills set-ups outside of the game before kick-off, but he wasn't too upset.
The stadium is beautiful. Just perfect for soccer, as the seats are right on top of the players and it's not too big like NFL stadiums are. It features a transparent roof which they say provides "superior acoustics by holding, amplifying and reflecting crowd noise back onto the field." You know what else it holds? Heat and humidity. I imagine the upper bowl is nearly unbearable during hot, humid, and sunny afternoon games.
But you know what's super cool here? I haven't heard of this at other stadiums – but I've not researched it.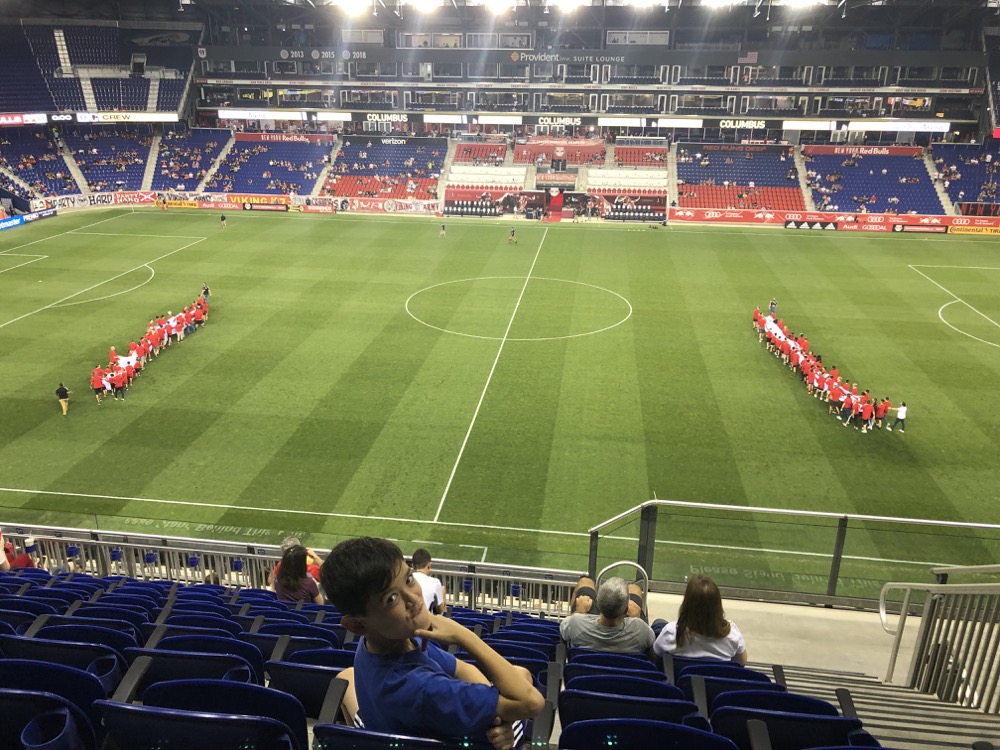 In 2017, the Red Bulls opened MLS's first permanent sensory room for individuals and families affected by autism. The space was formerly used as executive offices by the club's general manager Marc de Grandpre, whose daughter is on the autism spectrum. The sensory room overlooks mid-field and features dimmed lighting and lightly-colored walls to offer a soothing environment, along with visual aids, fidget toys and other activities. There is no special ticket or any charge required for use of the room
The hype music here is very good. A mix of bass heavy club and hip-hop, it got me psyched up. Neither Calvin nor I had any rooting interest in the game, so we chose to root for the home side because… why not? The Crew was having a very down year and featured beleaguered striker Gyasi "Heavy Touch" Zardes who we both like to goof on. For you USMNT Soccer Superfans, this was the game where Zardes had a 1v1 break, took a weak "shot," and crumpled to the ground with a pulled hamstring.
One less MLS'er for Gregg Berhalter to start in the World Cup Qualifiers a couple weeks after this game. Sorry to be so cynical, but… I'm okay with that.
"Our" Red Bulls won the match 1-0 in front of a rather empty stadium. Weeknight, threat of rain, pandemic, poor opponent… all these factors surely factored into the low attendance, but I'm thinking that's the norm here, and almost every MLS stadium that's not in Atlanta, Seattle, or Portland.
But man, if/when this place ever fills up, it will be LOUD and fun. And the supporter's sections were a blast. A variety of supporters clubs and groups have grown around the team since its inaugural year. The main crews are the Garden State Ultras and the Viking Army Supporters Club – formed after a bunch of Scandinavians were brought to the team at some point in the past.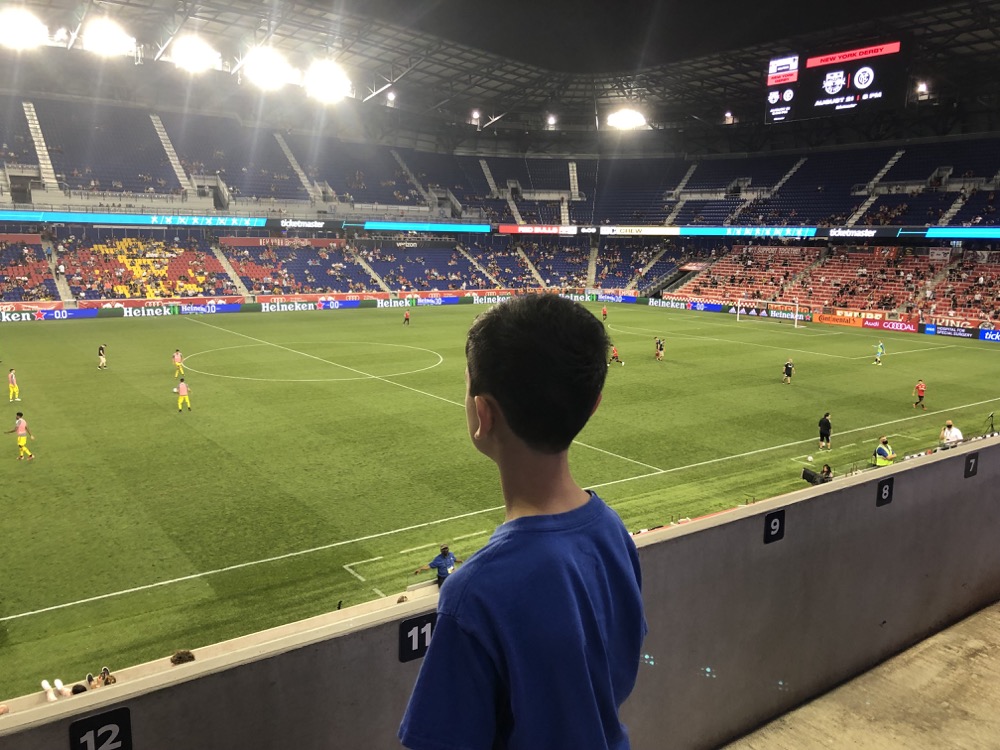 The all sit (and stand in a special standing section for Supporters) in one end known as the "South Ward." Their drumming, singing, and chanting was literally non-stop for the entire match and I was impressed. When Calvin and I walked around the entire stadium and peeked on on the South Ward, they all looked so normal too. Button-down office drones gone wild for MLS games. Fun stuff.
My only complaint here was the food vending system. Select your options in a kiosk over there, pay there, bring your receipt to some counter person who then procures your insanely overpriced stadium food and drink. The kiosk defaulted to a tip – before you even truly placed your order. And for fountain drinks, you have to do that yourself too! I'd be tipping myself for the $8 lemonade I got Calvin! What a world!
Red Bull Arena is certainly one of the best soccer stadiums in America, and I dream of the day weeknight MLS games get actual crowds.
Pre-Game Activities: Usual MLS-sanction kid soccer skill set-up
Tailgating: Almost nil, but active bar and restaurant scene near stadium
Intro & Hype Music: Very good; hip-hop/club heavy mix
Food & Drinks: Stupid self-order kiosk set-up, stupidly expensive
Playing Surface: Real grass
Parking: Small, but not really necessary (We walked from our hotel)
Overall Experience: 8/10
United Soccer League
In August 2021, there are 31 USL Championship teams, but that number will be different every time I visit this page in the future. Such is life in the lower tiers of US professional soccer. (And I'm not sure I dare tread into USL League 1 or USL League 2.) But our very own Hartford has a team, and the games are affordable and fun for us to attend. Calvin and I have been to a few, and will surely go to more as long as the team sticks around. Will we get to others? Who knows. 
1. Dillon Stadium, Hartford, CT
Hartford Athletic vs. multiple opponents (Dillon Stadium, Hartford, CT)
Multiple dates
I wrote up our first experience at Dillon Stadium here, when the Athletic played the Pittsburgh Riverhounds. I came away from that game rather unimpressed with the level of play in the USL.
But that didn't really matter, as Hartford got a professional soccer team just around the time my son started wanting to watch and play soccer every day. So that worked out well. Dillon stadium has been around forever in Coltsville, but some wealthy businessmen got the city to pay for improvements and now we have USL soccer.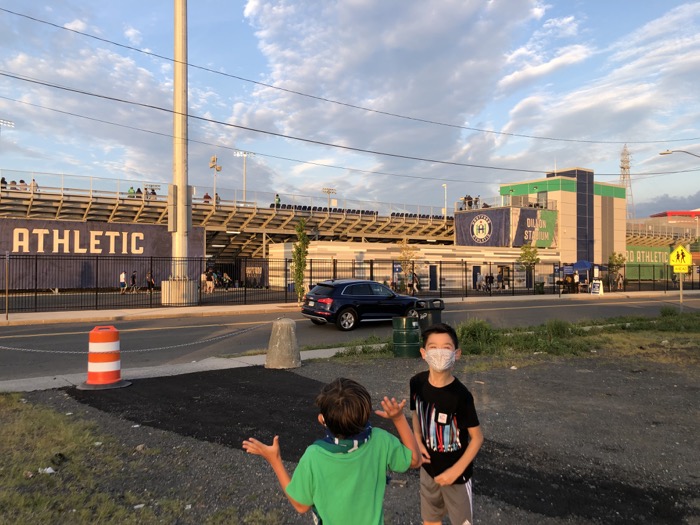 It could work as a centerpiece to an improving part of the capital city, especially as it attracts many non-white locals. The fan experience is pretty good too, with some fun promos and a decent concession stand.
And yes, there actually are supporters! There are several groups but they all gather together with their drums and such and they have little ditties and chants. It's pretty cool for a dinky little team in the USL and I would love to see "Fortress Hartford" grow. I know season ticket holders!
And the games I've seen in 2021 have been much better. They brought in a new coach with some serious English credentials and it seems to be paying off. If only in shape and effort… just not results as they are fighting for a playoff spot this year.
It's a cool thing in Hartford, and a much cheaper – though skinnied down – option than the AA baseball Yard Goats.
Pre-Game Activities: Hooker has a brewery outpost nearby
Tailgating: N/A
Intro & Hype Music: Not memorable, but don't sit in front of the speakers
Food & Drinks: My 10 year old and his boys love the junk food here
Playing Surface: FieldTurf
Parking: Way too much money to park across the street. Free street parking all over.
Relative Overall Experience: 6/10