Athletics' Foot
The Hartford Athletic at Dillon Stadium
August 2020
I could go two ways with this page. Simple and easy; went to a lower level professional soccer game with some friends during a pandemic and had fun… or wonky and complicated; went to a low level professional soccer game and here's everything you don't need to know about US Soccer from the national team and its pyramid to the MLS and its lack thereof.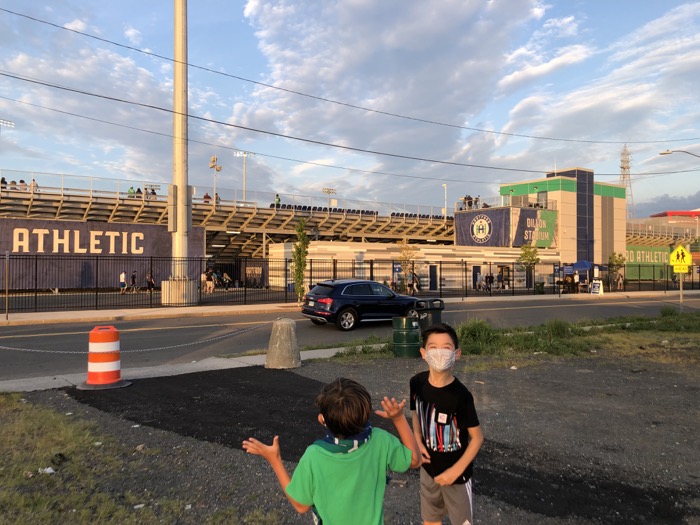 I'll try to land somewhere in between. But since this story involves Hartford and a sports stadium, we need to start with the lawsuits and scandals. It's just a rule. See: The Patriots are moving to Hartford! (1998) and the more recent Dunkin Donuts Park lawsuits. (2018-?)
Little, forgotten Dillon Stadium, forlornly sitting at a corner of Coltsville near I-91 had its own financial scandal of course. The first group of developers stole hundreds of thousands of dollars from the city in their (likely fake) effort to bring professional soccer to Hartford in 2015 or so.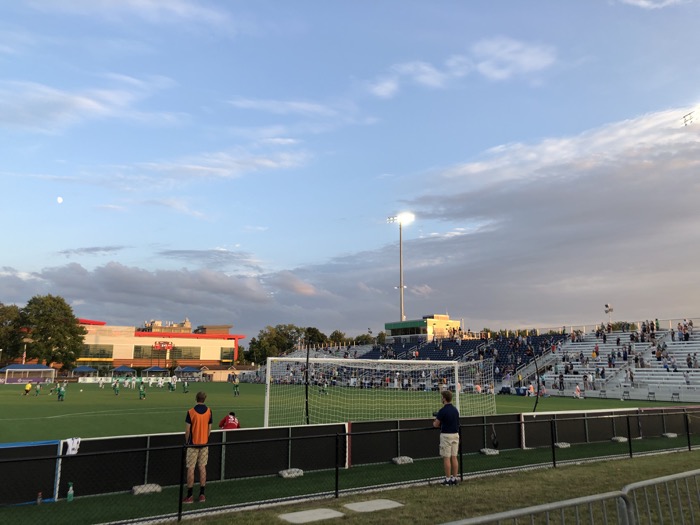 Around that time, some exciting things were being announced around Coltsville. It was awarded National Historic Park status which means that at some point in our lifetime, it will be developed into a tourist attraction… celebrating Samuel Colt and his gun manufacturing. Hooker Brewing opened an outpost and brews an Athletic beer… which is sort of funny because Connecticut is home to Athletic Brewing, but they only make non-alcoholic beer. Hip apartments came to the shells of former factories. And finally, a new ownership group took over the Dillon Stadium project and brought a United Soccer League team to the capital city.
The three owners are successful business owners (Data-Mail, construction, and an investment firm) and they got it done. Dillon Stadium needed serious work, and they built it to seat 5,000 but with room to double in size. A new state-of-the-art turf field was put down, players were contracted, and a team was born. The logo purposely uses the Whalers' green and blue (as did the AA baseball team which was founded a year prior). Of course the state kicked in $10 million because that's how things work.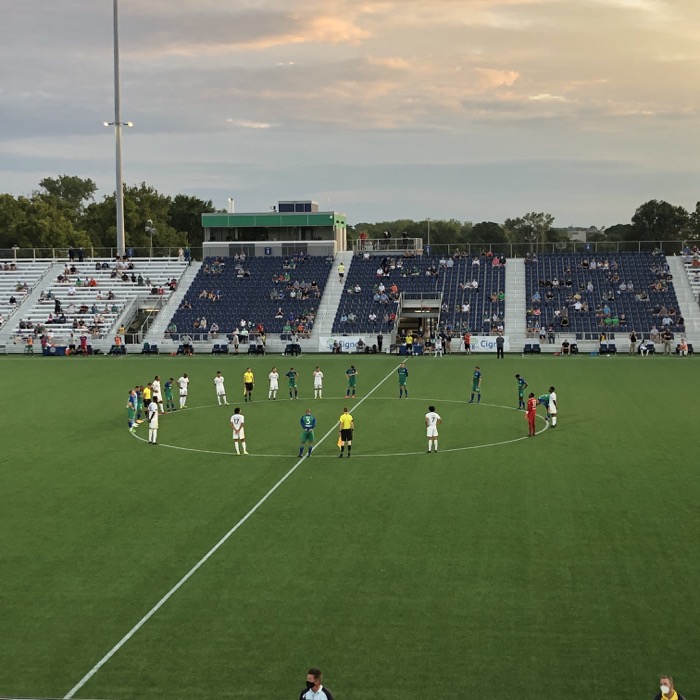 The Athletic began the 2019 season on the road for two months as the stadium was being finished. They lost eight straight to begin their season, but did get a 1-1 result in their inaugural home opener in May 2019. The 2020 season brought a new coach and some new players and a new pandemic.
Even though the team was pretty bad in a pretty bad league in 2019, the team was a success. Fans flocked to Dillon and various supporter groups were formed. The main group is The 19th Regiment who bring their drums and songs and chants to the east end of the stadium. Other groups have sprouted up around the state I guess because USL games are carried on ESPN+ for those that figure out how to access them.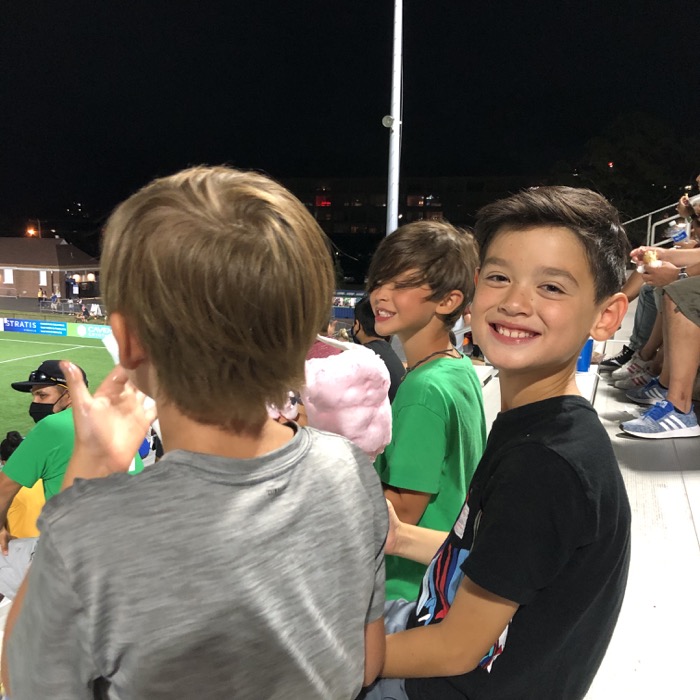 The 2020 season was delayed, truncated, played in front of empty stadiums, and then in front of limited capacity crowds. The Athletic had a new coach and were winning their division when we went to our first game. Our experience was in the middle of a pandemic, so the supporters' section was smaller, the excitement was tampered, and if there are usually silly things for kids to enjoy, we didn't experience them.
Dillon Stadium is nice enough. It's properly oriented north-south for players – this was quite noticeable to us west-facing fans during a sunset game – and it feels modern despite being over 70 years old.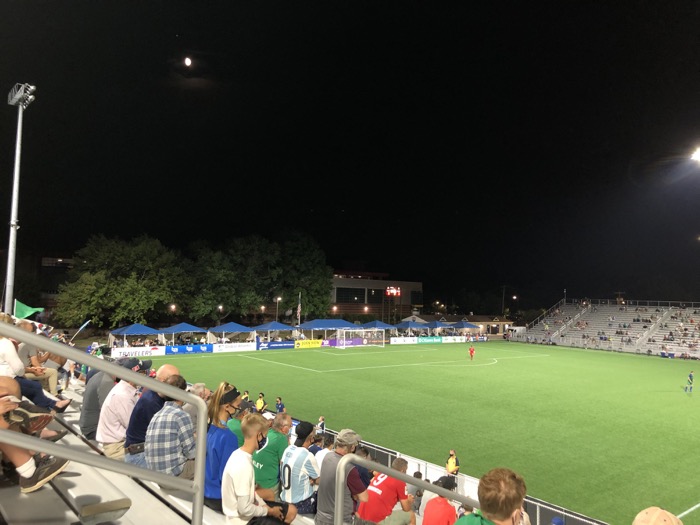 The Athletic played the Pittsburgh Riverhounds and they got thumped. The USL is a funny league… The Athletic play in the "Championship" league and it's rather large with over 30 teams all over the country. There's also a USL League 2 and a League 3 in which I don't even think players get paid. These leagues are well below Major League Soccer in the US, but the Championship does have some "MLS 2" teams in it.
MLS is, of course, well below the top European leagues, but that's not the point here. I'm writing this in early 2021 and there are rumors swirling about the MLS creating their own 2nd league which would likely damage the USL. Or change it markedly. Who knows. From what I saw on the pitch, the USL is a titch above D1 college soccer. There were some really, really slow lads and some really poor touches in this game.
So poor, that my nine-year-old and his buddies actually laughed. One guy got injured and ol' #99 entered the fray. I'm not sure that dude was part of the official roster though, as he was unfit for this level of soccer. As for us, masks were worn, beer was drunk, and stadium food was eaten. The boys had a blast and it was clear that non-pandemic games here are loud and fun affairs.
It's great that the team reaches out to the local Hispanic community and has built a solid foundation of local soccer fans. The Athletic has also founded a non-profit and is helping shape a new year-round facility in Windsor that looks pretty great. There's also talk of creating an Athletic Academy, which is potentially cool for kids like mine who love the game and happen to be pretty good at it.
(It's at this point you should thank me for sparing you the ridiculousness of the US Soccer web of recreational, travel, premiere, club, elite, academy, RTC, ODP, craziness. I spend half my life now figuring out what's best – and fun – for my son.)
The Athletic is great for Hartford and it seems like the owners are decent enough guys. Teams at this level go through big upheavals every offseason (they've just hired their third new coach in three years) and it's a dumping ground for guys in that netherworld between NCAA, MLS, and getting a real job. Even so, we're looking forward to more games in the future.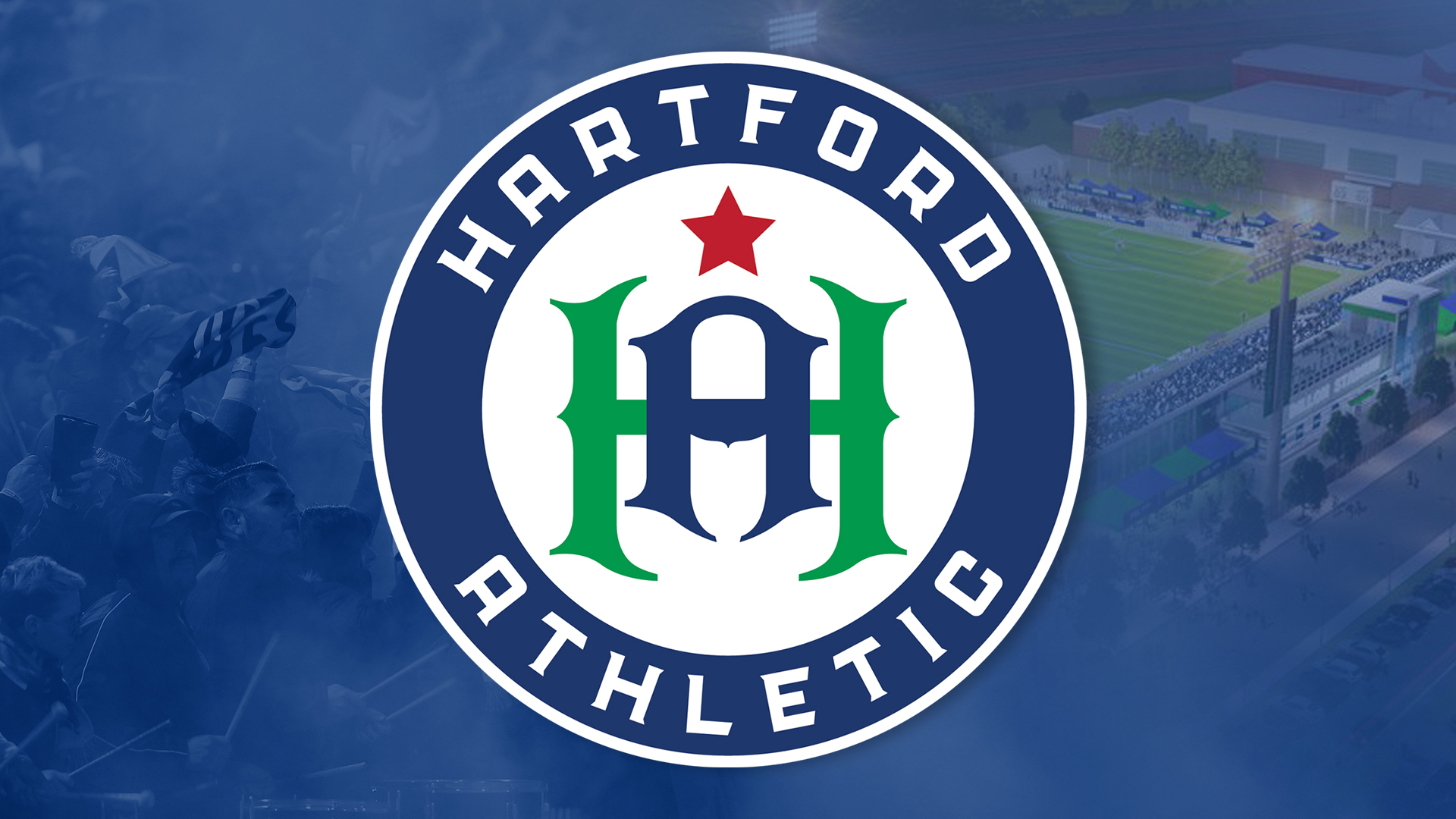 The Hartford Athletic
CTMQ's Sports and Sporting Events