Everything Hartford
I've been exploring and writing about Connecticut since 2006. After a decade, I began compiling CTMQ guides for each town in the state. I plan on "completing" Hartford CTMQ-style… as well as the other 168 towns, cities, and boroughs in Connecticut. That is the ultimate goal of CTMQ.
If I've missed anything in town or if anything has closed or changed, please let me know.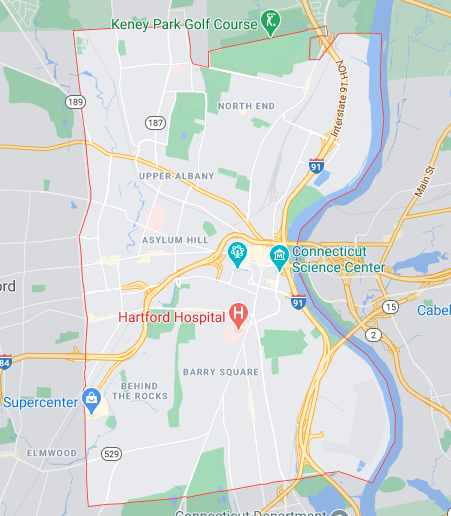 All The CTMQ Hartford Stuff
Museums
29th Regiment Connecticut Infantry Museum (Potential Future Museum)
Aetna Insurance Museum (Closed)
The American Museum of the Free Publication Distribution Box
The Amistad Center for Art & Culture
ArtSpace Hartford
Bushnell Theater
Butler-McCook Homestead
Charter Oak Cultural Center Gallery
Clare Art Gallery
Coltsville National Historic Park Museum (Potential future museum)
Connecticut Culture and Tourism Gallery (Closed)
Connecticut Hall of Fame
Connecticut Museum of Culture and History
Connecticut Science Center
Connecticut Supreme Court
CRRA Visitors Center & Trash Museum (Closed)
Curioporium
First Company Governor's Foot Guard Armory Museum
Governor's Residence
Harriet Beecher Stowe Center
Hartford History Center & ArtWalk
Hartford Police Museum (Closed)
Hartford Public High School Museum
Institute of Living Museum
International Cricket Hall of Fame
Isham-Terry House
John E. Rogers African American Cultural Center (Potential future museum)
Legislative Office Building
Lincoln Financial Sculpture Walk
Mark Twain House
The Mary Fields 'Stagecoach Mary' Museum & Conference Center
Menczer Museum of Medicine & Dentistry in Hartford (Closed)
Morgan Gardner Bulkeley Historical Center
Museum of Connecticut History
The Old State House & Museum of Curiosities
Social House Selfie Museum
Real Art Ways
State Capitol building
Travelers Insurance Museum (Closed)
UConn Public Art Collection
Wadsworth Atheneum
Watkinson Library Virtual Museum
West Indian Museum (Potential Future Museum)
Widener Art Gallery
WTIC Alumni Virtual Museum
Hikes & Bikes
Explore Connecticut's Hartford Outdoor Guide
Hartford's Town Trails – Intro
Charter Oak Landing
Keney Park
Riverside Park
Multi-Use/Rail Trails
East Coast Greenway – Intro
Founders Bridge to Tobey Road
Riverwalk to Weston St./Windsor Meadows State Park (Potential future trail)
Food & Drink
Roadfood List: Donuts at Tastease
Roadfood List: Polish National Home
2006 World Cup Tour: 6 Hartford Stops
CT World Food Tour, Portugal: O'Camelo
CT World Food Tour, Bosnia: NY-NY Pizza
CT World Food Tour, Guatemala: Aurora's Restaurant & Bakery
CT Beer Trail: City Steam Brewery and Cafe
CT Beer Trail: Dead Language Beer Project (Not yet open)
CT Beer Trail: Hanging Hills Brewing Company (Closed)
CT Beer Trail: Hog River Brewing
CT Beer Trail: Phantom Brewing Company (Moved)
CT Beer Trail: Thomas Hooker Brewery at the Colt
CT Beer Trail: Urban Lodge Brewing Company (Future second location)
CT Spirits Trail: Hartford Flavor Company
Looking for your favorite restaurant? Here is an explanation as to why it's not here.
Everything Else
Coltsville National Historical Park
World's First: Pay Phone
World's First: Two-Sided Building
World's Largest: Ceramic Tile Mural
World's Largest: Colonial Building
World's Largest: Stone Arch Bridge
US First & Best: Statehouse
US First: Cookbook
US Oldest: Public Park
US Oldest: Jazz Concert Series
US Oldest: Saddlery
US Oldest: Continually Published Newspaper
US Oldest: Art Museum
WR3 National Historic Trail: Old State House
National Historic Landmark: Coltsville Historic District
National Historic Landmark: Harriet Beecher Stowe House
National Historic Landmark: Henry Barnard House
National Historic Landmark: State Capitol Building
National Historic Landmark: Old State House
National Historic Landmark: Mark Twain House
National Historic Landmark: A. Everett Austin House
National Champion: Paper Birch (Former)
ASME National Landmark: Paige Compositor
CT Dino Trail: Connecticut Science Center
CT Freedom Trail: 16 Sites in Hartford
CT Amistad Trail: Old State House
CT Underground Railroad Trail: Harriet Beecher-Stowe House
CT Art Trail: Wadsworth Atheneum
CT Women's Heritage Trail: 2 Sites
CT Historic Garden: Butler-McCook House Garden
CT Historic Garden: Harriet Beecher Stowe Center Garden
Elizabeth Park & Gardens
Wallace Stevens Walk
Sherwood Forest Zoo (Gone)
The Site of the Charter Oak
The Geographic Center of Hartford
Soldiers' and Sailors' Memorial Arch
Colt Armory Onion Dome
Keney Memorial Clock Tower
State Capitol Dome
Traveler's Tower
Hayfoot, Strawfoot (Moved)
Hartford's Flatiron Building
Potsdam Village Cottages
Park River Tunnels
Fishfry Street
Mount Trashmore
Beatrice Auerbach Fox House
Austin Organs
Art Cinema
The Jumping Frog
Hartford Circus Fire Memorial
Church of the Good Shepherd
Hartford Heritage Plaques
Deaf History Trail
Mark Twain's Pew
"Our Lady of Hartford" Shrine
Asylum Hill Congregational Church Labyrinth
Ancient Burying Ground of Hartford
Cedar Hill Cemetery
Hunger Striker's Memorial
Founders Memorial Gallaudet Statue
Confucius Statue
Samuel Colt Statue
1936 Flood Marker
Windy Metal Garden
Stone Field Sculpture
Boar's Head and Yule Log Festival
Three Kings Day Parade
Bushnell Park Carousel
Subterranean Park River Kayaking
Hartford Athletic Game
Hartford Yard Goats Game
Hartford Wolf Pack/UConn Hockey Game
Trinity College Squash Match
Trinity Bantams Football Game
Ebony Horsewomen
Friends of Vintage Baseball Game
Lady Katherine Cruise
OK Computer Album Cover
Connecticut Pictoral History: The Hartford Courant at 250
Greater Hartford Memories
Frog Hollow: Stories from an American Neighborhood, Susan Campbell
The Hartford Whalers, Brian Codagnone
Lost Hartford, Wilson Faude
100 Things to do in Hartford Before You Die, Chip McCabe
The Circus Fire, Stewart O'Nan
American Cookery, Amelia Simons
Guide to Historic Hartford, Daniel Sterner
Wicked Hartford, Steve Thornton
Masters of Illusion, Mary-Ann Tirone Smith
On Earth We're Briefly Gorgeous, Ocean Vuong
CT Movie: Far From Heaven (2002)
CT Movie: Rising Star (2013)
CTMQ featured IN a museum!
Hartford Wrap-Up
Completion Celebration TBD