Hold Your Horses, I'll Get To It
Samuel Colt Memorial
Wethersfield Avenue, near Armsmear, Hartford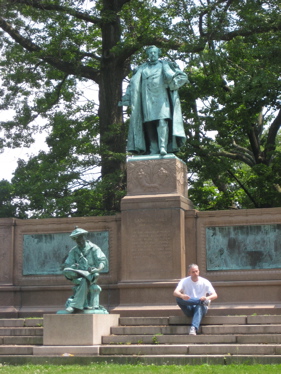 The Colt Memorial Statue overlooking Colt Park next to Armsmear (Colt's home) within Coltsville, a National Historic Landmark (CTMQ report here) is one of the more unique pieces of statuary in the state. Firstly, it is officially part of the National Historic Landmark, even though it's not a building. That counts for something.
But more importantly, it serves as a lasting legacy of Samuel Colt, arguably one of the most important Hartfordites since Thomas Hooker. The statue is as much about Sam as it is about his wife, Elizabeth. Sam and Elizabeth changed the world around them, shaping an environment that clearly echoes their presence to this day.
Elizabeth had few equals in her generation who were more determined and able to create memorials. There was the Colt Memorial "Church of the Good Shepherd," the "Caldwell Colt Memorial House," this "Colt Memorial Statue," "Colt Memorial Park," the "Colt Memorial Annex" of the Wadsworth Atheneum, and Armsmear, and the "Colt Memorial" biography of Sam Colt. Each of these projects were both acts of remembrance and works of art involving nationally renowned, artists, writers, and architects.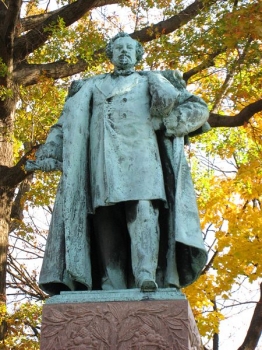 The memorial statue is interesting because it depicts two Sam Colts – the young boy genius and the older business magnate. As a child, Colt used to travel on ships to various points around the world. On one trip, the accepted story goes, Colt was whittling on a piece of driftwood as he watched the ships wheel click as it went around. This inspired him to envision the chambers of what became the world-famous Colt revolver, which he first whittled on one of those ships.
Two large tablets are seen – Colt meeting the Russian Czar and another demonstrating his revolver in the British House of Commons, both in 1854. The older Colt stands above an inscription that reads, rather stiltedly, "On the grounds which his tastes beautified by the home he loved this memorial stands to speak of his genius, his enterprise and his success and of his great and loyal heart."
Well, let's hope that others' genius and enterprise make Coltsville what it should be: A preserved historic gem on the order of a National Park.
Colt stuff
Samuel Colt
A nice synopsis of Coltsville