Man, This Museum is Crazy!
Hartford (Google Maps Location)
January 26, 2009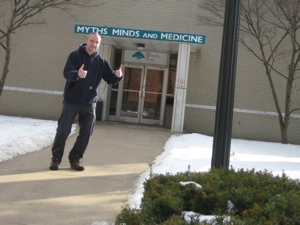 This little museum has been on my radar since I began this blog. It's one of the first places I knew about that never turned up on any search engines no matter what criteria you used. I was proud of the fact that I was "in the know" about a museum that no one else seemed to be. It gave me an early feeling of relevance from the get-go.
The reason this place never shows up on search engines is that, for whatever reason, they don't call it a museum, but on refer to it as the "Myths, Minds & Medicine: Two Centuries of Mental Health Care." I forget how I found out about it originally, but I think it had to do with my brilliant wife remembering that her former boss, Connecticut über-Historian Bruce Clouette of Public Archaeology Study Team having been involved in its creation. I think she was challenging me and my original paltry list to see if I had this place on it.
[Actually, after seeing that I'd been to this place – believe it or not Hoang doesn't keep up – she revealed that Bruce tasked her with finding a straight-jacket for the museum among other things. So that straight jacket in my picture was actually found and obtained by my now wife, about 4 years before we met. My love for her grows daily.]
I didn't, of course… But I do now. As it turns out, there are two places on the web (other than CTMQ) that have good information about the museum. It's hidden away on the Institute of Living's site and believe it or not, the New York Times trumped me with a 1998 article written right after its installation. I will, of course, be borrowing from both sources.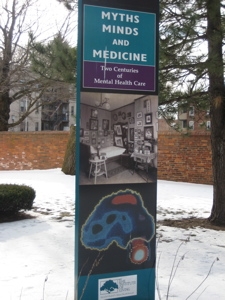 Founded in 1822, The Institute of Living was one of the first mental health centers in the United States, and the first hospital of any kind in Connecticut. Located on 35 acres landscaped by Frederick Law Olmsted, The Institute of Living lies near the center of Hartford, Connecticut. Yes, the same Frederick Law Olmsted that designed Central Park and the oldest public park in America, Hartford's own Bushnell Park (CTMQ Visit here).
Today, as part of Hartford Hospital, it is one of America's leading not-for-profit centers for comprehensive patient care, research and education in the fields of behavioral, psychiatric, and addiction disorders. It's a sprawling campus and really provides care to a lot of people who are marginalized by society and really need the care. It's a good place.
And it's extra good because of their museum. Tucked away on the second floor of a nondescript building (there was a class going on that I listened in on for nurses and home health aids about various restraint techniques for when their patients get out of hand. I figured I may need that some day with Damian… Sadly, that's not a joke.)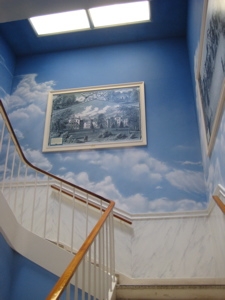 As with many people, I've been personally touched by various mental illnesses in my life. A very good friend of mine took his own life to end his suffering from bipolar disorder and various levels of anxiety disorder have cropped up in my family history. And, of course, my son's Smith-Magenis Syndrome would have been lumped in to the "Evil Spirits" camp not too long ago. So, in an unexpected way, my viewing of Myths, Minds and Medicine was way more personal than I thought it would be.
Myths, Minds and Medicine is the result of several years of research conducted by historians hired through a grant The IOL received from the Connecticut Humanities Council. Documents, artifacts, items of interest, letters, and old photos were gathered from the IOL's attics, basements, and closed-up offices to form the basis for the exhibition. The decision was made early on to tell the full story of medicine's well-intentioned, but sometimes erroneous attempts at finding ways to alleviate suffering.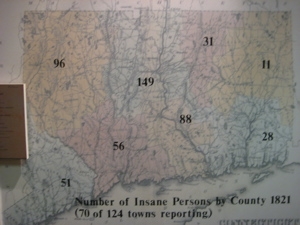 That's the gist of this place, but there is a very good historical telling of mental illness care here as well. The exhibit actually starts just inside the doorway and continues up the stairs and then down a long hallway with a timeline of events at the IOL.
I took a ton of pictures of the informational signs at the museum. I realize this makes for boring viewing – and tedious copying on my part. Oh well… let's start in the lobby with some IOL history. "The story of the Institute is also the story of changing approaches toward mental disorders in America. Bloodletting, harsh purgatives, phrenology, hot baths, and psychosurgery all had their day, pat of the sometimes rocky course medicine has pursued in searching for answers and cures.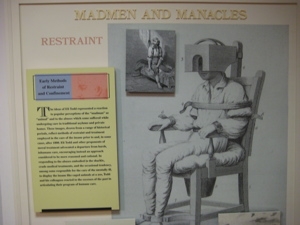 "Today we believe that a large portion of the total population experiences some form of mental disorder at some point in life. Once thought to be bizarre and beyond hope, phychiatric patients are now recognized as ordinary people in need of a particular kind of treatment."
There are newspaper articles from the 18th century depicting the mentally ill person's "criminal" activities. It's rather distressing to read this stuff to be honest. Up until that time, the mentally ill were called "distracted persons" and were usually "hidden away" at family homes or churches. Once the issue of the insane was great enough to build government run centers, the so-called treatments were often barbaric. Enemas and emetics (vomit inducers) and bleeding were all the rage.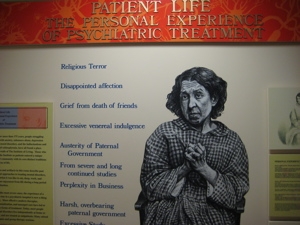 Europe led the way in decrying these practices, especially England. The York Retreat was opened in 1796 that espoused a "moral" way of treating the insane. Talk began in 1811 to build a similar retreat in Connecticut and the "Connecticut Retreat for the Insane at Hartford" was finally opened in 1822.
The first superintendent was Eli Todd, MD who was revolutionary in his compassion for the sick and the insane. In fact, though not mentioned at the exhibit, Dr. Todd was responsible for building the smallpox hospital out in the Farmington woods that is memorialized today at the fascinating Hospital Rock. (CTMQ Visit here.)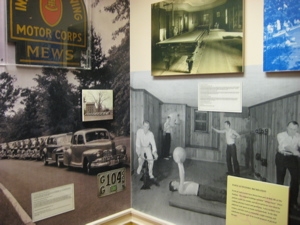 Following Dr. Todd's kinder and gentler methods, the IOL as a whole was pioneering in its treatments. They tended towards the humane and tried to learn from their patients. One former patient wrote, "So-called madmen are too often man-made, and he who is potentially mad may keep a saving grip on his own reason if he be fortunate enough to receive that kindly and intelligent treatment to which one on the brink of mental chaos is entitled." That was Clifford Beers who went on to write the very influential "A Mind that Found Itself" in 1908.
The grounds were chosen for their beauty and bucolic nature. in 1822, there were views of the Connecticut River and trees all around. By the mid-1800's, the once rural retreat was being surrounded by a growing urban landscape, so they hired Olmsted to do his best to keep the grounds as pastoral as possible. Many unique trees were planted and today a tree walk can be taken in, including some of the state's so-called trophy trees.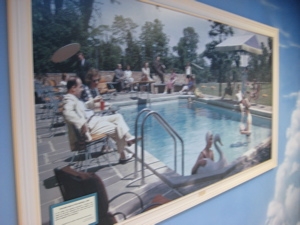 By the 1930's, a "country club" approach was adopted at the institute, giving patients the most rewarding experience possible. Once through the hallway history, there is a room at the end with several different exhibits, including admittance records and other "real life" artifacts.
The patients themselves tell part of the poignant story, as recorded voices recreate some of the letters found in the IOL's archives. An entirely reconstructed patient bedroom from the early 1900s invites viewers to place themselves in the shoes of those who sought care at The IOL.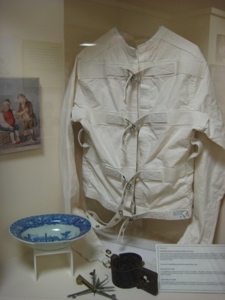 Of course, those who were cared for here were almost universally from more affluent families. Before health insurance, most laborers could not afford the cost of a room or even bed at the Retreat. Some really rich families built little cottages for their sick loved ones and everyone enjoyed – to the best of their abilities – the amenities which they were accustomed to at home. (The state built a public retreat in Middletown.)
Today, most patients are out-patients although there is still some full-time on campus housing available.
The most interesting displays here are also the most troubling. Past "treatments" are laid bare, like straight-jackets, insulin shock therapy, electric shock therapy and even lobotomies.
More modern methods (which I'm sure our future alien overlords will laugh about) are also described, from psychotherapy to the litany of drugs on the market and CAT scans to determine brain disorders.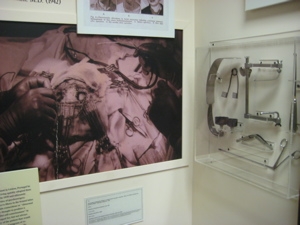 A lobotomy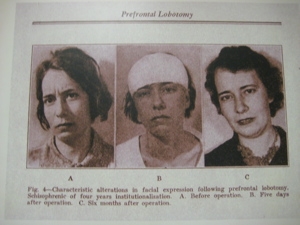 Lobotomy: Before, During, After
I was fascinated by this museum – err – the "Myths, Minds and Medicine museum-quality exhibition." It's always cool to learn that something in my neck of the woods was a pioneering and important piece of something as huge as modern mental illness care. It was emotional for me, imaging what life would have been like for my little Damian just 100 years ago… But regardless, if you're in Hartford for some reason, this place is definitely worth a visit.
Hey, I didn't use a word of the New York Times piece! It's linked below… Enjoy.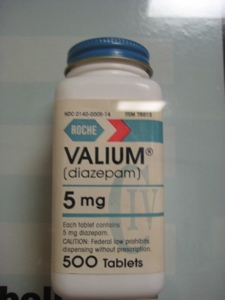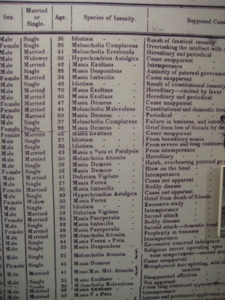 …………………………………………………….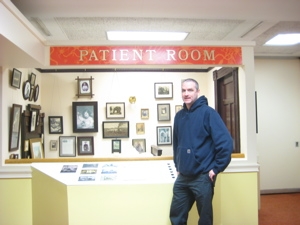 For the Curious: