A Glowing Review
Knoll Labs Nuclear Reactor Site
Windsor
Connecticut is currently home to one nuclear powerplant: Millstone in Waterford. We used to have another – Connecticut Yankee in Haddam, now decommissioned – and there are, of course, nuclear submarines stationed in Groton. But there was another nuclear reactor here from 1959 to 1993 in… Windsor.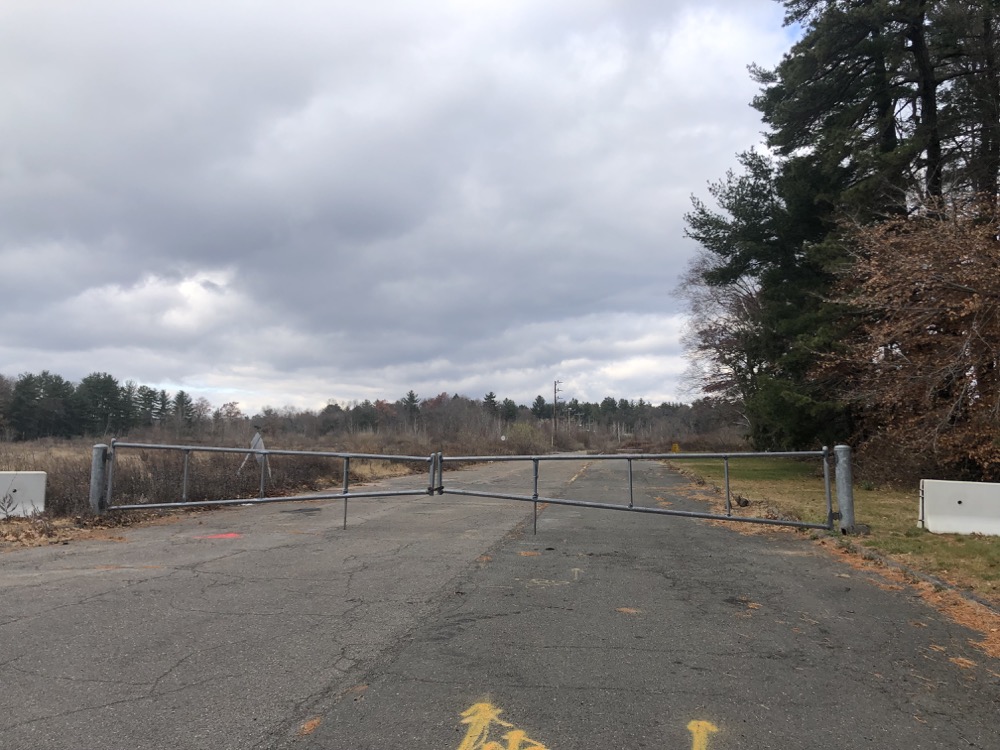 I don't remember when I first learned of this surprising fact, but I do recall being, well, being surprised. Right there – right off of Day Hill Road in the woods next to the landfill near Northwest Park, behind what is now a bunch of businesses and a new massive "mixed use" complex, near the Farmington River… for over 30 years… was a nuclear reactor and testing station.
Apparently, the true nature of the facility was secret. The people living nearby had no idea. I can't imagine the secret was too closely guarded, but I can't know. (A commenter below says that it was not a very well-kept secret.)
It was a small reactor called the S1C prototype, designed for the United States Navy to provide electricity generation and propulsion on warships. The S1C designation stands for:
S = Submarine platform
1 = First generation core designed by the contractor
C = Combustion Engineering (C-E) was the contracted designer
All of the information about this place is from the excellent Coldwar-Ct.com, which is the CTMQ of all things Cold War. In Connecticut. Obviously.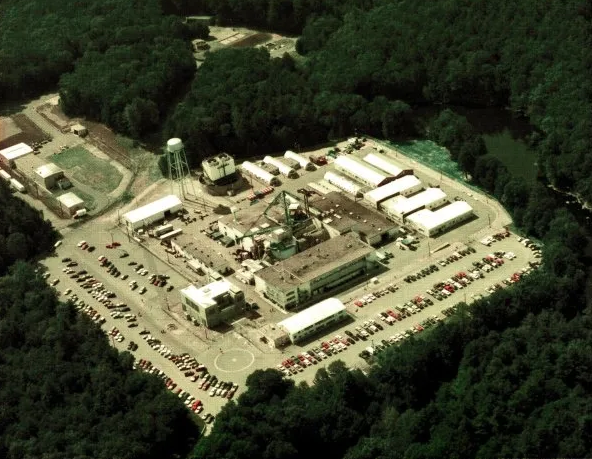 S1C achieved the first self-sustaining nuclear chain reaction in Connecticut and was a prototype for the experimental USS Tullibee submarine. The Knoll Labs propulsion plant was unusual in that the steam turbines powered an electric motor, rather than a set of reduction gears. The electric motor was in turn connected to an electrical generator. By changing the load on the generator the load on the reactor system could be changed.
Yeah, I have no idea what that means either.
The facility consisted of naval nuclear propulsion plants, administrative offices, training facilities, an equipment service building, boiler house, and waste-handling facilities. A full scale 100% operational mock-up of the reactor and engineering spaces of a submarine served as the training platform.

Throughout the Cold War, the S1C Prototype at the Nuclear Propulsion Training Unit (NPTU) at the Windsor Site supported the submarines and surface ships of the Navy's nuclear fleet by testing new equipment and training naval propulsion plant operators. Over 14,000 Naval operators were trained there.
You see what I mean about it being "secret?"
"Oh look, Billy, another caravan of buses containing young men with buzzcuts going through that gate manned by uniformed officers during WWII and all through the Cold War. I'm sure it's just some sort of summer camp or something. Let's eat lunch!"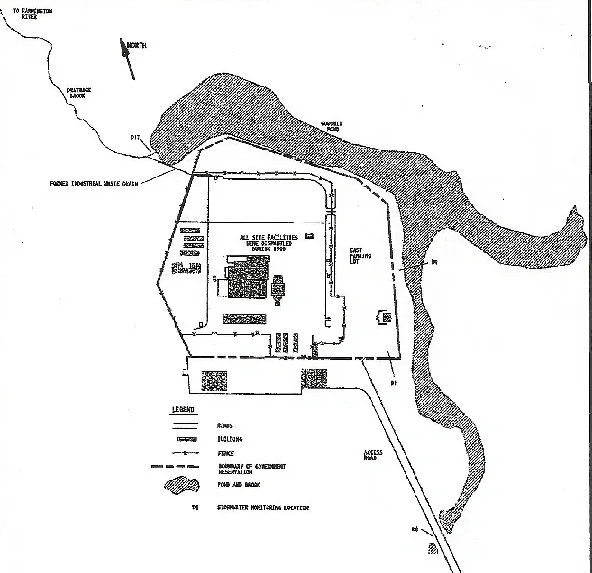 The facility was initially operated by Combustion Engineering for the Department of the Navy and the Department of Energy. In 1960, the S1C site was sold to the U.S. government although CE continued to manage operations until 1970, when Knolls Atomic Power Laboratory (KAPL) took over operations. In the eighties Westinghouse would be involved.

In the mid 80s construction started on a new building that would be nick-named "Castle Gray Skull". It was of very sturdy construction with heavy rebar in the walls, massive doors and massive screens on the diesel generator air intakes to protect them from debris during hurricanes and tornadoes.
Just popping back in here to say that the real Castle Grayskull (no space) is a fortress located on the planet Eternia. It's where He-Man and Skeletor had many battles to be the titular Master of the Universe. And as far as hurricanes and tornadoes, remember that a tornado did cause extensive damage just north of here in Windsor Locks in 1979, right before Castle Gray Skull was built.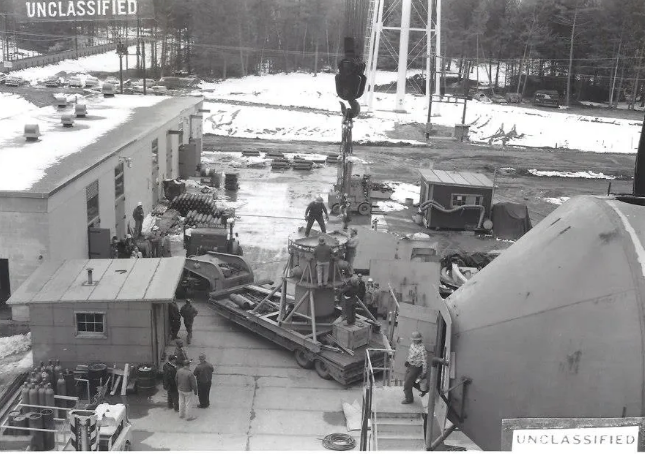 The diesel generators could provide emergency power and cooling to the reactor in the event of a utility power failure. There were fully redundant systems and the generators would be on line supplying power within 30 seconds of an outage. The building was earthquake and bomb proof. There were utility tunnels connecting this building with other parts of the site. There was a large control room where plant management could go during an emergency and cots, water, food and other survival supplies were kept on hand as the building could serve as a emergency shelter. Reportedly there were large tanks of borated water contained in the building that could be used flood the reactor compartment in the event of a loss of coolant accident.
Hurricanes, tornadoes… okay. Earthquakes and bombs? I'm sure the locals would have been pleased as punch to learn that there was a fear of the Soviets dropping a bomb in their backyards. On a nuclear reactor. And really, shouldn't residents have been made aware of any potential fallout danger? The movie "Red Dawn" was released in 1984. Ivan Drago killed Apollo Creed in 1985 before Rocky beat him in the fourth installment of that franchise. Real talk.
Here's my favorite story about this place:
In the early 90s there was a security scare at the facility. A group of armed individuals came running from the woods towards the plant and showed up in the parking lot with weapons drawn. There was a tense few minutes until the plant guards sorted things out. The "intruders" were members of the Hartford Police SWAT team who were supposed to be conducting a force on force exercise at the Combustion Engineering nuclear fuel fabrication plant next door.
The reactor was shut down in 1993 and closed shortly thereafter. Full clean up of the site was completed in 2006 and the parcel was the first ever unrestricted radiological and chemical release of a nuclear reactor site. I think that means you and I can just walk around it now… or that large mixed use apartment and retail complexes can be built right next to it.
(The two roads into the site are gated and signs warn off anyone looking to take a walk. However, the field is easily accessed via any number ways, from all directions. If you're so inclined.)
And finally, check this out. I've driven the western end of Day Hill Road every day for years – both for work when I've worked there and to take my son to school – and have driven over the train tracks there. In recent years, it has seen more and more activity. In fact, just this morning on Cottage Grove Road in Bloomfield, I was stopped at the same rail line. I swear. Proof: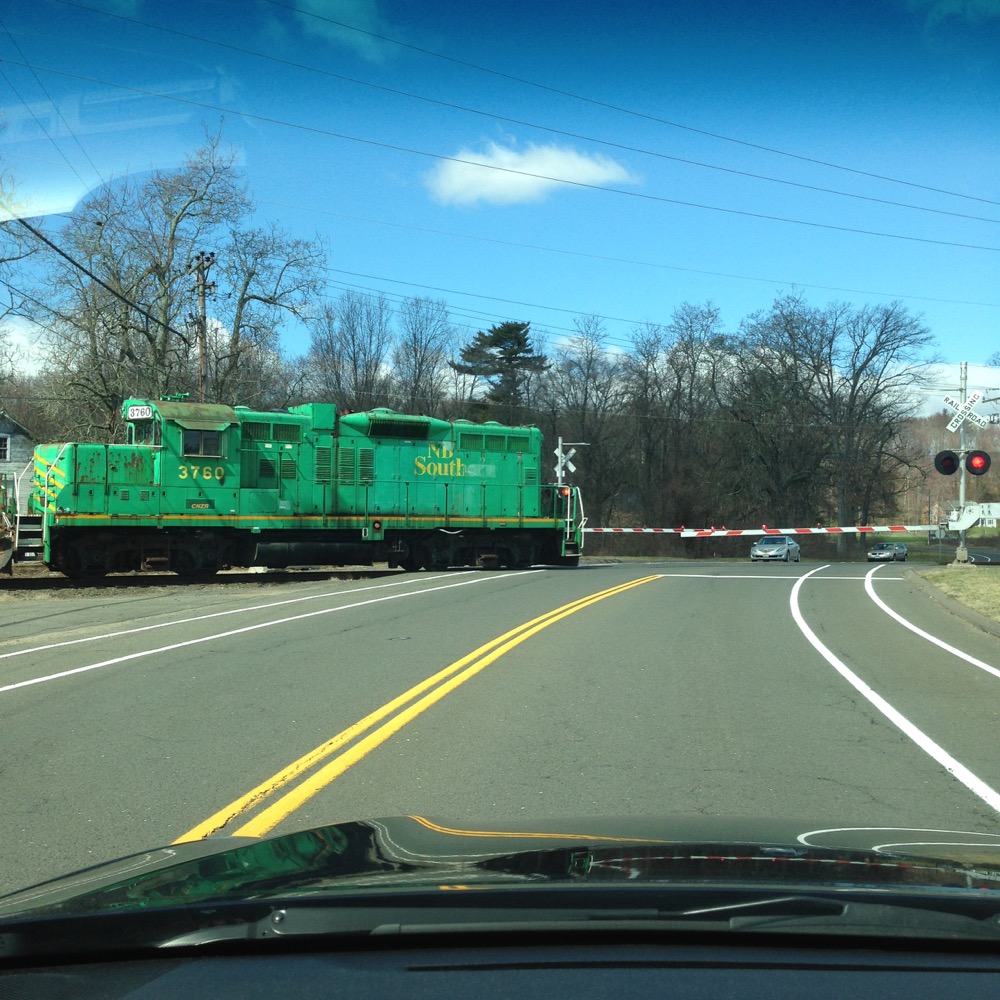 Anyway, its northern terminus is at the Bloomfield/Windsor line on Day Hill Road. Weird, right? Well, there is an explanation for this:
The Griffin Line railroad which extends from downtown Hartford out to northern Bloomfield was used starting in the late fifties to transport nuclear material to and from the nearby Knolls Atomic Power Labs in Windsor. The line was all but abandoned for over a decade but was rebuilt in the late 90's to aid in the decommissioning of the Knoll Labs. Highly radioactive materials from the lab, including spent fuel rods and the actual reactor core were initially transported via this line to their ultimate disposal location in Idaho.
So the short little rail line spur that I drive over at least twice a day, every day, either on Day Hill Road or Cottage Grove Road was built solely to supply a secret nuclear reactor site in Windsor… and then rebuilt more recently to transport "highly radioactive" materials to our capital city for ultimate removal to Idaho.
In 2021 I currently work on Day Hill Road and my son still goes to school in Windsor. If there ever was an "interesting story in my own backyard," this is it.
And this is why I continue to love writing this dingdong website.

CTMQ's Companies & Businesses
Coldwar-CT on the Windsor site