Everything Waterford
I've been exploring and writing about Connecticut since 2006. After a decade, I began compiling CTMQ guides for each town in the state. I plan on "completing" Waterford CTMQ-style… as well as the other 168 towns, cities, and boroughs in Connecticut. That is the ultimate goal of CTMQ.
If I've missed anything in town or if anything has closed or changed, please let me know.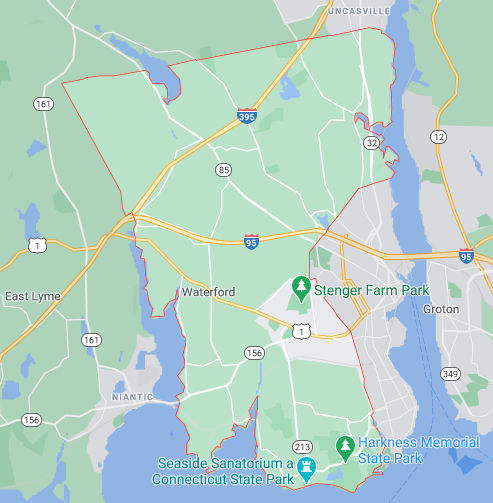 Museums
1740 Jordan Schoolhouse
Beebe-Phillips House
Eolia at Harkness Memorial State Park
Margaret Stacy Memorial Barn/Museum
Millstone Nuclear Power Station Education Center (Closed)
Hikes
Camp Harkness State Park
Harkness Memorial State Park – Intro
Seaside State Park – Intro
Dr. William A. Niering NAP
Mamacoke Island NAP
Eversource Land Trust – Intro
Waterford Land Trust – Intro
Avery Tract
Conover Tract
Fitch's Pond
Madara Woods Tract
Two Tree Island
Woodlands Tract
Waterford's Town Trails – Intro
Arnold E. Holm Jr. Memorial Park
Connecticut College Trails
Mountain Laurel Sanctuary
Stenger Farm Park
Food & Drink
Sadly, nothing of note. Here is an explanation as to why this is so.
Everything Else
US Oldest: Yale-Harvard Regatta
CT Historic Garden: Harkness Memorial State Park
Connecticut College Arboretum
Yale-Harvard Regatta Rock
Seaside Sanatorium
Seaside Sanatorium Drawbridge
Eugene O'Neill Theater Center
Waterford Speedbowl
Waterford Wrap-Up
Completion Celebration TBD