Camp Harkness State Park
Waterford
Everyone's always asking me what my favorite [insert anything I ever write about] is. I pretty much never answer because quite frankly, I don't have an answer for them.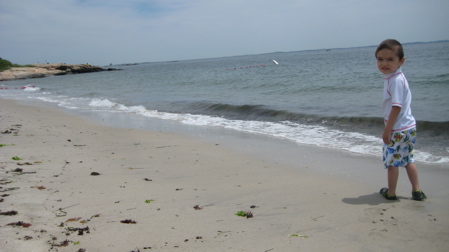 But when it comes to "what's your favorite Connecticut State park," I now have an answer. And with probably a hundred state parks yet to visit, I'm confident my answer won't change as long as Camp Harkness stays open.
What's that? You've never heard of it? (Truthfully, I'm still not sure if this place is even an official state park, but I'm pretty sure it is.) Regardless, this place is certainly unique.
Camp Harkness was originally part of the neighboring Harkness Estate, now Harkness Memorial State Park. The estate served as the summer residence of the Harkness family, where philanthropist Mary Harkness often hosted children with polio during the summer season. Through her will, Mary Harkness in 1952 deeded the portion now known as Camp Harkness to the State of Connecticut for perpetual use by those stricken with polio, "handicaps", and veterans. Originally operated as a state park by the CT Department of Environmental Protection (DEP), the Camp was turned over to the CT Department of Developmental Services (formerly the CT Department of Mental Retardation) in 1977. The property is managed by the South Region of DDS.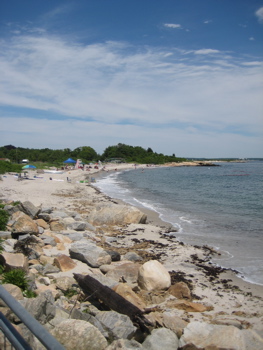 And most of you can't get in to enjoy the place. But we can! "Thanks" to Damian's state-confirmed developmental disability that will remain with him for life. (That's the criteria one must fulfill to get the special pass for entry.) The place is really cool, but trust me, you're okay for not having access to visit here.
Isn't it interesting how Damian was "mentally retarded" 20 years ago, then handicapped or disabled and now there seems to be some waffling between special needs and developmentally disabled or whatever. It's all the same to me, unless used as an insult. (If curious, you can learn more about Damian and his Smith-Magenis Syndrome here.)
I've read in a couple places that Camp Harkness is one of only three or four state parks dedicated to those with special needs in the country. So that's pretty cool. And for whatever reason, the state and the Department of Developmental Services keeps this place pretty hush-hush.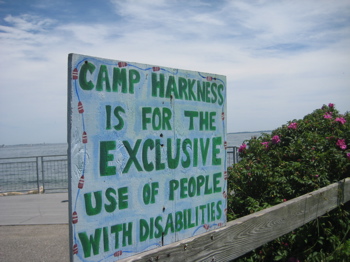 Which puts me in a weird place: I want to shout from the hilltops about how great Camp Harkness is, but I kind of like the solitude we find there. Totally selfish of me, I know, but I deserve that every now and then.
For us, the best part of the park is the beach. Situated right next to Harkness Memorial State Park (and somewhat securely fenced off from it with sign explaining to those on the other side what Camp Harkness is all about), the small but soft and sandy beach provides calm and shallow water with two breakwaters. It's perfect for the kids (and adults) who come here and sort of require that.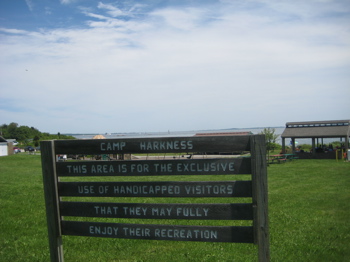 There is a large natural rock outcropping on the eastern end of the beach from which we can see Waterford's town beach and also Ocean Beach State Park. Pshaw on them and their crowds and long walks to the sand.
Perhaps the best part of the Camp Harkness Beach (for us) is the absolute freedom to be us. Damian can be Damian to his heart's content. He can pitch a violent self-injurious fit and no one will think we're terrible parents. He can yell his crazy yells and no one bats an eyelash.
Actually no, the best part is the other kids. Since families are there, there are a bunch of typical siblings of special needs kids who don't mind that Damian doesn't talk or that he's a little different. Two wonderful little girls immediately befriended Damian and got him to play with them. Age-peer play! A breakthrough! At one point, while playing with sand and a bucket, Damian even told me to go away. This may sound odd, but to me, that was a great thing. She even held his hand and took him into the water past his knees – at which point he began happy/angry yelling/laughing and looking for me. He had a blast.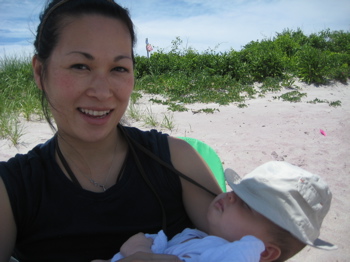 (For his part. 10 week old Calvin just quietly took it all in and napped a bit. For mama and papa's part, we felt no self-consciousness about our post-pregnancy and approaching middle age pale bodies. I love this place.)
The Camp is also, you guessed it, a camp. We can tent camp here, use the nice pavilions and showers or we can also reserve cabins for overnights when we feel Damian can handle that. There are a bunch of programs here too, like a greenhouse and gardening for the kids and adults who deserve such things but may not feel comfortable elsewhere. There are socials and dances and all sorts of great stuff for "the community."
They've begun a program here with horses too, since that's becoming all the rage. For now, we were just able to look at the horses from afar.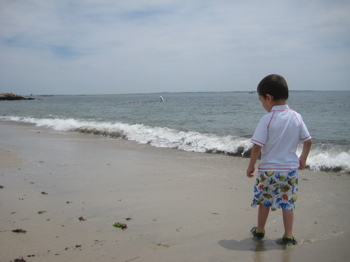 Camp Harkness is beautiful, well-kept and really just a great place and state program. Now let's hope the state can keep it up and we'll always have a go-to beach every summer for the rest of our lives.

DEEP's Camp Harkness Park Info
CTMQ's Harkness Memorial Park Intro
CTMQ's State Parks, Reserves, Preserves, & Forests