What's the Point?
Milford Point Brewing, Milford
June 2019
The shoreline town of Milford will have three breweries in 2020. While this isn't a unique situation anymore in Connecticut, it does allow us to take a look at the brewery market and perhaps try to sort out why a smaller town like Milford can support three viable breweries. Because "all breweries are the same!" right?
Wrong. You need to get out more. (Unless, of course, you don't like/drink beer – in which case you're not likely reading this page.)
Breweries are not interchangeable. In Milford, Tribus clearly serves a younger, heavily Millennial crowd that loves it's hip-hop references, hazy IPAs, and flat-brimmed hats. Dockside Brewing is on the water and is associated with Engine 15 Brewing of Jacksonville, Florida. It will be big and old rich people will park their boats to visit. (I actually have no idea who will swarm to Dockside. But just go with my dopey assumptions here.)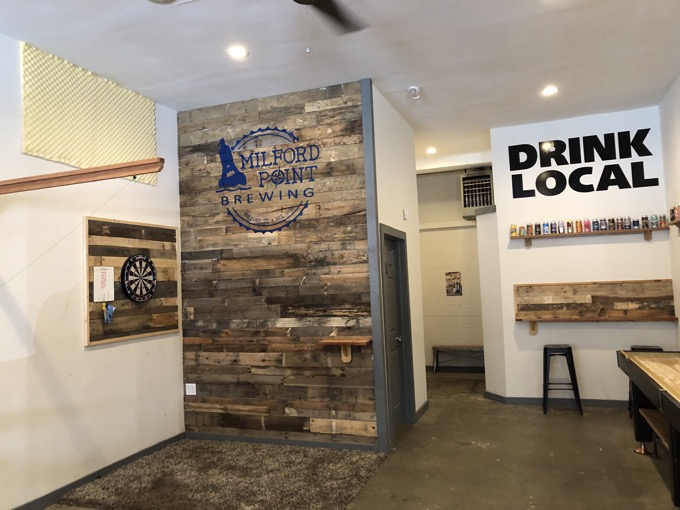 Then there's humble little Milford Point Brewing, which is about seven miles from the actual Milford Point. (There are a slew of Points in Milford… Milford Point, Welches Point, Pond Point, Merwin Point, Oyster River Point… You get the point.) I don't really have a point about Milford Point not being located on the actual Milford Point. It matters not a whit.
What was my point though? Oh yeah, Milford Point… I'm guessing its core demographic is somewhere between the hipsters at Tribus and the Sperries and Captain's hats over at Dockside. Salt of the earth folks. Converted Bud drinkers. Old guys complaining about whatever fictional boogeymen FOX News is on about this week. Every brewery has its niche.
During my visit, AC/DC was cranking through the soundsystem on repeat. It's rare you go to a dining or drinking establishment at which only one band's music is playing. Every brewery is different somehow.
I arrived and picked the right garage door in a sea of garage doors in a business park somewhere in Milford. It was a lovely summer day and seagulls flitted and screeched, fighting over fast food wrappers in the parking lot. The beach vibe was set. Another bonus was that I had my choice of seating, as the brewery was empty upon my arrival mid-Sunday afternoon, save for the world's biggest AC/DC fan of course.
Milford Point Brewing was formed in Dec. of 2016, stemming from Chris Willett's homebrewing success. He had won a local competition and beat out 40 other contestants by entering his Silver Sands IPA. Soon after that, Chris's long time friend Jerry Candido, also softball coach for their daughters, started to collaborate with Chris on business ideas and they formed the brewery and put plans in motion, to open up Milford's first brewery.

Milford Point Brewery officially opened on April 7th, 2018 on National Beer Day as Milford's first brewery. Keeping true to their business model and craft, they started small and continue to operate as a small business, supplying the local Milford folks with local beers, named after points of interest in Milford.
Okay, yeah… nothing about that story is even the tiniest bit unique, but that's fine. To prepare for my visit, I poked around the Intertubes for some Milford Point intel. The evening before my visit, several Untapprs were served a beer that caused some concern: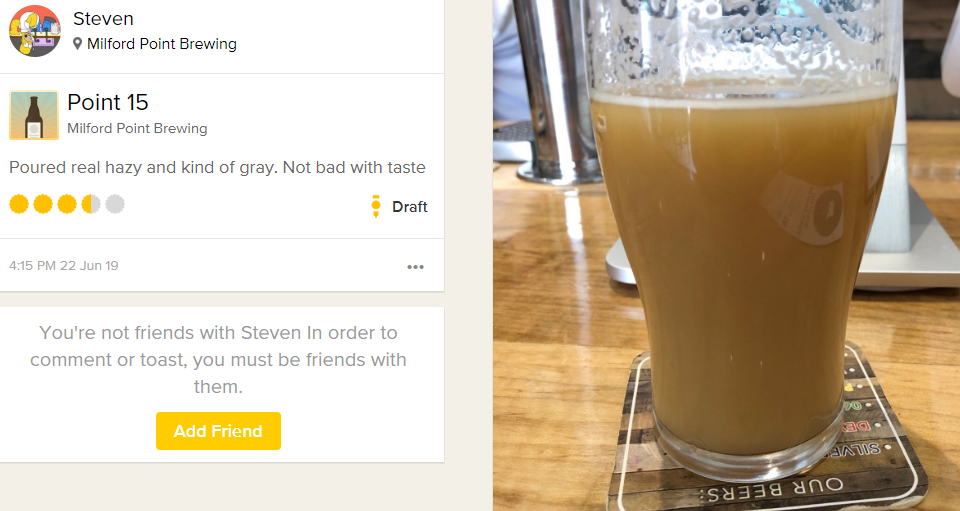 Hm. Was that the Silver Sands IPA that contained actual sand? 'Cause that would be unique. Turns out that no, it was the brewery's Point 15 which was, of course, a "New England IPA." Good lord. I'm not really a fan of gray beers, but I really wanted to get my own to see if it was real. (Un)fortunately, Milford Point had taken it offline after several people questioned the sanity of drinking gray beer the previous night. Tight QC at Milford Point.
Odd thing – that beer, which wasn't always gray, has been retired at the brewery. It was a collaboration with Engine 15, the Jacksonville, Florida brewery that is part of the financial backing of Milford's Dockside Brewing. A brewery that will – at the least – put a dent into Milford Point's bottom line. Just thought I'd throw that nugget in here.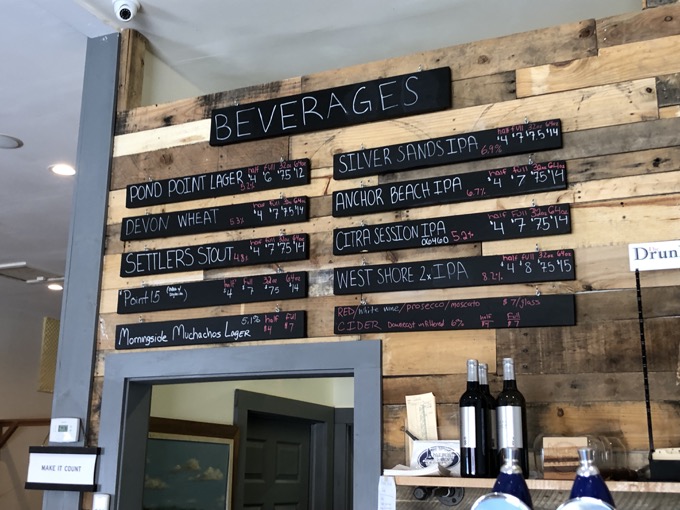 None of the beers I had at Milford Point poured gray, so we were off to a rockin' start. And by "rockin'" I mean THUNDERSTRUCK ROCKIN'. BACK IN BLACK ROCKIN'. So let's get on this Highway to Hell and see what Milford Point has to offer…
I started with the Pond Point Lager, perhaps the most bone dry lager I've ever had in my life. I've never before had a beer that made me thirstier than this one. It was like witchcraft with how dry a liquid can be. Rather than just having a biscuit undercurrent, it was like I ate a bunch of MRE biscuits in the Sonoran desert. Not only that, but it looked like something one might resort to drinking if one didn't have potable water in the Sonoran desert.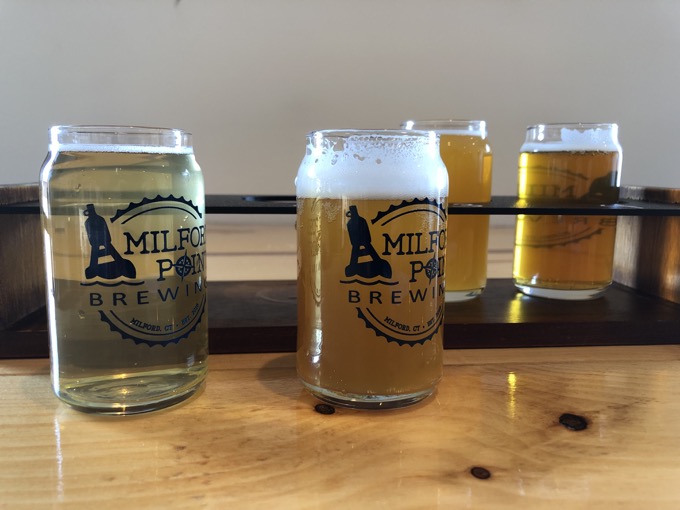 To quench my thirst, I reached for the Devon Wheat Ale.
While quenching, I suppose, this completely flat beer tasted like old pineapple juice. I was beginning to wonder if the fact that no one else was drinking beer here was more than just happenstance. While pondering life and hoping for better beers, I wandered around a bit and noticed that they have darts and table shuffleboard. The bathroom was fairly nice I guess, if only as a brief escape from ACFreakingDC.
By the way, the glasses used for flights are dumb. The lip on them makes drinking more difficult than it should be. Moving on, the Citra Session IPA was – checks notes – very good! (It's now called 06460 Session IPA.) Even though it's over 5%, which puts it out of my personal "session" category, I could drink a lot of this beer. Well done!
But just as things were looking up, I moved on to the Silver Sands IPA, which – and I'll check my notes again – I wrote "flat as @#$%, soapy." I've lamented the fact that so, so many newer breweries don't know how to properly carbonate their beers. Milford Point is merely a part of what is an epidemic sweeping a nation full of new breweries. I've never carbed anything, so I don't know how to do it properly. But if I owned a brewery, I think I'd sort it out.
As for the soapiness, that's an off-flavor we don't see too much of anymore. From what I understand, If you leave the beer too long for secondary fermentation, the breakdown of fatty acids in the trub results in this soapy flavor. It is not a flavor I enjoy in my beers.
I don't know, man. Milford Point just wasn't my jam for many reasons; the beer being the main one. Off day? Too much AC/DC? Perhaps yes to both. I know that the brewery expanded at some point so that tells me they're doing better than I'm suggesting here. So that's cool.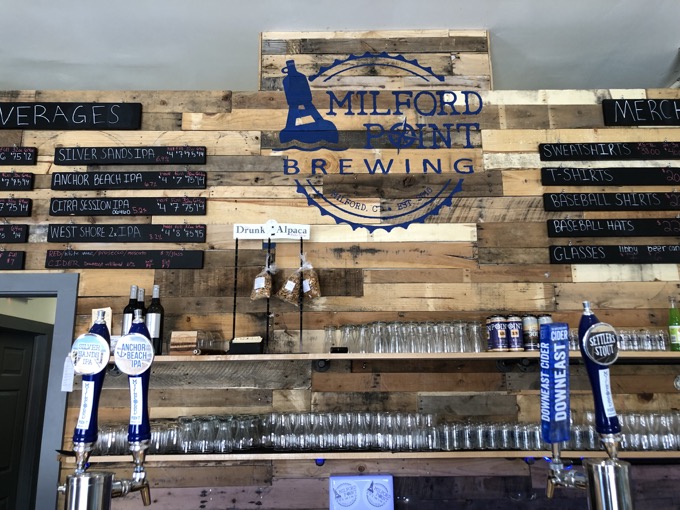 Milford Point Brewing
CTMQ's page on CT Breweries and Brewpubs