Everything Groton
I've been exploring and writing about Connecticut since 2006. After a decade, I began compiling CTMQ guides for each town in the state. I plan on "completing" Groton CTMQ-style… as well as the other 168 towns, cities, and boroughs in Connecticut. That is the ultimate goal of CTMQ.
If I've missed anything in town or if anything has closed or changed, please let me know.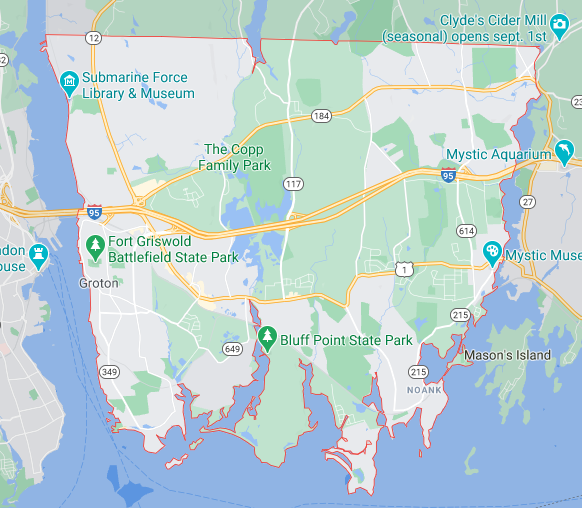 Museums
Alexey von Schlippe Gallery of Art
Anna Warner "Mother" Bailey House
Avery-Copp Museum
Bill Memorial Library Museum
Ebenezer Avery House Museum
Jabez Smith House
Monument House Museum at Fort Griswold
Mystic Museum of Art
Portersville Academy at Mystic River Historical Society
Red Shed and Latham/Chester Store Museum
Submarine Force Museum
Sylvan Street Noank History Museum
UConn Public Art Collection
Hikes & Bikes
Explore Connecticut's Groton Outdoors Guide
Bluff Point State Park, Coastal Reserve, & NAP – Intro
Haley Farm State Park – Intro
Candlewood Hill WMA
Groton X-Town Trail
Avalonia Land Conservancy – Intro
Leo Antonino Preserve
Moore Woodlands
Town's End
Groton Open Space Association – Intro
Avery Farm Nature Preserve
Candlewood Ridge
The Merritt Family Forest
The Sheep Farm
The Sheep Farm South
Groton's Town Trails – Intro
Beebe Pond Park
Birch Plain Creek
Copp Family Park
Mortimer Wright Preserve
Pequot Woods
Poquonnock River Walkway
Sparkle Lake Conservation Area
Multi-Use/Rail Trails
G&S Trolley Trail
Food & Drink
Roadfood List: Shore Dinner at Abbott's Lobster in the Rough
Roadfood List: Clam Chowder at Abbott's Lobster in the Rough
CT Cheese Trail: Mystic Cheese Company
CT Chocolate Trail: Mystic River Chocolate
CT Chocolate Trail: Mystic Sweets
CT Ice Cream Trail: Mystic Drawbridge Ice Cream
CT Ice Cream Trail: Mystic Sweets and Ice Cream Shoppe
CT Diner Trail: Norm's Diner
CT Historic Restaurant Trail: Mystic Pizza
CT Unique Food Trail: Mystic Shagbark Hickory Syrup
CT True Tavern Trail: Gatehouse Tavern
CT Beer Trail: Bank and Bridge Brewing
CT Beer Trail: Barley Head Brewery
CT Beer Trail: Beer'd Brewing @ the Silo
CT Beer Trail: Mystic River Chocolate Cafe
CT Beer Trail: Outer Light Brewing Company
Looking for your favorite restaurant? Here is an explanation as to why it's not here.
Everything Else
World's First: Nuclear Submarine
National Historic Landmark: Nautilus
US Best: Abbott's Lobster in the Rough
CT Art Trail: Mystic Museum of Art
CT Freedom Trail: Fort Griswold Battlefield State Park
Submarine Capital of the World/National World War II Submarine Memorial East
Taqulittuq gravesite
Pequot Fort & The Tree of Life
Fort Griswold Battlefield State Park
Gungywamp
Hobs Island
Pine Island
Sixpenny Island
Sheep Farm Falls
Avery Point Lighthouse
Morgan Point Light
New London Ledge Light
CT Tower Trail: Groton/Fort Griswold Monument
Gold Star Memorial Bridge
Mystic River Bascule Bridge
Hobs Island House
Mystic Spite House
Charles Merritt House
CT Cool Libraries Trail: Bill Memorial Library
CT Cool Libraries Trail: The Mystic & Noank Library
Argia Mystic Cruise
Project Oceanography Cruise
Fields of Fire Aerial Adventure Park
Carson's Store
Mystic Pizza (1988)
Top 10 Fake Town: Noank
Town Essay: Let's Talk Mystic
Groton Wrap-Up
Completion Celebration TBD