Such Spite in Such a Beautiful Place
Mystic section of Groton
June 14, 2016
If you happened to have come to this page from a link on Connecticut's other, more colorful, spite house, I must warn you: this one isn't nearly as exciting.
In fact, it's for sale today (June 2016) for $1.35 million dollars. And while I doubt much of my readership is in the market for million dollar homes, just think – if you act fast, you can go tour one of Connecticut's two remaining spite houses!
Side note: who in the world wants to pay that much money to live on Gravel Street in Mystic? A place where you literally can't go anywhere from June through October due to tourists? You'd have to be nuts.
And wealthy.
And besides, the interior looks pretty outdated. Just not for me.
Located at 13 Gravel Street, this 1826 house is a large Cape Cod with Greek Revival accents. It is thought to have beeen built by one John Fellows, who, according to the Mystic River Historic Society, "Must've been the spiteful one."
No house stands behind 13 Gravel Street, so I turn to another pdf which states that it was built in spite to block the river view from 9 and 11 Gravel Street. (See first picture, though this only blocks views north, upriver.)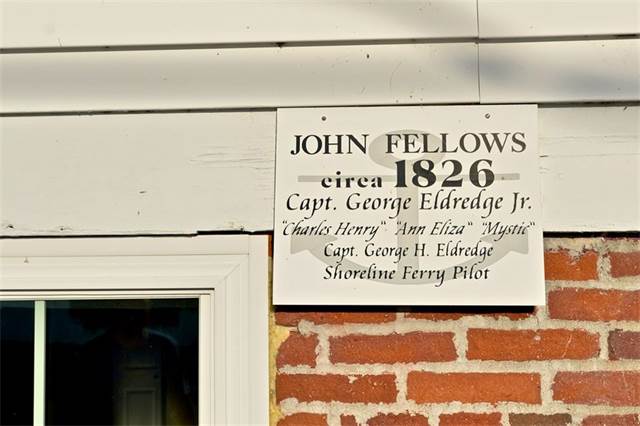 Gravel Street was known as Captain's Row back in the day and was exactly that. A bunch of stately homes built by/for wealthy seaman. Each house here had seafaring inhabitants at one time, and it's a very pretty road to walk (as long as you don't get run over.)
Mystic's famous bascule bridge can be seen from the spite house's front porch as well, which would provide me years of joy. I love that thing.
So there you have it! Mystic's spite house.
And now it can be yours.

Houses, Communities, Libraries & Businesses
Wikipedia on Spite Houses.