Hallelujah
Mystic Sweet Shop, Groton
November 2022
Way back in late 2013 I visited this place with my family. My young sons and beautiful wife enjoyed the shop's homemade ice cream on an autumn day out in the southeast corner of the state. If you go back and read that page (and smile at my incredibly cute boys), you'll note that I ended my write-up with, "We didn't buy any of the candy, but I will someday."
That someday came nine years later.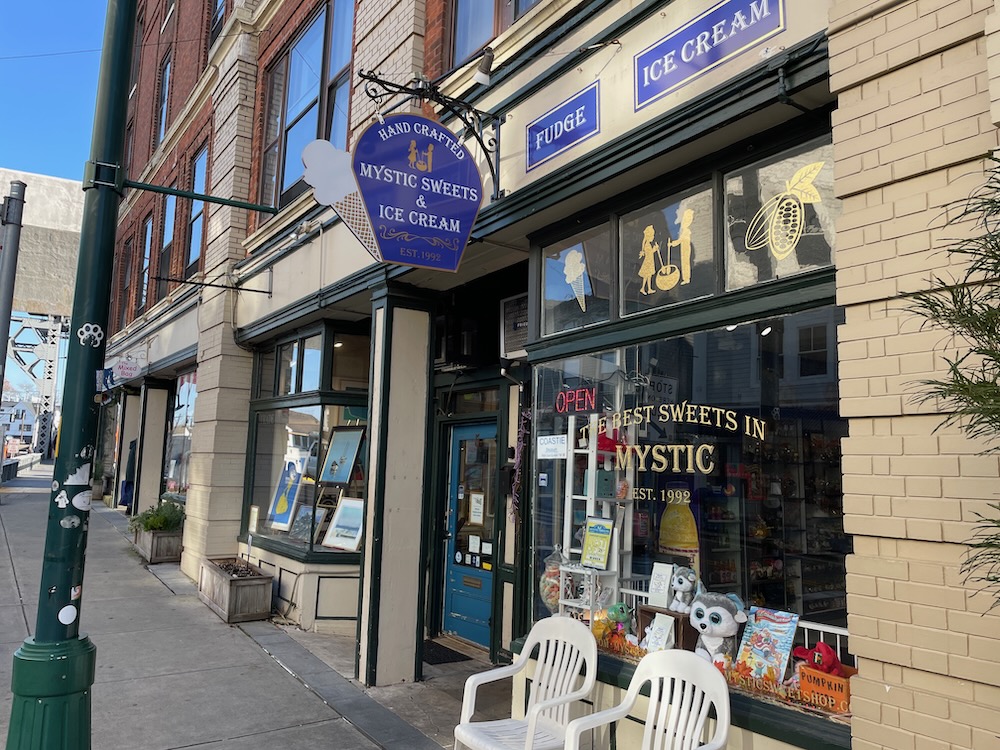 The little shop seems to have changed names in that time. I just spent way too much time sussing out if there has been an ownership and/or business model change, and can say confidently that… I don't think so. I think they've only removed the words "ice cream" from their store name; perhaps to further differentiate from Mystic Drawbridge Ice Cream across the street. I have no idea.
But they do still make their own ice cream here. And the owner is still Rita Lara; Queen of Chocolate.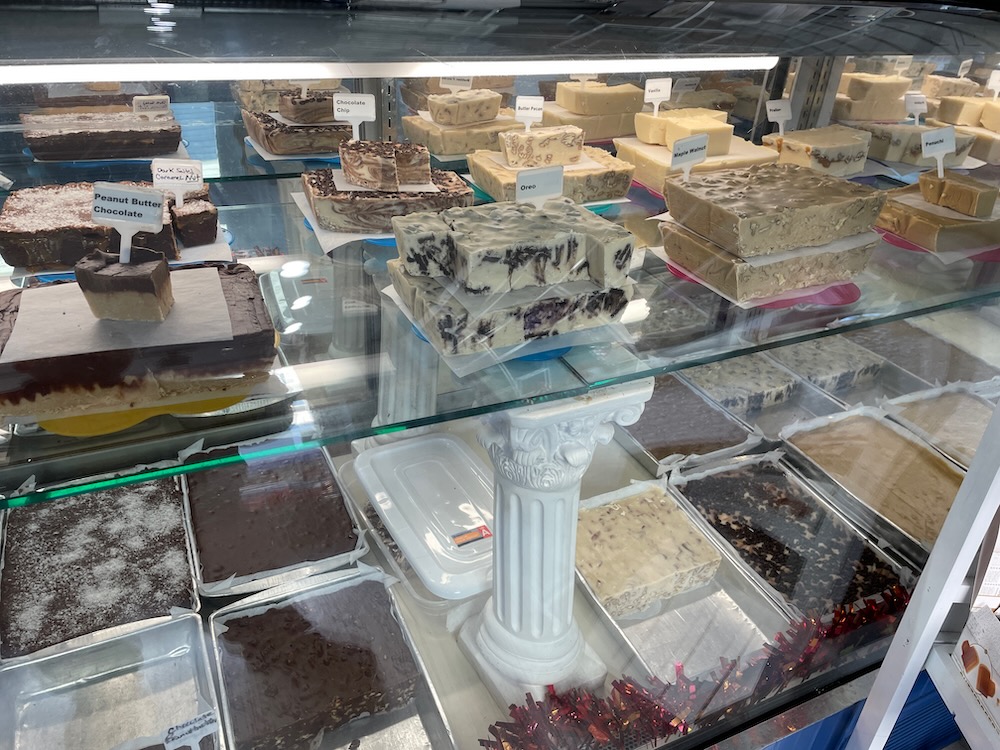 Rita makes most of the chocolates, fudges, candies, truffles, ice cream, gelato and other treats here. Rita has a certificate in ice cream-making from Penn State and has also studied at the Barry Callebaut Chocolate Academy and the Culinary Institute of American in New York.
And she's been doing her thing at her shop right in the heart of downtown Mystic since 1997 when she opened her store. This is an incredibly high rent tourist district with a ton of competition, so she must be doing something right.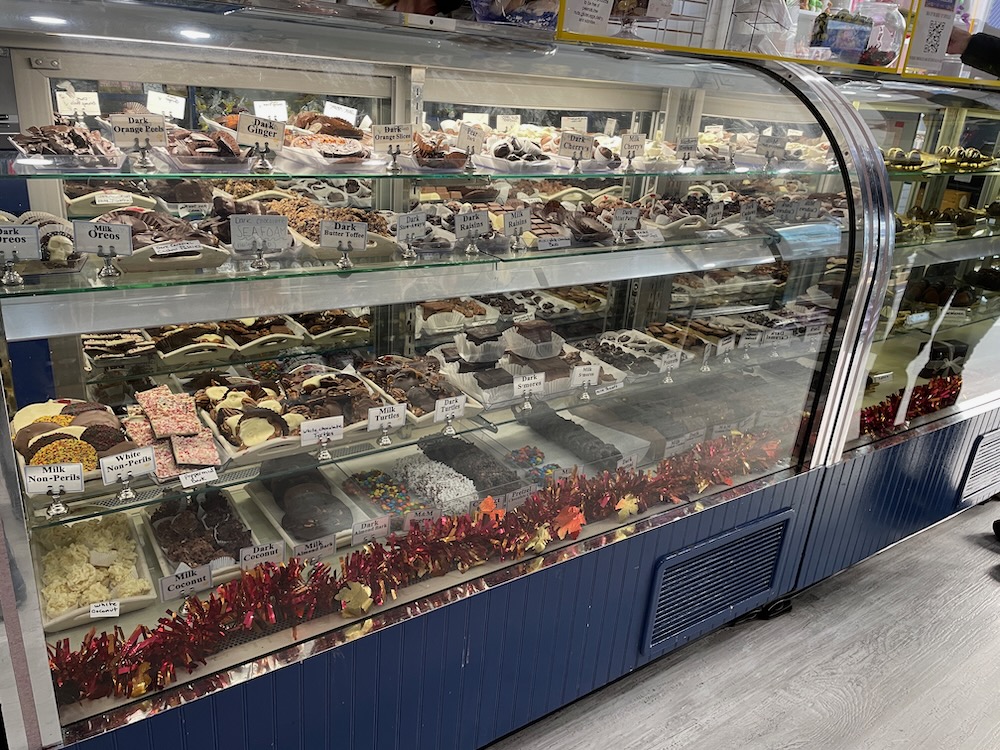 I popped in one sunny afternoon after several hikes in the area. Not much had changed since my previous visit, but now I had some serious decisions to make. Another customer ahead of me was intent on making those decisions for me; insisting I get this truffle and that truffle because those truffles are the best truffles.
I don't trifle with what truffles I buy for my wife, thank you.
One end of the display case held several different fudges, and Hoang likes the fudge. I had recently been at another stop on the Connecticut Chocolate Trail and that place had run out of Hoang's preferred penuche. I had never heard of penuche before 2022 and quite honestly, I've never bothered to learn what the heck it is.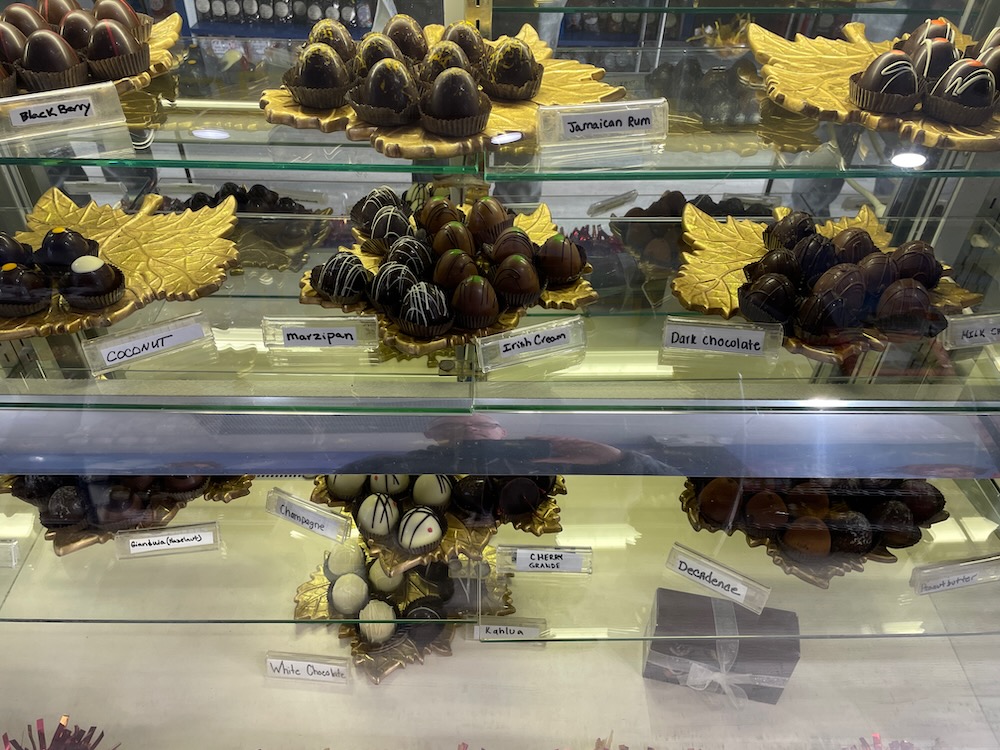 But now I have. And now I will share for the rest of you riff-raff: penuche is a fudge-like candy made from brown sugar, butter, and milk, using no flavorings except for vanilla. Penuche often has a tannish color, and is lighter than regular fudge. It is formed by the caramelization of brown sugar; thus, its flavor is said to be reminiscent of caramel.
Now I know why I've never known what it is. Who in the world prefers that over regular fudge? (I don't know if Hoang "prefers" penuche, as she seems quite excited about fudge in general, but she does specifically ask for it. Weirdo.)
So I got her a block of penuche.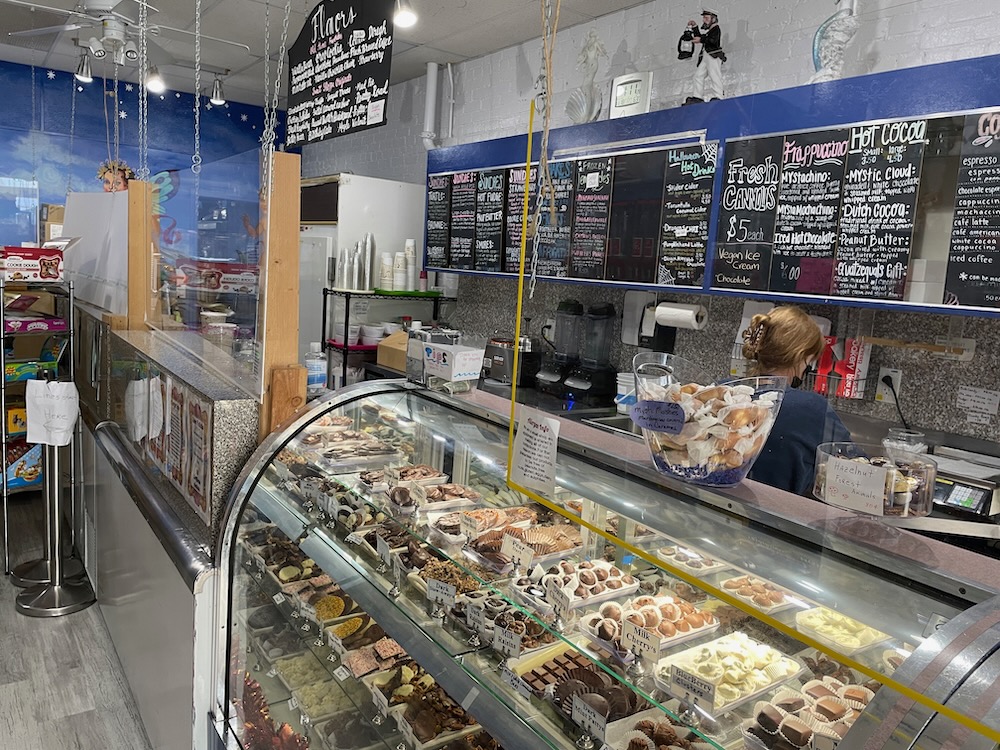 I moved around to the truffles and other chocolates. There are lots of barks and various "regular" creations here. They specialize in hand painted and custom painted chocolates. I figured I'd just get a few of those truffles the other customer tried to force on me – now that she had left. I didn't want to give her the satisfaction of thinking she'd convinced me of something I didn't want.
Four truffles: Champagne, peanut butter/chocolate, dark chocolate, and… I forget the fourth one. Sorry. I picked up a cute gift bag for our babysitter that I'm sure is something offered all over the place, but this was the first time I'd seen it: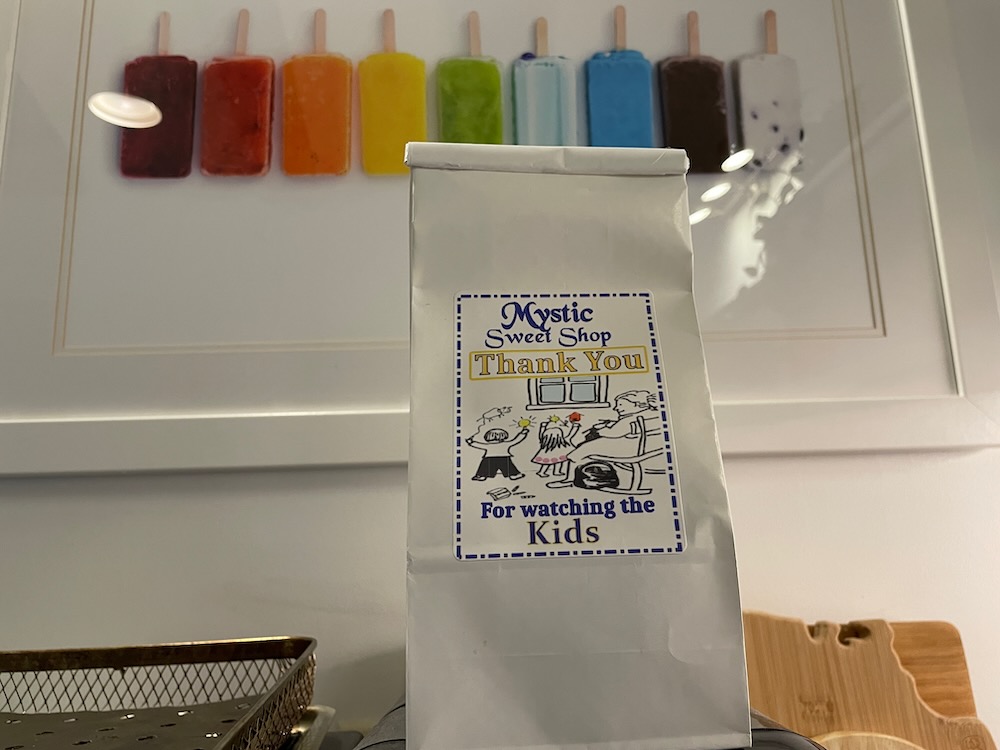 We only have one sitter we trust to watch our special needs son, so the "way more expensive than I'd have guessed" chocolate covered pretzels in that bag were worth it. And yes, I just used the word "cute" unironically. (They have Thank You bags for dog sitters and cat sitters too.)
Everything here is cute. Mystic Sweets began as a penny candy shop, and those roots are still in full view; a whole wall of olde timey candy is still for sale here. There are angels paintings and cherub statuettes and I'm not sure if that's a religious thing… or just more "cuteness." I didn't feel particularly spiritually moved as I left the shop however.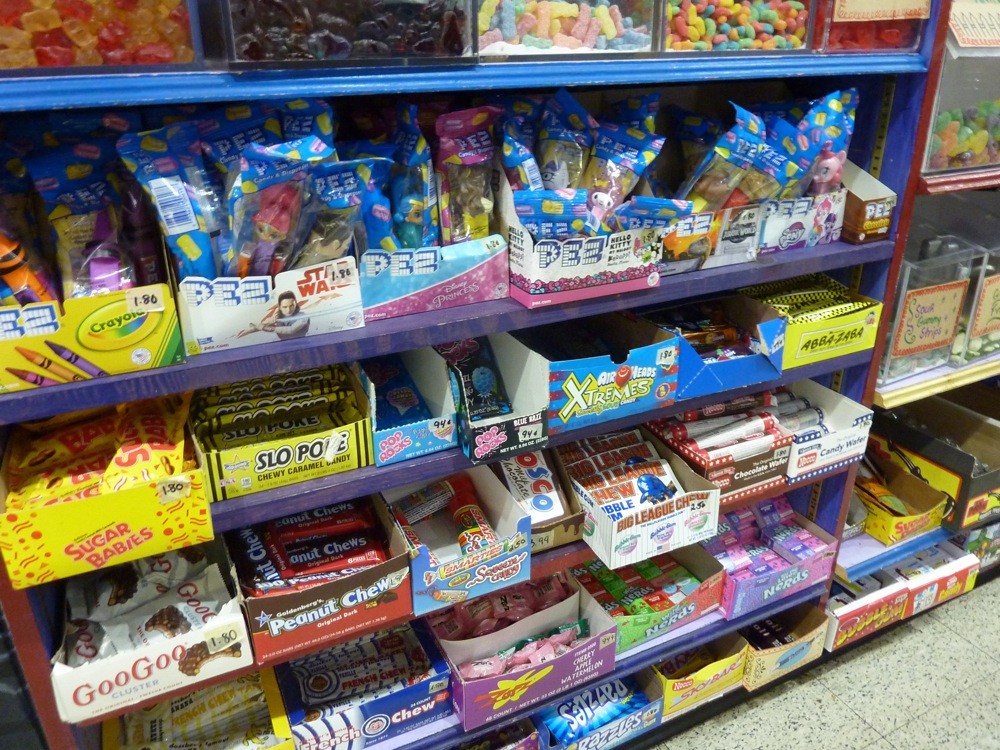 I only had the dark chocolate truffle from my haul, and can report that it was very good. Rita Lara brings in chocolates from all over the world to blend with cocoa butter; and that's why she calls herself a true chocolatier. After so many years of tempering the chocolate precisely, and experimenting with sugar levels, she seems to have figured it all out pretty well.
Hoang enjoyed her treats without complaint. I can't say she heard singing from the shop's angels on high or anything, but the chocolate at Mystic Sweets is pretty good and is worth dealing with the Mystic traffic and parking insanity.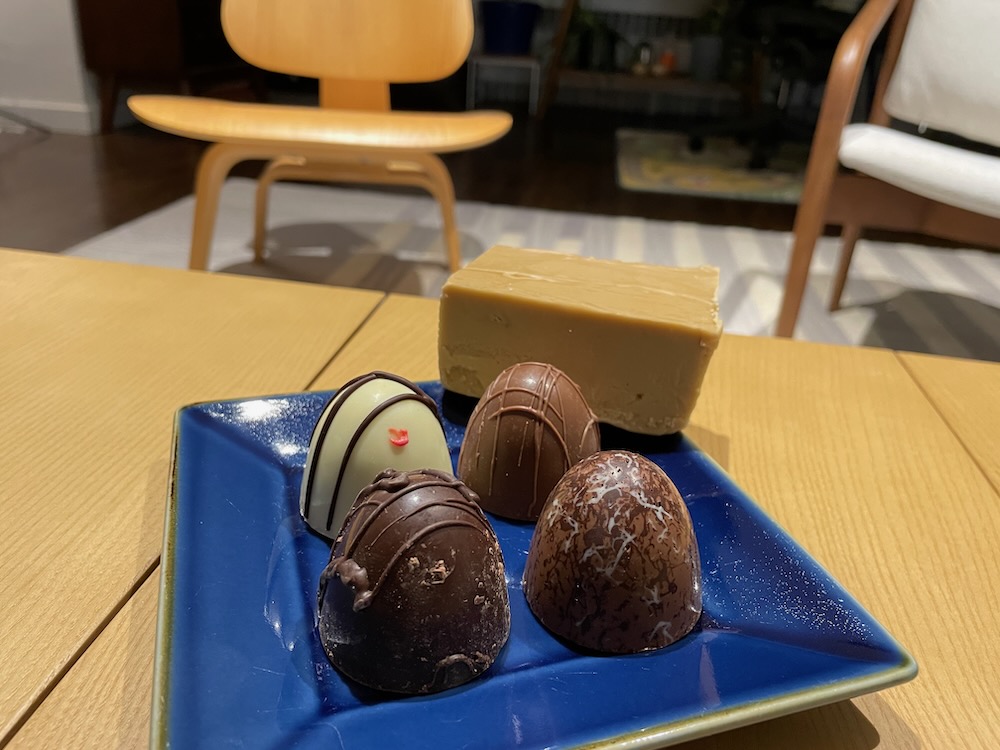 Mystic Sweet Shop
CTMQ's Connecticut Chocolate Trail