Some Argle-Bargle
Argia Mystic Cruise, Groton & Stonington
October 2014
The Argia Cruise no longer travels under the Mystic River Bascule Bridge.
I owe this experience entirely to my friend Julie who arranged an Argia Mystic Cruise for her husband Tim and some friends for his 40th birthday. Tim and I have been friends since our UConn days – which, I should note, is a really cool thing.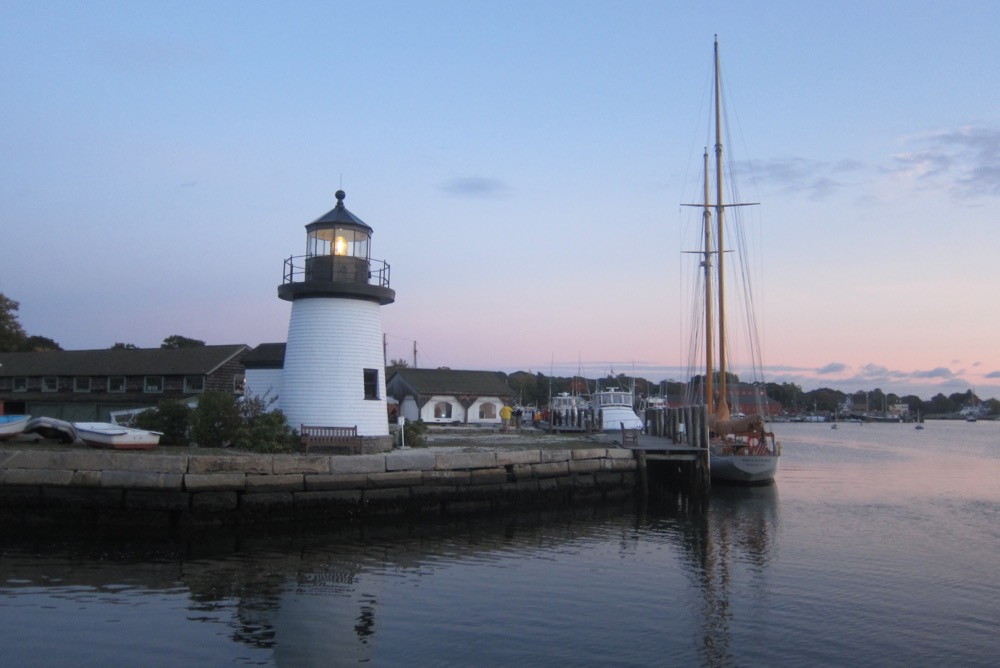 I still keep in touch with a lot of people from UConn and we all see each other from time to time. That was half a lifetime ago now, and I'm very fortunate to have known a great group of people from my years in Storrs. And fortunate enough to make the invite list for this cruise around Mystic Harbor and out into Fishers Island Sound on a chilly, beautiful October evening.
There are a few different "cruises" one can do in the state: down the Connecticut on the Lady Katherine, around the Thimble Islands, the bald eagle cruises out of the Connecticut River Museum in Essex… and this one.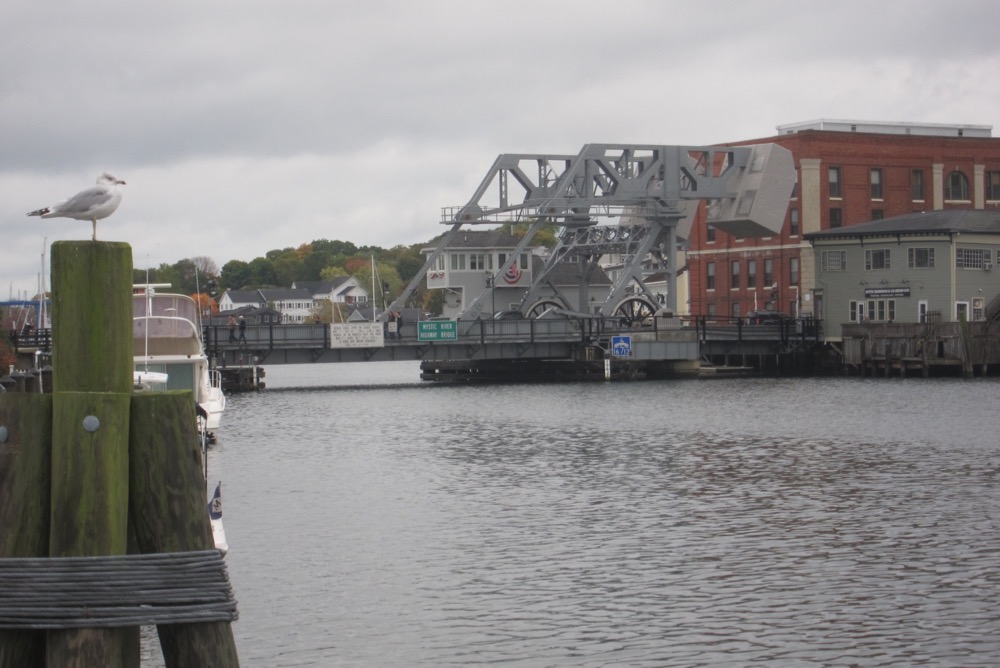 Argia sails out of Steamboat Wharf which is on the Groton side of Mystic from May 1st to mid-October. It's an 81-foot sailing schooner that can handle 49 passengers. We only had 15 or so, and it was great. The boat is plenty big, has a toilet, and space to "go inside" so to speak. I'm not a boat person, sorry, but they can explain to those of you who are:
The Argia is built of Honduran Mahogany on White Oak frames. Her masts are of Douglas Fir and her bowsprit of Cyprus. Her bottom is Chesapeake Bay dead-rise planking of Long-leaf Yellow Pine. Argia's rig is that of a 19th Century East Coast trading, or packet, schooner and is most properly described as that of a Two-Masted Gaff Topsail Schooner.
The business claims that this is the last commercial sailing ship left in Mystic. That sounds a bit impossible to me, but I guess it's true. I'm sure there's nuance regarding "commercial" and "sailing" and "ship" that make it a mostly true statement.
The deal is you pay for the charter cruise and then you can order food through a caterer. As for booze, you can bring all you want and they keep it on ice. And honestly, I think that's sort of the point here. Eat, drink, sail around with friends. At least that's what we did and it was great. (I see on the FAQs you can book musicians too. I'm glad Julie did not book musicians, especially since Tim has weirdly come to like country music and that would have driven half the guests to jump overboard.)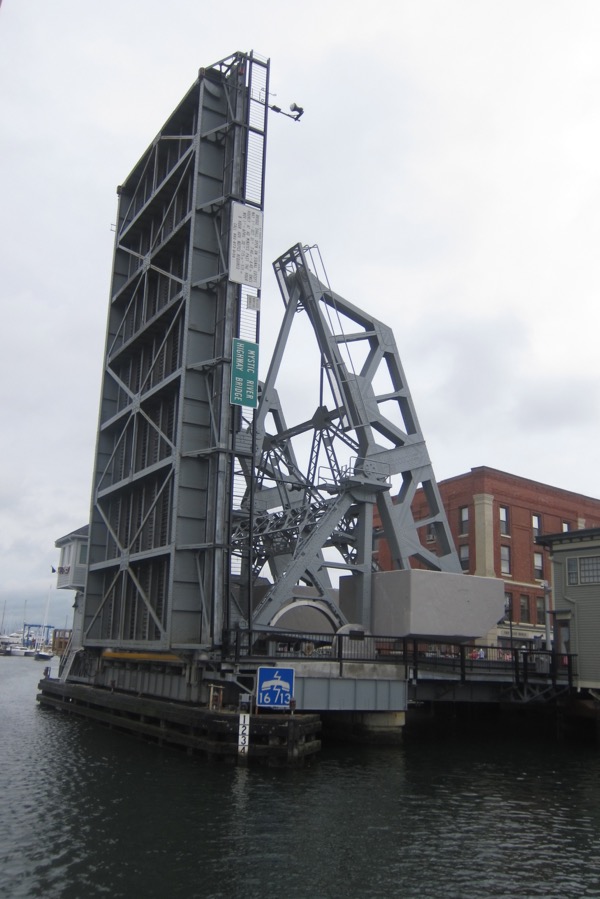 We got going through the mouth of the Mystic River and under its famous bascule bridge. The Mystic River Bascule Bridge employs two massive concrete-filled counterweights to life the span up. Straight up. There are several other bascule bridges in Connecticut, but most of them are barely used railroad bridges. This one is in the heart of Mystic and open 2,200 times per year – usually at 40 minutes past the hour from May through October. And we got to see the underside of it!
Yeah, I was the only member of the party remotely interested in this. And I was the only one interested when the Sabino passed us. Sabino is a small wooden, coal-fired steamboat built in 1908 and moors at the Mystic Seaport Museum. It is one of only two surviving members of the American mosquito fleet, and it was declared a National Historic Landmark in 1992! This cruise had everything!
Except lighthouses. Depending on your cruise, you may pass near the Morgan Point Lighthouse at the mouth of the Mystic River, a gorgeous lighthouse which may only be viewed from the water. And if you're into these things, and if you're lucky, you will see North Dumpling Island Lighthouse and/or Latimer Reef Lighthouse. I wasn't really paying attention and I don't think we cruised near any of them during our sunset cruise.
Hey, remember the bit about how we keep in touch with UConn friends. (I do not know Hoang from UConn.) That woman with Hoang in the picture who'd be sore she's featured here? That's Marnie. Marnie met her husband Sean in my dorm room in 1994. They lived in Hoboken for years but just moved to… West Hartford in 2020 and now live two minutes from us. Crazy, right?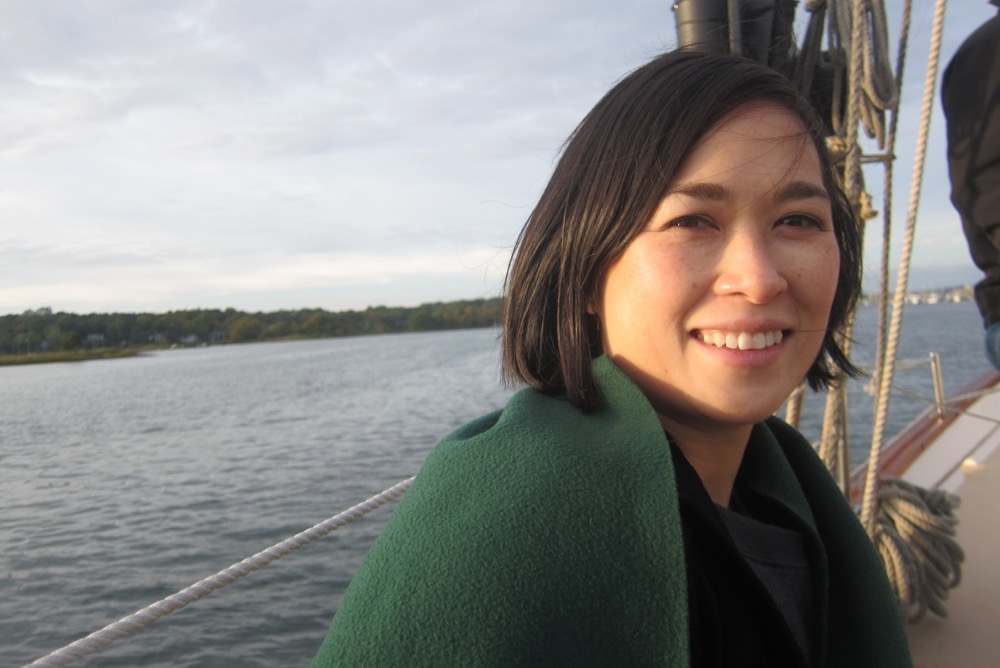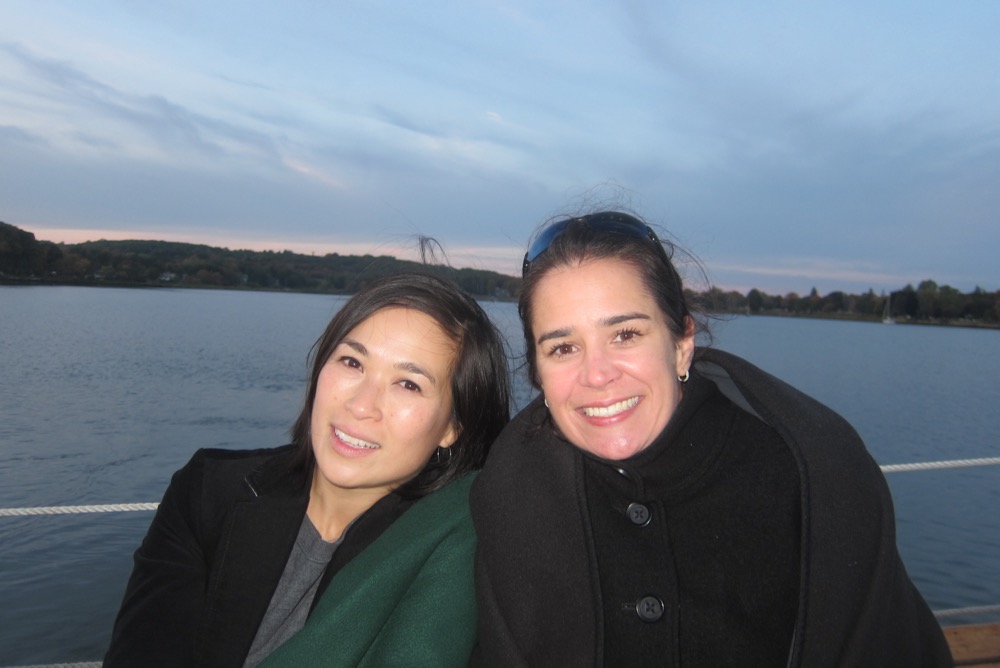 I can't pretend the cruise was all that educational, but that was more a result of us not asking any questions of the crew. They are certainly armed with countless stories of the local shipbuilding and seafaring history. We were there to celebrate Tim's birthday and, well, to enjoy the cooler full of drinks.
After the initial cloud cover cleared, we simply enjoyed the scenery and the sunset and a great evening with longtime friends. So I'll leave it at that. If you have the opportunity to do so, the Argia cruises are professional, fun, and beautiful. You could say it was… smooth sailing all around.

Argia Mystic Cruises
CTMQ's Cruises