Everything West Hartford
I've been exploring and writing about Connecticut since 2006. After a decade, I began compiling CTMQ guides for each town in the state. I plan on "completing" West Hartford CTMQ-style… as well as the other 168 towns, cities, and boroughs in Connecticut. That is the ultimate goal of CTMQ.
If I've missed anything in town or if anything has closed or changed, please let me know.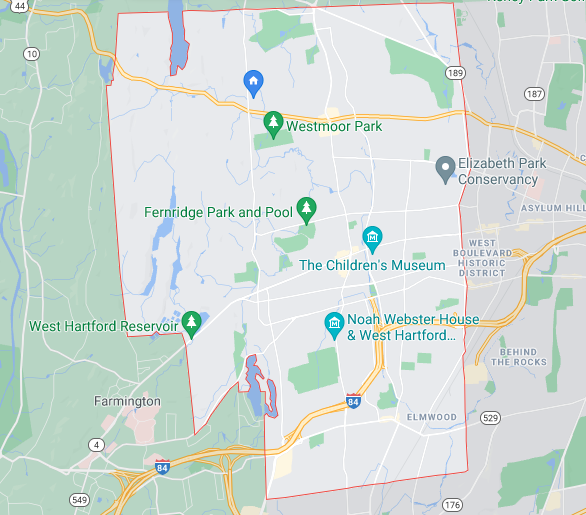 Museums
Abraham J. Feldman Museum
Chase Family Gallery at the JCC
Chase Orchestrion Collection (Private)
The Children's Museum (Moved)
Cogswell Heritage House at ASD
Jewish Historical Society of Greater Hartford
Joseloff Gallery (UHart)
Kaman Print Studies Center (UHart)
Museum of American Political Life (Closed)
Museum of Jewish Civilization (UHart)
Neil's American Dream Museum (Closed)
Noah Webster House Museum
The Norfeldt Kindergarten Museum
Sarah Whitman Hooker Homestead
Silpe Gallery (UHart)
St. Joseph University Art Gallery
Vintage Hi-Fi Museum
West Hartford Art League Galleries
Westmoor Park Nature Center
Hikes
CFPA's Metacomet Trail – Intro
Town Trails – Intro
Food & Drink
CT Chocolate Trail: Bridgewater Chocolates
CT Homemade Ice Cream Tour: AC Petersen Farms
CT Chocolate Trail: Chokaico Craft Chocolate
CT Classic Diner Trail: Quaker Diner
CT World Food Tour: Afghanistan: Shish Kabob House
CT World Food Tour: Argentina: Aby's Bakery
CT World Food Tour: China (Sichuan): Song
CT World Food Tour: Jewish: Crown Market
Unique Restaurant/Food: Vietnamese Night Market
CT Beer Trail: New Park Brewing Company
CT Beer Trail: WeHa Brewing & Roasting Company
Looking for your favorite restaurant? Here is an explanation as to why it's not here.
Everything Else
US Oldest: School for the Deaf
US Oldest: National Theater of the Deaf
US Largest: Chase Mansion
National Historic Landmark: Edward W. Morley House
National Historic Landmark: Noah Webster Birthplace
CT Art Trail: Univ. of St. Joseph Art Gallery
CT Freedom Trail: 2 Sites
Elizabeth Park Gardens
Coleco
2006 World Cup Tour (Stops at my house)
Let's Go Lawn Bowling!
The Rock's Rock
West Hartford's Fake House
Ominous Turkey Vultures
Fish in a Tree, Lynda Mullaly Hunt
West Hartford Wrap-Up
Completion Celebration TBD