Section 10: A Towering Achievement
Reservoir #6 to Penwood State Park, 5.7 miles
October 21, 2007
2019 Update: Y'know, if there ever was a page I should go dig through the old CD's looking for the original pictures, it's this one. But… I have other stuff to do. This page was written in 2007, so please forgive the tiny pictures. If you want to start at the beginning of the trail, go the Metacomet Intro here.
After Hoang and I slogged through the last section in a downpour, it was great to wake up to a picture perfect warm autumn day to enjoy the next few miles. Especially since it was "Family Day" up at Heublein Tower – or "Octoberfest" as they call it – and our little Damian would be joining us. The trail up and over Talcott (aka Avon) Mountain and then down the northern and eastern slopes to Penwood State Park in Bloomfield is very familiar to me. Even before I moved to my house which is at the base of "The Mountain" (as it's almost laughably known in these parts), I'd climbed up to the tower at the top numerous times. Since I've moved here, it's become an extension of my backyard.
The boys and I hiked up to the tower here in 2015.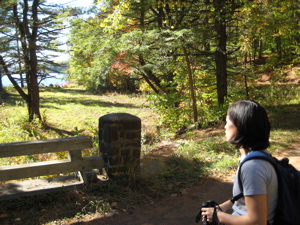 There was one time back in March or April of 2006 when I decided to burn some energy for an hour or so and took off for the Tower Trail. Once at the top and looking out on the Farmington River Valley, the skies opened up with a lovely 35 degree (or so) rain. The trail was already a muddy/slushy bog and the rain made it that much worse. The (hidden) sun was also setting pretty quickly on the east side of the mountain so I met up with and then jogged down the Metacomet with the intent of cutting over to where my car was at the bottom of the closed access road near Route 185. I found a swamp, of course and even fell a couple times over century old barbed wire fences for good measure. Anyway, Hoang's parents had made a surprise visit to our house, armed with dinner and the idea of giving us a break from our newborn.
"Where's Steve," they asked. Hoang told them I had gone shopping or something because really, who would tell their parents that the father of their 2 month old grandson was hiking in the cold, dark, rain. Of course, when I arrived home covered in half-frozen mud from my feet to my thighs – well, that was interesting. I'm sure there were some "what's wrong with white people" quips in Vietnamese right in front of me. The point is, I've been up there a lot, in many different conditions. And my in-laws think my shopping venues are very odd.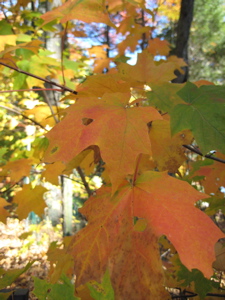 Our hike day in 2007 was infinitely nicer and I was excited to get out there. I had planned to meet up with Chris, keeper of the Nayantaquit Trail down in Old Lyme who found this website and corresponded with me as a result of my write up. The first CTMQ blind date!
I must admit, we did not stick to the Metacomet Trail proper for the first mile and a half. One reason was because I'd walked/jogged the true trail inumerable times while pretending to get in shape and I knew that it was nothing more than a dirt road along Reservoir #6 with no views. Instead, from the lot off of Route 44, we opted to stick to the paved road around the east side of the reservoir. That way, we'd be afforded some nice views of the Heublein Tower which we'd be reaching later on. Technically, this route added some mileage to our trek, so it's hardly cheating. (And I can guarantee Hoang had walked that mile or so in the past anyway.) It also allowed me to take pictures like this:
Since we had Damian with us, we had an extra pep in our steps. He was being very good and we wanted to keep it that way. He was excited to see each doggie along the way and waved at all the walkers and joggers. We passed the water filtration plant which is notable only because one of the best views of Hartford can be had from that spot. Let that be our little secret. (Some others include the Sunrise Overlook on Prospect at Elizabeth Park and up on Lookout Mountain – next to Case Mountain – in Manchester on a clear day.)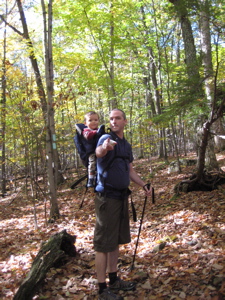 We entered the woods and curled around the northern tip of the reservoir, meeting up with the Metacomet at that point. Checking my watch, we were going to be late meeting Chris due to a miscommunication between Hoang and myself earlier in the morning. We had a little over a mile and a half to go – pretty much all uphill – and only 20 minutes to do it. Onward March!
Now, I LOVE Autumn in New England – this year was a bit muted, but it was still beautiful. The warm weather was a bit strange, but neither Hoang nor Damian were complaining. We were flying up the mountain on the wide, wooded trail. Hoang, suffering from an episode of heartburn, forged valiantly ahead behind me and Damian. For his part, he kept urging her along from his seat on high. There is an "Alternate Trail" for people to skirt the climb or to do a loop.
We passed a few hikers along our way, a couple that we simply blew by in our haste to the top. Once back up onto the ridgeline (which we left a few miles back due to rich people's houses), we turned sharply north and found ourselves rock and cliff hopping yet again. There have been a lot of unexpectedly nice views along the Metacomet but this one was expected. I don't want to diminish how nice it really is up there merely because I've seen it a million times. It is easily one of the best views in all of Connecticut, bar none.
Lucky Damian. The view is so good, in fact, that American gourmet food and liquor magnate Gilbert F. Heublein built a summer retreat up there back in 1914. Heublein Tower can be seen for miles around from the towns of Avon, Simsbury, Bloomfield, West Hartford and beyond. It is open several weekends throughout the year to climb up and take in unsurpassed 360 degree views. For more on the tower, read this, but for now, check out this view:
Beautiful. While I ran up to the top, Hoang hung out with Damian and the Oompah Band, drinking water and eating snacks. All credit goes to the two of them – we practically ran up the mountain and Hoang hung right with me, and Damian giggled all the while. She also met Chris who finally met up with me once I was back down the tower.
He was there with his family and we talked about CTMQ and hiking and agreed to do some trails together in 2008 – notably the end-to-enders down in the Eastern portion of the state. Great guy – who does great work, singlehandedly maintaining one of the "Connecticut 400" blue trails. So thanks again, Chris.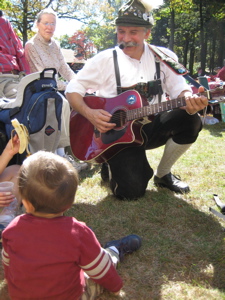 We enjoyed the festivities (nothing more than German beerhall music without the beer and food) for a good 45 minutes and then hit the trail once again. Here the trail splits with the infinitely more popular Tower Trail as it stays true to the actual ridgeline rather than the cliff edge. The Tower Trail is great though; there are benches all the way up for the out-of-shape to enjoy and something called the Hang glider cliffs which are exactly what they sound like. Straight shot down cliffs that nut cases jump off of. Hang gliding is one of those things – I imagine it's fun as heck but how in the world do you do it that very first time?
Alas we missed that excitement this time and paralleled the Tower Trail through some pretty cool flora. There are some severely weathered and stunted pines and hemlocks here, due to their exposed location, and I've eaten plenty of blueberries up there as well. (Not in October though.) It's funny that no one takes this trail to the bottom – it's certainly more technical than the Tower Trail but it's far more interesting – save the cliffs.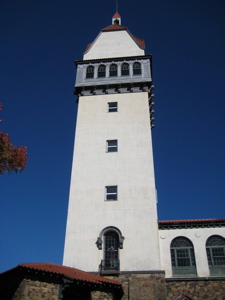 After summiting King Philip Mountain at 975 feet (I had no idea it was separate from the 1,040 foot Talcott Mountain) the trail turns East and begins descending. Wait – did I say the "1,040 foot Talcott Mountain?" THE highest point along the entire Metacomet Trail?! Indeed. Just 16 feet higher than the aforementioned – and hiked – West Peak down in Meriden. Writing this now, two months later, I am ashamed to admit that I didn't celebrate with my highpointing wife in a proper way.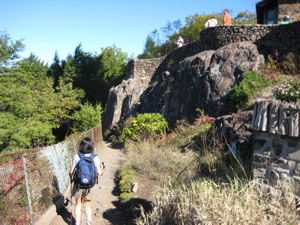 The descent is funny in that it meanders quite a bit, contouring very widely back south before bearing east and then north again to Route 185. The old Metacomet used to go more directly but recent development (I think) has required the more roundabout routing. On the way down, Damian conked out – which is just amazing to me. Those backpack things are not exactly comfortable and we were going down, down, down, which results in lots of bouncing and jostling.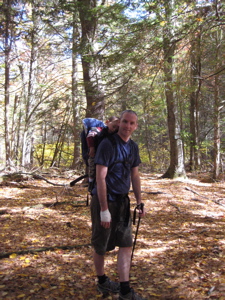 But then again, Damian is Hoang's son, and Hoang has the amazing ability to sleep anywhere at anytime. Anyway, we were yapping at one point and missed a sharp right turn and continued on the "old" trail. I knew after only a few short steps as we happened upon a very large black snake sunning on a rock in the middle of the (non) trail; he wouldn't have been there if people had been hiking by all day. I was too slow with the camera though. Shout out to that snake.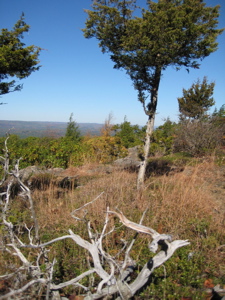 I tried my best to not wake Damian, which meant walking in such a way as to cushion each and every step down the mountain. In other words: Quad workout! I succeeded and we reached our car in the Penwood State Park parking lot and called it a day. By that point, there were literally hundreds of cars up the access road to the Tower Trail and all over Route 185 and in the Penwood lot. Hey, good for the people of Connecticut, getting out and getting up a hill once in a while!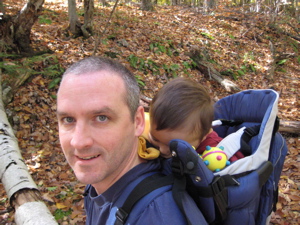 This section, our 10th, marked the end of hiking the Metacomet in 2007. We have about 20 miles to go up to the Massachusetts border and since Hoang isn't too keen on winter hiking, we'll finish in the Spring – barring me convincing her of a winter hike. Ha!
May 2019 Update: Ha, indeed. It's now 12 years later and we haven't yet finished. 7 miles to go though!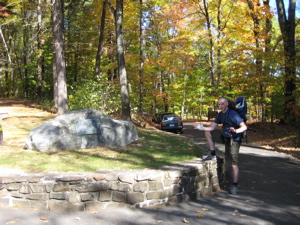 Continue on to Section 11: Can't Pen These Woods
CFPA Trails Map
CTMQ's Metacomet Trail Intro