Everything Avon
I've been exploring and writing about Connecticut since 2006. After a decade, I began compiling CTMQ guides for each town in the state. I plan on "completing" Avon CTMQ-style… as well as the other 168 towns, cities, and boroughs in Connecticut. That is the ultimate goal of CTMQ.
If I've missed anything in town or if anything has closed or changed, please let me know.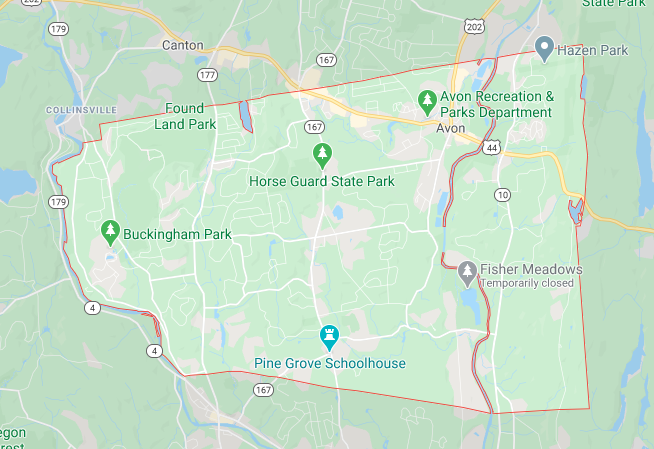 Museums
1st Co. Horse Guard Barn Museum (Potential future museum)
1st Co. Horse Guard Cavalry Museum (Closed)
Derrin House
Farmington Valley Arts Center
Ordway Gallery and Hall of Fame at Avon Old Farms
Pine Grove Schoolhouse
Schoolhouse No. 3 (Closed & Potential future museum)
Talcott Mountain Science Center
Hikes & Bikes
Explore Connecticut's Avon Outdoor Guide
Talcott Mountain State Park – Intro & Trails
Horse Guard State Scenic Reserve
Nod Brook WMA
CFPA's Metacomet Trail – Intro
Avon Land Trust Trails – Intro
Avon Town Trails – Intro
Multi-Use/ Rail Trails
Farmington Canal Heritage Trail – Intro
Food & Drink
CT Ice Cream Trail: Dom's Creamery
CT Ice Cream Trail: J. Foster Ice Cream
CT Beer Trail: Hopmeadow Brewing Company
Looking for your favorite restaurant? Here is an explanation as to why it's not here.
Everything Else
US Oldest: First Company Governor's Horse Guards
World's Largest: Solar System Model (Gone)
Chrissie D'Esopo's Flower House
James H. MacDonald Monument
Countryside Park Covered Bridge
The Church of Saint Ann
Giant Goofy Rocking Chair
(Indoor!) ET Sign
The story of Climax Road
Smoke, Fire and Angels, Mark Robinson
The Night Country, Stewart Onan
Avon: Complete!
I "completed" Avon in 2019 but new and/or previously unknown-to-me CTMQ-worthy places and things open all the time, so a town is never really "complete." I will, of course, continue to visit and write about these new places and things.
Wrap-Up and Completion Celebration Meal at The North House