Hope Meadow
Hopmeadow Brewing Company, Avon
August 2020
You can't really get a more perfect name than "Hopmeadow Brewing." The name is ingrained in the Simsbury/Avon area, most notably with Hopmeadow Street as a main thoroughfare. But I've titled this page "Hope Meadow" for selfish reasons.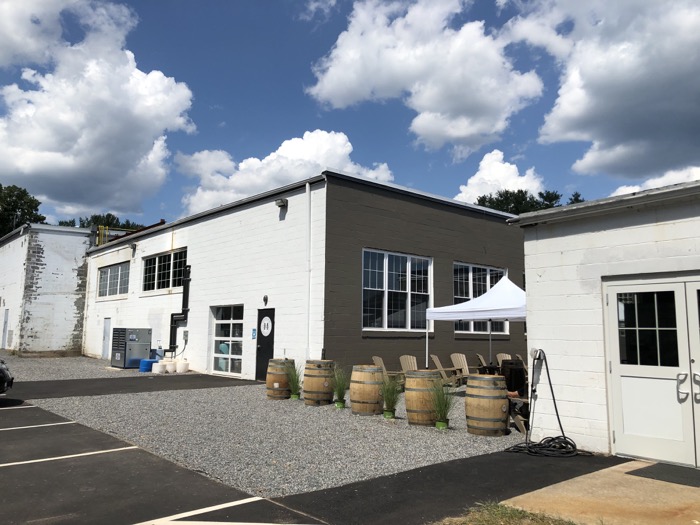 Because I hope that Hopmeadow is good. It would be awesome if they develop into being really good. Why? Because it's close to my house, that's why. And they have a nice enough indoor and outdoor space. While it's true that I live near Hooker and Back East in Bloomfield, as well as New Park, Hog River, and Hanging Hills… Hopmeadow involves the fewest traffic lights and roads.
I visited early in their life, so it goes without saying that the brewery may be very different in the future. They most certainly will add capacity if the market dictates, and one would think they'll become better brewers with more experience and feedback.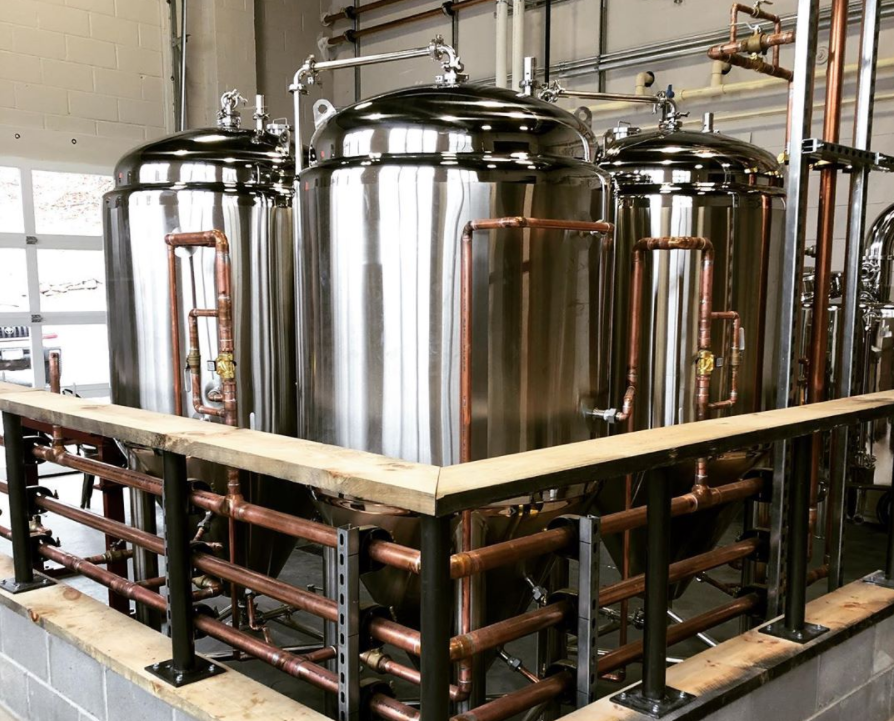 Hopmeadow's public idea-to-opening timeframe was the standard three or so years, forging ahead and opening during the Season of the Pandemic. (They were not alone, as nearly ten breweries opened in Connecticut during this period.) They are located in the standard rectangular former industrial space – but they are in Avon and there's even a decent view of Talcott Mountain and Heublein Tower from… one end of the parking lot. But it's something.
It's also very, very close to the Farmington Canal Heritage Trail as well. This same trail takes cyclists down to Southington, Cheshire, and New Haven, passing by several other breweries along the way. (I do not recommend drunk cycling, however.)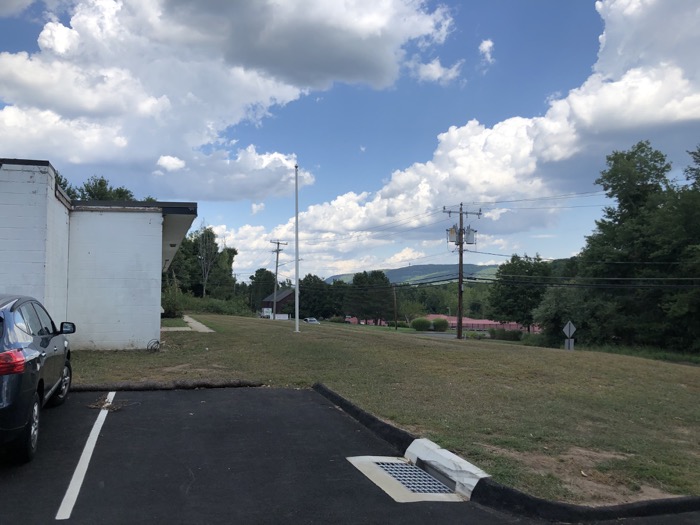 Let's hear a bit from the brewery:
Hopmeadow is a name from history that has become so fused with our community it's almost overlooked.

There was a time when our land was used to grow foods out of necessity. Tracts of meadow and fertile soil along the Farmington River produce corn, rye, wheat, oats, barley and hops. Grains were ground at the local gristmill, while hops were hand-harvested and dried in the sun.
I'd say that technically, our land is still used to grow foods out of necessity. But I'd say I'm also a pedantic jerk. Their last sentence above leads me to believe they are about to harken back to colonial times and how everyone around this area surely made beer…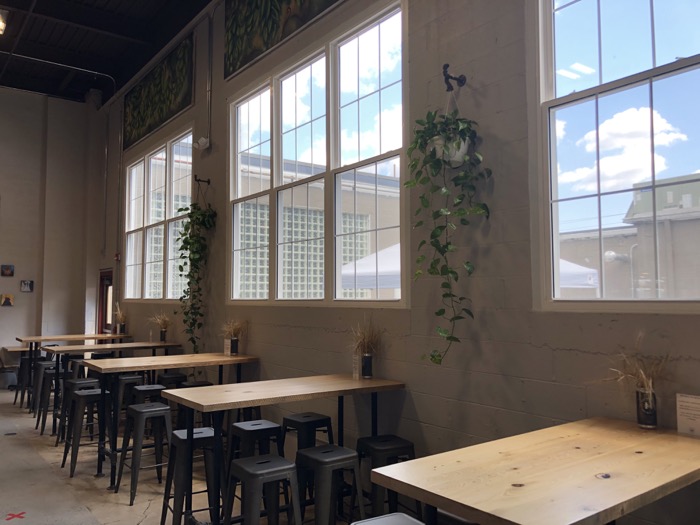 Beer was made and served in local taverns catering to weary travelers. At some point in history there was a fire at the Simsbury town hall and many records were destroyed. We will never know the exact truth about where the name Hopmeadow came from, but come on… you know these guys were making great beer!
Y'know… I don't know that. In fact, I'm sure they were pretty terrible at it and I darn well know today's consumer would absolutely not enjoy colonial American beer. Just as we don't enjoy colonial American dental care or colonial American television shows.
But I digress. Hopmeadow's taproom has high ceilings and is filled with natural light – two things often lacking in breweries. The tanks are right out in the taproom more or less, certainly a result of the small space and not because they want visitors to be able to touch them.
I had my choice of nine beers on tap, as well as a guest cider and some wine. They also serve hotdogs and popcorn here – likely because they simply must due to pandemic rules, so I'm not sure that will always be the case. They don't do flights here, but do serve 8 ounce pours if you'd like. I love 8 ounce pours, thank you very much.
Up first, the Hop Into Wit!, a "hazy Belgian-style wheat beer." A decent wit is a fairly good test of a new brewery, and this one hit all the right notes. The description also says it includes "a rustic selection of local" grains. Ah. Another brewery with a thesaurus gone wild. (To be fair, Hopmeadow isn't even close to the worst OverThesaurus breweries out there. And really, if they did use a thesaurus, they wouldn't have used "rustic" here. Grrr, I can't stop being annoying, sorry.)
Nice new brewery; sun shining in, people enjoying the crushed stone patio… and my first beer was good. Then the clouds rolled in, Satan's coyotes yelped from the hills, and a cold wind blew across the hop meadow…
The sky turned black and a plague of locusts descended upon the brewery as hellfire rained from the sky. In other words, I tried their "Polka Pilsner." I'm tired of saying it, but pilsners are the true test of a brewery – whether new or seasoned.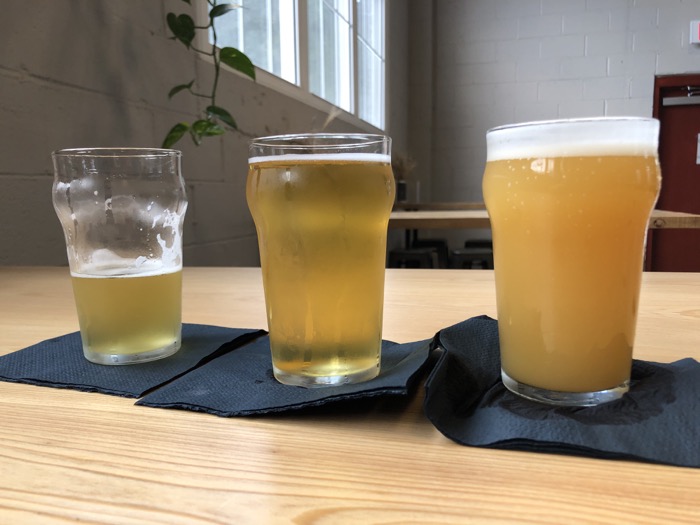 Hopmeadow failed miserably. Now, I was aware that I had just drunk a fairly fruit-forward wheat beer so my palate was a bit affected. After my first few sips, I drank water and ate some pretzels. Palate: clean.
I've found that today's craft brewers too-often think "pilsner = beerwater." This offering had no flavor. Zero. None. It didn't taste bad per se, but it tasted like a non-alcoholic version of a gluten-free diet light zero-calorie extract brewed near-beer. It made me mad. Hopmeadow… guys… I'll give you half a pass because… I dunno? You're new?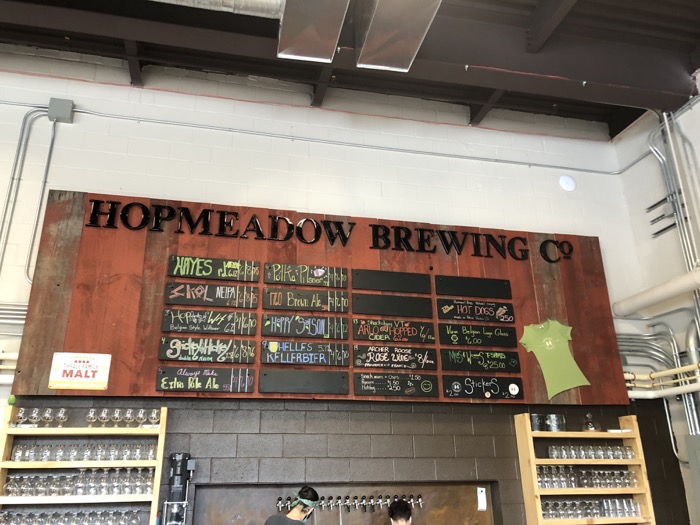 I can't say that they didn't have proper time to lager the pils, as I believe they've been operational for months. I honestly think it's just a lack of the ol' pilsners skillsners. I'm eager to give it another shot down the road – especially since they are… right down the road.
Moving on… the Hayes Road NEIPA (Citra and Mosaic) was pretty good. I liked that it was only 6.1% ABV and that it wasn't too cloying. Hayes Rd. reminded me of some of the clearer, less stupid early generation NEIPAs I guess – and to me, that's a very good thing. By the way, there is no Hayes Road in Avon, but there is one in Simsbury. I've deduced that the team behind Hopmeadow wanted this brewery to be in Simsbury at the beginning.
Big Brain Steve here. Figuring things out.
Here's to Hopmeadow figuring a few things out as they grow, because it would just be cool to have yet another excellent brewery so close to home. It's all about me. Never forget.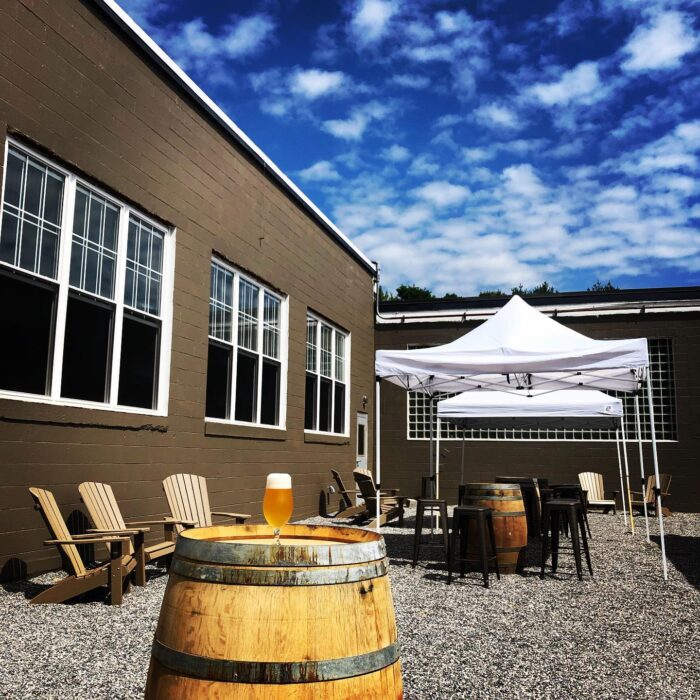 Hopmeadow Brewing Company
CTMQ's Breweries and Brewpubs