Everything Southington
I've been exploring and writing about Connecticut since 2006. After a decade, I began compiling CTMQ guides for each town in the state. I plan on "completing" Southington CTMQ-style… as well as the other 168 towns, cities, and boroughs in Connecticut. That is the ultimate goal of CTMQ.
If I've missed anything in town or if anything has closed or changed, please let me know.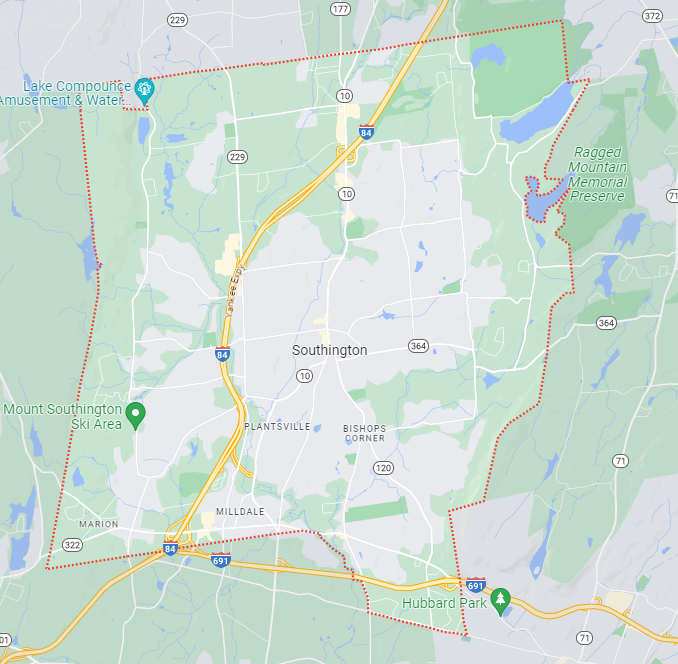 Museums
Bradley Barnes Museum
Milldale Depot Museum
Mirtollucci & Sons Oddities Museum (Closed)
Southington Community Cultural Arts Center
South End & West Street Schoolhouses
Southington Historical Center
Hikes & Bikes
CFPA's Metacomet Trail – Intro
CFPA's Tunxis Trail – Intro
CFPA's Tunxis Regional Trails – Intro
Southington Land Conservation Trust – Intro
Joyce Wildlife Sanctuary
Wedgewood Wildlife Sanctuary
Southington's Town Trails – Intro
Crescent Lake
Curtiss Family Open Space Preserve
Griffin Parcel
Johnson Parcel Open Space Preserve
Korin Family Preserve
Lewis Farms
Novick's Orchard
Panthorn Park
Upson Parcel
YMCA's Camp Sloper Trails
Multi-Use Trails
Farmington Canal Heritage Trail – Intro
Section 4: Canal Street to Temple Street, New Haven
Food & Drink
CT Chocolate Trail: Rosie's Royal Chocolates
CT Beer Trail: Kinsmen Brewing Company
CT Beer Trail: Transcend Beer Crafters (née Skygazer Brewing)
CT Beer Trail: Witchdoctor Brewing Company
CT Cider Trail: Long View Ciderhouse
Looking for your favorite restaurant? Here is an explanation as to why it's not here.
Everything Else
Washington-Rochambeau Revolutionary Route National Historic Trail – Intro
W3R Campsites & Tavern
The Great Uncomformity
Hushak Rock
Great Unconformity Falls
Lake Compounce
Mount Southington Skiing/Snowboarding
Pilgrim Furniture City Carousel
Cadillac Ranch
Southington Drive-In
Chapel in the Pines Covered Bridge
Southington, CT—Microcosm of America
Progressive ET Signs (2)
Goofy Giant Crawfish!
The Haunting in Connecticut (2009)
Completion Celebration Meal & Southington Wrap-Up
Smokin' With Chris