Typical Nuts and Bolts Town History Museum
Southington, (Google Maps location)
March 24, 2018
Southington is a nice town. Nothing wrong with it at all. It has a nice mix of development and forests and fields. It's famous for its apple orchards. Quick access to interstates. An excellent historical society. But for some reason, Southington is always sort of put aside as being a town that's "just there." You know, "Southington. That town where 84 and 691 meet. That place."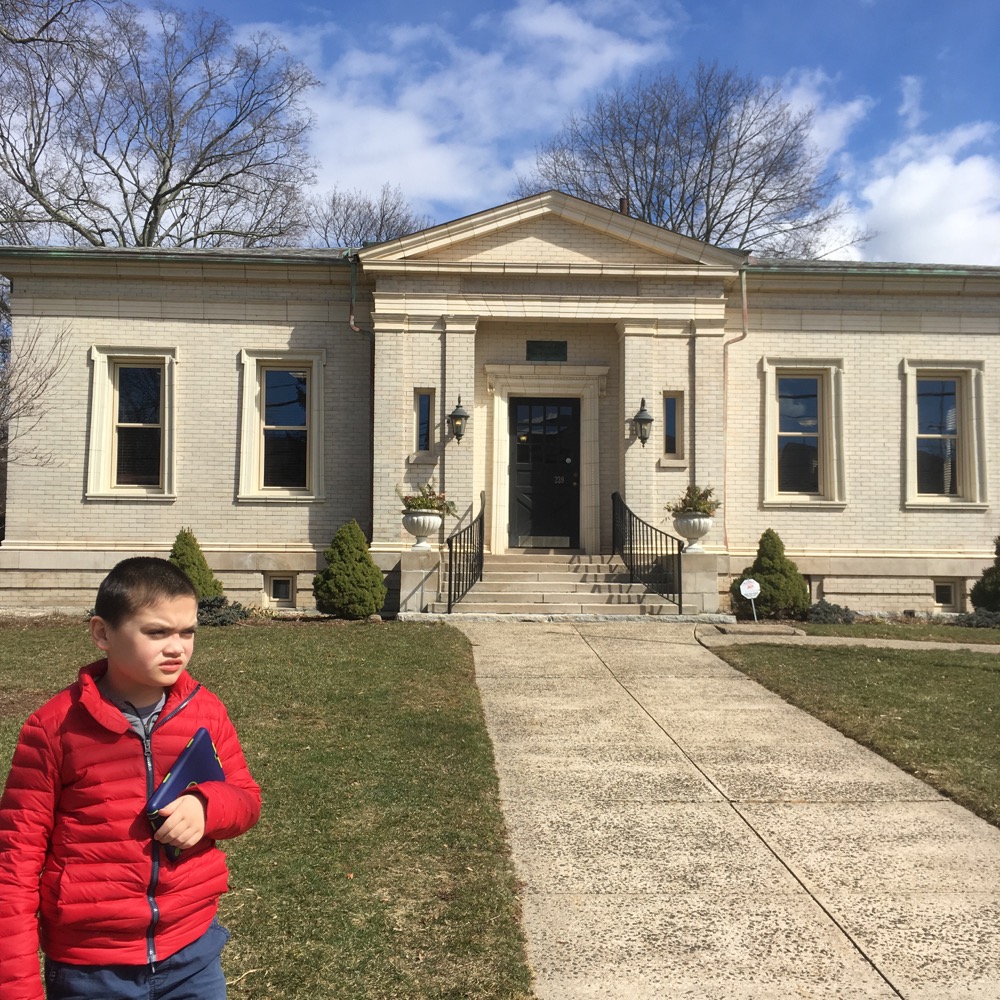 And that's unfair. There's a lot of cool stuff in town and while I won't pretend there should be a line out of the door of the town's Historical Society museum, who knows… maybe your travels on 84 or 691 will bring you here. You could do worse in town.
The Southington Historical Society was founded in 1965 and met in a bunch of different locations before securing a space. I've learned that one location they used was something called the Just Buttons Museum. Record scratch. There was a "Just Buttons Museum?!"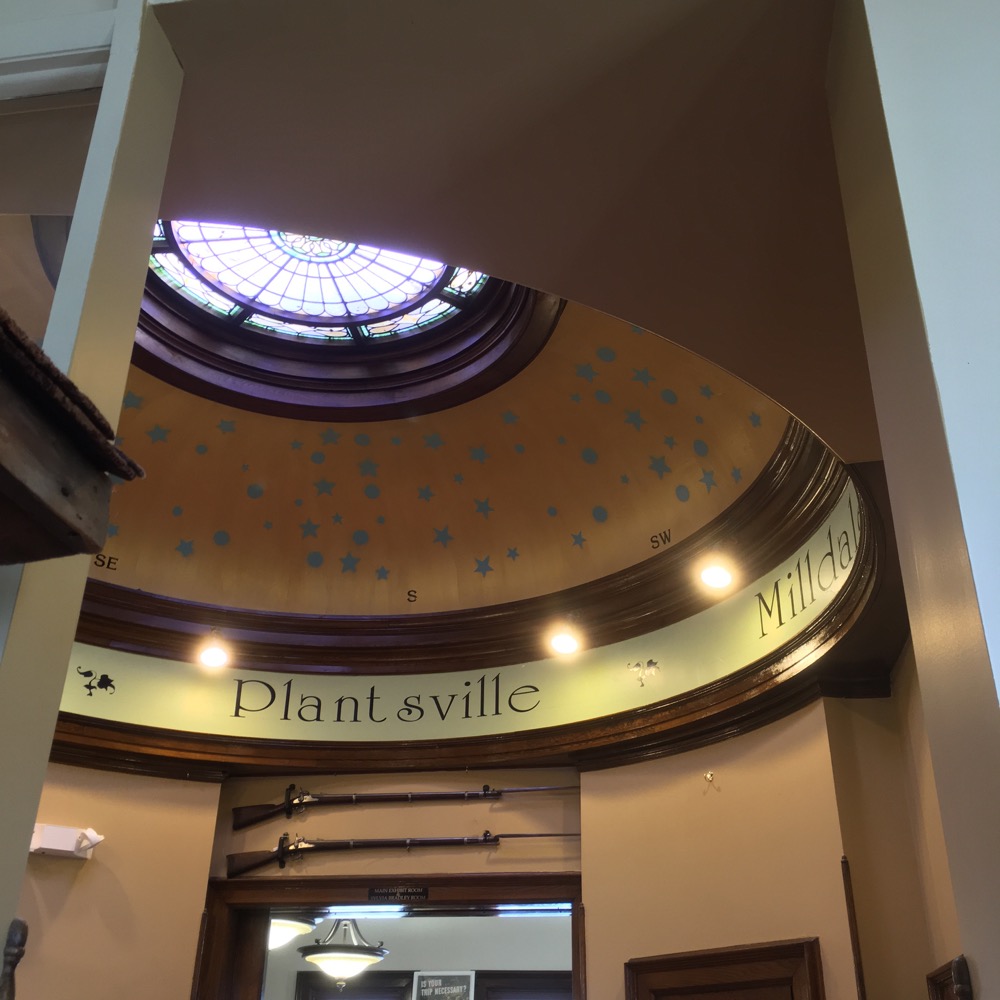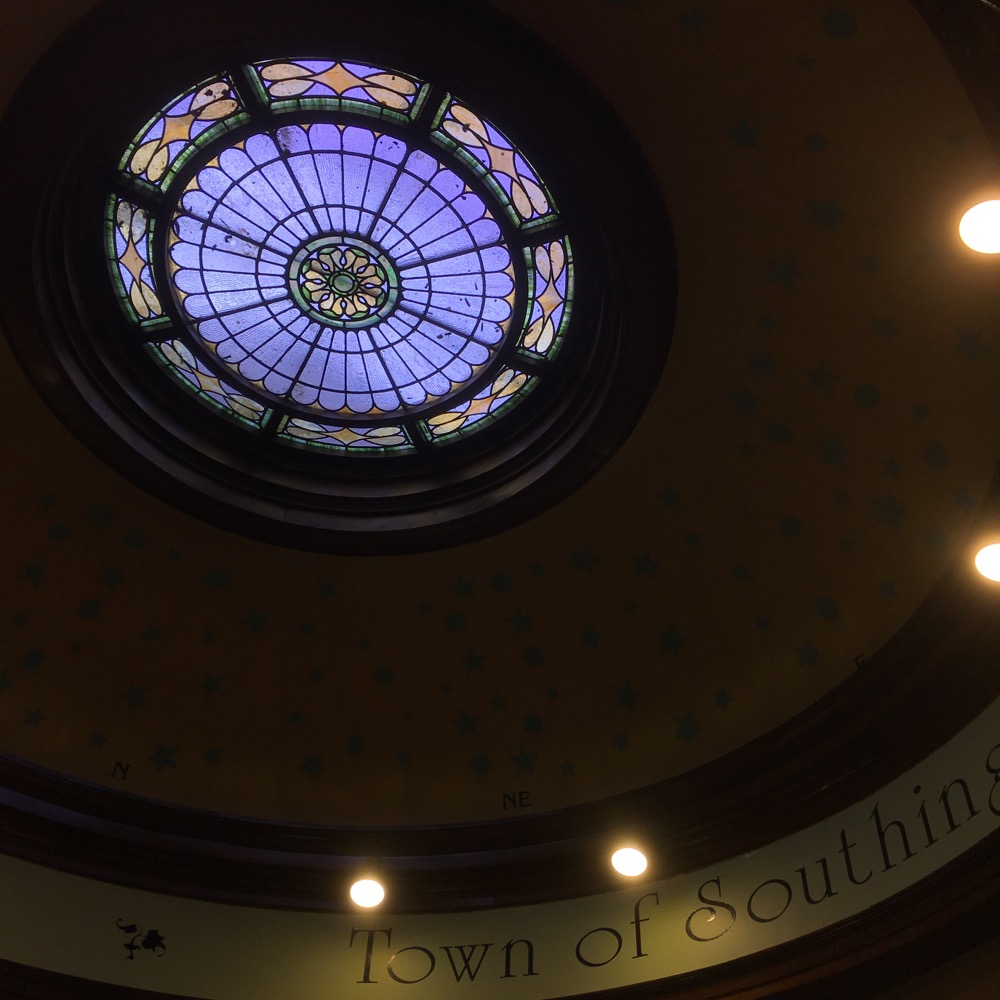 Yes, there was a Just Buttons Museum. In fact, from 1944 to 1979, Just Buttons Magazine was published monthly by the Just Buttons Museum. The museum was located in an 18th century homestead and, as you'd assume, was filled with… just buttons. If you're thinking to yourself, "that's crazy," you may be surprised to learn that Connecticut still has a Button Museum, located inside of the excellent Mattatuck Museum in nearby Waterbury.
Sorry, I digress.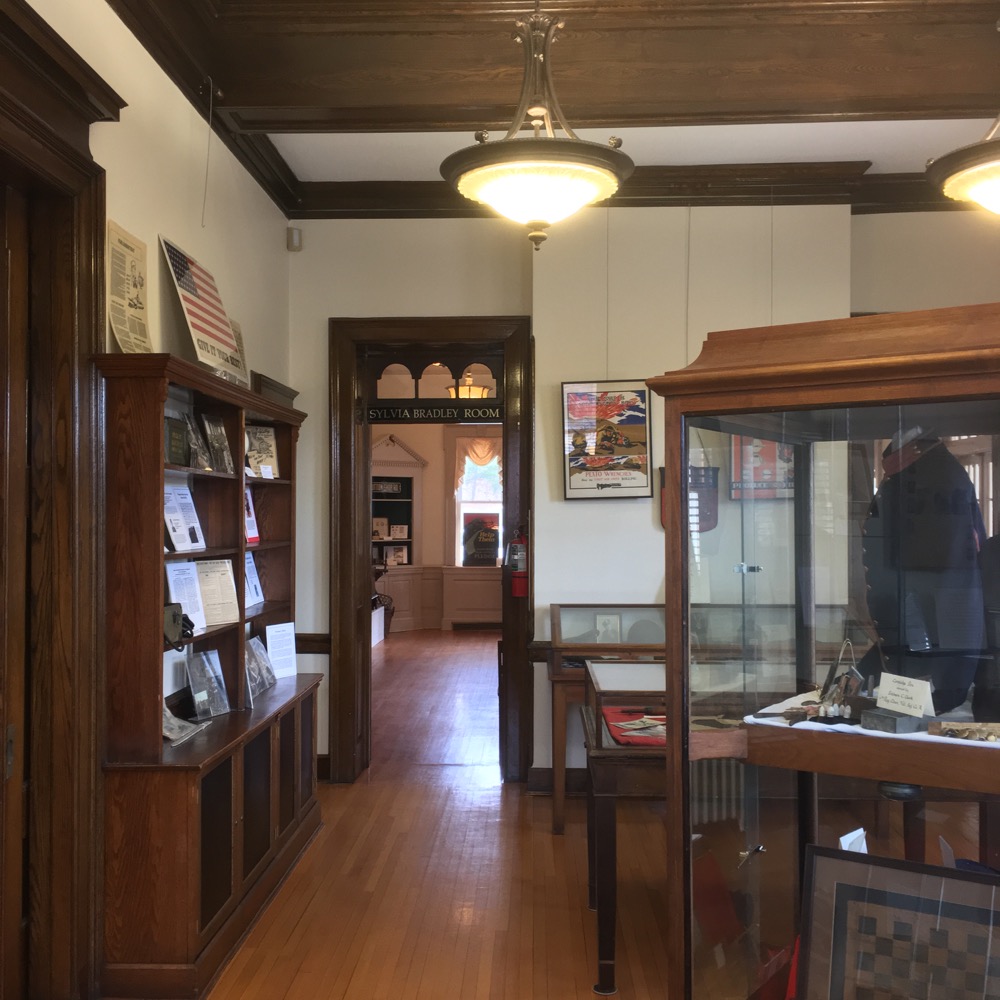 The Society were vagabonds for a decade. Squatters crashing on metaphorical couches. Then, in 1974, the Society approached the town with a proposal to allow the establishment of a "Historical Museum and Learning Center" in the old library building. The town embraced the idea and since the mid-1970's, the museum has existed here.
The old library is a pretty cool building, with a dome and everything. Ok. Now we're here. Let's learn about Southington… I wonder if they have the answer to a question I asked back in 2008 when hiking the southernmost section of the Tunxis Trail in town…
Rob and I met at the appointed spot at the appointed time and then drove for a couple minutes to the residential car spot on Panthorn Drive. Southington was first settled in 1698 and was originally called the Village of Panthorn. I don't know about you, but "Panthorn" is infinitely cooler than "Southington." Part metal band, part English snobbery. "I am the knave from the Village of Panthorn!" I wonder what a Panthorn is.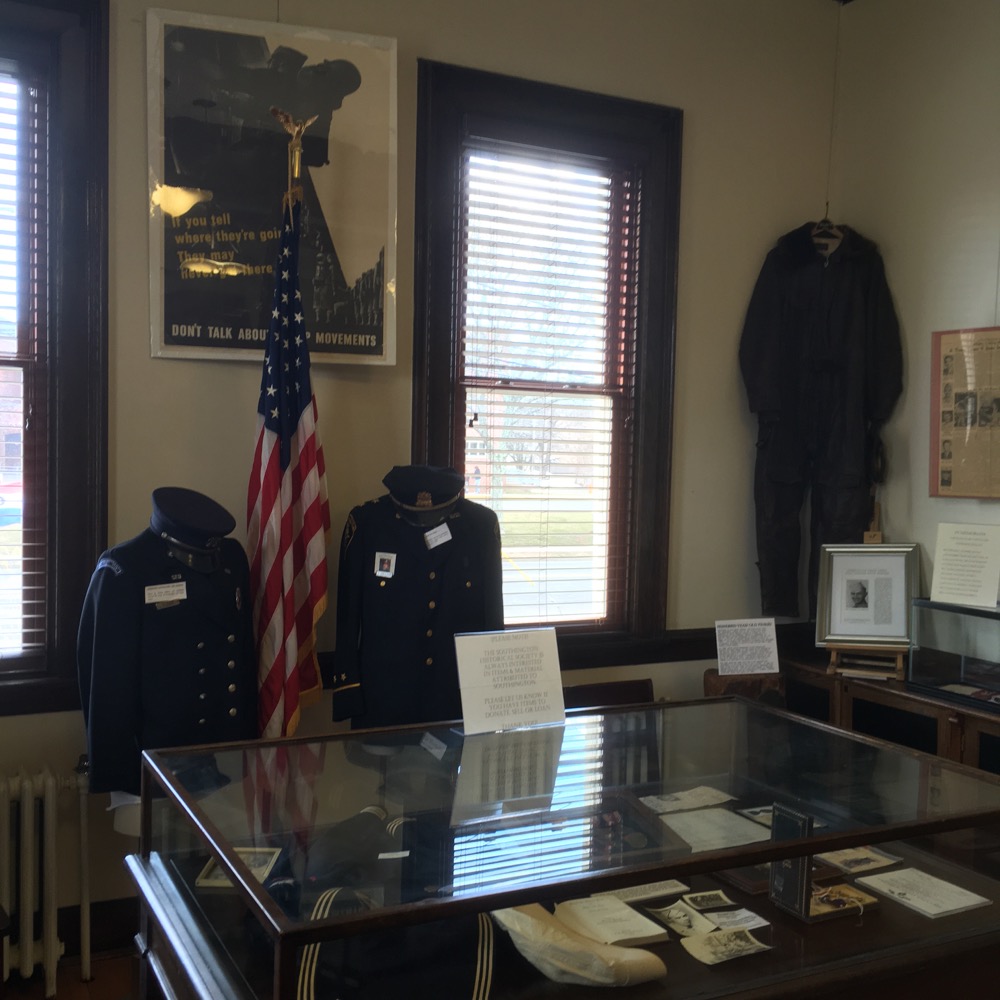 It's a question that's plagued me for years. Anyway, back to old timey Southington…
Samuel Woodruff is known as the "Father of Southington." In 1698 he was given permission to travel here from Farmington and set up a residence and eventually a small farm. He was one of the first permanent white settlers in town. At the time, Southington was still part of Farmington, which was known as the "Mother Town." It wasn't until the 1720s that people in the area would petition religious leaders and officials in Farmington to set up a church or meeting house in what eventually would become known as the South District or South Parish, which also was called South Farmington. So many Connecticut towns were created because people got tired of the long walks to church.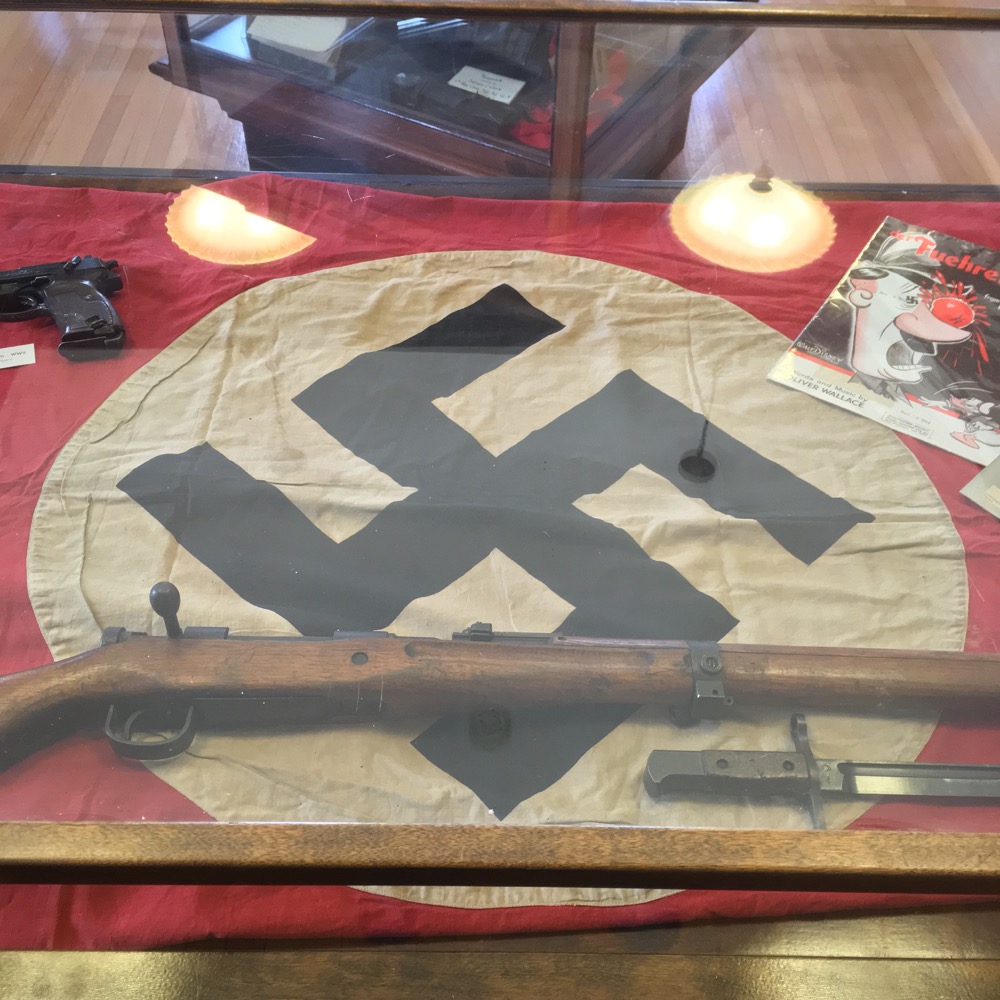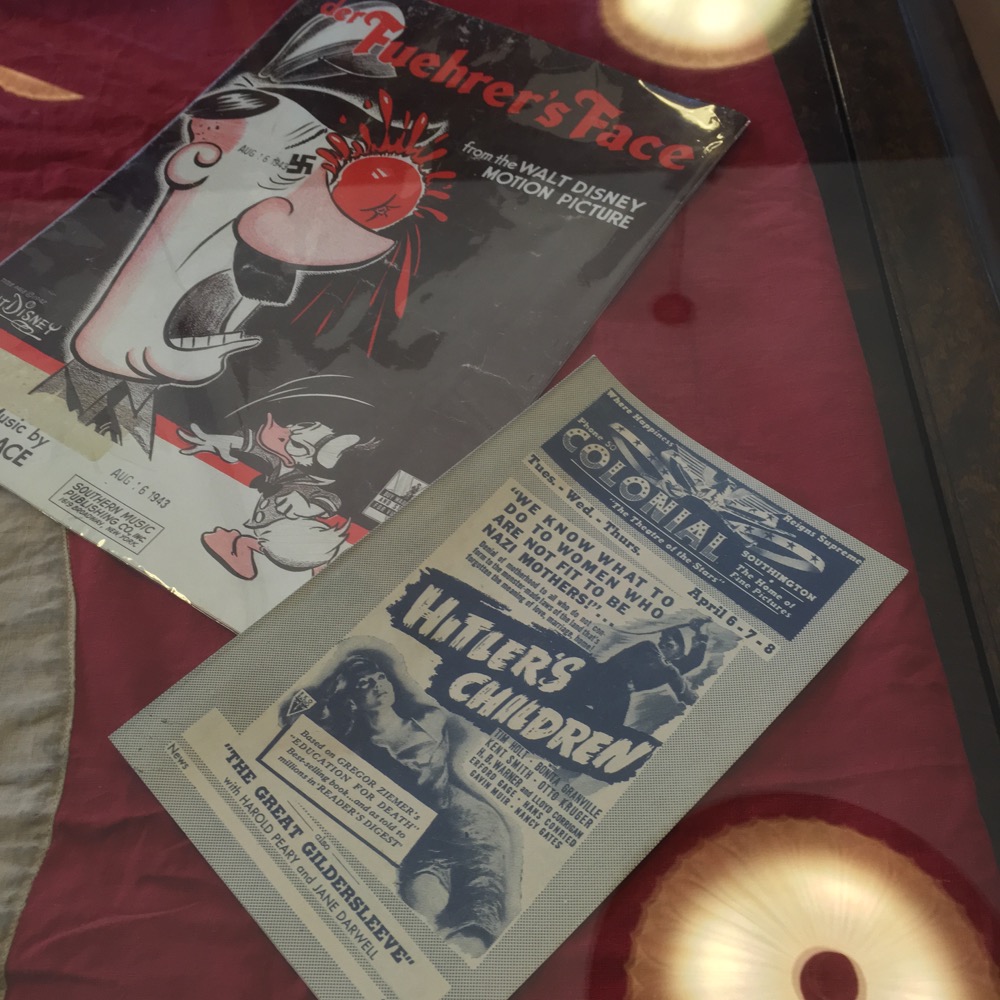 The name was shortened to Southington in 1779 when the town was incorporated as a separate entity from Farmington.
Oh, and…
Still another early name for town was Panthorn, which was a reference to overworked oxen who were panting right down to the ends of their horns.
I got my answer to the question I asked 14 years prior! And it's the dumbest thing I've ever heard! I love it. You blew it, 18th century Southingtonians. Imagine being Panthorn and telling people the reason. So dumb.
Also kind of dumb? This replica door: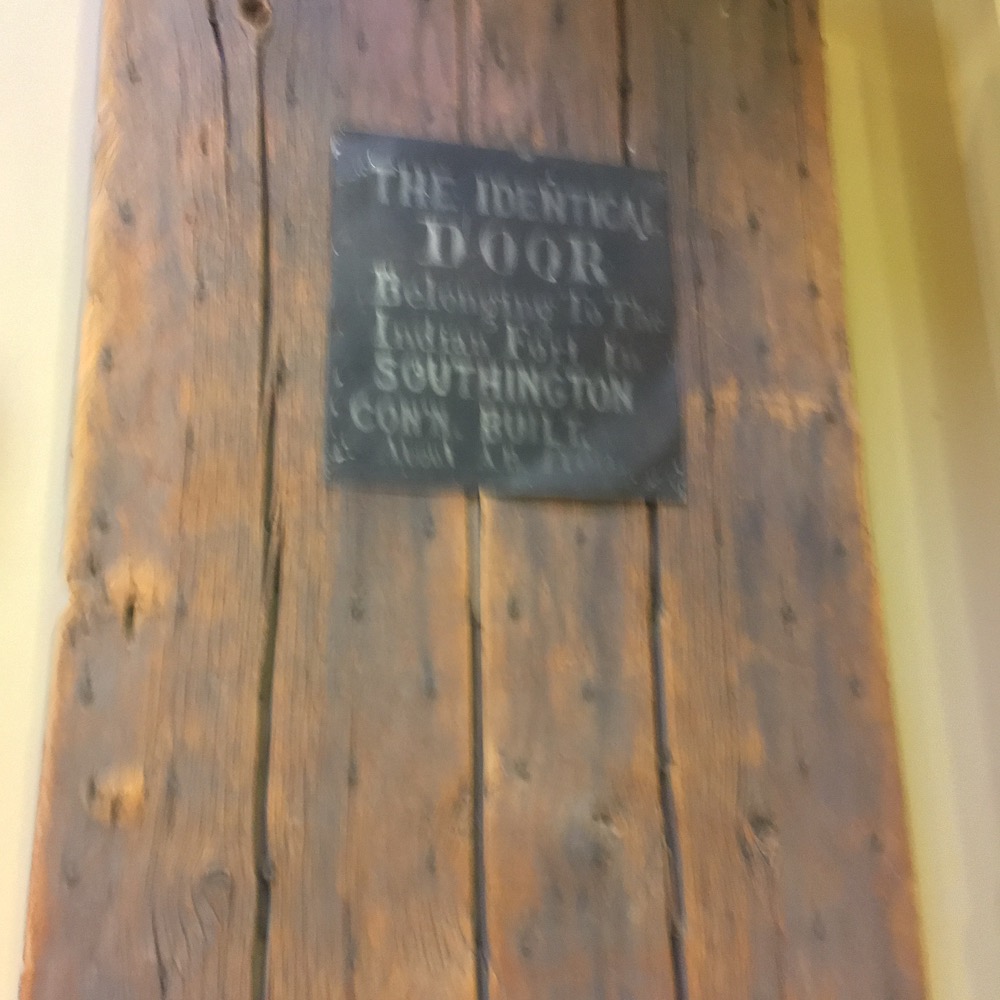 Supposedly Samuel Woodruff – Southington's white settler, remember – built a fort to protect himself from the Native Americans. But the story goes that Woodruff was so big and strong that the Natives were scared to mess with him, so his fort was unnecessary.
A more necessary door? This one at the museum Damian is helpfully pointing to at the museum: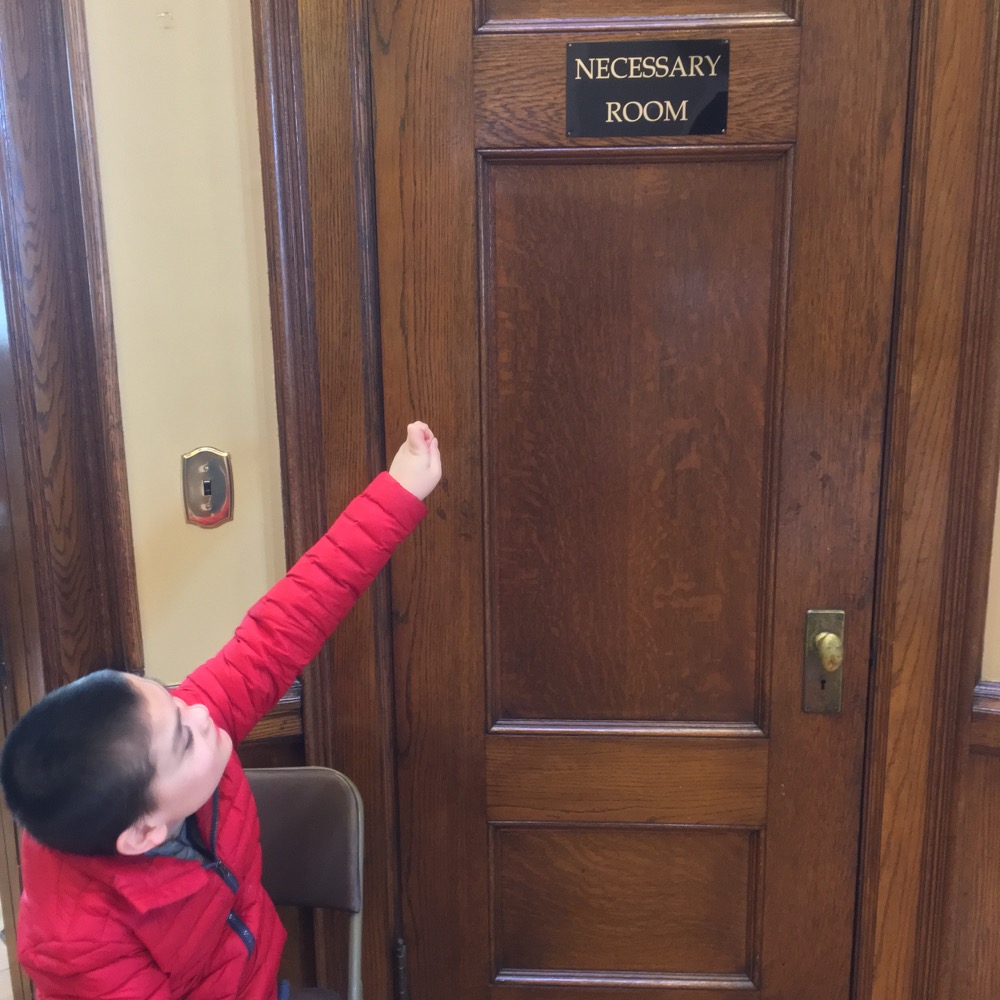 But the old door, albeit a replica, is indicative of the type of museum Southington has here. It is jam-packed full of interesting objects that all have a story to tell. And if you were wondering, yes, Southington has its own George Washington slept here story and house: 142 North Main Street, a beautiful 1720 red colonial home to a law office in the 21st century.
In my mind, Southington's claim to fame doesn't get enough notoriety in Connecticut. I referenced it in the title of the page: The town is home to the first Bolt Factory in America!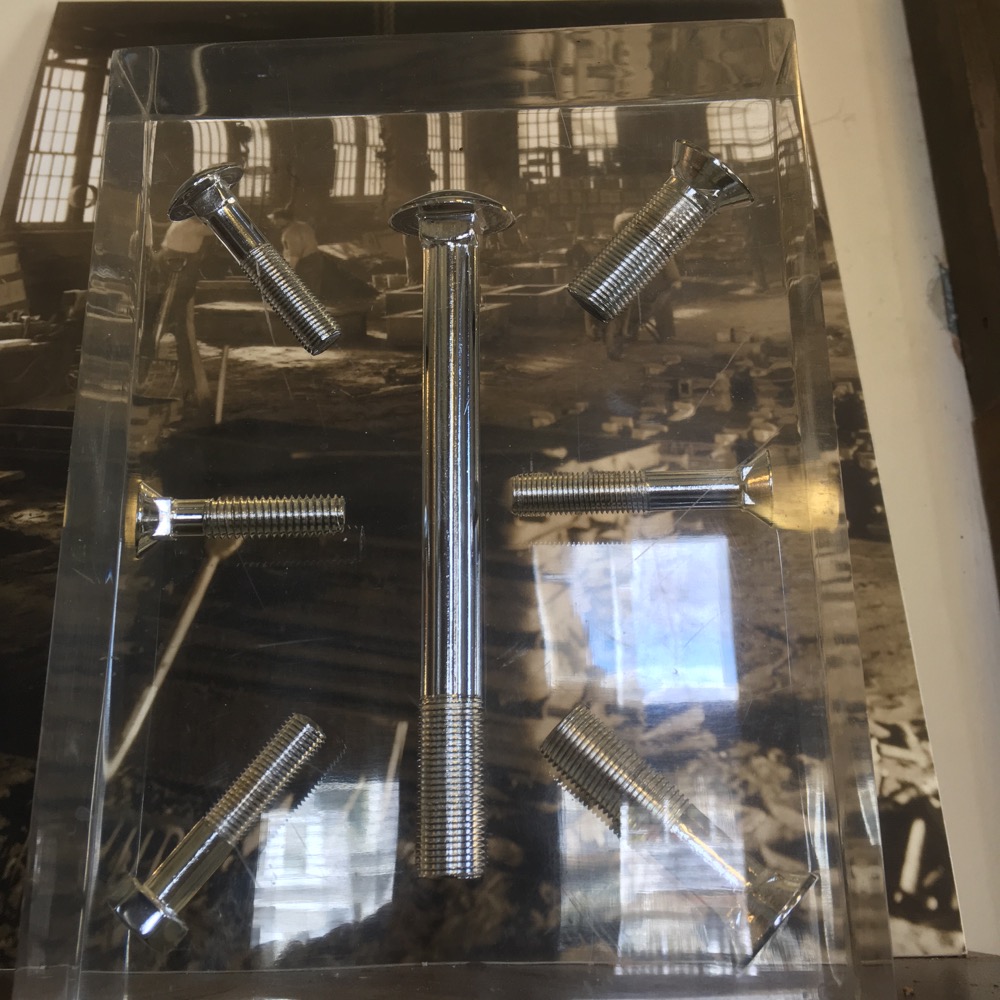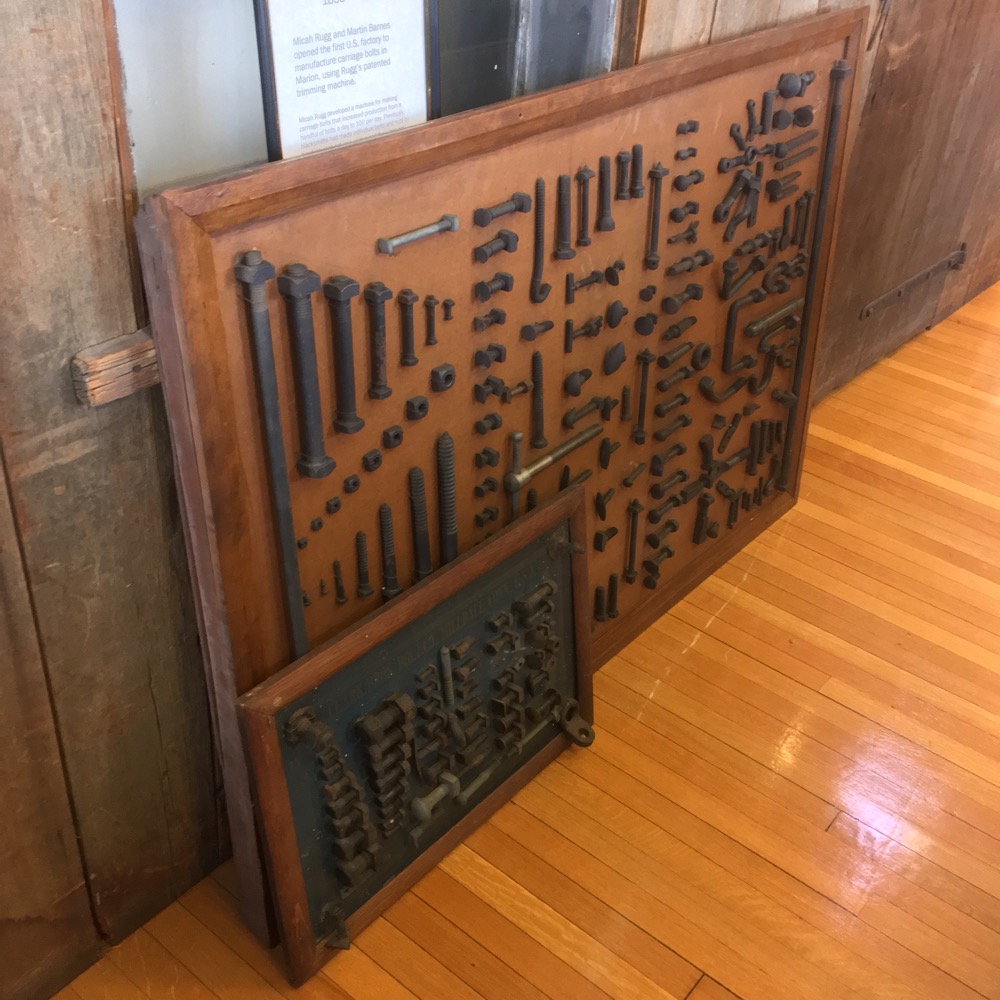 Locals were fully aware of the historical nature of this, as several people over the decades had the foresight to save, literally, the entire front wall of America's first bolt factory – and it's here! at the Southington Historical Society!
The "Bolt and Nut Pioneer" was Micah Rugg, a blacksmith by trade, living in the Marion section of town. Prior to 1838, when anyone wanted a bolt, he had one made-to-order by a blacksmith. What a pain.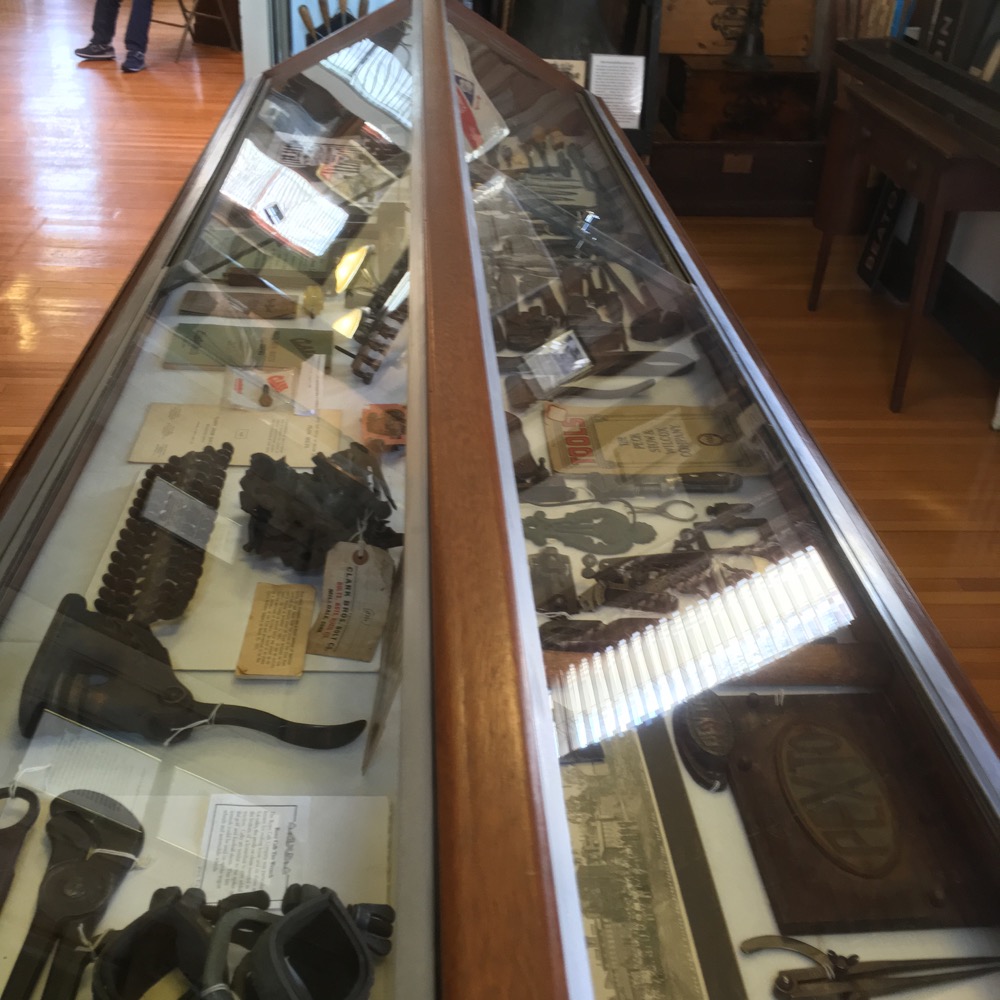 Rugg figured he'd just make a bunch of bolts in his blacksmith shop to have at the ready. He gained a business partner in Martin Barnes, and by 1840, Rugg and Barnes had their own building specifically for the manufacture of uniform bolts and nuts. The first bolt shop in the country.
Rugg & Barnes didn't last too long, as the economic crisis of 1847 did them in. However, the town was known as a Bolt hotspot, so others bolt-makers sprung up in their place. Clark Brothers Bolt Company was hugely successful well into the 20th century. At some point, Clark Brothers had bought the Rugg & Barnes façade and had it displayed at their offices until they donated it to the historical society when they closed up shop in 1985.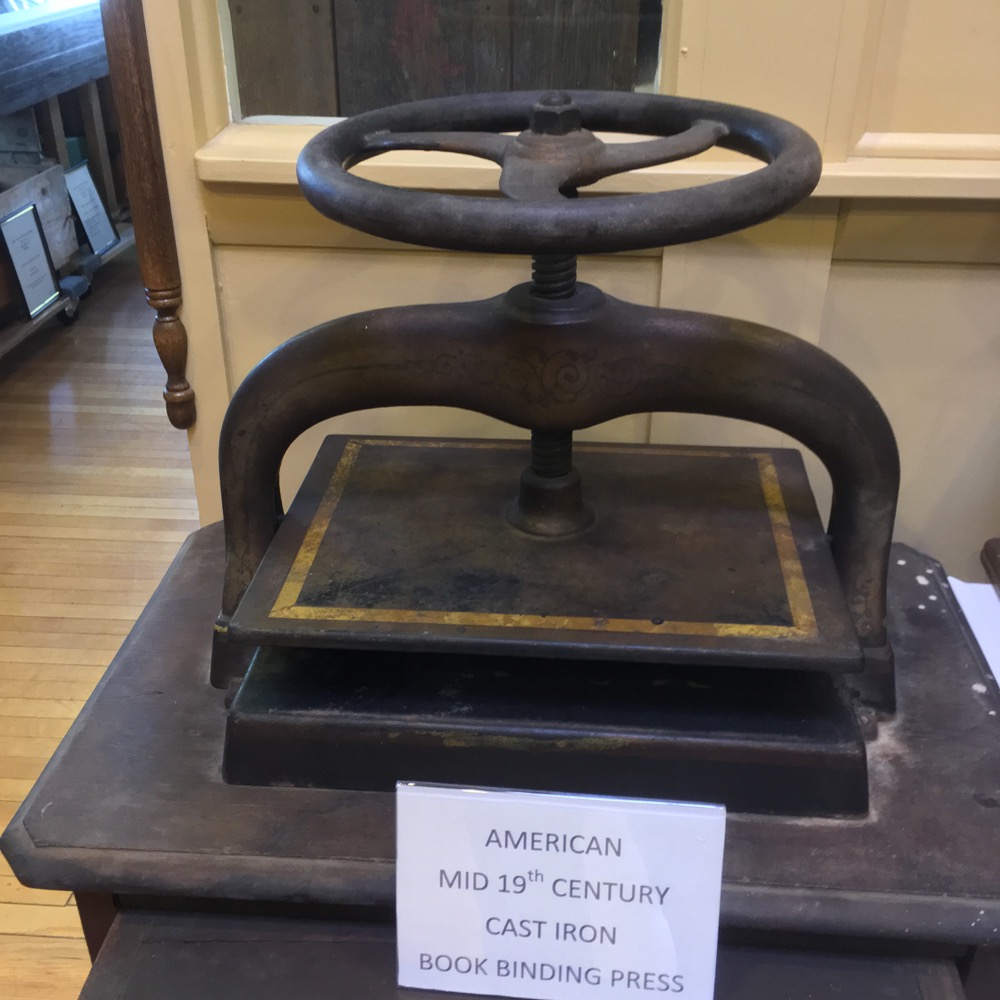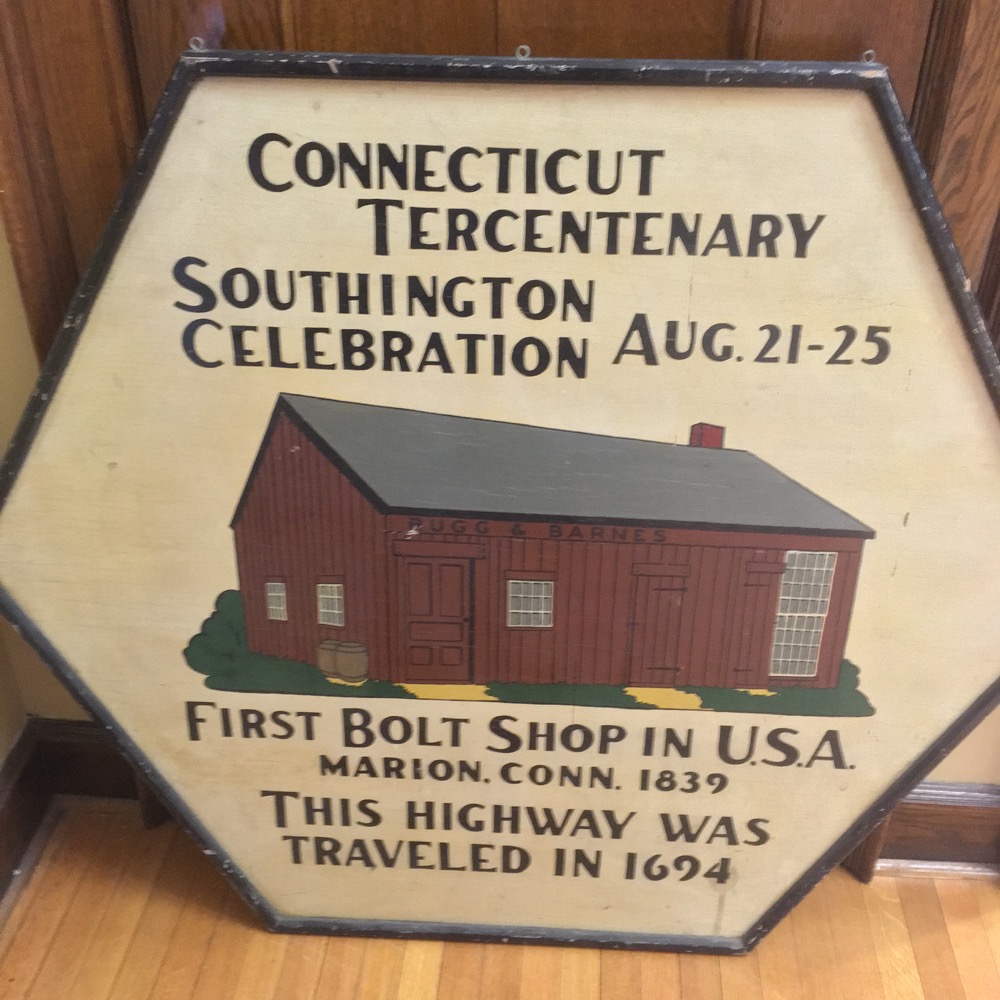 Two things: the building on Southington's town seal? Rugg & Barnes' shop. Clark Brothers old factory today? Kinsmen Brewing Company. Old industry honored by the town, new industry repurposing the spaces.
My goodness, there's so much here! A chemist named Julian Florian, who lived in the Plantsville section of town, invented a formula for developing photographs with a negative or glass plate called "the direct positive process." He incorporated the idea into a photo booth which became huge hits at amusement parks. They were called "Florian Studios."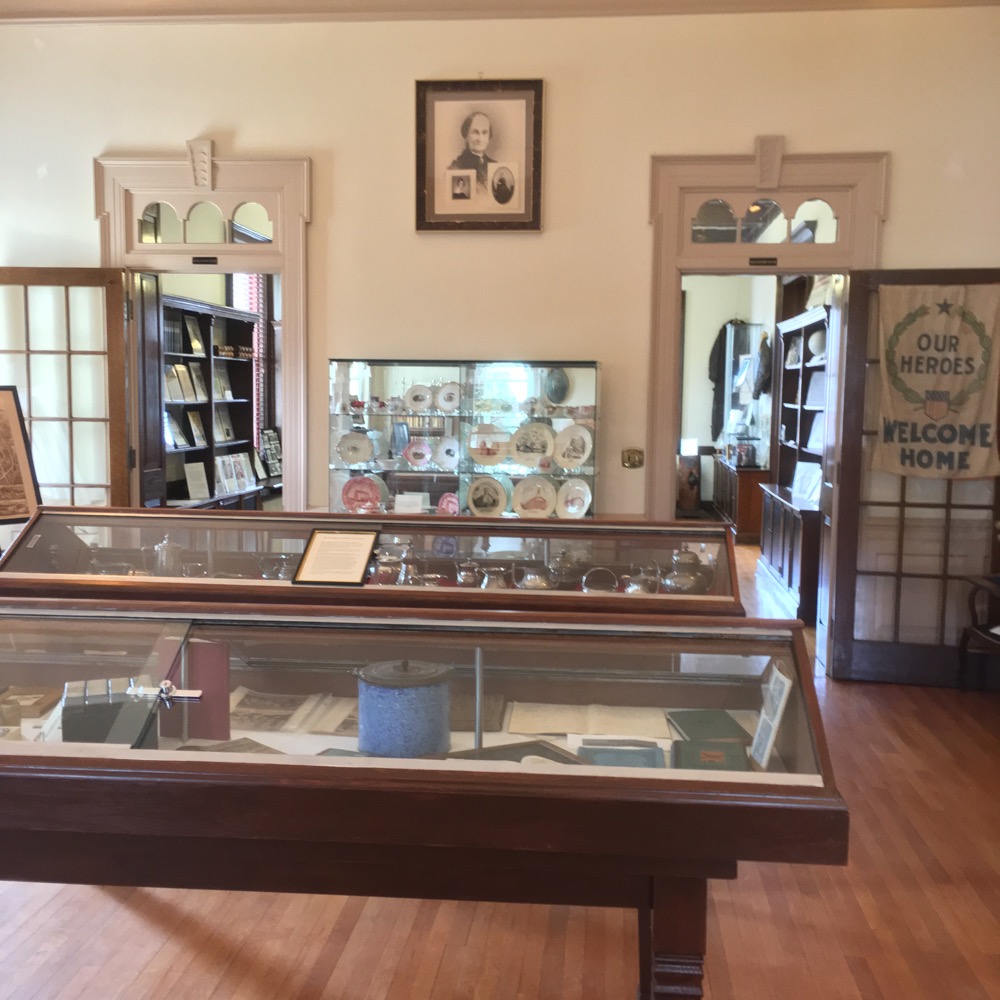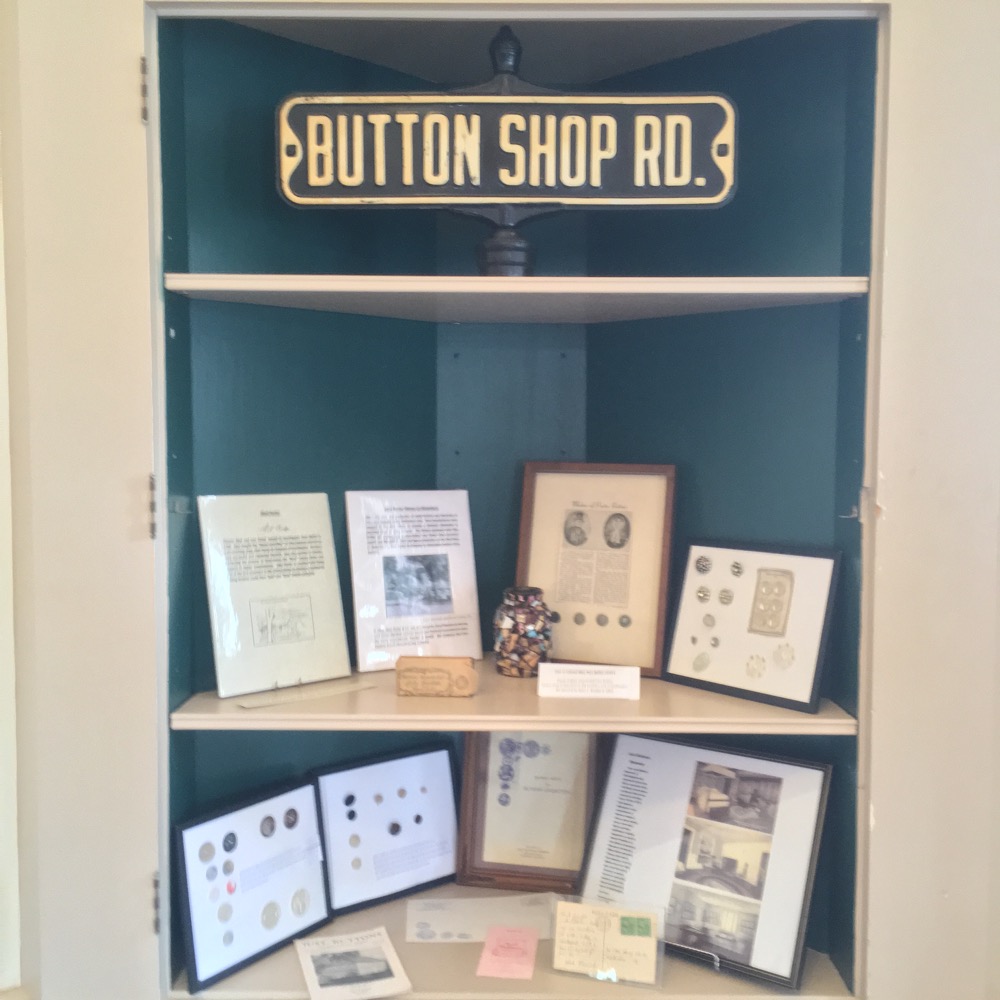 The idea was also a huge hit for a company called Eastman Kodak, who purchased the formula from Florian in 1929 and used it in their Polaroid Instant cameras. Florian died a very rich man.
I could go on and on, but won't. There are the usual military displays and honoring of local veterans. Several other local industries are highlighted and I'm sure there are rotating displays here as well.
I really liked this place. As a person who has been to many, many dozens of Connecticut town historical societies, I'd put Southington's in the top 20th percentile. For me, it's the "cohesive randomness" that does it.
That's just the nuts and bolts of what makes a museum interesting to me.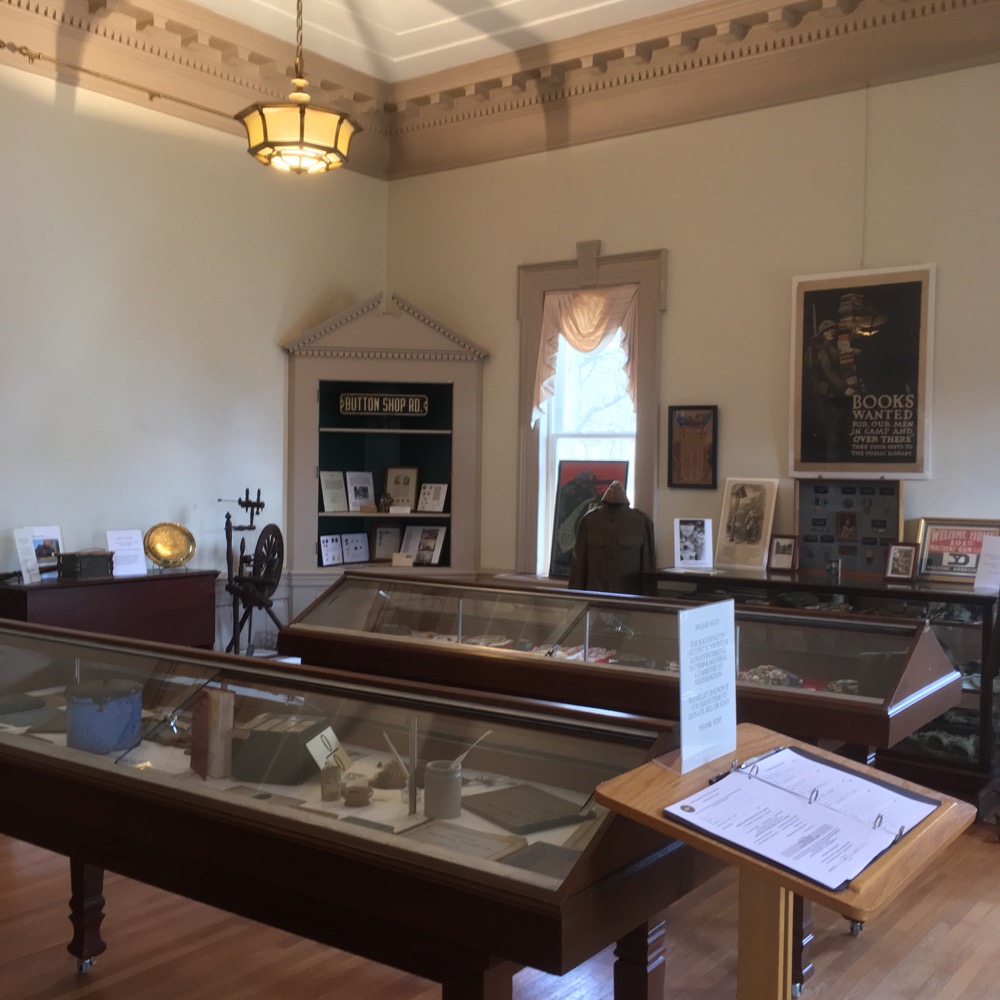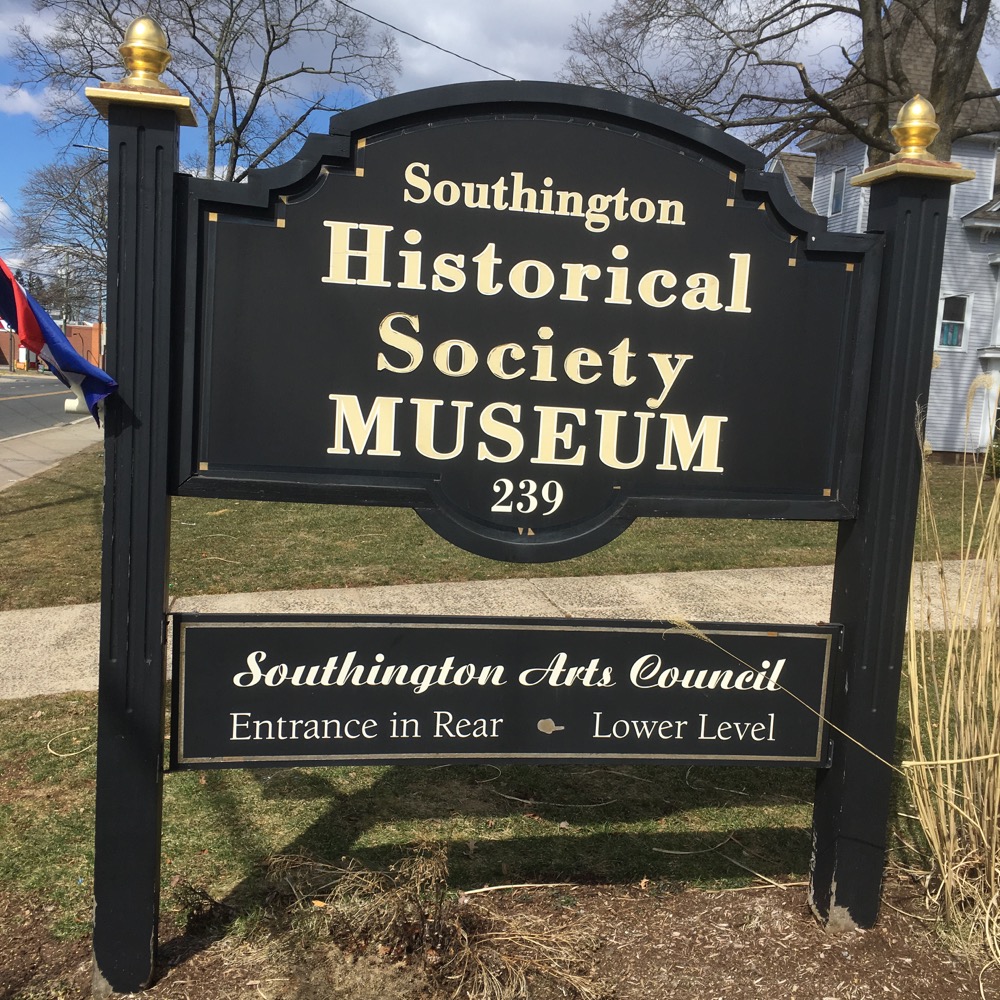 Southington Historical Society
CTMQ's Museum Visits
CTMQ's US & World Firsts