This Museum is as Cute as a …
Waterbury (Google Maps Location)
August 9, 2009
2019 Update: This is one of those old posts that still gets comments from people who don't know how websites work.
When you're the third smallest state in the US and you still manage to cram in so many hundreds of museums, it stands to reason that a good percentage of them will be tiny. I've seen my share – and can't determine which is the smallest, but the Button Museum is in the running. An interesting thing about this one is that it is a museum within a museum.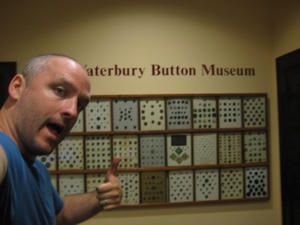 Yes, tucked away on the third floor of the wonderful Mattatuck Museum, this one room full of nothing but buttons – and I mean nothing but buttons – is THE place to go to fulfill all your button viewing needs.
The Waterbury Button Museum is a permanent exhibit with over 10,000 exquisite buttons, assembled by Warren F. Kaynor for the Waterbury Button Company over 60 years ago. It includes buttons from all over the world, with many 18th and 19th century examples – buttons worn by George Washington, buttons on display at the 1878 Paris Exposition, picture buttons, buttons made of Czechoslovakian glass, Japanese enamel, ivory, wood, china, pearls, jewels, and many, many more.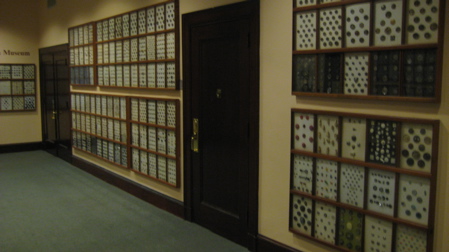 That last paragraph was courtesy of the Mattatuck website. And thank goodness for that because as much as I know about and love me some buttons, the museum lacks explanatory signage. So I merely found myself looking at lots of buttons. Lots and lots of buttons.
My story would end there, but fortunately for us all, the Old Gray Lady can bail me out. Back in 2001, the grand opening of the Button Museum warranted a nice little story in the New York Times, which I will liberally borrow from to fill out my story.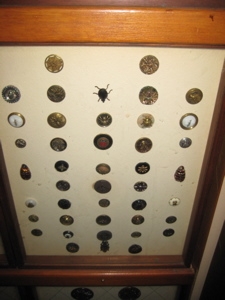 First of all, their title, "More Than a Sewing Fancy" is pretty weak. But I'll forgive the author because she did some fine research on the collection.
After artfully calling the collection a "kaleidoscopic cache," the article explains how the massive collection came together. It was "a gift from the Waterbury Companies, a manufacturer that had its own button museum for many years."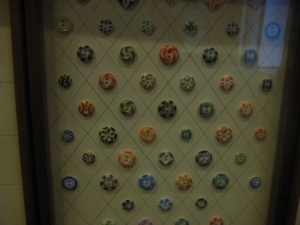 "When the Waterbury Companies decided to sell the Waterbury Button Company, one of the assets that was kept was the button museum," said Carl Contadini, president of Waterbury Companies Inc.

Rachael E. Guest, an assistant curator of the Mattatuck Museum, said the company considered breaking up the collection and selling it. "But instead they decided the right thing to do was to keep it intact because it is an important part of Waterbury's history," she said.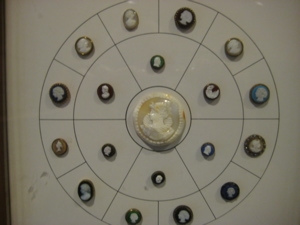 I'm just going to copy and paste the rest of the article, because really, I haven't anything more to say about the collection than the article does. I apologize for my laziness.
The manufacture of buttons, first by hand and then by machine, has been a mainstay of the region's economy since the late 18th century. That story is documented in a community history exhibition on the museum's first floor where several button-making machines are displayed along with pictures, including one of an eagle, fashioned from buttons.

The Button Museum was originally assembled more than 50 years ago by the man who was then president of the Waterbury Button Company, Warren F. Kaynor. It was created with buttons rich not only in the history of Waterbury and Connecticut but of the world.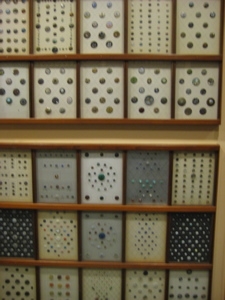 At the Mattatuck Museum 10,000 buttons are on display, and that's not the entire collection. Researchers can make use of of binders of samples of every button made by the Waterbury Button Company.

The buttons are considered to be miniature works of art, reflecting changing artistic influences. Made in a variety of materials — glass, porcelain, pearl, metal, bone, wood and jade — they are decorated with motifs that include images of military heroes, feats of engineering and storybook characters. One brass button shows Little Red Riding Hood with a rather docile-looking wolf sitting next to her.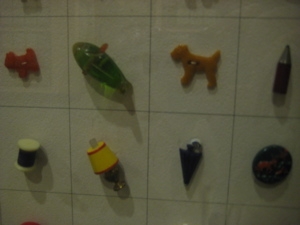 The exhibit includes four engraved bronze buttons, taken from General George Washington's coat. The buttons had been removed and divided among his descendants (remaining in the Washington family until 1930). They are now mounted on a morocco case.

Other eye stoppers include carved cinnabar from Asia, Japanese netsuke and colorful Bakelite buttons from the 1930's, lighthearted symbols of a sail boat, Scottie, ear of corn or a penguin.
There are floral bouquets made of human hair placed under glass, military buttons, black glass and marquisette buttons popularized by Queen Victoria and a case of tiny Jenny Lind portrait buttons. Habitat buttons made in France preserve plant or insects under glass, "some referred to as paperweight buttons because they are made the same way," Ms. Guest said.

"There are buttons here for everyone, buttons that would appeal to men — uniform, sporting, showing a football player; buttons that appeal to women; and kids love them."

"Everybody grew up with someone in their family who had a box of buttons, so it has a strong tug to family memories," Ms. Guest said, adding, "This is a particularly special button collection because of Waterbury's button-making history. It reaches out to people, representing both the local community as well as the larger community of the world."

Since I was alone up on the Button Museum, I didn't quite see all the wonders that this article says are there. And with the lack of signs, I had no idea what I was looking at most of the time. Oh well.

I went back downstairs and took another walk through the art galleries (second floor) and the historical exhibits on the first floor. The little Button Museum is but the cherry on top of one of Connecticut's finest museums.