Section 1: ATV's = Absolutely Toxic Vehicles
Southington/Wolcott, 4.0 miles, with Rob Y
February 2008
Tunxis: "The point where the river bends."
An important tribe that lived on middle Farmington river near the great bend, about where Farmington and Southington in Hartford County, CT, are now. They were subject at an early period to Sequassen, the sachem who sold Hartford to the English. They sold the greater part of their territory in 1610. By about 1700 they still had a village of 20 wigwams at Farmington, but in 1761 there were only 4 or 5 families left. — From this site.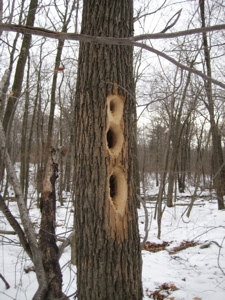 Tunxis: Alt def. "The trail which confuses hikers and attracts all-terrain vehicles"
Vehicular traffic is strictly off-limits on Connecticut's blue-blazed trail system, but to bored kids (and immature adults) around central Connecticut, "who cares." Indeed. Well, I for one care a great deal what these people are doing to the trails around the state and I'm not alone. Please take the time to read the comments below for several years of discussion on this topic.
My friend Rob and I agreed to begin the Tunxis in winter – actually hoping for knee-deep snow. We both have nice snowshoes and looked forward all winter to using them. Alas, every substantial snow storm happened early in the work week so we never got the chance.
As it was, Rob and I would still have a thick coating of ice to contend with at almost every step. We had both bought some simple solutions to this situation – I went with YakTrax – which turned out to be more or less useless. Do not buy them; instead, step it up to the far superior Kahtoola MicroSpikes or something similar. I don't endorse much on CTMQ, but I strongly endorse this company's products.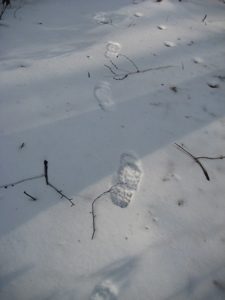 Seriously, it's amazing what you can do in icy conditions with them. Alas, in 2008 I didn't yet have them and as a result, I fell a couple times.
Rob and I met at the appointed spot at the appointed time and then drove for a couple minutes to the residential car spot on Panthorn Drive. Southington was first settled in 1698 and was originally called the Village of Panthorn. I don't know about you, but "Panthorn" is infinitely cooler than "Southington." Part metal band, part English snobbery. "I am the knave from the Village of Panthorn!" I wonder what a Panthorn is.
(I finally got my answer a decade later at the Southington Historical Center!)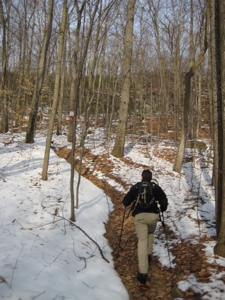 When we parked, we looked up at the near vertical wall in front of us and said, "We'll be coming down that in a couple hours. And it's icy." We smiled and laughed and relished the thought… or so we pretended to do so to each other. Because we're dudes. And we're dumb. (This steep access trail is part of the Tunxis Regional Trail system.)
We drove over to Whitman Road in Southington to begin our hike. We noted the hospitality of the Southington Sportsman's Association for allowing us to park in their little hiker's lot and hit the trail.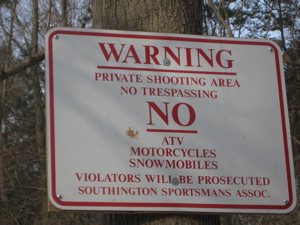 The trail is wide in spots; wide enough for vehicles – and follows old colonial roads often. Locals seem to have taken joy in spray painting red rectangles over the blue ones. It climbs unspectacularly through deciduous forest up the eastern "wall" to the ridgeline. Only one or two other hikers had been over this path in the past week or so and there were points where Rob and I would have had great difficulty without our fake little crampon things.
The trail turned north once on top of the ridgeline and soon brought us to the New Britain Reservoir. The scene was actually pretty nice but the trail then became a rock covered service road along the water. This surface was decidedly not what our new footwear enjoyed, so we actually veered west and tackled two more pieces of the Tunxis Trail system: The Stonehouse and Woodtick Trails. (Again, those trails are described here.)
This loop eventually brought us back to the reservoir and more confusing rutted roads and ATV trails. Ah yes, ATV's… Their deep ruts and mud-spattered evidence was everywhere in these woods – and it made us mad. At one point, just north of the reservoir when the Tunxis veers sharply right with no warning, we missed the turnoff and crossed paths with four guys on their ATV's. (Truth be told, they were actually fairly courteous and the first guy told us how many were behind, but he was still destroying the woods and trails.)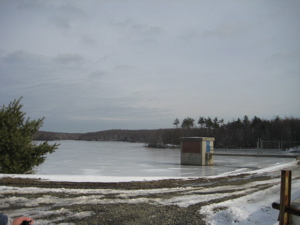 There were times that the trail blazers purposely took the Tunxis over little blips that ATV's simply couldn't navigate. Yet, somehow, a motocyclist had made it pretty much all the way. This two-wheeled demon must be given massive credit; the rocks, cliffs, and drops he rode over were just incredible – all on snow and ice. Rob and I agreed: We hated the guy, but were amazed by him as well. His tire tracks were an almost constant companion throughout our day.
Funny that almost all the evidence of the ATV's (and the ATV'ers themselves) were all in Wolcott; which the Tunxis spends about half its time in along this section. Just an observation.
The only named feature along these first four miles of the Tunxis Mainline is Libby's Lump. I don't know who Libby was but I think the descriptor, "Lump" is apt. At 870 feet, this two minute ascent rewards hikers with… a moderate view of really-not-too-much. This is also where the Compounce Ridge Trail splits off to head east and north.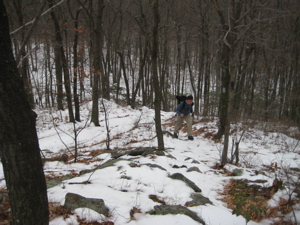 We continued north across the frozen flat plateau above the valley over totally featureless terrain. At points the trail became a 15-foot wide frozen lake with spotty blazes. It was along this half mile or so that Rob and I became a bit freaked out by some people we met.
Keep in mind the conditions were not ideal and snow/ice was forecast for that afternoon. Rob and I had special equipment to hike over all the ice and snow. We had maps and a detailed plan for our hike. WE were fine.
I'm not so sure about the group of six people in sneakers and jeans we met traveling the opposite direction. The women looked exhausted and terrified. They moved gingerly and were grabbing each tree as they slid along. Their fearless leader asked me, "Is there a trail somewhere that breaks off up ahead?"
"Um. Yeah, there are a few, actually… and it can get pretty confusing," I told him. I was willing to help and even draw him a map, but he seemed intent on pushing forward. I never read anything in the news about them dying, so I guess they made it… but man, that group had it all wrong to say the least.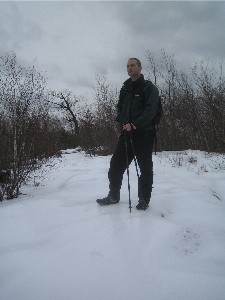 Shortly thereafter, the trail swings west, then back east skirting Compounce Mountain. And here's my favorite part… it then simply just ends unceremoniously in the middle of the woods right near the Wolcott/Southington border. There, it turns into the Bobcat Trail with no fanfare – just a tiny sign nailed up high on a tree.
Why? I have no idea. It doesn't make sense to me, especially since the trail network continues north along the Compounce Ridge Trail several more miles towards the next section of Mainline trail. What's more, the trail network immediately east of this unremarkable end of this section of mainline trail is actually really cool. There are a couple views that rival any in the state, there are waterfalls and cliffs and interesting things like old gondolas from Lake Compounce Theme Park's days gone by… So why does the mainline trail just sort of end in the middle of the woods?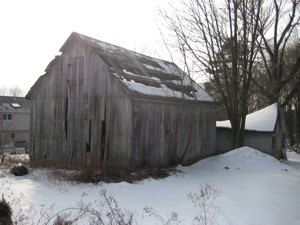 I humbly submit to those who make such decisions to just wipe this part out of the mainline Tunxis. Call this whole section the "Compounce Trail network" and separate it from the Tunxis proper. The four southernmost miles of Tunxis mainline trail are, well, are just not exciting.
Oh well.
Continue on to Section 2: It's All New!

CTMQ's Tunxis Trail Intro
CFPA's Online Map
CTMQ's Tunxis Regional Trails (Southington South)
CTMQ's Tunxis Regional Trails (Southington North)