Section 6: Running Ragged
Southington Road to Andrews Street, 7.3 miles
July 4, 2007
Note: This page was written in 2007, so please forgive the tiny pictures. This section deserves better. If you want to start at the beginning of the trail, go the Metacomet Intro here.
So far along the Metacomet Trail, Hoang and I have seen some pretty cool stuff. Better views than I'd imagined, greater solitude than I'd expected, and just an overall better experience than I had figured. After the admittedly silly 1.4 mile roadwalk to connect the Hanging Hills section to this next one, we were looking forward to getting back to the woods and some real hiking. We had the day off from work and it was a rather bearable day for it being July 4th.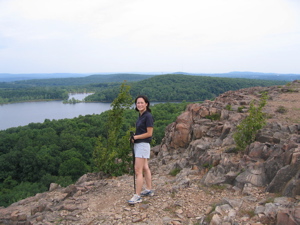 We dropped off our son and drove through New Britain's little-known "nice part" and parked the car along Andrews street, just over the border in Southington. Then shuttled south to Southington Road and began right where we had left off last time: In Berlin, right next to Timberlin Golf Course… smack-dab in a thicket containing ample poison ivy.
I gingerly tap danced through the greenery and escaped untouched. As we strode the first few hundred yards, a group of 20-something preppies stared at us from their tee box. They appeared confused, scared, and generally freaked out. "What is that dude doing with that hot chick walking into the woods?" I could almost hear them say.
"Who would want to do a thing like that? Why aren't they riding around little carts wearing pastels hitting a little ball around this environmental nightmare called a golf course?" They stared at us for as long as they could possibly see us. Maybe we were just distracting them from their game.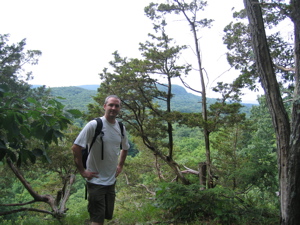 We were immediately plunged into a dark hemlock grove on a pleasant trail. A sharp turn left we ascended a short little hill aptly called, Short Mountain. For about 200 yards of the climb, we picked our way over a field of basketball sized boulders that had broken off of the cliff just to our right. My memory took me back to all those various hikes on the Appalachian Trail in Pennsylvania; though here, thankfully, we were done with the rocks in short order.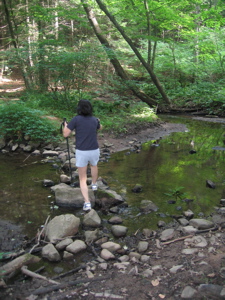 Once on top, we were afforded hazy views of some places we'd already been. Hey look, there's West Peak of Meriden's Hanging Hills! We swung north and passed a few more lookout points, this time facing west. We could also see where we were headed, but Ragged Mountain didn't look all that impressive.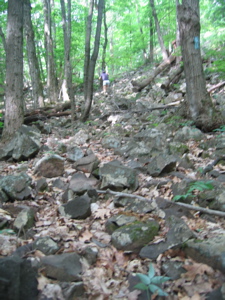 We descended gradually through the forest and crossed over a stream once at the bottom. There was an old dam built probably a couple hundred years ago and crossed a little bridge which actually has a name: Ross Bridge. Gee, Ross, I hope you did more with your life than name this unnecessary little bridge. After watching some toads hop around, we continued onward into someone's backyard and then up a "private" road. How "private" is a road that the Metacomet Trail traverses is, I don't know.
There were a couple cool mid-century modern houses which incorporated the large boulders into their landscaping very well. At the end of this stretch, we crossed Carey Street, turned left, then right up an old orchard's dirty road. 3.3 miles in and we decided to take a short little water and snack break. We were making ridiculously good time so after hiking another quarter mile and facing a steep uphill, we took another moment to realize just how nice this area was.
There have been more than a few points along our Metacomet hikes when I smack myself in the head for not having ever gotten out to these places before in my 15 years of living in Connecticut. But no use dwelling in the past, for we had a "staircase" to climb! Hoang took stock of the daunting challenge: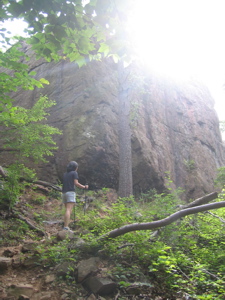 I began up alongside the massive cliff: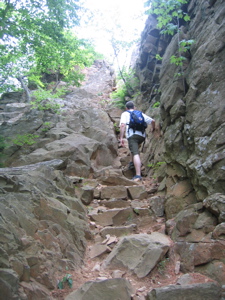 Hoang, was terrified: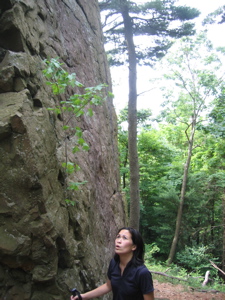 Okay, she wasn't scared in the least… The girl climbed Katahdin for goodness' sake! We made short work of the ascent and were quite excited to learn that we were nearly on top of Ragged Mountain; one of the premier rock climbing sites in Connecticut. We were almost disappointed in how easy it was to get there! We looked back down on the short little steep climb: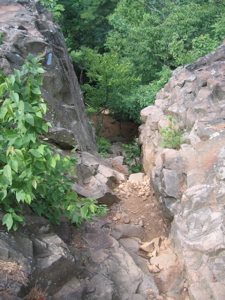 The views were astounding and the summit area was a pleasant plateau with soft grasses and multiple lookouts. There was a sobering memorial to a fallen climber, Darin Findley. Poor guy. At least his died doing what he loved.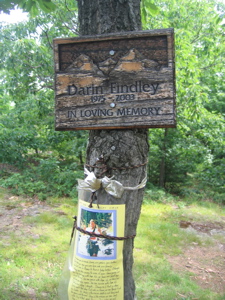 We took a moment to be sad and then explored the area. I walked out to where Mr. Findley passed away and took it all in. There's East and West Peak and miles and miles of central CT below me: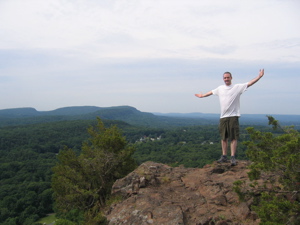 Nice, huh? So nice that Hoang and I hugged and kissed and asked some random hiker to take out picture.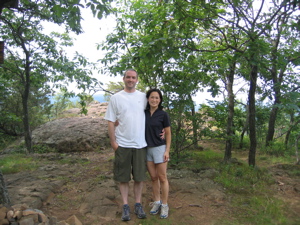 Awww. Actually, we felt kind of funny thinking to ourselves – totally egotistically – that this guy must have been thinking, "Gee, you two Yuppified city slickers make it all the way up here and feel the need to take a picture like you're on top of K2?!" Eh, whatever. Bottom line: Make the effort to get up here; there are different trails on Berlin's Ragged Mountain that are on the CFPA Blue Trails Challenge List – and they are all quite nice. If that's not enough incentive, maybe the lure of the wild mountain blueberry will do the trick: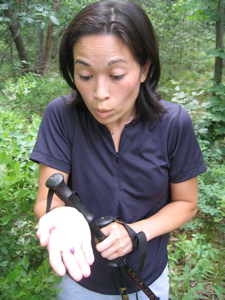 Still not enough? Okay, because we weren't yet actually on the true summit and weren't done with the views yet either. We continued northeast for about 10 minutes across a few re-entrants and were again sort of shocked to see the western view spread out before us. Standing on top of a sheer cliff face, perhaps 150 feet high, we stood in silence. It was very, very pretty. To our left, a couple guys were setting up rappel lines and kept giving us sketchy glances. Perhaps what they were doing was illegal, I don't know. I do know that I love this picture of them, because it looks like we were up on a REAL mountain somewhere other than Berlin, CT.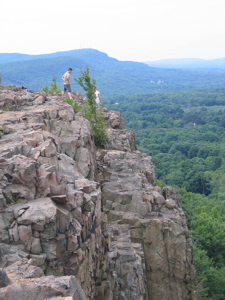 After taking it all in, we turned and headed north along the top of the cliffs. Overlooking Wassel Reservoir for a good 1/2 mile or so, I can only imagine how nice it is up here on a peak Fall foliage day… Perhaps another time. (The picture at the top of this page is from this spot; Hoang at the northern portion of Ragged Mountain overlooking Wassel Reservoir. We dipped back into the woods for a while, but just before doing so there was one last view to the north – the haze makes it a pretty bad picture (but you're all used to that by now) but in real life we could make out Hartford, and you can certainly see Talcott Mountain up near our house. We'll be there after a few more hikes on the mighty Metacomet!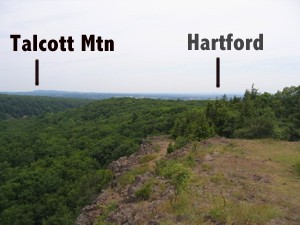 After a while in the woods and passing some side trails, we split with the red blazed Ragged Mountain Trail and sharply turned due West. Around this area you'll see lots of trees marked with distinctive red marks; I can only posit that these mark the boundary of the New Britain Water Department land which extends into Southington and Berlin. Once heading west, we followed an old canal for a good while. Reading the trail description, I was excited to experience something called "rip rap" because I had no idea what it was. I can now report it's not worth even a picture in a report containing 26 pictures.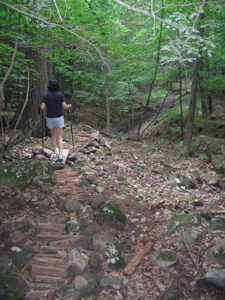 We were now headed straight for yet another reservoir and yet another reservoir overlook. Personally, I can't get enough of them. And this one would gaze down upon Shuttle Meadow Reservoir, about the only natural wonder in New Britain. Of course, closer inspection reveals that this is where local punks go drinking and all sorts of nefarious high school business at night. But from up here, high above the road ringing the water, surrounded by evergreens and their intoxicating scents, you'd never know. Well, except perhaps for the graffiti of course. Hoang, proud New Britainite she is, felt a kinship with the rock and made us take its message to heart:
We walked along the cliff edge for about a third of a mile and I'd like to officially recant a joke I made way back when I was writing the introduction to the Metacomet. I wrote, "I think [Hoang's] as interested as I am in a trail that goes through New Britain – the town in which she was raised. For those of you not from these parts, New Britain is pretty much the last place you'd think of when thinking of hiking a trail. New Britain certainly does have its problems, but this section of the Metacomet is far from that world. Very far indeed. (Though we came close to the town's border, we never walked into New Britain… that comes in the next section.)
After going south for a while – pretty much the final time the trail heads away from the MA border for any appreciable length – we turned west again and were faced with the following sign: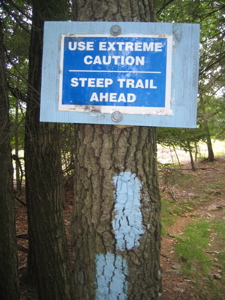 Cool! I supposed we had to get down to the road at reservoir level somehow. Hoang went first and yes, the trail is very steep. I'd imagine doing this in the rain snow would not be fun. But as it was, the descent was pretty darn cool – right along the now-familiar cube shaped basalt traprock cliffs we were just on top of. Down…
After that, there was only a short way to go out to our car parked on Andrews Street. Upon seeing our car below us and about 2 minutes of walking away, we noticed two people standing at our car, which was rather disconcerting. We upped our pace and met the couple at the bottom, along the road. It turned out they were fascinated by the fact that we got a parking ticket for thirty bucks.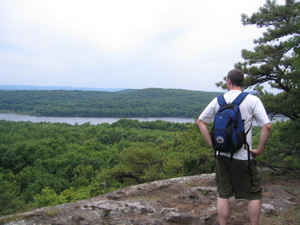 We ended up talking to them for a good 10 minutes and lamented that there really is a lack of places to park along the trail around here. I was more fascinated by the fact that a New Britian cop ticketed me even though I was in Southington by a good quarter mile. Also interesting was the fact that there were absolutely no "No Parking" signs and rather ample evidence that others have parked here over the years. I wrote an appeal which I've yet to hear about (exactly two months later) but I think I have a pretty solid case.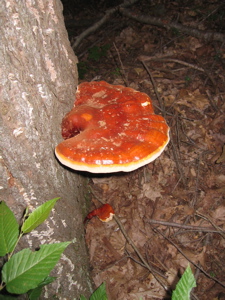 The ticket could not take away from the fun we had or the renewed sense of what out little neck-of-the-woods has to offer. I'm eager to get back up Ragged Mountain either in the fall or winter via the Ragged Mountain Trail and even more eager to continue north up the Metacomet. Autumn is coming and there is nothing better in America than fall colors in New England. Stay tuned…
Update: I wrote a fantastic letter to the city, got a hearing (the ticket had increased to $90 at that point), went to the hearing in downtown New Britain, and left after 5 minutes of the ex-Marine type guy methodically slapping down about 15 pictures of the New Britain Public Watershed giant white signs that dot the landscape in the area. Case closed… Since 9/11, they don't mess around with allowing family Subaru wagons with toddler carseats in them to park anywhere on their property. I got the ticket reduced back to the original $30, paid it, and went on my way. FYI, don't park at the nearby Rogers Orchard lot if they're not open either.

Continue on to Section 7: Hiking With the Apple of My Eye
CFPA Trails Map
CTMQ's Metacomet Trail Intro