Beer From Uranus
Skygazer Brewing Company
June 2019
In June of 2020, two of the three owners announced they would be taking the Skygazer name and beers elsewhere – likely contracting at 12 Percent. The third owner, who was the brewer, is keeping the small Southington space as Transcend Beer Crafters. The original Skygazer beers are his beers, so… this page is representative of Transcend.
There's a chance that this page is out of date. If it is, please know that I plan to rectify that with a return visit someday soon. Maybe next weekend. Who knows. For you see, when Skygazer opened in March of 2019, it was nothing more than a package store that happened to make and sell its own brand. That is, Skygazer is a brewery that cans its beer and sells it out of a nondescript corrugated steel box in Southington during very limited hours.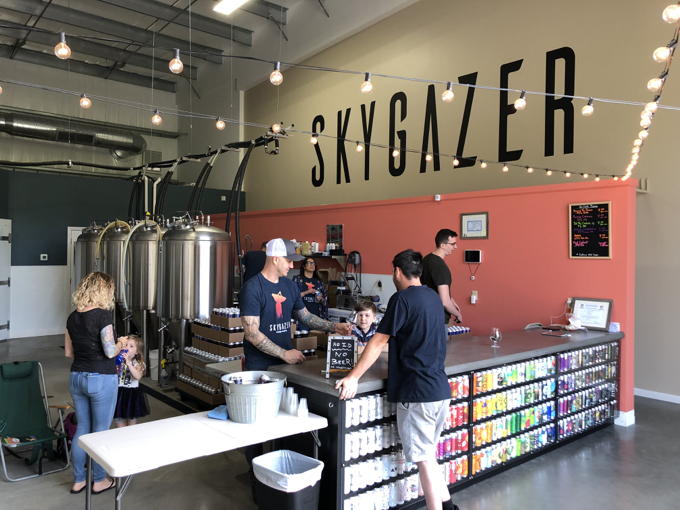 At the outset, customers couldn't even taste what they were buying. Skygazer had a social media build up on Instagram; posting pictures of swampwater IPAs getting hazebros all hot and bothered for their product. They opened at 8 AM (!) on a Saturday morning and dangit if it didn't work. Yes, there was a line.
A line for beer that no one had ever tasted and could not sample.
Even though we'd seen this before, many of us were still surprised and confused it worked for the duo who own and operate the tiny brewery. And good for them. Personally, I found it all a bit ridiculous, but hey, I was wrong. Or, one could argue, the people standing in line at 7:45 AM in the March cold to pay too much for beers they'd never had made by brewers who'd never before worked commercially were the "wrong" ones, but I'm guessing Skygazer didn't care. Each four-to-six dollar can they sold was four-to-six more dollars in their pockets.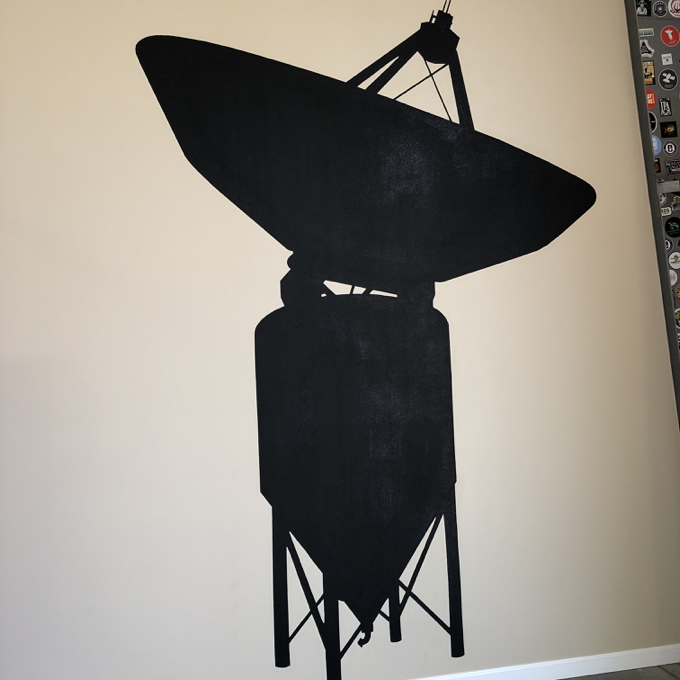 As for the business model of not having a taproom or anywhere to sit… I have no issue with that at all. It sort of goes against the current grain of opening half-million dollar "spaces" with "experiences," but in a way, it's incredible smart. Far less sunken cost, a much cheaper liquor license from the state, and far less for utilities and upkeep. I could easily make the argument that for two guys with no prior cred, this was very smart of them. However, instead of just explaining the situation as I just have, they've come up with a ridiculous reason on their website:
We know not having a taproom may go against everything we are supposed to be as a craft brewery, but we also know how important your time is, and how sometimes it's better to be able to quickly grab something delicious to take home so you can spend those limited precious moments with the ones you love!
C'mon now. How dumb do they think we ar—oh wait. People stood in line before 8 AM to buy four-to-six dollar cans of untested product. Never mind. Good thinking, Skygazer.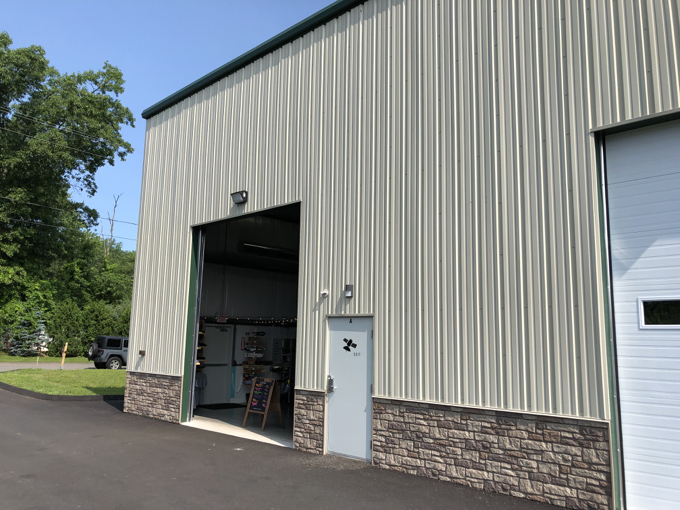 As for the weirdo hours, Skygazer stated that they were imposed on them by the town of Southington. Why? I have no idea. In Connecticut, restaurants and bars can't sell alcohol until 9 AM, but package stores can start at 8. So earlier when I said this is like a package store, I wasn't lying.
(Now, in late 2019, they open at 9 AM on Saturdays and are also open 5-8 on Thursdays. These hours will surely expand over time and they have stated that there are future plans to actually have chairs and the ability to hang out I guess. Time will tell.)
Wacky hours, strange business model… I'm fine with both. But they also have a no cash policy. You must buy their overpriced beer with credit or debit and maybe now they have other options like Apple Pay or something. Regardless, this is an idiotic policy; one which they claim was their intention since the conception of the brewery. I can't wrap my head around it. Their words:
1: We value your time and we want you to be on your way as quickly as you want to be on your way. We know how valuable free time is and don't want to hamper your ability to enjoy a beautiful Saturday!
That's just stupid. Cash makes for a quicker transaction. Especially when the Internet is iffy.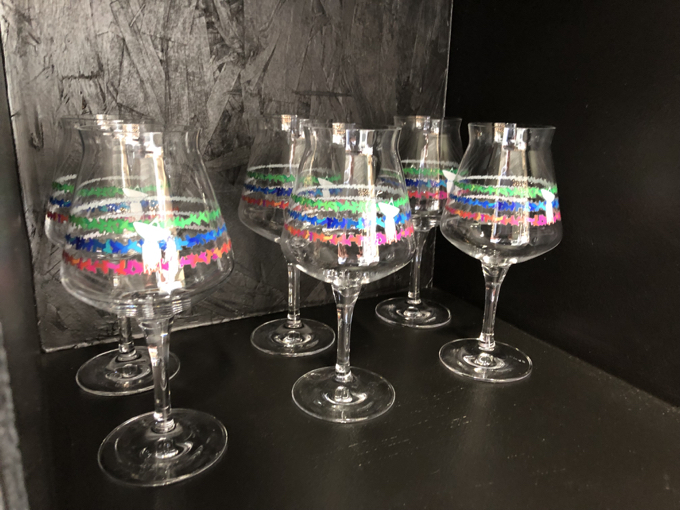 2: Security. Having cash on hand at any type of retail location is a security risk, albeit a small one. But enough of a concern for our small staff that we made an internal call and decided against accepting cash transactions.
That's hopelessly stupid. Yeah, I trust that your crappy little Square reader and the data security of your little steel box in Southington will keep my personal info safer than all those hoodlums jumping me at 8 AM in suburban Southington to steal my 20 bucks. Right.
3: When it comes to beer, hops, design, our business model and more, we are trying to be as progressive and forward thinking as possible. This means thinking in the same way about our transactions with you.
I think they thought so far forward that they went backwards. But I'm old, and I love cash, and even my wife makes fun of me, so… I'll let this one go.
As they approached their grand opening, a few of their early Insta pics made me want to hoard my cash for the coming beerpocalypse. Yoo-Hoo anyone?

More like Moon Poop, amirite? And easy with the thesaurus there, boys. But if you insist on using one, pair it with a dictionary please. You really don't want to sell yourselves with "superfluous" beers.

"On the palette." Like I said, a dictionary is your friend. Back to the thesaurus for a moment…
We think Southington is an ideal location for a craft beer retail outlet. It is centralized in our great state with amazing highway convergence.
I believe that's Southington's motto: Come to Southington and Enjoy Our Amazing Highway Convergence.
Anyhoo… as you can tell, I had some thoughts about this place before visiting. But really, I could put all of the above out of my mind and approach their beer with an open mind. The problem was – and still is as best as I can tell, at least by October 2019 – that they only brew 3 styles of beer.
Hey, Brewers I Respect, what are the three styles of beer that are the easiest to cover flaws? Hazy IPAs, lactose-sweetened fruit salad kettle sours, and milk stouts loaded with flavorings? Hm, because Skygazer put their progressive and forward-thinking brains together and developed a business model wherein they almost only make those three types of beer.
Which… as a business, it seems to be working. Decent Untappd ratings and it seems like a lot of people enjoy drinking stuff like this:
That is the first release in Skygazer's Astrology Series, Titan.
Titan is a DOUBLE FRUITED Sour IPA featuring palette saturating additions of Raspberry, Peach, Blackberry and Black Currant.
dOuBl3 fRoOtEd! But why "sour IPA?" I'm confused, but not as confused as this beer. Oh, you thought we were done? LOlolol. And "palate". Again.
We added brown sugar to this recipe to keep the tartness in check. We also added a significant dry hop blend of Cashmere and Simcoe to add additional aroma and flavor layers.
Say what now? You added brown sugar into a base beer that was dOuBl3 fRoOtEd with four fruits. oCtUpL3 fRo0tEd! Surely that was enough crap in this one beer…
Finally, we dosed it with our Watercolors Double Fruited treatment of milk sugar and vanilla to create a rich and luscious body that provides a long lasting residual sweetness. Essentially this means the flavor doesn't vanish on your tongue at the conclusion of the sip. It rides out and carrys on to provide additional flavor swirls of enjoyment.
Holy hell. MORE sugar?! I don't usually do this but… I'm going to review this beer without ever having it: Titan is a travesty. And while I'm at it, they called this the "Astrology" series which I really, really, really hope is intentional and not a mix-up with Astronomy.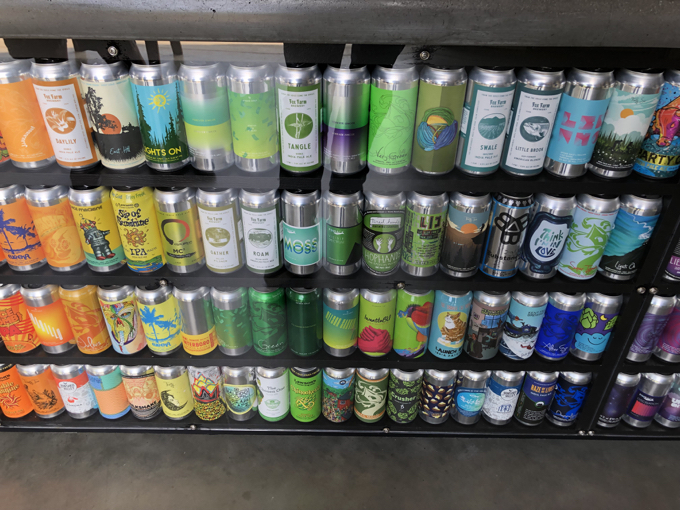 I do like the branding and the can art and the overall space theme. There's no explanation for it, but I do like it. Upon arrival, there was no line for me. I went at a normal time and was greeted by four or five "employees" (owners and their wives I'm assuming) with enthusiasm and politeness. Or, as my thesaurus says, ardor and civility.
The "space" at Skygazer is just that. Some space. Hey, maybe that's the whole thing. They have no "space" in the classic brewery sense, so they need to gaze to the stars and dream. There's a counter and a shelf with Skygazer gear, some signs, and some empty beer cans artfully arranged.
They do offer tiny little samples now, so there's that. I sampled the IPA, the IPA, the IPA, and the IPA. I kid, one was a pale and one was a DIPA. But it didn't really matter, as they were all the same anyway. Really bummed though that they were all out of the IPA: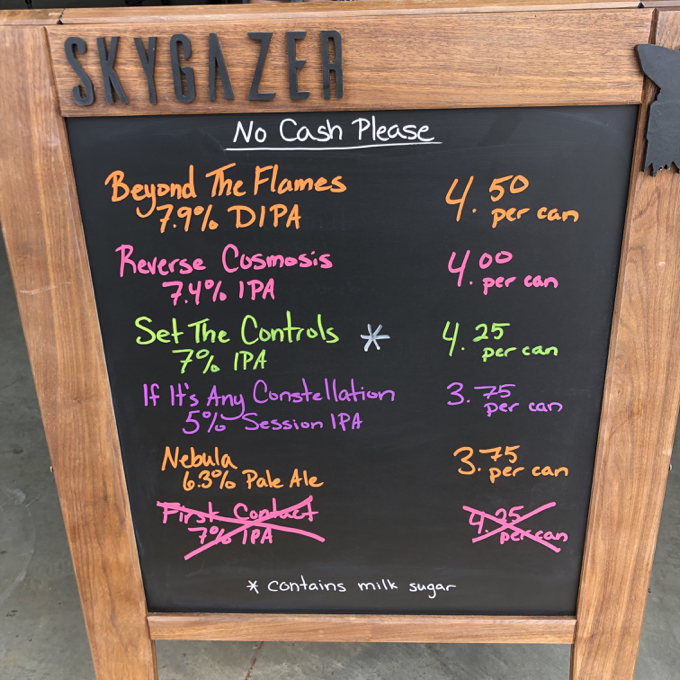 I had gone in thinking IPA, IPA, IPA, IPA but had to settle.
Sorry exploding can fans, I went on a non-Watercolors day. I get that they are a thing, and I know that people love them, but if you need reminding again, I'm old. And apparently not progressive, so I think those beers are, by and large, not good – from every brewery. This isn't a Skygazer dig at all. They make and sell these Watercolors beers for $5.50 a can. Good for them and good for New Park and good for all those breweries making overly sweetened Carmen Miranda "beer." They're just not for me.
I paid $16.75 on my debit card for my four 16-ounce beers. In and out in maybe five minutes. Boy, I really did value that forward thinking experience! I was able to then go on and enjoy my Saturday! Thanks, Skygazer crew!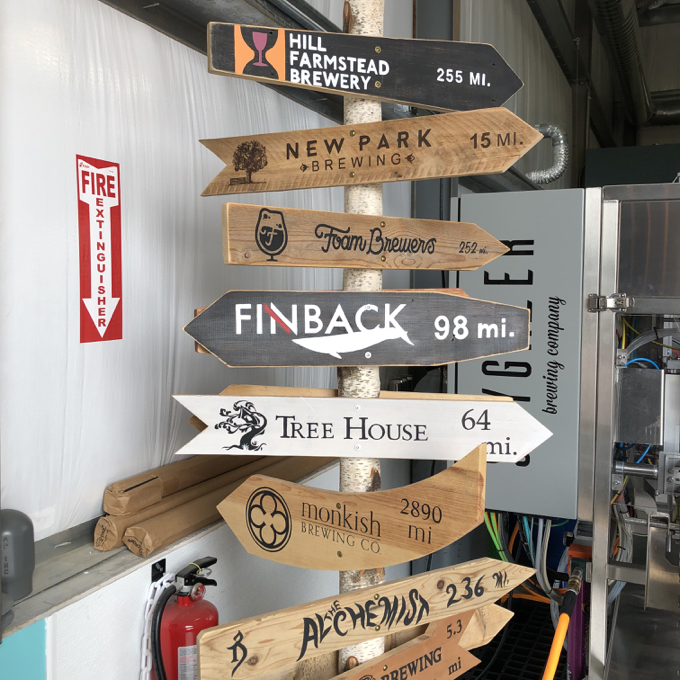 I went home and began drinking these things. I told the woman there that I didn't want the IPA with added sugar. Unfortunately, I got one. Just not my GenX Jam, man. I wound up with an IPA, an IPA, and IPA, and a pale. I'm not kidding this time.
Up first, Without Any Constellation IPA. Dang, that's a good name. This was the session IPA, which at 5% is actually not what I consider a "session" IPA, but close enough. It was alright. Just rather boring and suffered from that thing where brewers think "session" means "less of everything" rather than just "less alcohol by volume".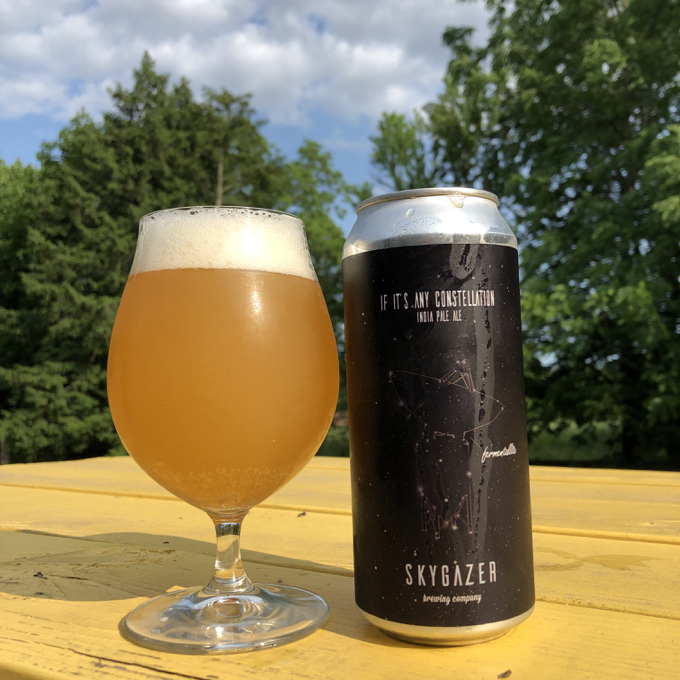 Set the Controls was the IPA with lactose. I guess that in my haste to get on with my Saturday, and in appreciation of Skygazer's time, I wasn't thorough at checkout. This beer sucked because they took a decent enough IPA and dumped a bunch of sugar in it for some reason. But as far as IPAs with added sugar go, this one was one of the better ones I've had. Not too sweet.
Reverse Cosmosis was the IPA without lactose. It tasted like good homebrew IPA. It was a'ight. But for a brewery that ONLY makes these non-bitter, "soft" IPA's for the most part, they should be better and highlight their differences more. There are many breweries within a reasonable radius doing this very popular type of beer better.
Which brings us to the Nebula. A pale ale! I think that counts as "different" in the Skygazer universe. It was good I guess. I don't know. All four of these beers just ran together for me. None were bad or off-putting, none were standout delicious. They are just "were."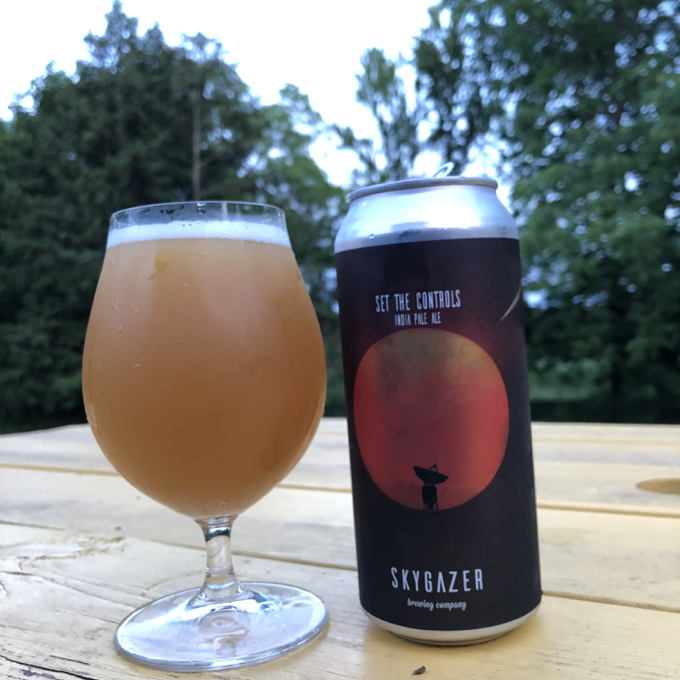 I had these four beers back in June of 2019. There is a good chance the Skygazer IPAs, IPAs, IPAs, and IPAs are better now when you're reading this, which I've heard is the case. I used to really try not to go to a brewery in its first six months or so, but with 100 breweries now that's just too much of a logistical difficulty for me to worry about.
The guys behind Skygazer seem nice enough and I really do think the temporary(?) "no taproom" plan is much smarter than many others seem to feel. I'm also okay with the hours and can deal with the no cash policy. I'm far, far more concerned with the beer itself, and I really hope they expand their horizons – at least if and when they do have a taproom – and try to make some real beer someday.
August 2020 Update: Nah. The brewer, now Transcend Beer Crafters, is insistent on "double fruited lactose laden" garbage beers. Good luck to him. I have absolutely no need to revisit. As for the Skygazer side of things, they also seem intent on canning diabetes with "partner" breweries at 12 Percent. No thanks.

Skygazer Brewing Company
CTMQ's Breweries and Brewpubs