Tunxis Regional Trails
Southington, Bristol, Wolcott, Plymouth, Burlington, New Hartford, 43.4 miles
Began: February 2008
Completed: November 2008, with revisits over the years
These hikes were done a long time ago and there have been some changes to the trails. It's always good to check with the CFPA before trusting anything over a decade old on this site!
As mentioned in the Tunxis Mainline Trail introduction, the "Tunxis Trail" is actually a bunch of trails – one that goes from Southington to the MA border at Hartland (with a break in Bristol along the way) and then the many other regional trails that are all also called the Tunxis Trail.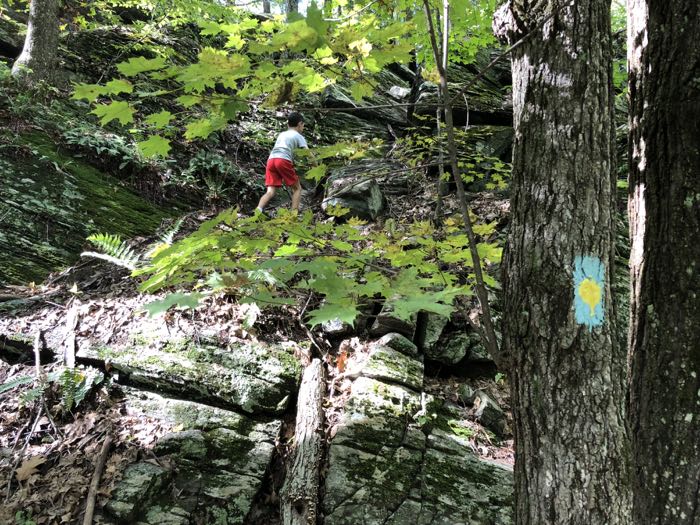 In fact, if you are driving on Route 69 in Burlington, you'll find that the "Tunxis Trail" crosses that road several times. If you didn't know any better, you'd think the trail just zig-zags across that road over and over again. Alas, they are actually different trails all with the same designation. Fun stuff.
I hope to make sense of this mess somehow and present my trip reports of the "Regional" trails (as I call them) separately. Some of these trails make for better hikes than the Mainline Tunxis. Some do not. Let's get to 'em…

Southington Region Tunxis Trails
South: Stonehouse, Woodtick, Bobcat, and Steep Climb Trails, Southington & Wolcott
North: Compounce Ridge and Compounce Cascade Trails , Southington & Bristol
Burlington Region Tunxis Trails
Yellow Dot Trail, Burlington
Revisit with Calvin in 2018, Burlington
White Dot Trail, Plymouth, Harwinton, Burlington
Purple, Orange, Green, Red Dot Trails, Burlington
Nature Center Connector, Bristol & Burlington
Nepaug Region Tunxis Trails
Nepaug Region Trails, New Hartford

CTMQ's Tunxis Mainline Trail Intro
CTMQ's Tunxis Trail Afterword