Miles of Smiles
Mile of Ledges, Burlington
September 29, 2018
It is quite rare for me to revisit something for this site. With so much still to do, it simply doesn't make logistical sense to spend an afternoon retracing steps or re-experiencing a museum. But sometimes it's the right and best thing to do. Such was the case for Burlington's Mile of Ledges along the Tunxis Trail.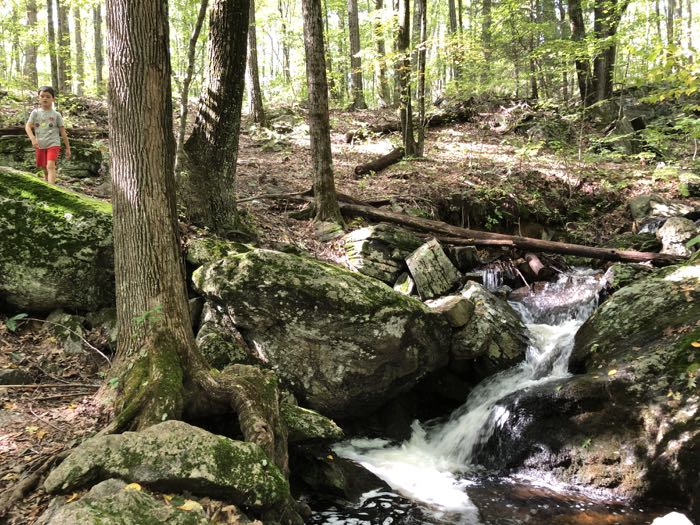 Or, more specifically, the Tunxis Yellow Dot Trail. I had hiked this section a decade ago when it was the main Tunxis trail, but the CFPA and Burlington Land Trust have since rethought, reblazed – and extended – the routes in town. I say "routes" with an 's' because here in Burlington, "the Tunxis Trail" is actually a large web of many Tunxis Trails. That's just the way it is and once you become comfortable with that fact, you can hike in peace.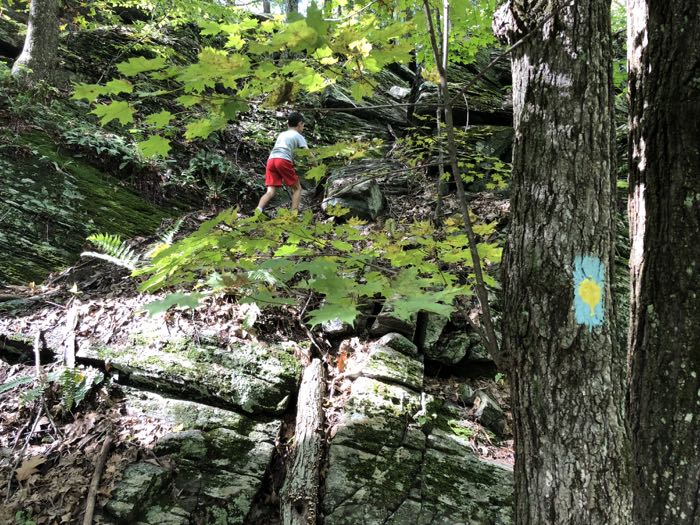 I did have a specific new-to-me thing to find in the Burlington woods, but once Calvin and I got going, I totally forgot about it and focused on the matter at hand. The trails in Burlington are great because there are many loop options. Loops are good. We like loops. In this case, we set out to do the loop including the Mile of Ledges. Here's a map of our hike. We parked at the hiker's lot on Greer Road and hit the Yellow Dot trail. This is in the Martha Brower Sanctuary which is pure Burlington Land Trust land, which I explored with both boys a short while back.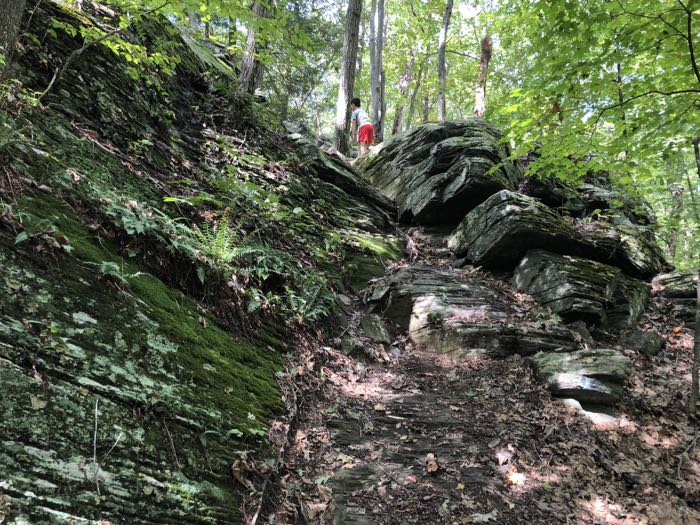 I hadn't really told Calvin what we'd be dealing with on our hike, but since he has told me a million times he likes rocks, climbing, danger, and excitement, I knew he'd be pleased. Here is a bit of the BLT's description of this hike:
The hike begins at the parking lot next to the pond on Greer Road. Follow the Yellow Dot Trail south. At 0.6 miles you climb the first major ledge, which has an easy class 2 ascent. At 0.8 miles the next major ledge includes the Bear's Den and a class 2 descent.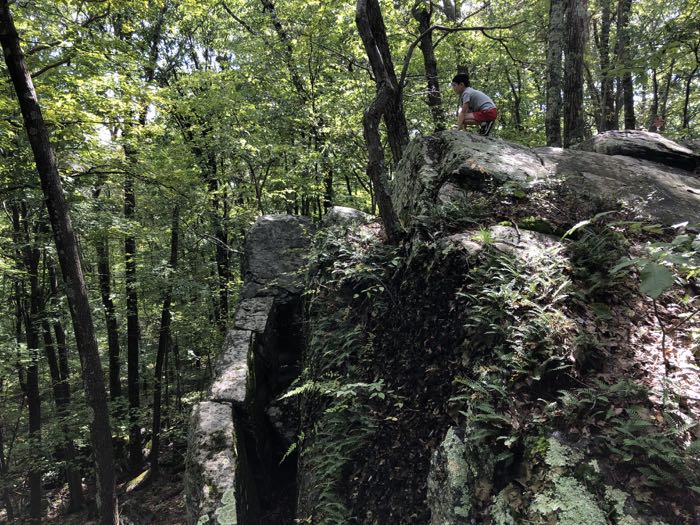 While climbing classes are somewhat subjective – and there are several different scales used – class 2 is generally accepted as "simple scrambling with the occasional use of hands." On Connecticut's trails, this is pretty much as tough as it gets. 6'3″ experienced hiker, I think I've only had to use my hands on Round Mountain in Salisbury, Sleeping Giant's head, and… the Mile of Ledges in Burlington. I think.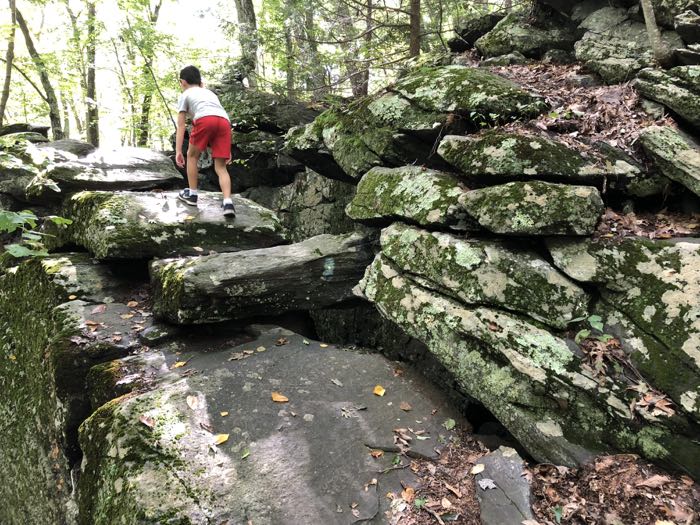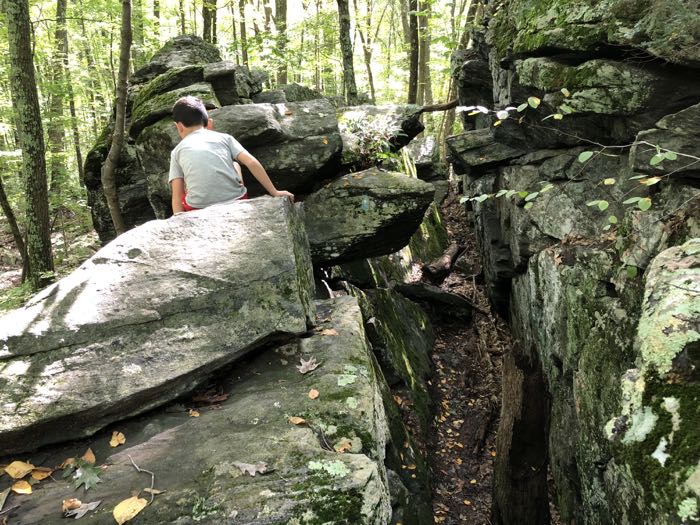 Of course, for a little boy, there have been many other hikes would be considered Class 2. I can think of at least 10 off the top of my head. More from the trail description:
As you reach the high point of the climb, the Bear's Den comes into view. As you boulder hop the major rocks next to this very narrow ravine, you will observe this Class 2 descent. If you have concerns, I recommend an alternative approach.
Looking back at my 2008 hike through here, I'm annoyed that I sort of glossed over these things. Granted, we did hike through a forest fire that day, but still. The official blazed trail through here is meant to be fun. Yes, this whole Bear's Den thing is patently absurd and you can simply walk around it, and… I'll let the BLT explain:
[If you can't handle it,] Backtrack down the trail for about 100 feet. An unmarked bypass trail on the right that is almost level, goes for another 100 feet around the south side of this rock feature. After completing 180°, you will see the Yellow Dot blazes on the right marking the entrance to the Bear's Den, but from the opposite direction. Hike into the Den until you reach the very tall tree stump you can see in the photo. To your right you will see a faded blaze marking the ascent up from the Bear's Den. The footing is fairly easy to figure out, so if it looks doable, try it. If not, return to your car. There are lots of great Class 1 trails in town.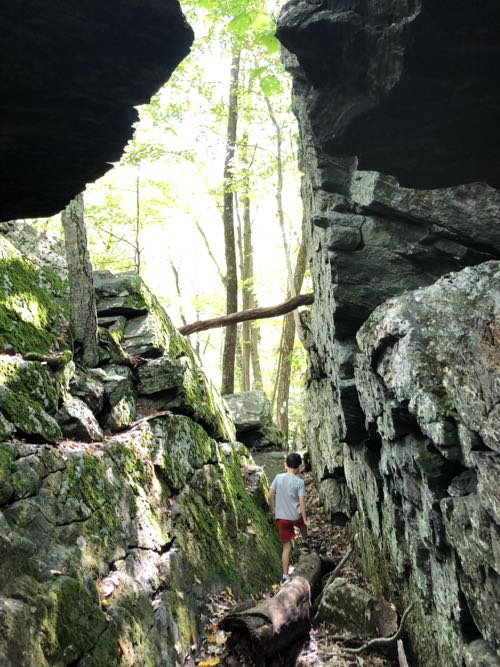 That seems a bit… harsh. You can literally just walk around. I know the idea here is that if you can't handle this first challenge, the next 40 minutes of your life are going to be terrible. But I don't think that's fair. I think the pictures on this page will help you decide more than any description.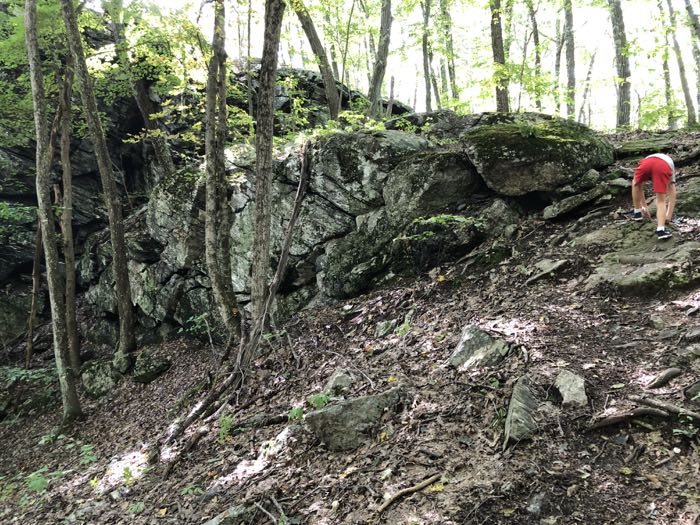 And Calvin had a blast. This is his preferred terrain and it always has been. I want him to treat the natural world as his jungle gym and to continue to explore and challenge himself. (In reality, he challenged me to keep up with him through all of this!)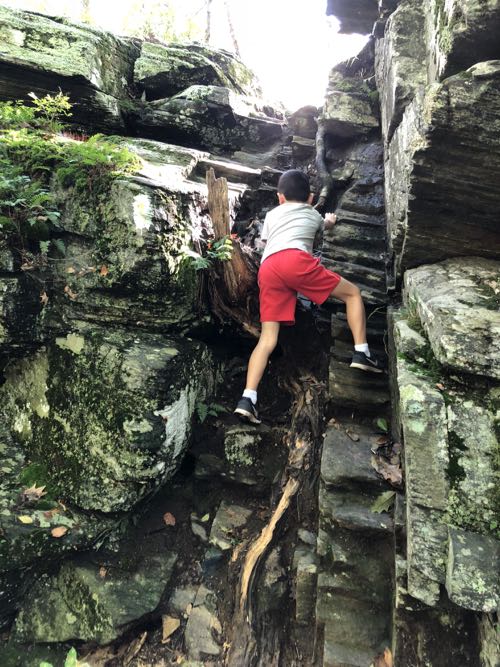 When you can go up and down the Bears Den solo, you should be able to handle all the other Class 2 sections in Burlington. After crossing an old dam site. The trail traverses to the right, climbing to the 4th Class 2 ascent & the longest. The 5th pitch is much easier. At 1.4 miles the Ledges end. You could return to your car and experience four class 2 descents. This is the Classic Class 2 Hike of the entire Tunxis Trail system (10 Class 2 pitches in 2.8 miles).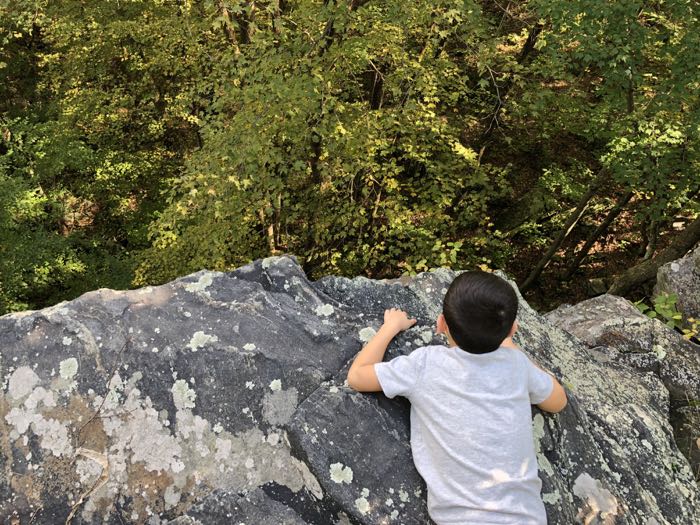 It's funny that I'm reading this now, after hiking it. When Calvin and I were done with the Ledges, I offered him the options of turning around and heading back through it all or to continue around the easier loop. I believe I said, "No one ever turns around and does that again though."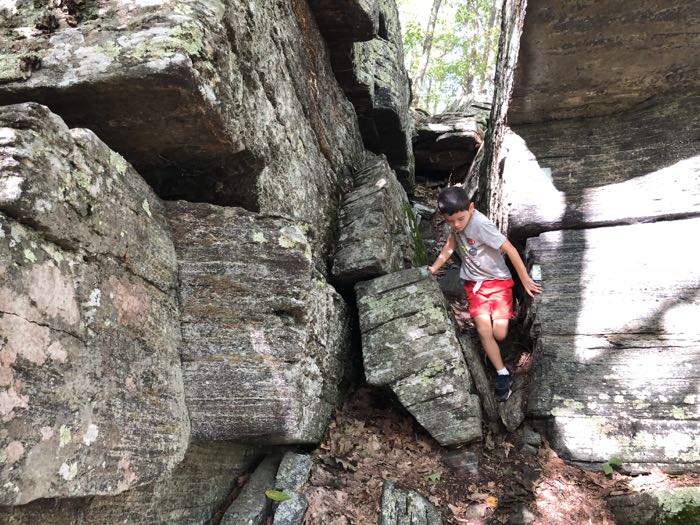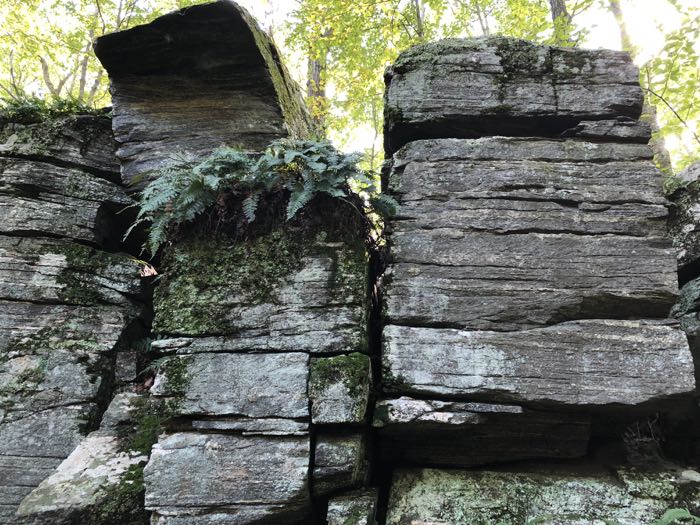 And here it is, in black and white from the Burlington Land Trust website… that this is "the classic class 2 hike of the entire Tunxis Trail system!" I'm pretty sure there isn't another trail with 10 Class 2 pitches in under 3 miles… but doing it all twice is sort of cheating to reach that stat, isn't it?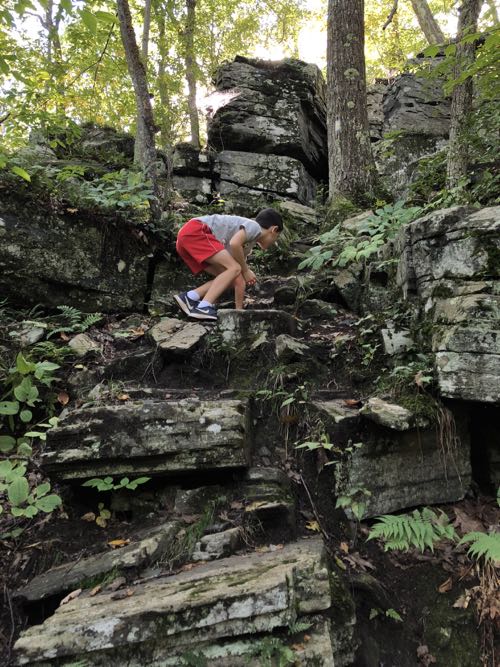 There was only one spot where Calvin had some difficulty, and that was a matter of his height rather than anything else. I'd love to take him up Katahdin and other climbs in the Whites (ever heard of the Terrifying 25? it's great!) but the hand-holds are just too far apart for people under 5-feet. (And yes, I know, plenty of little kids have done those trails but not without lots of adult help. I've done them. They are literally impossible for children to do unaided.)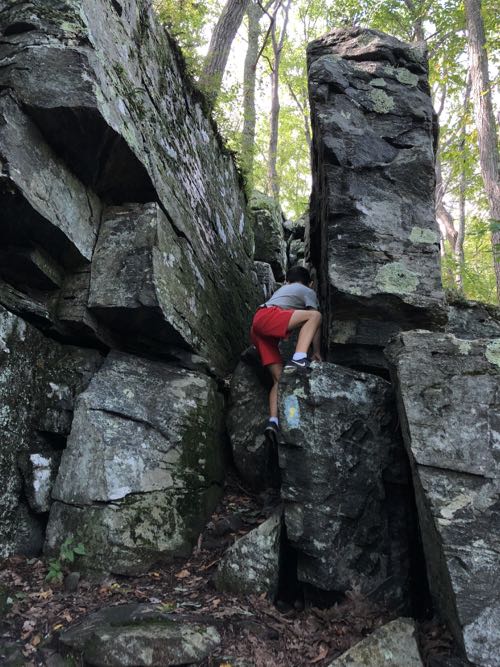 We took at break at Tory Den. Calvin must have been pretty tired because he barely poked around the place. We followed what is now the Tunxis mainline trail (incredibly wet at places), found the connector trail to Greer Road and made our way back to the car.
Great day out; highly recommended if you're into this sort of thing.
Burlington Land Trust trail maps