It's All About the Farting Mushrooms
BLT Greer Road Red Trail
November 22, 2015
If that title doesn't draw you in… you are dead inside. I'm not saying that it will inspire you to pack a snack and hit the road to the backwoods of backwoodsy Burlington, but… actually, it should. Farting mushrooms?!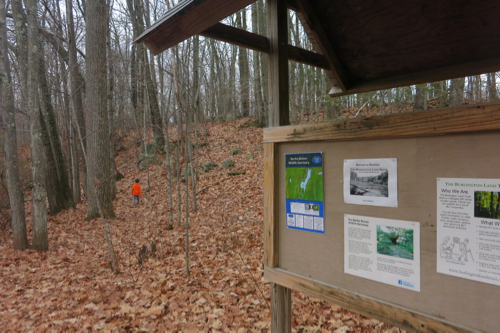 Indeed. But we'll get to them – with video!
More importantly, this hike officially completed the Burlington Trail Master Challenge for me. I wrote about the land trust's challenge program here. If you've read more than a few pages on CTMQ, you know that I'm a sucker for any type of hiking challenge; be they peak-bagging or red-lining. You create one in Connecticut, and I'll do it.
Burlington's is fun for a few reasons. One of those reasons is that it keeps growing. The Tunxis Trail in Burlington changed quite a bit in the 2013-14 time period, and I assure you that I'm one of only a handful of lunatics that not only was sure to hike the new sections, but also to re-do all my Tunxis pages to match reality. This was no small feat.
(And now that I've just looked at a couple of those pages, I still have some work to do over there.)
I mention this because this trail, the BLT's Red Trail through the Martha Brower Sanctuary, shares some path with what is now the Tunxis Yellow Dot Trail. It used to be the Tunxis Mainline. I hiked through here in early 2008, but I still quite well remember the experience. Mostly because the woods were on fire and we talked to a bunch of DEEP (the DEP back then) guys who were gathered along Greer Road that day.
On this day seven years later, a typical Connecticut gray November day, Greer Road was devoid of any firetrucks. The woods weren't on fire AND I had created another child since the last time I was here.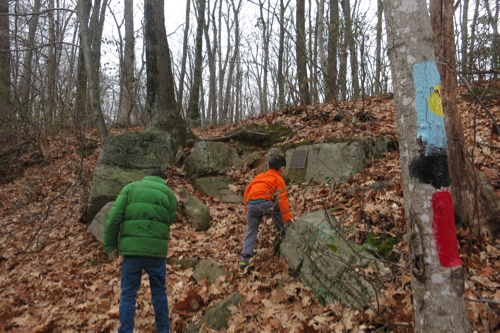 As Calvin would say, "So I was zero when you were here before?" Yes, Calvin, you were zero.
Let's hike!
There's ample parking for a few cars at the trailhead on Greer Road. There's a nice kiosk with some signage and all that important stuff. Calvin chose to hike counter-clockwise, so we hiked counter-clockwise. Though, just know, this loop is the squirreliest loop ever and your chosen direction will make no difference at all.
This is the rare Burlington Land Trust trail in Burlington. While the group does a ton for the spider web of Tunxis trail here, they don't really have much of their "own" trail. Even the Taine Mountain stuff is officially Nature Conservancy land. But like I said earlier, this will probably change in the future, as I have it on good authority they have aquired some beautiful property up off of Vineyard Road, north of route 4.
Anyway, whoever cleared and blazed this Red Trail really, really wants you to experience every inch of "cool stuff" in the Martha Brower Sanctuary.
And again, this is not a bad thing.
The trail leaves the Tunxis Yellow Dot in short order and moves away from the pond it circumnavigates. After a series of (very) short ups, we came upon a rotting stump rife with puff balls.
Everyone loves puffballs!
Apparently not everyone can understand what Calvin was saying there… he called them "farting mushrooms" and lamented those that "didn't fart."
Funny thing about that: their genus is Lycoperdon which apparently comes from the Latin for "wolf flatulence". So there, don't make fun of my gauche child.
After the farting mushrooms, the trail passes very near some abandoned cars. These things seem to be Oldsmobiles more often than not. That's weird. I let the boys risk tetanus for a few minutes as they pretended to drive the rotting hunks of steel, and then we moved on.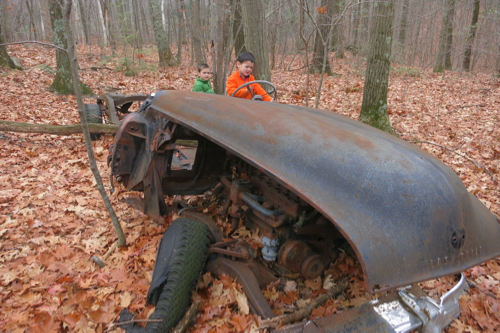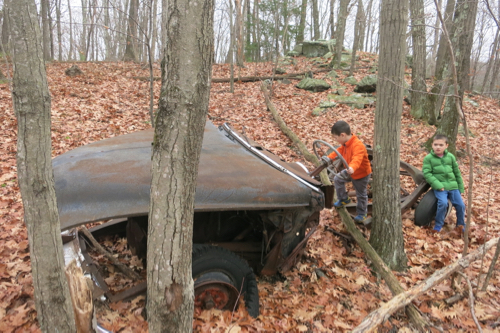 The next bit of trail zig-zags all over the place, attaining the top of every tiny little exposed rock it can find.
It's almost sort of hilarious, really. Let's take a moment to learn how this 43-acre property came to be:
On August 9, 2003, Mike Brower passed away quietly after a short illness. He was 88. In 2001,Mike donated 43 acres of forest and wetlands to the Burlington Land Trust in honor of his late wife Martha. The Martha Brower Wildlife Sanctuary, on Greer Road, became the Land Trust's first acquisition. The Sanctuary also contains part of the Tunxis Trail that leads to Tories' Den.

He and his late wife loved the forest and pond near their house and generously let others enjoy it too by allowing access to the blue-blazed Tunxis Trail that ran on their property. Although receiving many offers to develop the land, he strongly felt that it should be left in its' natural state for the everyone to enjoy.
Fantastic. I sure hope I can do something like that someday.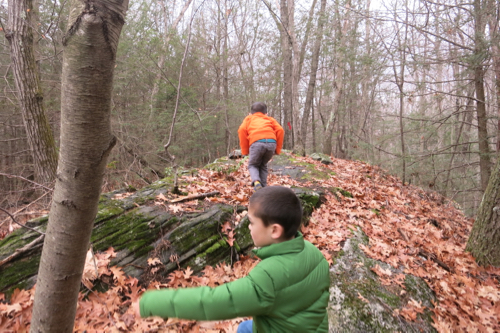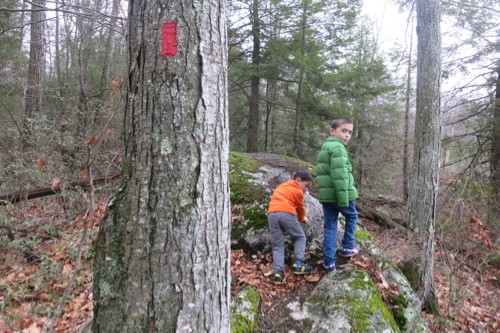 Back to the red-blazed trail… it continues its zig-zags and short ups and down to the south end of the pond. We grazed past a marsh that may or may not be beaver-created. The boys really enjoyed the fun little "ridges" that the trail took us onto and down.
They also enjoyed the steep downhills covered in wet leaves. No matter how careful we all tried to be, slipping, sliding, and ultimately falling was inevitable.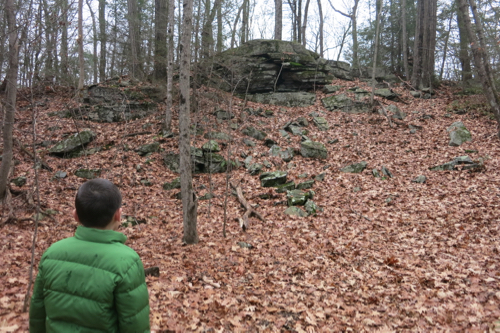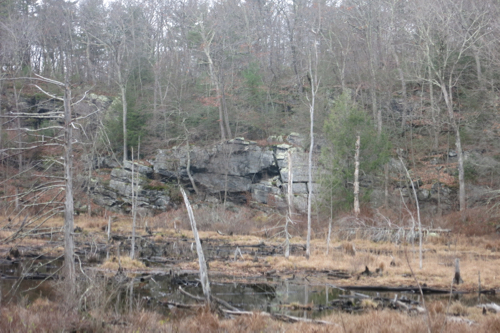 Fortuntately, no one got hurt. In fact, they both found it all rather funny.
Once on the other side of the pond, the trail hikes back to Greer Road a bit more in earnest, as the focus here is the pond itself. There is a little "lookout" spur at one point. Calvin and I chdecked it out and I'm quite sure that a month ago, with peak fall foliage, this view is beautiful.
I was very impressed with the trail clearing through this section on out to Greer Road. Clearing through laurel and scrub pine is not easy. So I appreciated it.
Back to the road and back to the car. The literature claims the red trail is 0.7 miles. While it's hard for me to make an accurate guess when hiking with little kids, I think it's at least a mile long. Of course, the crazy path probably makes it impossible to measure accurately.