OsFest
Derby
December 2022
The Historic Garden is located at the Osborne Homestead Museum which is part of the CT Women's Heritage Trail. There's also the Kellogg Environmental Center located right next door. On top of that, there are also trails to hike around the state park.
All the pretty pictures with color, as well as much of thehttps://www.youtube.com/watch?v=MpKfAnfHcTU information below, is from Enchanted Gardens.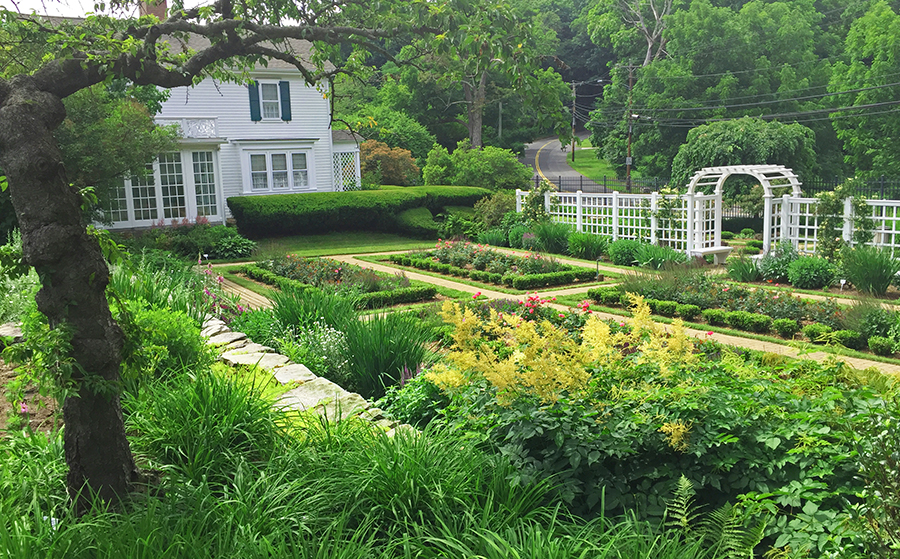 The Osborne Homestead Museum celebrates the life of Frances Osborne Kellogg, an accomplished businesswoman and conservationist who was dedicated to preserving land for future generations. And she gets two museums here, with the Kellogg Environmental Center – a natural history museum – across the yard. And of course both buildings are located within Osborndale State Park. This Osborne woman seems important. Who was she?
At age 31, Frances decided to assume her father's business responsibilities after his sudden death in 1907. But this is where Osborne became legend. In an era when women were denied leadership opportunities in the business world, she succeeded through pure determination and an excellent business sense. Her achievements included becoming president of Union Fabric Company, vice president of Connecticut Clasp Co., and treasurer of the F. Kelly Company. She was also a founding partner of Steels and Busks Ltd. of Leicester, England.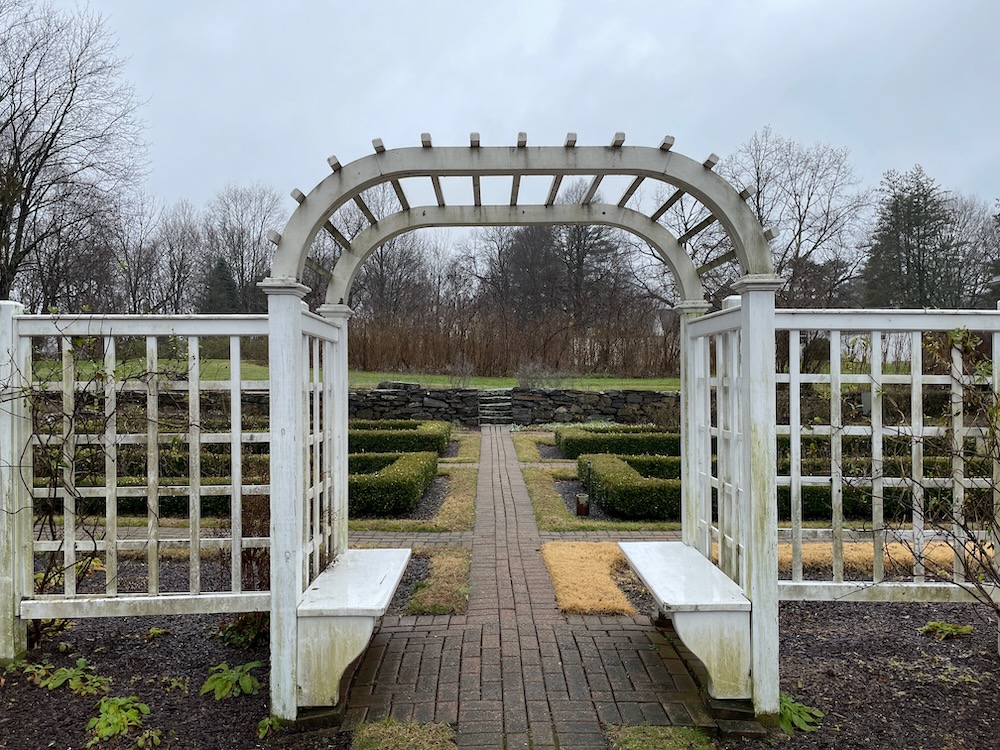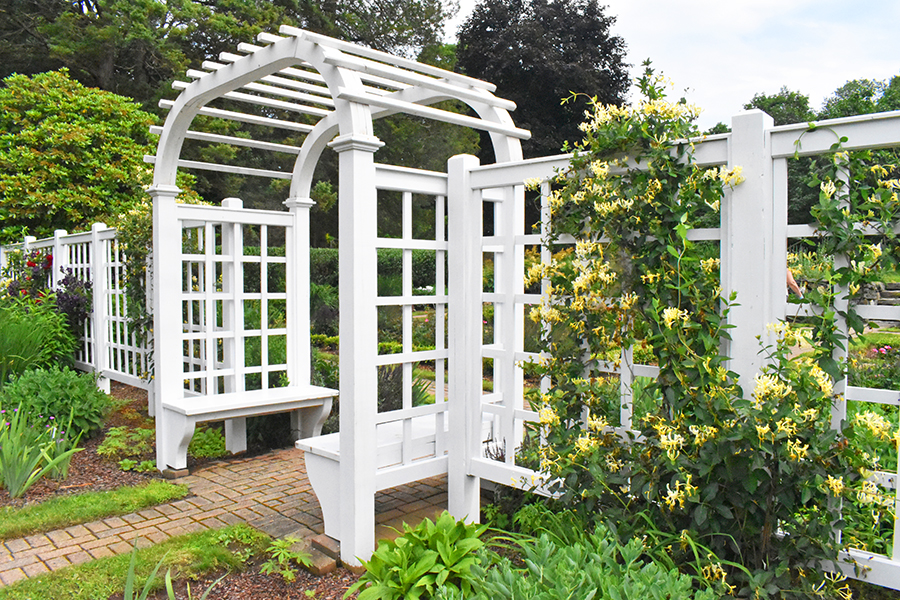 Young Frances achieved the American dream. in 1910, she oversaw a complete renovation of the homestead. Around this time she met Waldo Stewart Kellogg, a New York architect with a degree from Cornell University. In 1919, they married and together they made Osborndale Farm second to none in the New England dairy industry.
Waldo enlarged and remodeled the house in the Colonial Revival style in the 1920s, and Frances added the ornamental gardens. She had a deep love of flowers from childhood, and enjoyed attending annual flower shows in New York City. In 1910 she hired Yale architect Henry Killam Murphy to design her formal flower garden, and employed Robert Barton from Kew Gardens as her head gardener.
I guess this was the best garden that money could buy.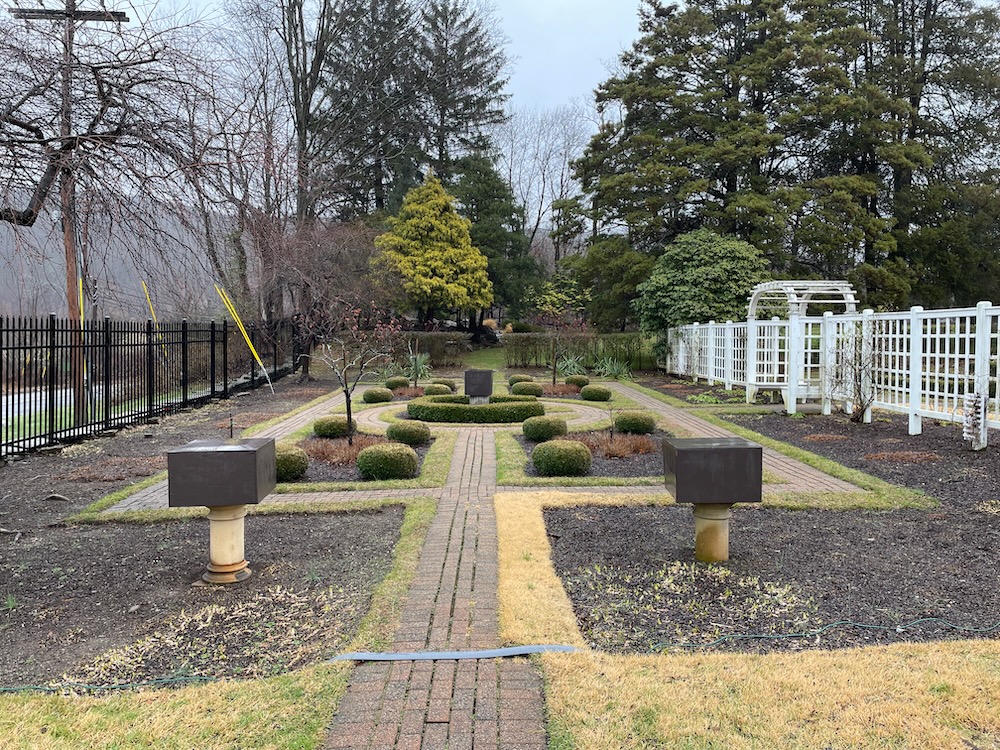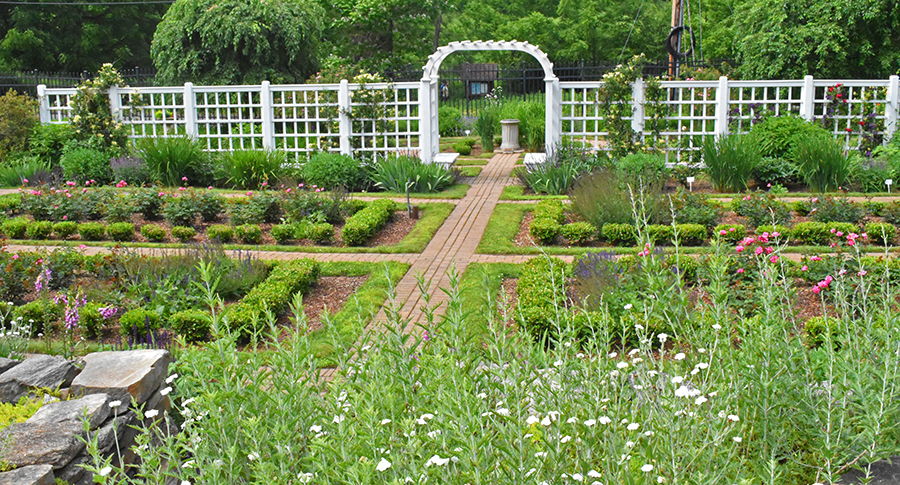 French doors lead from the house and conservatory to this lovely garden, which is also visible from the street. The garden is bisected by a white trellis fence accented with red roses, purple clematis, and yellow honeysuckle. A central arbor provides benches where you can sit and enjoy the beauty and scents of the flowers. One half of the garden is dedicated to Frances's favorite flower, the rose. Four rectangular rose beds are enclosed by long borders of old-fashioned favorites such as foxgloves, irises, goats beard, and salvias. The other half of the garden is a formal perennial garden of bearded iris, peonies, daylilies and sedums. Four beds of standard roses, weigela and boxwood surround a circular bed accentuated with a sundial.

The garden is bordered on one side by a long stone wall, with steps that lead to beds of lilacs and other ornamental shrubs and trees. On the slope above the formal gardens, a rock garden has been created with conifers, ferns and perennials. Peak time to see the garden is mid May to mid June.
So what they're saying is my seeing it in December wasn't ideal. Oh well.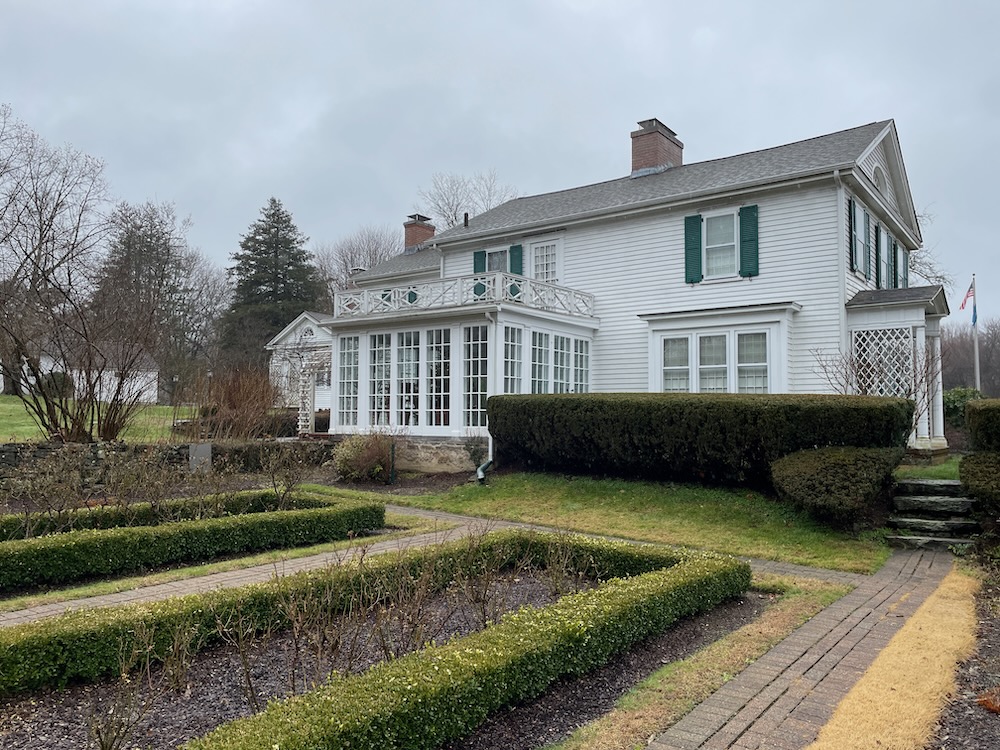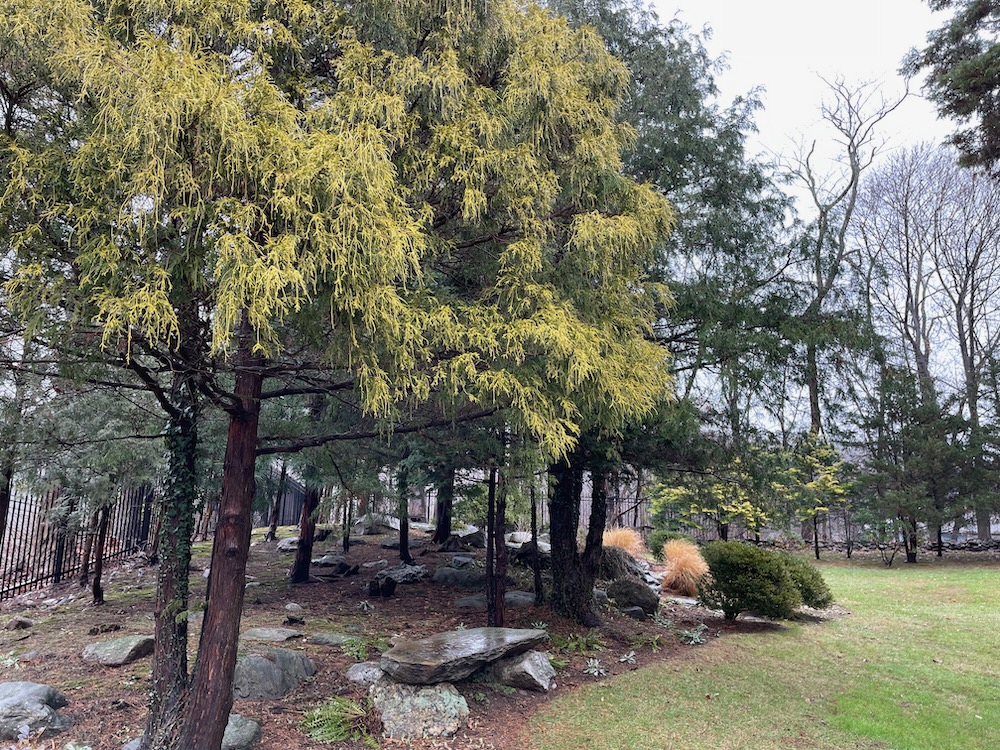 Frances was involved in a billion different civic and volunteer things, a few of which were gardening related. She was an active member of local garden societies, and became a sponsor of the Connecticut College Arboretum.
Viewing the garden on a rainy December day was interesting. It was clear that this is a beautiful place when the flowers and trees are in bloom. I loved the symmetry of it all and the framing of the house and perimeter elements.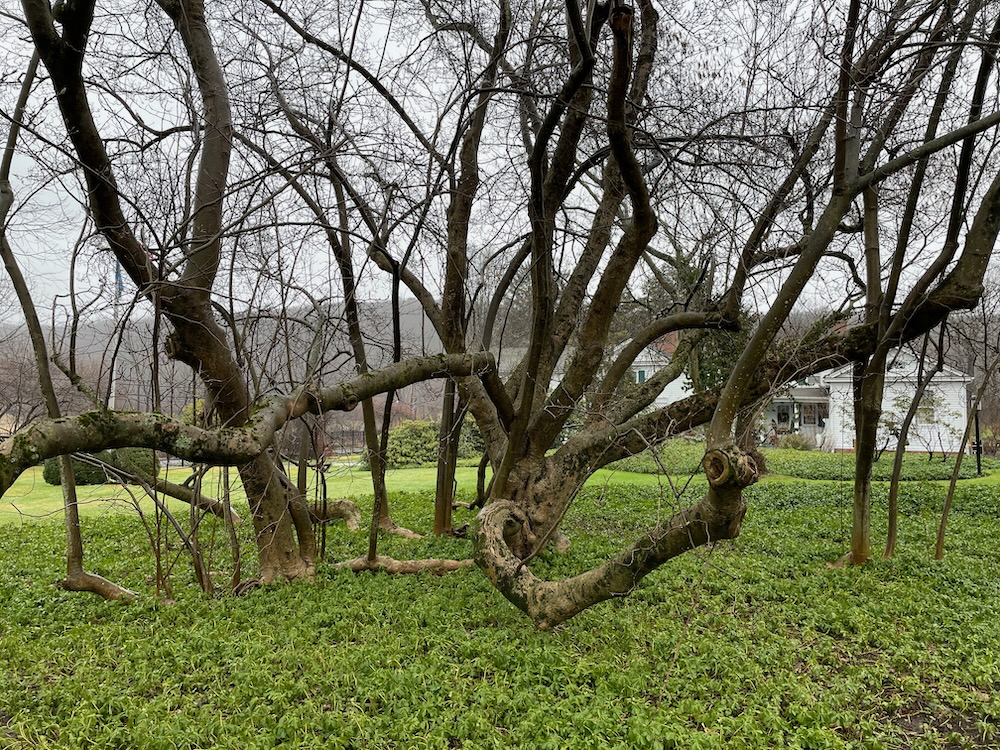 One of those perimeter elements is the rock garden, featuring dwarf conifers and perennials. Perhaps because it looks the same in any season. Of course, annuals add splashes of color throughout other times of the year.
It's crazy to think that some of this lay out – and surely some of the plants – date back many, many decades to Frances's time. Ms. Osborne-Kellogg lived in the family home until her death in 1956. Before she died, she deeded her entire estate to the State of Connecticut, including 350 acres for Osborndale State Park.
This is just a great, great place.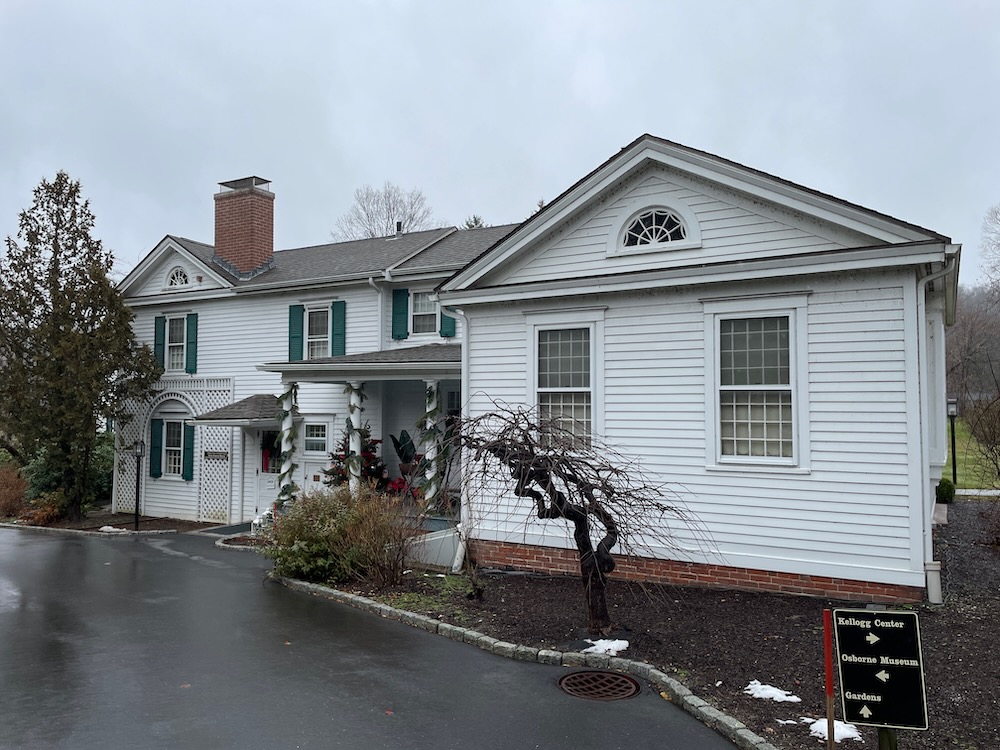 Connecticut Historic Gardens website
Osborne Homestead Museum
CTMQ's Connecticut's Historic Gardens page
CTMQ's Visit to the Osborne Homestead