Not Corny or Flakey
Derby (Google Maps location)
March 24, 2012
Since you lot are undoubtedly smarter than I, you will be sure to visit the Kellogg Environmental Center between May and October. That's when the Kellogg's sister museum, located right there is also open.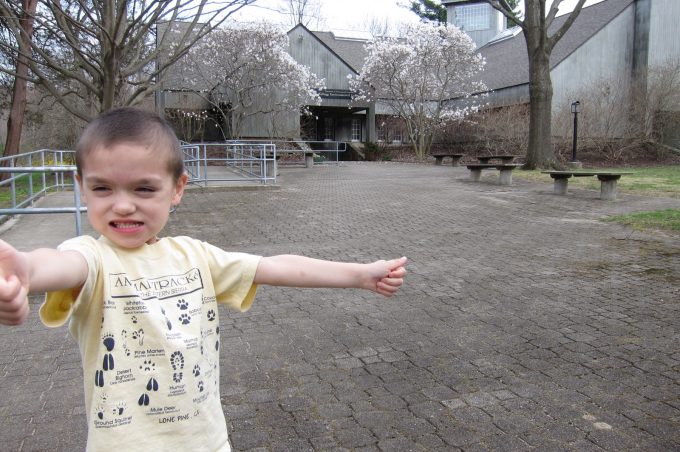 We, on the other hand, visited in March. As a result, Damian and I were left to forlornly gaze across the desiccated gardens at the cold and closed Osbourne Homestead Museum. Left for us to visit on another day. (That day came in 2022 when I visited that museum.)
But hey – only a fool would ever turn down an extra visit to Derby, right?
The KEC is a state-run "educational" facility.
As part of the Connecticut Department of Energy & Environmental Protection, the Kellogg Environmental Center offers workshops, exhibits, nature activities, and lectures for the general public. Through hands-on programs, families can enjoy learning about nature and the environment. Throughout the year, the Center offers special weekend programs, nature walks, and family workshops.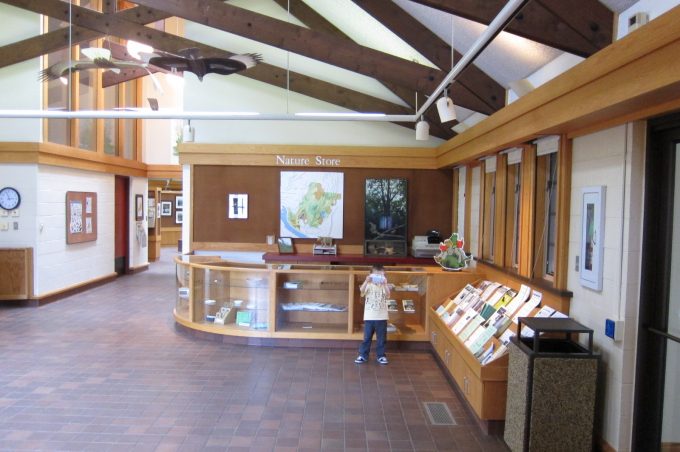 That sounds like… every single other nature center in the state. Which I don't mean as a negative thing. CTMQ readers know that I rather love nature centers. They serve their purpose and I fully realize that very few other people, if anyone at all, has a mission to visit every single one.
So it's my fault if they all start jumbling together in my brain.
But the Kellogg does have an interesting tie-in with the "educational" piece.
The Kellogg Environmental Center offers a variety of CEU-accredited educator workshops on a wide variety of environmental topics. In addition, the Center facilitates workshops on award-winning, national environmental curricula including Project Learning Tree; Project WILD; Project WET; Project FeederWatch; Aquatic WILD; and Food, Land and People. Environmental education workshops and student activities are correlated to the state and national curriculum standards.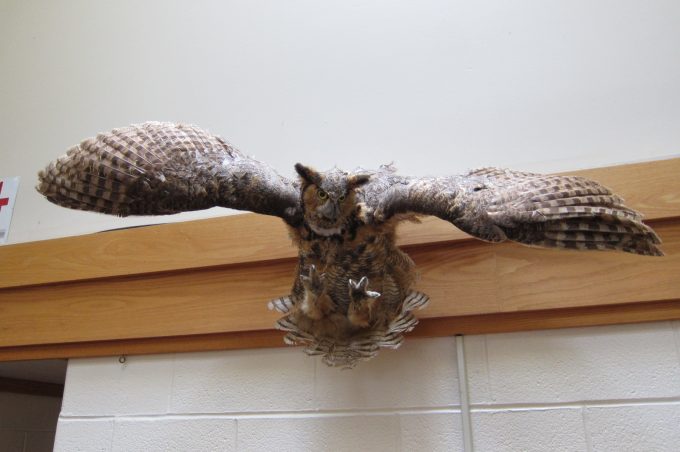 So there you go! This place isn't just like every other nature center in the state. For teachers anyway.
It is also housed in a rather nice building. Not one of those homey cabin-like nature centers that dot the state. It does have one of the more absurdly over-engineered ADA compliant entryways I've ever seen though: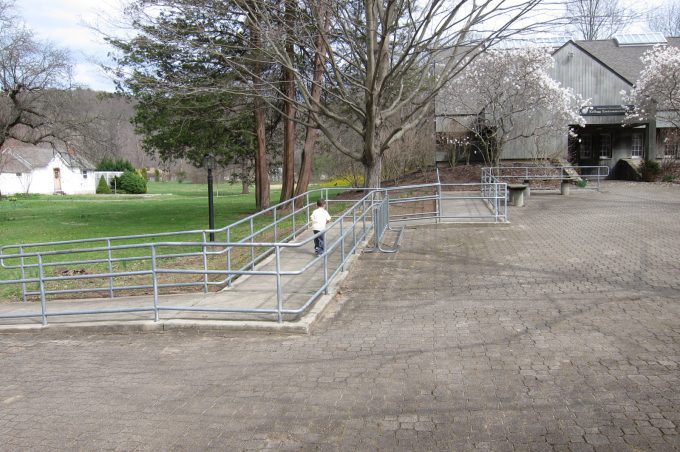 The Kellogg focuses on all the usual things: Trees, birds, fish, Native Americans… but does include a lot of the history of the Osbourne estate. Up first: trees.
I love trees.
There's a sign noting some "Interesting Tree Facts." I love interesting tree facts!
Pinchot Sycamore (The very first CTMQ post was about the Pinchot Sycamore)… acidity of pine needles… aspen trees call popples back in the day… chestnut/white pine dominated 350 years ago… oak/hickory today… Oh, here's one I didn't know:
Pitch-pine is Connecticut's only 3-needle pine. Hm. Another? Long dead chestnut trees stand in our forests forever because they decompose from the inside out. Hm. One more? Sugar maples are killed at temperatures below -43 degrees F.
Aren't a lot of things killed at that temperature? The coldest temperature ever recorded on Mt. Washington was -47F. I think you'll be okay, sugar maples.
The museum provided me with one more wonderful CT fact: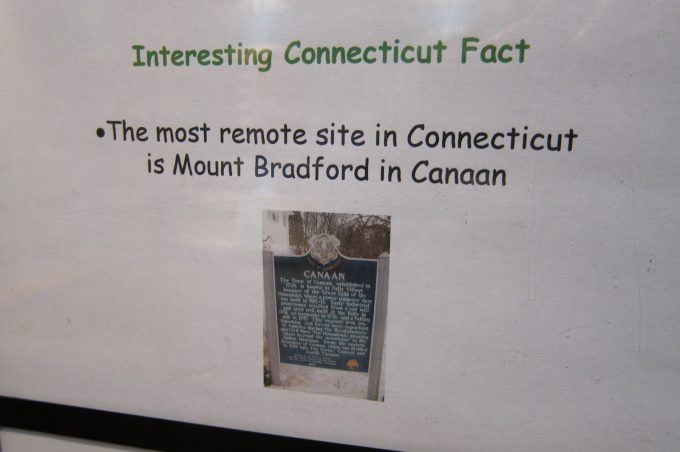 I'm not sure that's entirely correct, but it's close enough. Our remotest spot is surely in Canaan. These folks are attempting to reach each state's remotest spot. And this dopey website has Bradford Mountain listed as a "to-do."
Let's look at some (real) turtles.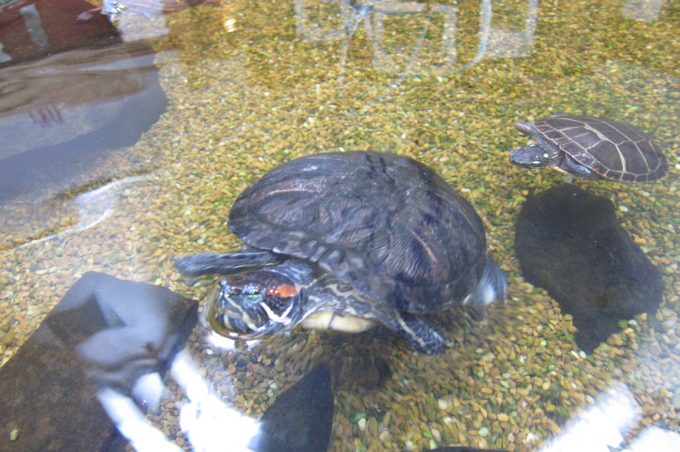 There's a cool little turtle tank in the middle of the Kellogg's space. I'll bet you that a kid falls in once a month at least. I like that.
Let's look at some (fake) fish.
The Kellogg seems to have a very thorough native fish display. Connecticut doesn't have too many cool fish species, but it's important for the kids to know what we do have.
The sign explains that the fish itself isn't weak, but is named for its "delicate mouth structure." Weak weakfish apologists.
And what's up with the Wigeon?
Early ornithologist: "What kind of duck is that?"
His kid: "I don't know. It looks dumb."
Early ornintholoist: "Dumb? How so?"
His kid: "Like a pigeon looks dumb. It's like a dumb, wet pigeon."
Early ornithologist: "Wigeon it is then. Well done, son."
Wigeons were actually called baldpates before they were called wigeons, which isn't any better. Birds have the worst names. At least some birds are cool all around: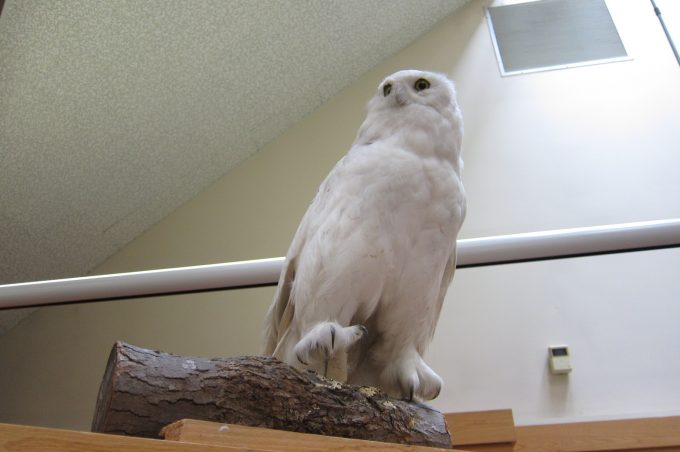 Let's just walk to the other wall and check out the –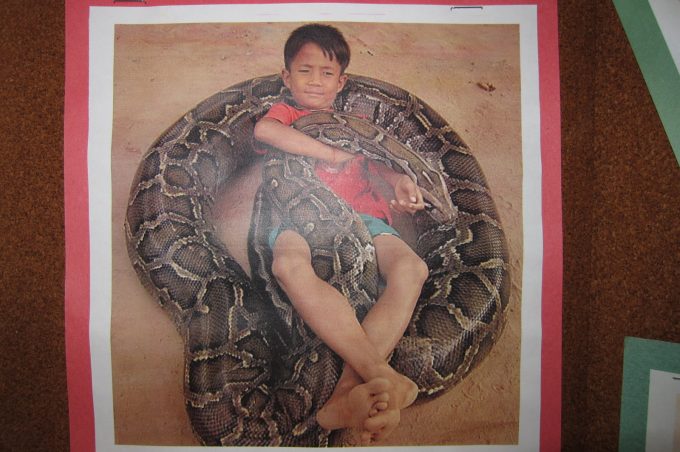 I have no idea why this picture is here. But it's rad. (Unless the boy died. That would be terrible.)
As I was saying, let's check out the Native American stuff. A nice display of stone tools, but I don't recall any hyper-local history of the tribes that lived in the lower Naugatuck Valley or nearer the Sound. I'm sure I just missed it with Damian.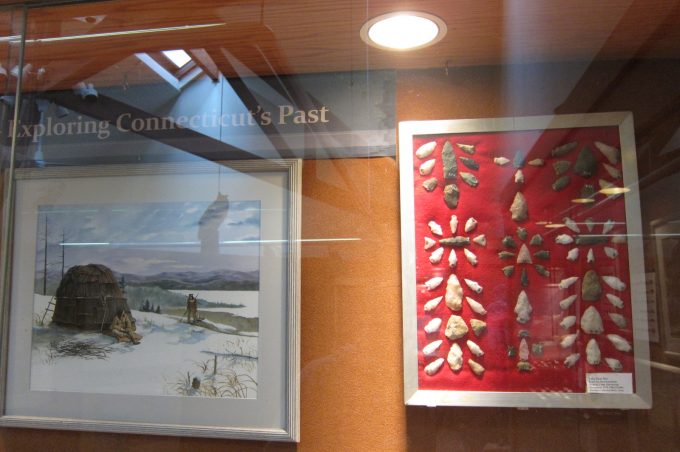 Speaking of the Naugatuck Valley – or just, "the Valley" as it's known here in Connecticut, the Kellogg didn't have much geologic history of the place. (Or again, I may have missed it.) How it formed and all that good stuff. I would hope for more of this type of information, seeing as this is an educational center.
I get that kids might not be super interested in fluvial deposits and glacial dynamics, but if a place is called "the Valley" the Valley kids should know why its a valley. Even this display started with human population, not a few million years ago or whatever.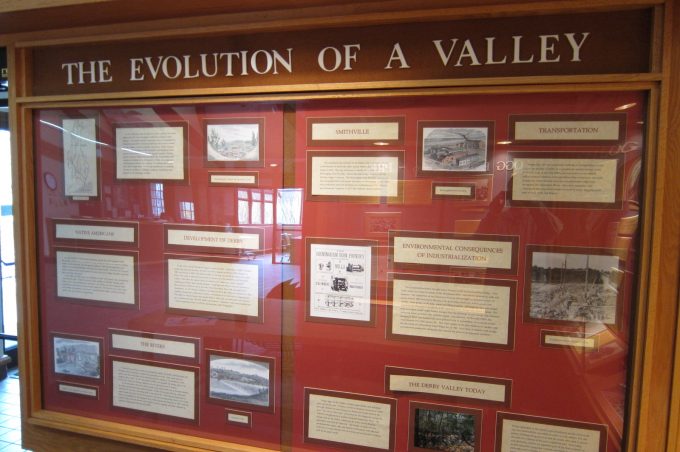 What the Kellogg Environmental Center did focus a lot of time on is the history of the Kellogg estate. Once again we see a museum afflicted with info-itis. Maybe 30 little signs about the Osbourne-Kelloggs, their farm, and how the state came to oversee it.
It's a long and locally interesting story, full of hero Osbournes and philanthropic Kelloggs. But we still have the Osbourne Homestead Museum to get to someday, so we'll dive into that stuff then. Just know that Osbournedale State Park, where both these museums are located, used to be a dairy farm with prize cattle. An Osbourne married a Kellogg and they sold the cows and donated the land to the state.
I don't mean to end this with complaints. It's a fine little natural history museum! It has a little turtle pond right in the middle of it! The building is large and bright and I believe there's a nice theater for the school kids who come here.
Osbournedale State Park is quite nice as well, so really, a family could spend half a day here with the museums and the park. (Just not from November through April.)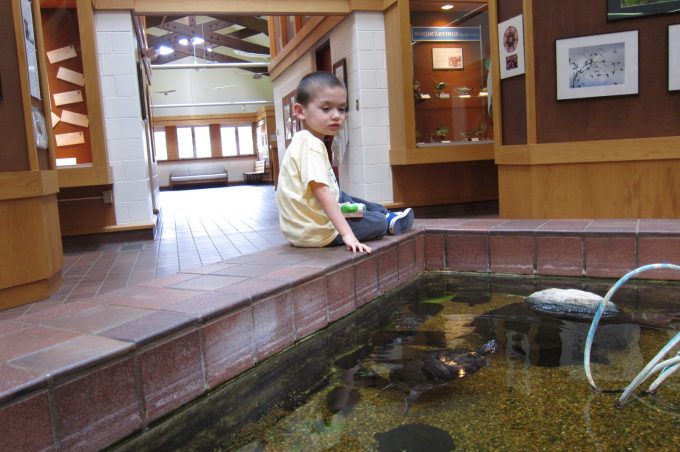 Kellogg Environmental Center
CTMQ's Museum Visits
CTMQ's State Parks, Reserves, & Preserves