Pinchot Me, I'm Dreaming
The Pinchot Sycamore, Connecticut's Largest Tree, Simsbury
September 8, 2006
With contribution from EdHill
Ed Hill originally was going to do this entire site with me, but logistical reality made that impossible almost immediately. Ed passed away in 2016, so these old posts with his fingerprint on them will always be special to me.
The Pinchot Sycamore marks the beginning of CTMQ and serves as a good example of how this website won't just be about museums. In other words, the site that began as "CT MuseumQuest" with a tree near my house. At least it's a darn big tree.
In fact, the Pinchot Sycamore is the biggest tree in Connecticut, the largest sycamore in New England, and one of the biggest sycamores in the whole country. To me, what's more interesting than the tree itself is that we can be so sure that there is not a bigger tree miles from civilization in the northwest corner of the state somewhere. And really, how does one measure the absolute size of a tree anyway?
2016 Update: I now know how and now trust those who know how that they know what they're doing with this stuff.
I read a few years ago that there is some controversy about the biggest rock in the state, which is supposedly down near the Indian casinos somewhere in the woods off of I-395. I remarked at the time, "I don't buy it. How can they possibly know and what are the parameters one uses to decide what a singular "rock" is? But this essay isn't about that rock, it's about Connecticut's tree of trees, this serpentine sycamore with it's own sign, two little monuments, and a visitor's lot.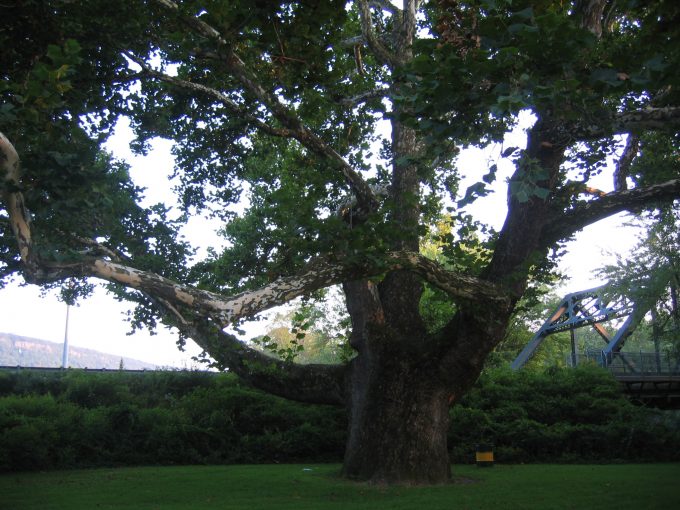 My wife Hoang wasn't totally shocked by the stop at the tree on our way to Simsbury's SeptemberFest. Truth be told, it's a beautiful tree near the banks of the Farmington River next to a quaint old bridge along Route 185. There are many online odes to the Pinchot Sycamore, and it's nice to see the tree still in a relatively pastoral setting rather than ignored among the sprawl to which a lot of Connecticut is succumbing.
Last measured in 1998 when it was 26 feet around and 95 feet high, the sycamore is stunning in it's sheer girth. The tree is named for Gifford Pinchot, perhaps Simsbury's most famous native son (but I have much to learn yet). In his 99 years (1865-1964), Pinchot was appointed by his buddy Teddy Roosevelt as the nation's first head of the US Forestry Service. One of our country's first environmental champions, he also was an important player down at Yale as well as a Governor of Pennsylvania. A National Forest in Washington state also bears his name – and contains within it the Mount Saint Helens National Volcanic Monument.
Of course, if you're like me, when you hear "Pinchot" you immediately think of Bronson Pinchot, star of the horrible "Perfect Strangers" sitcom. Then, again if you're like me, upon seeing the perfectly fine yet somehow under-appreciated sister sycamore across the dirt parking lot you wonder to yourself, "If this is the Pinchot sycamore, I can only assume that that is the Linn-Baker sycamore." And then, if your traveling partner is EdHill, he blurts out, "Ah, yes, Mark Linn-Baker, the actor who played Balki's trusty side-kick from that horrible sitcom. Did you know that he's from Wethersfield, Connecticut?"
This is who we are.
Before EdHill's arrival, I walked around the little grassy area trying to get a good picture of the whole tree for a few minutes and then enjoyed the river for a bit before reading the plaques. While I was reading, Hoang took the camera and proceeded to take two pictures – both of which were far better than any of those that I took. After Ed arrived, he stared at the tree for a few seconds, declared it a nice tree and then proceeded to play with Damian for a few minutes. We took our group picture – I can't wait to see how old my son is if/when this project is ever completed – watched some women lug their canoe up out of the river to their truck, and took a brief moment to bask in the glow of the setting sun.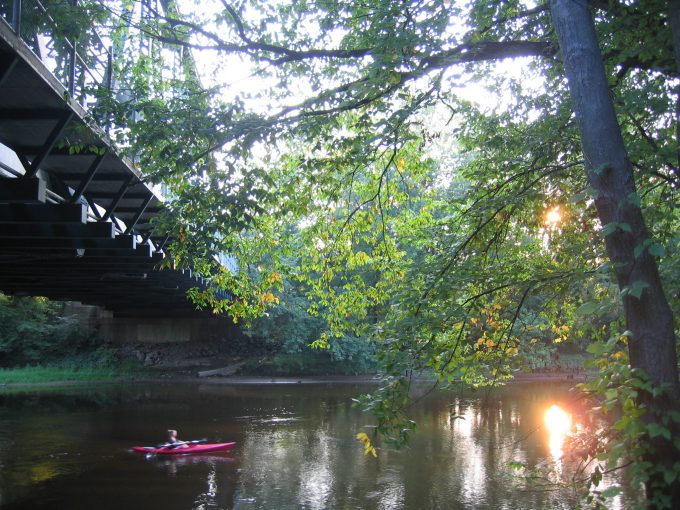 EdHill Says:
Calling the Pinchot Sycamore "Connecticut's tree of trees?" Oh for shame, Stephen. For shame. What, pray tell, is on the Connecticut state commemorative quarter? What tree has places named after it in Hartford? A college named after it in New Britain? We all know Connecticut's "tree of trees" is the grand Charter Oak. Granted, the thing died over a hundred years ago and in its place is just a giant marble statue, but it's still our "claim to fame" tree.
That said, the Pinchot tree was a fine tree. And it's nice that the town takes care of it so well. Although it wasn't technically a museum, it was a decent kickoff to MuseumQuest. But then again I had a buzz going from happy hour at Pettibone's Tavern located just across the Farmington River, so any tree would have been good at that point.
What's next, Connecticut's largest mudhole?