Biology & Geology
This is a big page with lots of stuff. Outdoor stuff. You won't find nature or Audubon centers here, as they are on the massive museums list. I'll let you sort out whatever else you're looking for.
Animals (Aquaria, Zoos, Hatcheries, Wild & Weird Animals)
Farms Worth Visiting
Plants (Gardens, Greenhouses, Wild & Weird Plants, Arboreta & Trees)
Geology (Rocks, Caves, & Waterfalls)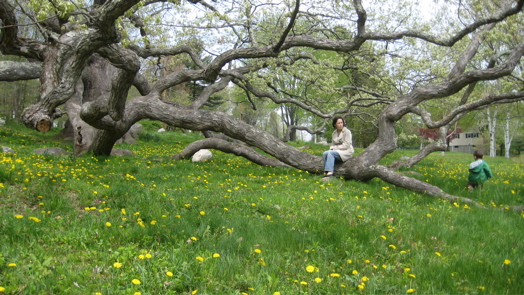 Animals (Aquaria, Farms, Wildlife and Zoos)
Aquaria
Connecticut River Valley Wildlife Museum, East Hartford
Riverside Reptiles Education Center, Enfield
Maritime Aquarium at Norwalk, Norwalk
Mystic Aquarium, Stonington
SeaQuest, Trumbull
Zoos, Zoo-Like Places, and Fish Hatcheries
Bakerwoods Farm, Ashford (Closed)
Beardsley Zoo, Bridgeport
Burlington State Fish Hatchery, Burlington
Silverman's Animal Farm, Easton
Riverview Farms, Glastonbury
Action Wildlife Foundation, Goshen
Aussakita Acres Farm, Manchester
Summer Brook Valley Farm Alpacas, Middletown (Closed)
Quinebaug Valley State Trout Hatchery, Plainfield
One Hump Farm, Ridgefield
Flamig Farm, Simsbury
Dzen Farm Reindeer, South Windsor
Westmoor Park, West Hartford
High Wire Deer and Animal Farm, Woodbury
Wild & Weird Animals
Fidelco Guide Dogs, Bloomfield
Last Post Cat Retirement Home, Canaan
"Wild" Guinea Fowl!, Colebrook
Diving Horses, East Lyme (Gone)
Two-headed Goat, Glastonbury (Gone)
Bears!, Granby
Neon turkeys, Guilford
Magicicada Preserve, Hamden
Monk Parakeet Invasion, Milford
Great Blue Heron Rookery, Simsbury
Bald Eagles!, Southbury
Bears!, Suffield
Bears!, West Hartford
Ominous Turkey Vultures!, West Hartford
Bobcat family!, Windsor
Ring-neck pheasant!, Windsor
Bears!
Albino squirrels, TBD
Moose, TBD
River otter, TBD
Rattlesnake, TBD

Farms Worth Visiting
While there are hundreds of farms in Connecticut, these joints offer tours or other such ways to spend a fun farm day. I do have a separate pages for farms that serve homemade ice cream, cheese or and chocolate or wine which are often at farms.
Auer 4-H Farm, Bloomfield
Fish Family Farm, Bolton
Creamery Brook Bison, Brooklyn
Hytone Farm, Coventry
Ray of Light Farm, East Haddam
Niantic Bay Shellfish Farm, East Lyme
Cushman Farms, Franklin
Mapleleaf Farm, Hebron
Beltane Farm, Lebanon
Graywall Farms, Lebanon
Arethusa Farm, Litchfield
Bunnell Farm, Litchfield
UConn Animal Barns, Mansfield
Rowanwood Farm, Newtown
Field View Farm, Orange
Assawaga Farm, Putnam
Hurricane Farm, Scotland
Foster Family Farm, South Windsor
Hilltop Farm, Suffield
Fort Hill Farms, Thompson
Morning Beckons Farm, Thompson
Strong Family Farm, Vernon
Fairvue Farms, Woodstock



Gardens, Greenhouses, Wild & Weird Plants, Trees & Arboreta
There are two top notch lists within this section (CT's Historic Gardens and our National Champion trees) but there's a bunch of other cool places and things as well. Everyone likes trees and gardens, so let's see what we've got here.

Jump to:
Gardens, Greenhouses & Other Plants
Trees & Arboretums
Gardens, Greenhouses, Wild & Weird Plants
Not just any ol' gardens and greenhouses, but the big ones. The important and historic ones. Heck, someone has even created a "trail" of Connecticut's Historic Gardens for me to have another list to work my way through. Many of these places I consider museums or they are already part of museums.
Connecticut's Historic Gardens: This is a collection of 15 gardens that the state has deemed important enough to exist on a "trail," that has existed since 2002. Here's the official Historic Gardens site.
Bellamy-Ferriday Garden, Bethlehem
Promisek at Three Rivers Farm, Bridgewater
Osborne Homestead Museum, Derby
Hill-Stead Museum, Farmington
Stanley-Whitman House, Farmington
Thankful Arnold House Garden, Haddam
Butler-McCook House & Garden, Hartford
Harriet Beecher Stowe Center, Hartford
Florence Griswold Museum, Old Lyme
Phelps-Hatheway House, Suffield
Harkness Memorial State Park, Waterford
Webb-Deane-Stevens Museum, Wethersfield
Weir Farm, Wilton
Glebe House Museum, Woodbury
Roseland Cottage, Woodstock
Other Gardens & Greenhouses
Chrissie D'Esopo's Flower House, Avon
Bunny Williams' Garden Conservancy, Canaan
The Bedding Plant Capital of Connecticut, Cheshire
Elizabeth Park Garden History Tour, Hartford
Wickham Park Gardens, Manchester
UConn Greenhouses, Mansfield
Marsh Gardens and Greenhouses, New Haven
The Connecticut Agricultural Experiment Station, Hamden
Shoyoan Teien (Japanese Garden) at Wesleyan, Middletown
Garden of Ideas, Ridgefield (Closed)
Maywood Gardens, Bridgewater (info)
Sundial gardens, Higganum
Hollister House Garden, Washington (Info)
Greenbrier Greenhouse and Crosby Conservatory at Edgerton Park, New Haven
Other Plants and rarities
I expect to happen upon a few wacky or interesting plants in my travels. Here they are:
Pond Meadow Natural Area (Cranberry Bog), Killingworth
Corpse Flower, Mansfield
Prickly Pear Cacti , Plainville
Carlson Cranberry Bog, Portland

Trees, Arboretums, & Pinetums
National Champion Trees
The Halloween ice storm of 2011 in north central Connecticut wiped out a few of our champions. Champions are often old and prone to disease and death. And through it all the folks at Connecticut Notable Trees keep plugging along, week in and week out. Men like Glenn Dreyer, Frank Kaputa, and Ed Richardson who passed away in 2019.
Their list of Connecticut Notable Trees is massive, and also tracks all Connecticut State Champion trees. By the way, our largest tree, the Pinchot Sycamore in Simsbury, is not a National Champion. I'll revisit the list below every so often, but it's one of the most changeable lists on the entirety of CTMQ. Exact locations of those on private property are not generally advertised.
So, UConn basketball, Trinity Squash, New Haven pizza, and… the following trees. National Champions all.
Current National Champions
Umbrella Magnolia, Branford
Black Oak, East Granby
European Larch, Greenwich
Red Maple, Guilford
Sugar Maple, Lyme
Oneseed Hawthorn, Old Saybrook
Norway Spruce, Salisbury
Northern Bayberry, Westport
American Smoketree, Windham
Bear Oak, Windsor
Former National Champions
If still alive, several of these may become champions again so I will try to visit. If dead and never visited, they don't appear on my list.
Poison Sumac, Glastonbury
Serviceberry, Glastonbury
Striped Maple, Glastonbury (Dead)
Paper Birch, Hartford (Dead)
Pawpaw, Hartford
Noble Fir, Pomfret
Sugar Maple, Stamford
Hardy Orange, Stonington
Texas Redbud, Windsor (Dead)
Other Trees of Note
The Ashford Oak, Ashford
Auncient Oak, Bethlehem (Gone)
Colonial Pine, Colebrook
Cathedral Pines, Cornwall
The Granby Oak, Granby
Site of The Charter Oak, Hartford
Bushnell Park Tree Walk, Hartford
Institute of Living Tree Walk, Hartford
120-Yr-Old (and counting) Lemon Tree, Killingly
Site of The Washington Oak, New Milford
The Pinchot Sycamore, Simsbury
Elizabeth Park Tree Walk, West Hartford
Site of the First Christmas Tree in the US… Maybe, Windsor Locks
Arboreta and Pinetums
Montgomery Pinetum Park/Pomerance, Greenwich
Colonel C.S. Wadsworth Arboretum, Middletown
New Canaan Nature Center Arboretum, New Canaan
Connecticut College Arboretum, New London
Highstead Arboretum, Redding
Dinosaur State Park Pinetum, Rocky Hill
Bartlett Arboretum and Gardens, Stamford

Geology
Rocks. Majestic, artistic, historic, or otherwise interesting. You'd be amazed at how much one can write about rocks.
Jump to:
Waterfalls
Historic Rocks, Painted Rocks, & Named Rocks/Rock Formations
Cool Geology
Caves, Dens & "Caves"



Waterfalls & Cascades
I used to discount our state's panoply of falls as being fairly lame, but I've since changed my view. Waterfalls are cool, darnit, so I figure I should give them their due. And not just because the 2013 Connecticut Waterfalls Guide cited me and this very website a few times.
The guide lists 94 falls, former falls, and cascades in the state. Some are silly in my opinion, but since Dunn and Butler got their guidebook published with 94 falls, I shall go find 94 falls. Others listed below are from this site. Still others are my own – or my friends' additions.
Many were visited while hiking – well before I maintained this list. As a result, many of my "reports" are terrible. My pictures are worse. Fortunately for all of us, my friend Justin Coleman has allowed me to post his incredible pictures of the falls we've mutually visited. The juxtaposition of his pictures vs. mine are, frankly, hilarious.
Pixie Falls, Ashford
Falls Cut Off Trail Falls, Barkhamsted
Spruce Brook Falls, Beacon Falls
Ragged Mountain Cascade, Berlin
Hopp Brook Falls, Bethany
Griffin Cascade, Bloomfield
Van Otterloo Cascade, Bloomfield
Johnson Pond Falls, Bolton
Bozrah Falls, Bozrah (Private)
Cusgutter Brook Cascades, Bristol
Brookfield Falls, Brookfield
Bunnell's/Burlington Falls, Burlington
Fetzer Falls, Burlington (Private)
Sessions Woods Falls, Burlington
Dean's Ravine, Canaan
Great Falls, Canaan & Salisbury
Roaring Brook Nature Center Falls, Canton
Diana's Pool Falls, Chaplin
Roaring Brook Falls, Cheshire
Brushmill Falls, Chester
Day Pond Brook Falls, Colchester
Beulah Falls, Colebrook
Colebrook Falls, Colebrook
Still River Gorge, Colebrook
Bynes Falls, Coventry
Farnum Falls, Durham
South End Avenue Ice Mill Falls, Durham
Cameron Farm Falls, East Haddam
Chapman Falls, East Haddam
Chapman Pond Preserve Cascades, East Haddam
Moodus Falls, East Haddam
Muddy Brook Falls, East Haddam
Sheepskin Hollow Preserve Falls, East Haddam
Succor Brook Falls, East Haddam
Glen Falls, East Hampton/Portland
Pine Brook Falls, East Hampton
Leesville Falls, East Hampton
Shipyard Falls, East Hampton
Tartia Falls, East Hampton
Paper Mill Falls, East Hartford
Broad Brook Falls, East Windsor
Scantic Rapids, Enfield
Bailey's Ravine Falls, Franklin
Blackledge Falls, Glastonbury
Cotton Hollow Cascades, Glastonbury
Flat Brook Falls, Glastonbury
Carpenter's Falls, Granby
Enders Falls, Granby
Lost Acres, Silver Street, Beach, Messenger Falls, Granby
Sheep Farm Falls, Groton
Lost Lake Falls, Guilford
Higganum Creek Falls, Haddam
Bear Hill Falls, Haddam
Seven Falls, Haddam & Middletown
Clark Creek Falls, Haddam
Gorge Cascade Falls, Hamden
Wolcott Falls, Hamden
Balance Rock Road Falls, Hartland
Falls Brook Trail Falls, Upper & Lower, Hartland
Grayville Falls, Hebron
Bulls Bridge Cascades, Kent
Housatonic River Gorge, Kent
Kent Falls, Kent
Macedonia Gorge Falls, Kent
Shaghticoke Road Falls, Kent
Thayer Brook Falls, Kent
Ninevah Falls, Killingworth & Madison
Foxwoods' Fake Falls, Ledyard
Humaston Brook Falls, Litchfield
Knife Shop Falls, Litchfield
Indian Rock Shelter Trail Falls, Madison
Case Falls, Manchester
Center Springs Falls, Manchester
Wyllys Falls, Manchester
Codfish Falls, Mansfield
Mansfield Hollow Cascades, Mansfield
Shelter Falls, Mansfield
Black Pond Falls, Middlefield
Wadsworth Falls, Middlefield
Wadsworth Little Falls, Middlefield
Seven Falls, Middletown & Haddam
Westfield Falls, Middletown
Black Pond Falls, Meriden
Taughannick Falls, Montville
Silver Falls, Montville
Wintergreen Falls. New Haven
(Site of ) Great Falls, New Milford
Harrybrooke Park Falls, New Milford
Pratt Valley Preserve Falls, New Milford
Mill Pond Falls, Newington
Prydden Brook Falls, Newtown
Buttermilk Falls, Norfolk
Campbell Falls, Norfolk(ish)
Stair Brook Falls, North Branford
Waterfall on Blackberry River, North Canaan
Clarks Falls, North Stonington
Yantic Falls (Indian Leap), Norwich
Cedar Mill Brook Falls, Oxford
Long Meadow Falls
Buttermilk Falls, Plymouth
Greystone Falls, Plymouth
Horseshoe/Pequabuck Falls, Plymouth
Carr Brook Falls, Portland
Crystal Cascade, Portland
Quarry View Falls, Portland
Cargill Falls, Putnam
Saugatuck Falls, Redding
Dividend Falls, Rocky Hill
Caroline Glen Cascade, Roxbury
Jack's Brook Cascade, Roxbury
Roxbury Falls, Roxbury
Riga Falls, Salisbury
Sages Ravine, Salisbury
Wachocastinook Falls, Salisbury
Wetauwanchu Brook Falls, Salisbury
Naugatuck Falls, Seymour
Hatch Brook Falls, Sharon
Pine Swamp Brook Falls, Sharon
Farmill River Falls, Shelton
Indian Well Falls, Shelton
White Hills Brook Cascades, Shelton
Cathles Trail Waterfall, Simsbury
Tariffville Gorge Cascades, Simsbury
Northgate Falls/Westledge Trail Cascades, Simsbury
Kettletown Brook, Southbury
Southford Falls, Southbury
Great Unconformity Falls, Southington
Little Muk Falls, Sprague
Greenleaf Falls, Stamford
Rippowam Falls, Stamford
Burr Falls, Torrington
Madden Pond Falls, Torrington
Pequonnock River Valley SP Falls, Trumbull
Hockanum Falls, Vernon
Talcott Ravine/Dobsonville Falls, Vernon
Valley Falls Falls, Vernon
Lowden Brook Cascades, Voluntown
Spruce Glen Falls, Wallingford
Aspetuck Falls, Washington
Hancock Brook Cascades, Waterbury
Jericho Falls, Watertown
Ambler Cascade, Weston
Devil's Glen, Weston
Merwin's Falls, Wilton
Sheep Falls, Wilton
Still River Cascades, Winchester
Mad River Cascades, Wolcott
Sperry Falls, Woodbridge
Wepawaug Falls, Woodbridge
East Meadow Brook Falls, Woodbury
Pomperaug Falls, Woodbury
Nonnewaug Falls, Woodbury

Historic Rocks, Painted Rocks, & Named Rocks/Rock Formations
This is not remotely an exhaustive list. It's something I put together in 2009 or so and never spent time expanding it.
Ladies Room Rock, Ashford
Bethel Snake(?) Rock, Bethel
Drum Rock, Canton
Frog Rock, Cornwall
Stone Table, Cornwall
Dog Rock, Danbury
Link to Bear Rock, Durham
Selectman's Stones, Durham, Madison, & Guilford
Frog Rock, Eastford
Hospital Rock, Farmington
Al E. Gator, Glastonbury
Turtle Rock, Marlborough
Shopboard Rock, Haddam
Bible Rock, Haddam
Pulpit/Flag/Lorenzo Dow's Rock, Haddam
The Brethren, Hamden
Carl Andre's Stone Field Sculpture, Hartford
Eagle Rock, Hebron
Prophet's Rock, Hebron
Molly Fisher Rock, Kent
Shark Rock, Madison
Joshua's Rock, Madison
Giant cairn, Manchester
The Little Stone House, Mansfield
Sparky the Dog Rock, Montville
Cochegan Rock, Montville
The Yale Boulder, Old Saybrook
Indian Rock, Oxford
Boy Rock, Indian Head, Great Stone Face, Plainville
Indian Chair & Table Rock, Pomfret
Snoopy Rock I, Preston
Snoopy Rock II, Preston
Settlers Rock, Ridgefield
Crying Child Rock, Salisbury
Indian Head Rock on the Housatonic, Shelton
Chicken Rock, Sherman
Elephant Rock, Simsbury
The Pinnacle, Washington
Dog, Bear, Dog painted rocks, Winchester
Orenaug Park Pillars. Woodbury
Eliot and Pulpit Rocks, Woodstock

Other Cool Geology Like You Learn About in College
Pillow Basalt formation, Meriden
Jobs Pond/Mystery Lake, Portland
The Mystery Pits, Somers
The Great Uncomformity, Southington
Wilsonville Fault, Thompson
Matianuck Sand Dunes, Windsor



Caves, Dens & "Caves"
Connecticut has an embarrassing habit of naming caves that are not really caves. By my reckoning, there are only a couple real caves in Connecticut – and they are tiny to say the least. The Central Connecticut Grotto states there is only one "real" cave – Tory Cave in New Milford. But hey, I don't make the rules; I just copy the lists and visit them. Actually, many of these places have cool histories that make them much more interesting.
Indian Council Caves, Barkhamsted
Phillips Cave, Bethel
Squaw Cave, Bolton
Hopemead State Park Root Cellar/Den
Tory Den, Burlington
The Legend of Colebrook Cave, Colebrook
Coginchaug Cave, Durham
Bakers Cave, East Lyme
Will Warren's Den, Farmington
Rachel's Hut & Devil's Den, Franklin
Leete's Island/Colonial Caves, Guilford
Pahke's (aka Wright's) Cave, Hartland
Judges Cave, New Haven
Devil's Dens Plainfield
Indian Jack Cave, Plymouth
Charlie Krug Cave, Plymouth
Wolf Den, Pomfret
Gamaliel's Den, Roxbury
Twin Lakes Cave, Salisbury
King Phillip's Cave, Simsbury
Devil's Dens Sterling
Fake Leatherman's Cave via Park Road, Watertown
Leatherman's Cave, Watertown
The Rock House, Watertown