Sliding Into Your DM's
Enfield (Google Maps location)
October 10, 2020
I'd had this place on my radar for quite some time. When I worked in Enfield, I'd somehow heard about plans to bring a large, indoor reptile and amphibian education center to town. I was curious how (and if) it would come to fruition, but the guy running the show seemed pretty darn passionate about it.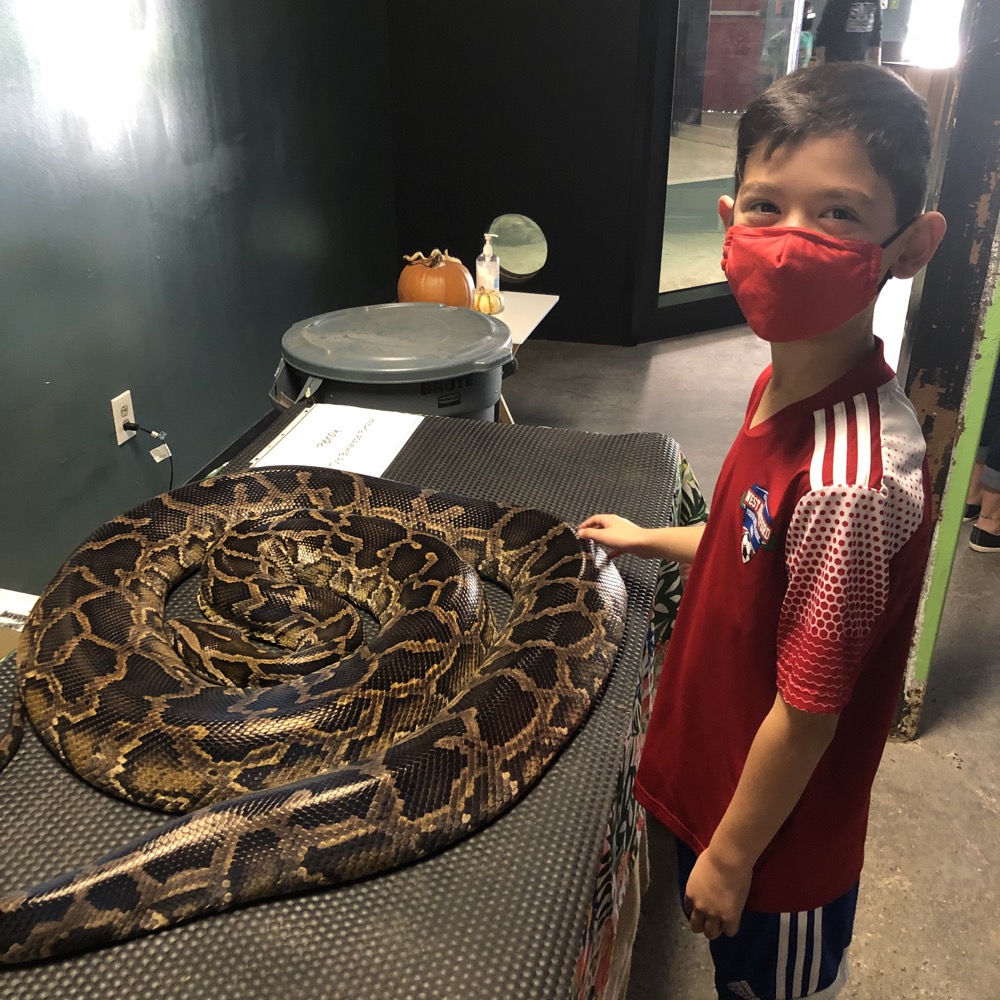 Calvin and I had actually "met" the man with the reptile plan years prior at an event in East Hartford called BioBlitz – when Calvin pet one of his massive pythons for the first time. My dad has always had an affinity for reptiles, so I grew up in a house with corn snakes and snapping turtles as "pets." (Don't ask.)
At UConn, I worked with herpetologist Dr. Kurt Schwenk studying lizard tongues. Or, in his words, "Functional and evolutionary morphology of tetrapod vertebrates, especially feeding and chemoreception in lizards and snakes." Good times.
So I've always liked snakes and like imparting that knowledge and respect for them to my sons. I mean, look how beautiful this guy is: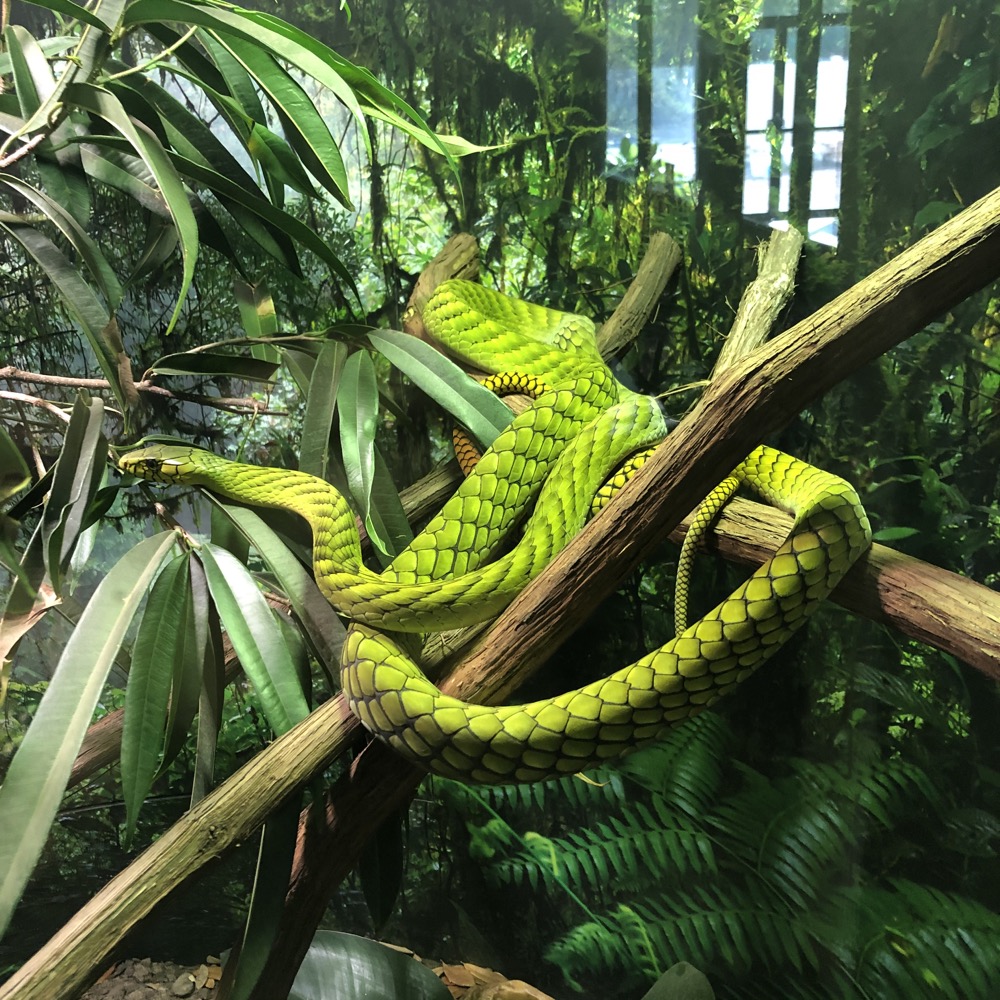 That's the western green mamba… one of the most venomous snakes in the world. If it bites you, there's a better than even chance you will die. Fortunately, they live high up in trees in Guinea-Bissau, Guinea, Sierra Leone, Liberia, Cote d'Ivoire, Ghana, and Togo. So you're not going to get bitten by a western green mamba.
I highlight this snake early on the page because I don't think I've ever seen one of them before. Not in all the zoos and exhibits and reptile houses I've seen throughout my life. And Riverside Reptiles had me saying that same thing several times. They've got some rarities here; and that's cool. So what is Riverside Reptiles?
It began as a traveling exhibit of sorts. Going to schools, scout meetings, BioBlitzes, things like that. They specialize(d) in giving a hands-on experience and the owner really knows his stuff. I'll let him tell you:
My name is Brian Kleinman and I am a true Naturalist. I grew up in a very rural town called Barkhamsted in the state of Connecticut. I spent my childhood days in the woods, swamps, and ponds behind my house exploring and observing the fascinating animals that lived there. My family can recall me always bringing home snakes, frogs, toads, turtles, and various other critters. I would often gather a collection of small animals and give presentations in my garage to the neighborhood kids.
As a child, I attended Roaring Brook Nature Centers (RBNC) summer camp program. I flourished in this environment, so much so, that when I was too old to be a camper, I became a camp counselor. I volunteered my time at RBNC after school and on weekends, and then in the summer, I taught children all that had been taught to me.
Brian went on to study biology (fist-bump) in college and then worked at The Children's Museum in West Hartford – building habitats, caring for the animals, teaching the kids. He kept on at Roaring Brook Nature Center too, and ultimately started his own live animal educational program business.
A decade or so in that business propelled him to open a brick and mortar center for people to visit. Plans were unfortunately derailed a bit by the COVID-19 pandemic, but it finally opened in October of 2020.
With a late soccer game in South Windsor, Calvin and I went up to Enfield to check out the joint. Just making sure you understand that my son doesn't wear his full-on soccer uniform to randomly visit reptile centers. Not that it matters anyway… I mean, no one is going to notice or care that a little kid is wearing a West Hartford soccer uniform at this reptile center all the way up in Enfield, and –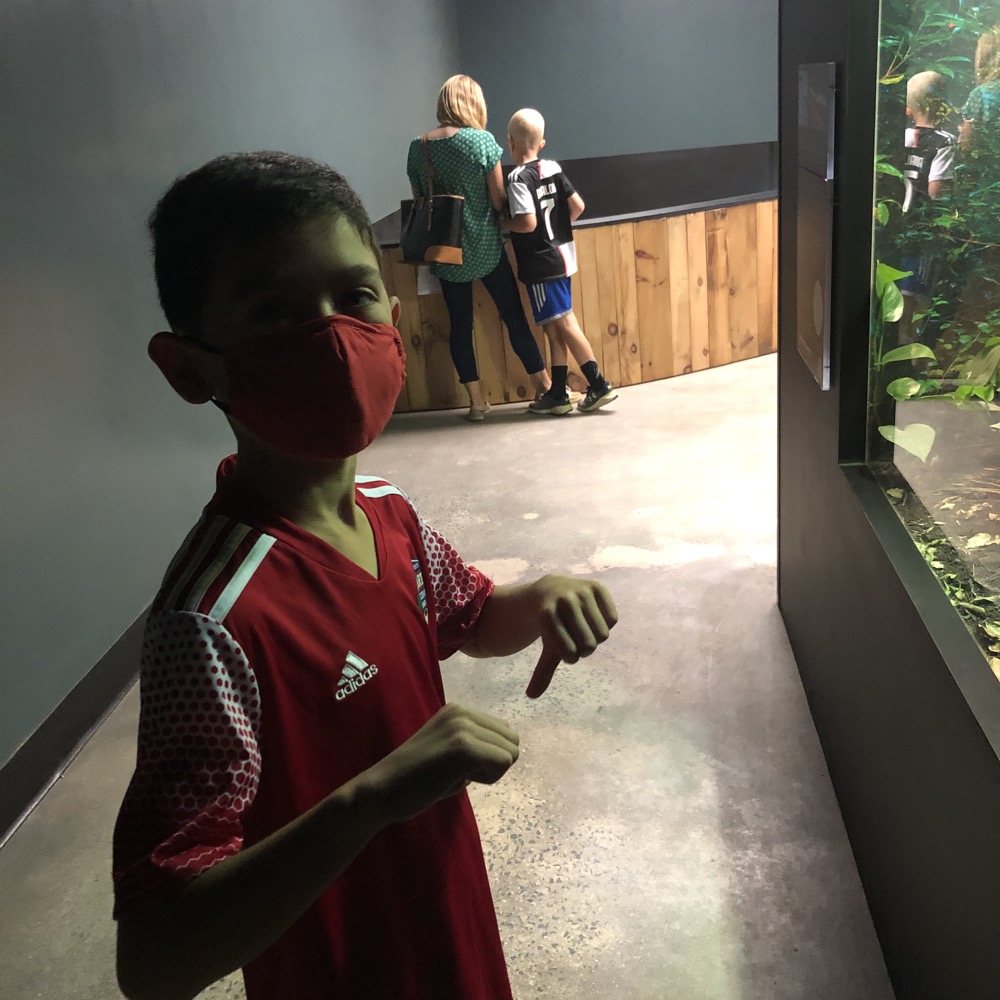 – Oh my! What are the chances?! A rival player from Farmington was at this reptile center all the way up in Enfield. (Calvin's team beat them handily earlier in the season, but they are the biggest rivals.) The two boys eyed each other more warily than any reptile. They purposely remained in separate areas of the Center, and not necessarily for COVID reasons.
Eat it, Farmington.
And eat that, African Spurred Tortoise.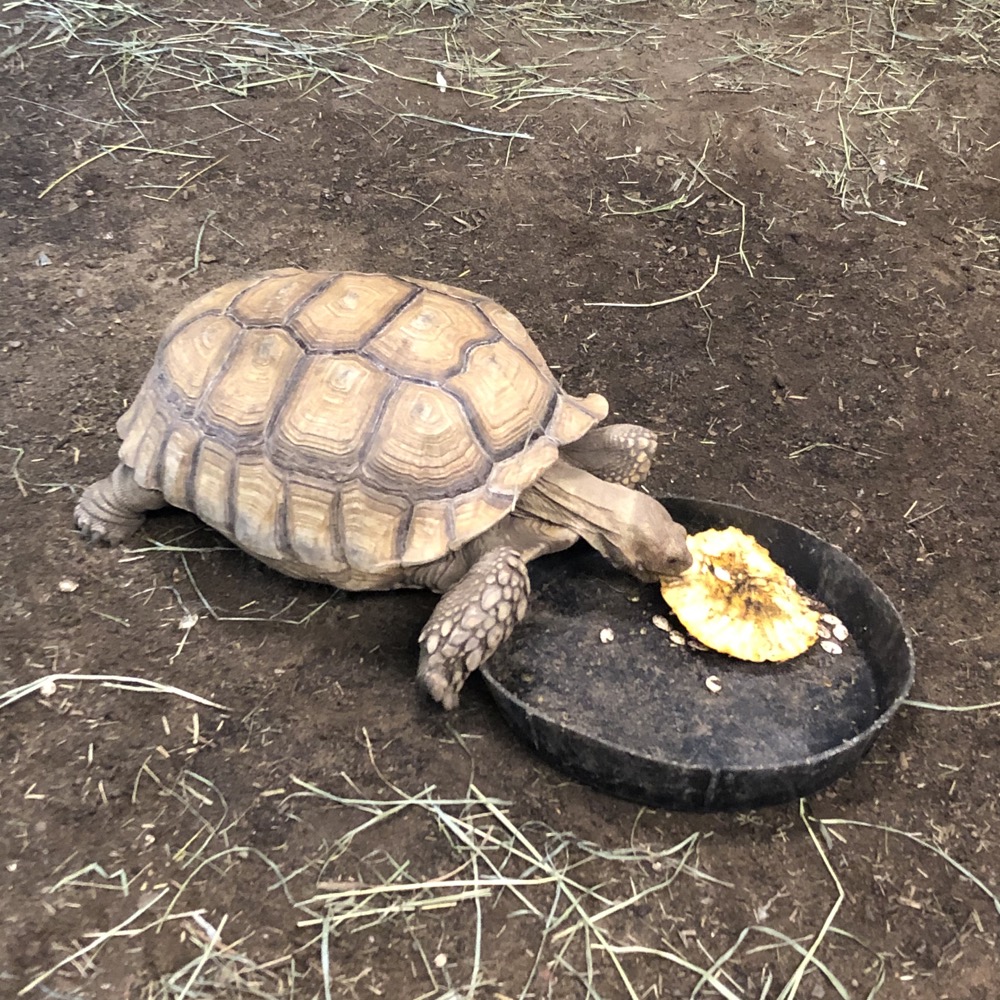 The layout here is smartly designed and allows for a sort of directed choose your own path. There was clearly a lot of thought put into it. Most impressively, the owner/director, collector/presenter, Brian pretty much did the whole thing himself.
He built the displays, took the photographs, and wrote the descriptions of each animal. I was hugely impressed with the descriptions. They were thorough and clearly written by someone with a biology degree. Who has an interest in being accurate with geographic locations. Yeah, I really like this Brian guy.
If I had one suggestion, it might be to create sort of "kid" signs. Like, little kid signs that they can read themselves. I am not, in any way, suggesting "dumbed down" explanations of the animals. I've always maintained children are smarter than adults think and they are perfectly capable of hearing "oviparous" and being told it means "egg-laying" – but beginning readers might appreciate a simple few sentences to get them more involved in the learning.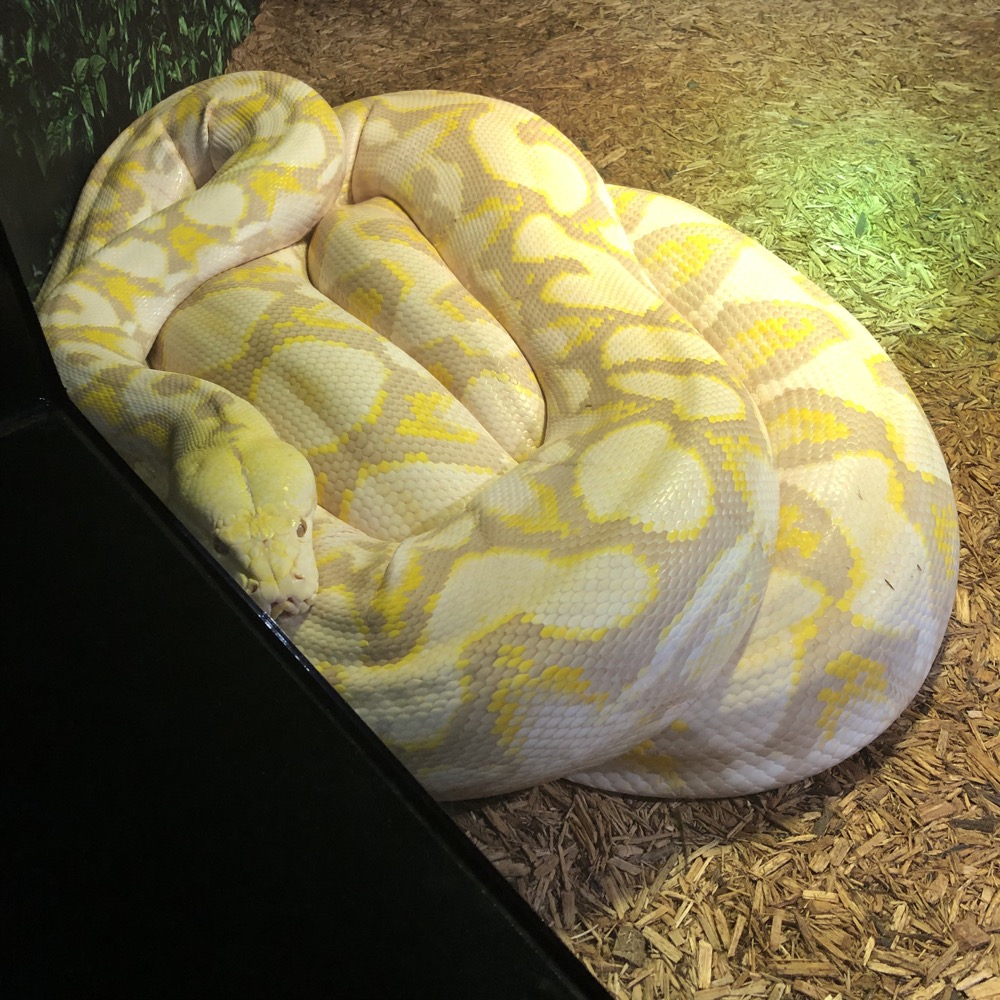 But as far as the big boy placards are concerned, I learned a lot myself. There's no real point in me going animal by animal explaining things. You should go here yourself for that.
Riverside Reptiles Education Center plans to expand a bit more beyond what we saw during its Grand Opening weekend. They will have a "Bug Cave" by the time you go, as well as an expanded amphibians area. Let's check out some of the other animals we saw.
We happened to be present for the alligator feeding time, and – what's that? Alligator? Yes, Brian has a ding dang alligator here. And she's trained to do certain things while lolling about eating chicken pieces.
As we were finishing up, we were greated by a volunteer holding a baby anaconda. A baby that was already 3-feet long. She's known Brian for many years and was clearly very proud of what he's done here. And really, they all should be. The place was impeccably clean, the animals seemed very well cared for, and the visitor experience was excellent.
This place is not cheap. Thirty bucks for a dad and his son. But c'mon… This guy made a huge personal investment and then got whacked by COVID-19. He's still growing and expanding it, and with each new addition the cost becomes more palatable. So slither or crawl on up to Enfield and check it out.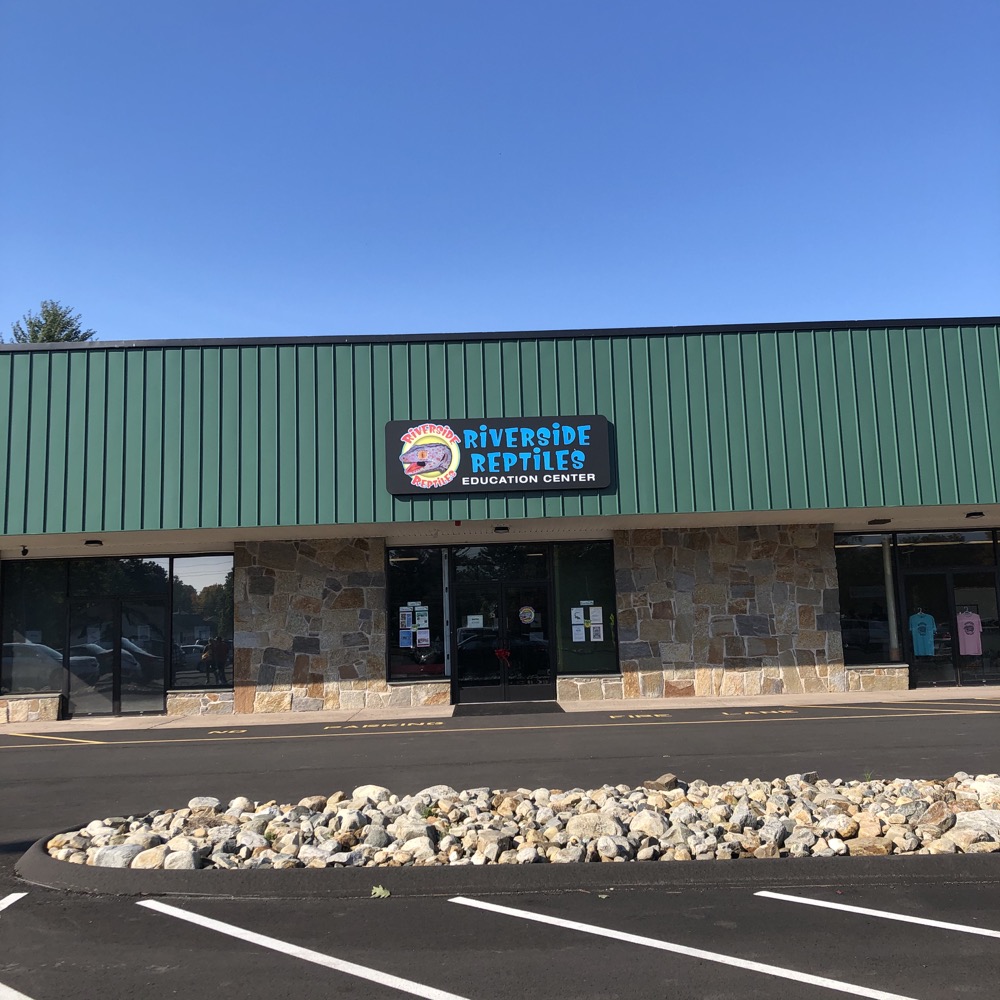 Riverside Reptiles Education Center
CTMQ's Aquaria, Farms, Wildlife and Zoos