Scant "Falls"
Scantic Rapids, Enfield
November 19, 2016
Visiting waterfalls in late 2016 is totally unfail to the falls. After all, we are in the midst of a two year drought situation. (The creek behind my house has been dry since May.)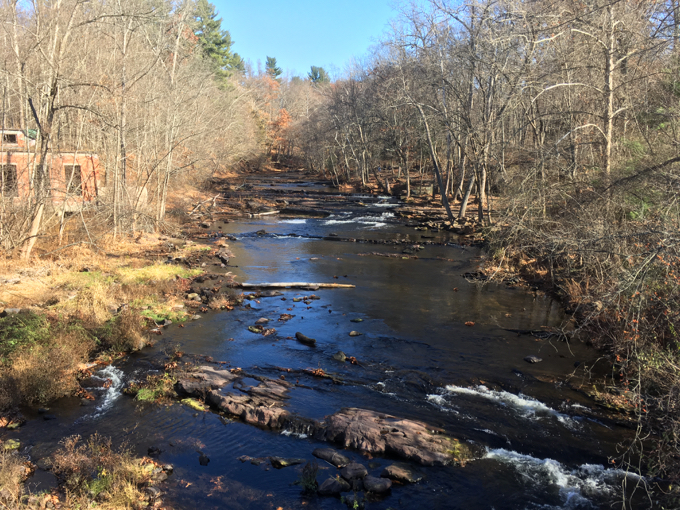 However, something tells me that the Scantic rapids wouldn't qualify for any sort of "waterfall" designation even after a deluge. Eh, I guess they can be… maybe. Here's a facebook photo album of the annual Scantic Spring Splash white-water paddler event.
The staircase rapids are easily accessible right off of South Maple Street where a bridge crosses the Scantic just below the rapids. It is part of Scantic River State Park which is one of those weird ones that is broken up into pieces and has a ton of access points. The rapids area is but one of them.
From the guidebook:
The name of the river, Scantic, comes from the Scantuck, a tribe of Native Americans who once lived in the region.

Hazardville is historically known for its production of gunpowder. It all began in 1836 when Loomis, Denslow, and Company erected a gunpowder mill. In 1837 Colonel Augustus G. Hazard acquired 1/4 interest in the company and by 1843 was its principal owner. During the Civil War the powder company supplied the Union Army with much of its gunpowder.

A terrible accident in 1913 destroyed the factory and ended production for good. Some foundation wall which survived are still visible today.
Good enough for me.

CTMQ's Waterfalls & Cascades
CTMQ's Scantic River State Park Intro