Kidcity! Kid-Kid City!
Middletown (Google Maps Location)
March 2008 & January 2015
We've been back to Kid City a few times since our initial 2008 visit. I've added a few updates below the original write-up.
As every parent knows, two-year-olds can be a fickle lot. And since Damian has his certain quirks, when he's sore… he's sore. And during our visit to Kid City… yeah, he was a pill.
So I have very few good pictures of our boy.
A weekend visit from my sister Karin and her family (husband Brian and kids Christine, Joseph, and Rachel) brought us to the unique "museum." It's not really a museum per se, but they call it one and who am I to argue? Oh yeah, that's right, I'm Connecticut's premier museum visitor and unofficial reviewer. So… Kid City is fantastic, but again… not really a museum. (Though I struggle to come up with a better categorization.)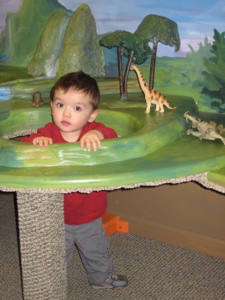 What they say:
Kidcity is in the 1835 Camp-Sterns House, which served as the convent for St. Sebastian's Church for the past 70 years. Although it's an old house, it's at a new site, after moving 400 feet down Washington Street in March of 1997 and spending a day stuck in the middle of the street. The house was renovated and filled with one-of-a-kind exhibits and opened to the public in September 1998.

In 2003, Kidcity constructed an addition, which more than doubled the size of the museum. Designed to look like another old house which has been restored, the West building updates Kidcity with the addition of an elevator for handicapped accessibility. The new building has three floors of exhibits, including our new science-themed area, the Space Age Roadtrip, which opened in June 2006.

The mission of Kidcity Children's Museum is to celebrate a child's natural curiosity by offering a downtown hands-on playspace where children ages 1 through 8 come with parents and other significant adults to learn through play. Kidcity will be a safe and enriched educational environment which fosters the development of problem-solving skills and creativity. As a child-friendly public space, Kidcity will support every parent's effort to be the best parent they can be.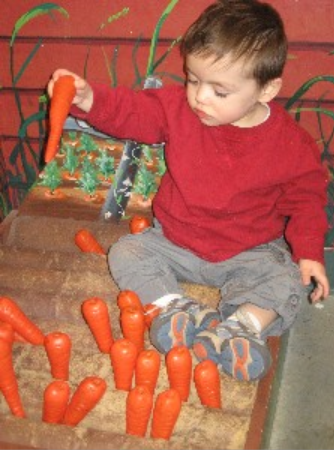 The museum is sectioned up into very distinct areas. They are (or were, in 2008):
The Ship – Hoist the sails and climb aboard, our clipper ship tells the story of Middletown's heyday as a shipping port in the early 1800's – although young sailors will be excused for imagining themselves on a pirate ship.
The Farm – Play hide & seek with the chicken's eggs or pet the pigs at feeding time in our Farm Yard. Designed just for crawlers and beginning walkers, it's a place for parents to let the littlest ones see what can happen when they can touch everything they want. Siblings will enjoy big-kid adventures in the nearby Apple Tree House.
Main Street – The heart of Middletown, just the right size for kids' imaginations to run. Jump in the front seat of our VW Bug and go for a ride on Old Main Steet. At Markets on Main, tiny citizens imagine themselves shopping for fresh-baked bread, italian sausage, and salad greens at one of our Main Street Groceries, and then ring up the sale at the checkout counter. Sort the mail at The Post Office, or push the wooden trains across the railroad bridge. The classic Downtown Diner encourages kids to tie on an apron and invent a feast to serve their favorite grown-up at a nearby booth.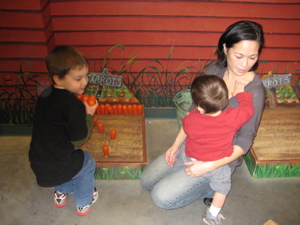 Musical Planet: A playground of sound from around the world, the Musical Planet has a ride-on see-saw that sounds like a rain-stick from Brazil, a mural of an African drummer that is really a giant xylophone that you can play, a Swiss Mountain that hides a bellows-powered pipe organ in a cave, and a rope bridge and monkey bars lined with Indonesian gongs.
Video Theater – Not a place to watch performances… a place to invent them! Simple camera controls are at kids' fingertips, and there is a changing assortment of costumes and puppets.
Reading Room – We put our favorite books here, from the newest titles for babies to the classics that grandparents will remember. A great place to curl up and read, in a room that's decorated like Arietty's bedroom from Mary Norton's The Borrowers.
Space Age Roadtrip: Time travel back to 1962, with a twist. What if the US Space Program worked so well that when our rocketships went to outer space, they brought back company! Play pretend with us as we imagine friendly alien tourists and weird technology mixed in with the usual roadside attractions on old Route 66. The local coffee shop serves fog, the car dealership sells flying saucers, and the family station wagon is powered with bubbles. Don't tell the kids they're learning about science while they play!
Toddler Sea Caves: For children ages 3 and younger, this under-sea world is filled with tiny caves to explore, a miniature ballroom lined with mirrors to dance in, and a slide sized just for toddlers. This is a sock-only area to help keep the floors pristine for crawlers.
The Cornfield: We plan to plow up this imaginary cornfield in the future, but for now, we've tucked lots of fun activities into the maze. An incredible model railway layout can be viewed by climbing up into a hot-air balloon basket, an old-fashioned kitchen and market garden are fun places to color and play store, a block-building area inspires budding architects and a word-filled school room welcomes pre-school poets. We'll keep changing activities until it's time to build our next permanent exhibit in this top-floor room.
Since Damian wasn't feeling it the day we visited, we'll have to return again. Damian's cousins loved the place (ages 7, 5, and 2 and a half) as did pretty much every other kid that was there that day. So please don't take our experience as a reflection on Kidcity!
For the record, my favorite part was the ship room where a magnetic track cycled around the whole room in a very creative way, and there were little magnet fish to "hook" onto the track to watch them go all over. That was mesmerizing.
It really is a cool, fun, and different type of place for kids to go and have fun for a few hours.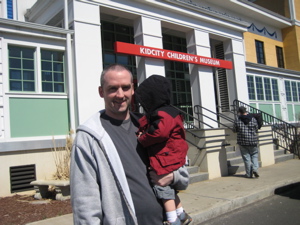 2015 Visit
I'm sitting here thinking about a lot of things. Revisiting this page has been far more interesting than you'd imagine. When I opened it and began reading it, the date at the top jumped out at me.
For you see, March 28, 2008 was a mere four days after we received Damian's diagnosis of his Smith-Magenis Syndrome. And yet, we still received visitors the for the weekend and still went down to Middletown to Kidcity. I think that speaks volumes for how Hoang and I approach our son's disabilities and difficulties. We try to continue pushing forward – all the while fully recognizing and working within his syndrome.
It's interesting to me that I didn't mention any of that when I wrote this up originally. I originally published this page on April 27, 2008 – a month after the diagnosis. It strikes me as odd that I didn't mention it, other than the veiled "Damian has his certain quirks" comment at the beginning.
Anyway, so here I am in 2016, updating this eight year old post with some new pictures and thoughts from a January 2015 visit to Kidcity. Damian is more challenging than ever, but you know what? We continue to push forward and keep doing what we do. With another kid now.
When we visited in 2008, Damian couldn't handle some of the "bigger kid" exhibits like the Ship Room. So when we revisited with Calvin in 2015, that room was easily the highlight for all of us. It's just a really fun, interesting space for kids.
And yes, this time Damian rather enjoyed himself there.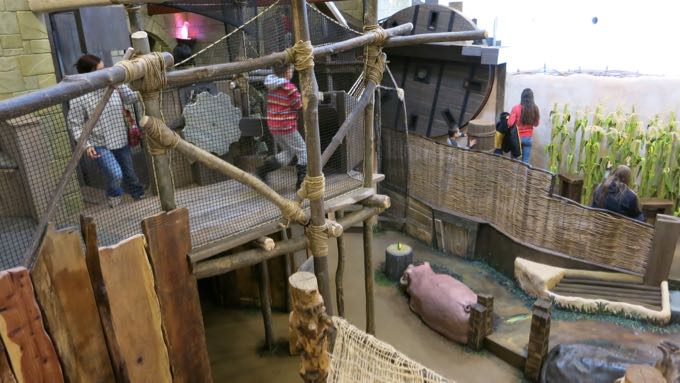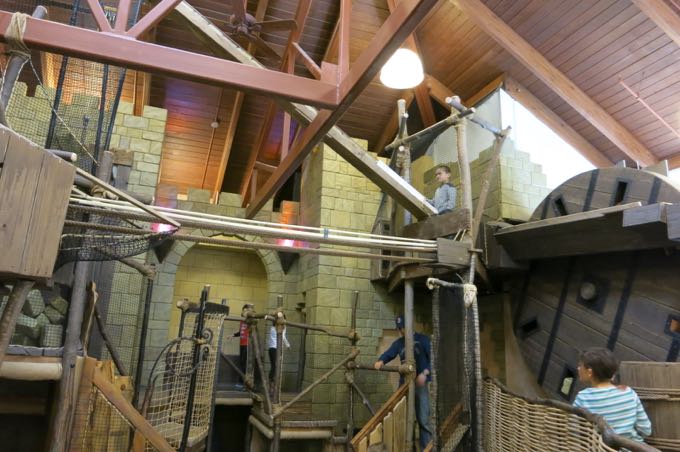 As for Calvin, no one ever knows what he's doing for a laugh half the time. But the funny thing is, it usually works.
What I especially love about Calvin's comedy stylings is that he usually knows which nonsense is funny. Also, he "maintains" a straight face and demeanor like a pro. I'm teaching him well, sure, but this stuff must come naturally to truly funny people.
And Calvin is that.
Kid city now costs $9 per person (kids and adults alike), but a $36 plus tax trip to it is in line with most other similar ventures in Connecticut. It's geared towards the younger set, which is something I definitely appreciate.
Eight years later, Kidcity is still cool.